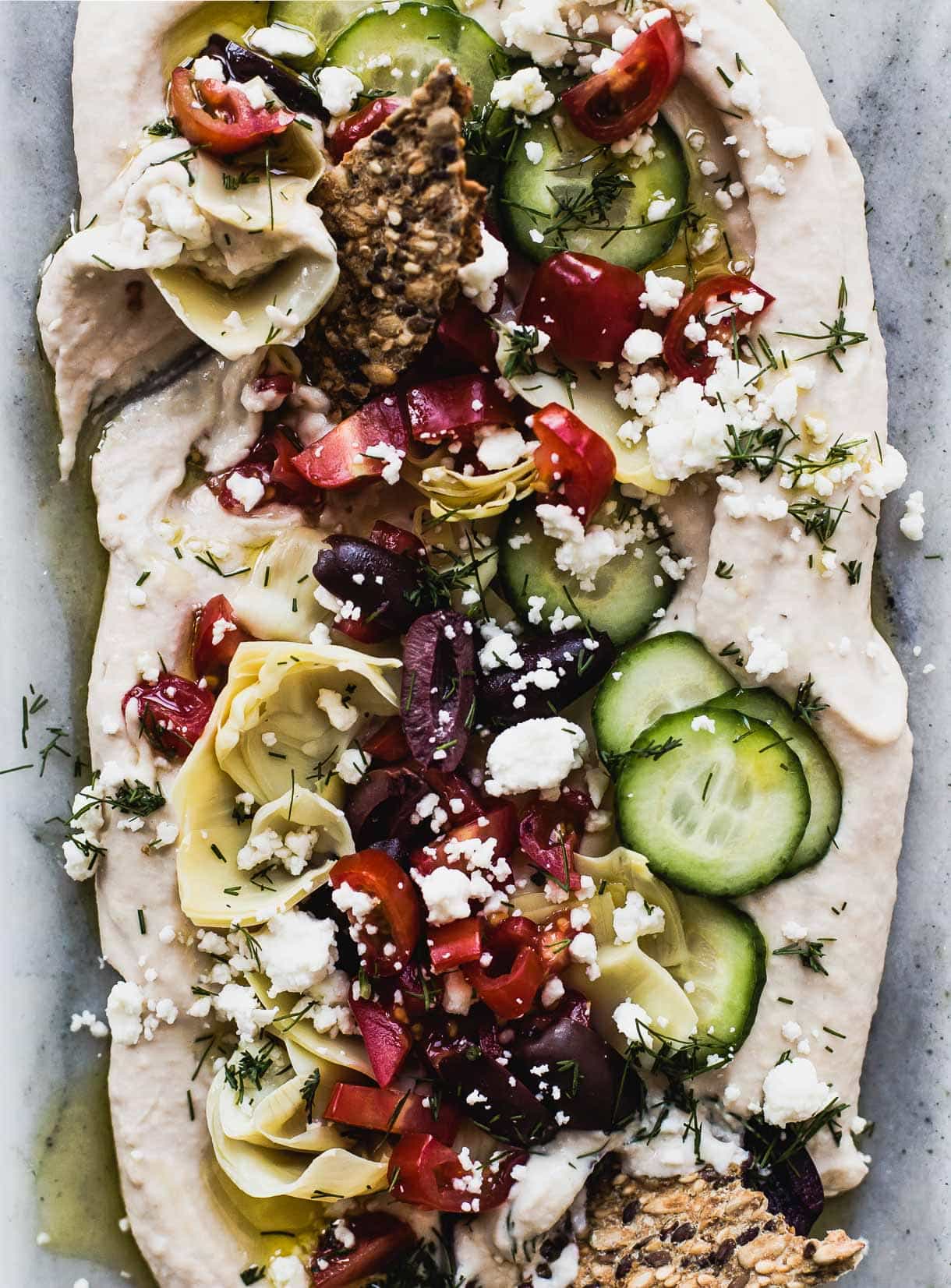 About this recipe:
You're probably familiar with a classic seven layer dip, the one with salsa, refried beans, and guacamole, right? It's good! But I was looking for a fresh twist, when I found this Mediterranean hummus version in A Couple Cooks new cookbook, Pretty Simple Cooking (more on why I love the book below). It's everything I was hoping for. Colorful, flavorful, and wholesome.
The layers are scattered atop my favorite white bean hummus, but you can definitely use store-bought to make this the quickest appetizer you've ever put together. The different components add something special to each bite.
They include:
briny kalamata olives
salty feta
tangy artichoke hearts
fresh dill
sweet cherry tomatoes
fruity olive oil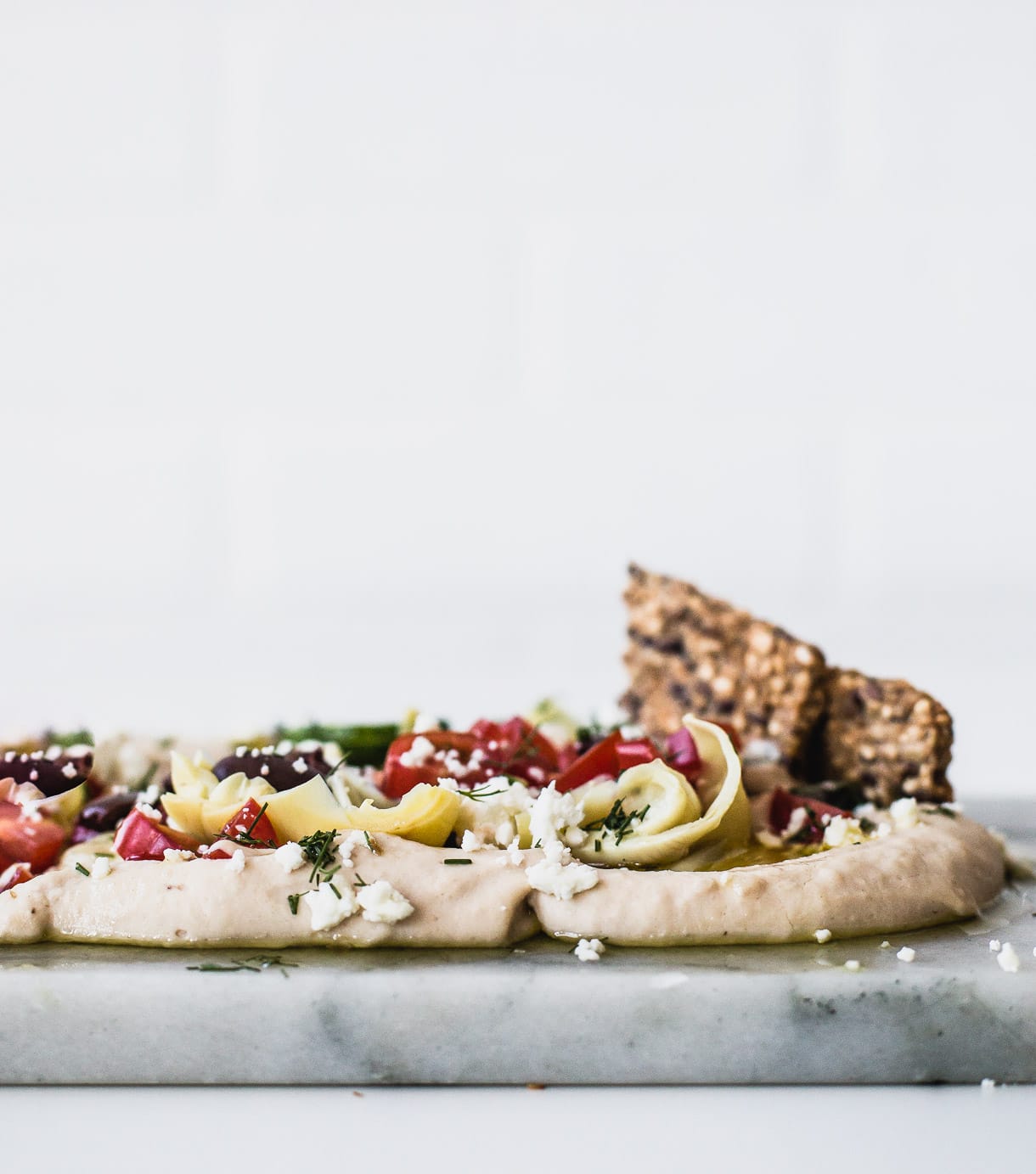 I choose to make this an abstract platter by spreading the hummus onto this marble slab, but if you're taking this to a party, it transports well in a simple glass dish. Feel free to make this your own, or use it as an opportunity to use up the few bits of produce hiding in your refrigerator! To fit my likings, I left off the red onion the original recipe called for, and swapped dill for parsley because I like its brightness.
Obviously this seven layer hummus dip is first and foremost a dip. But! Here are a couple of leftover ideas for you:
as a spread for a vegetarian wrap, stuffed with brown rice and romaine lettuce
as a base for poached eggs
as a grain bowl component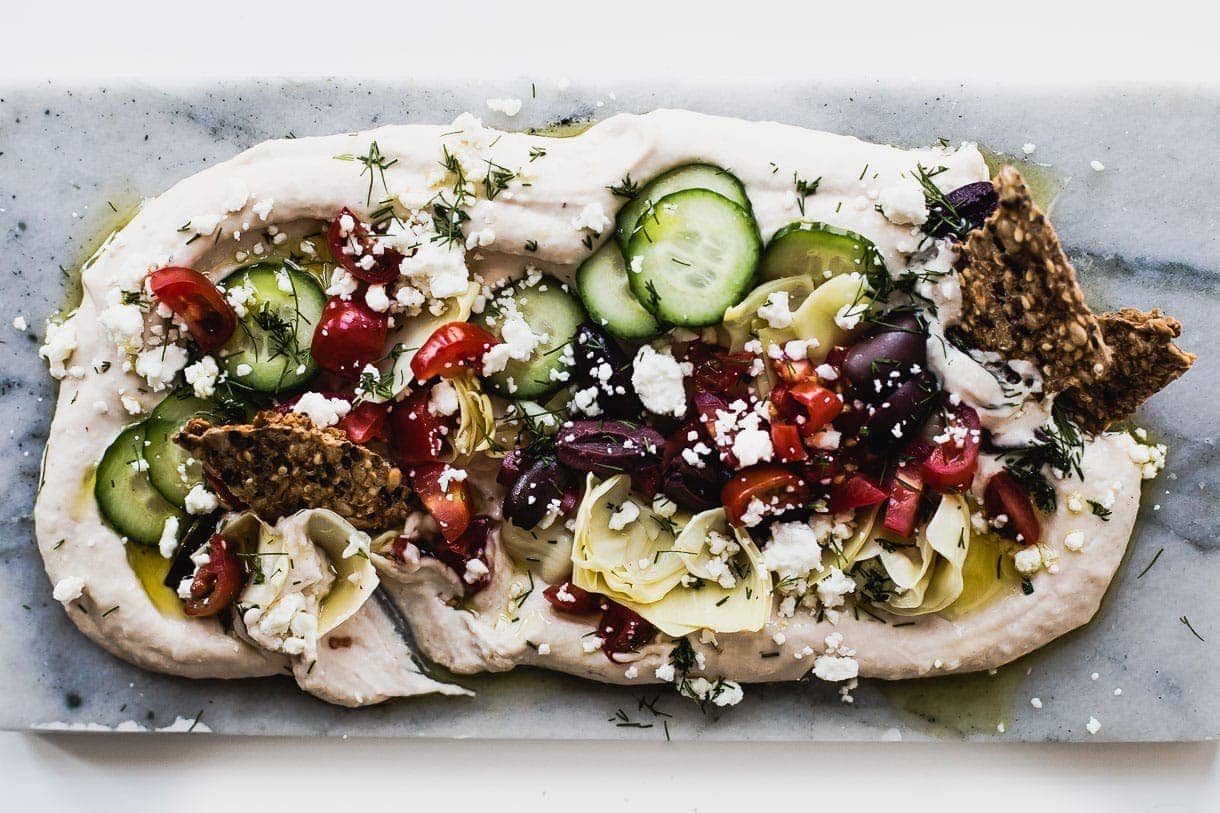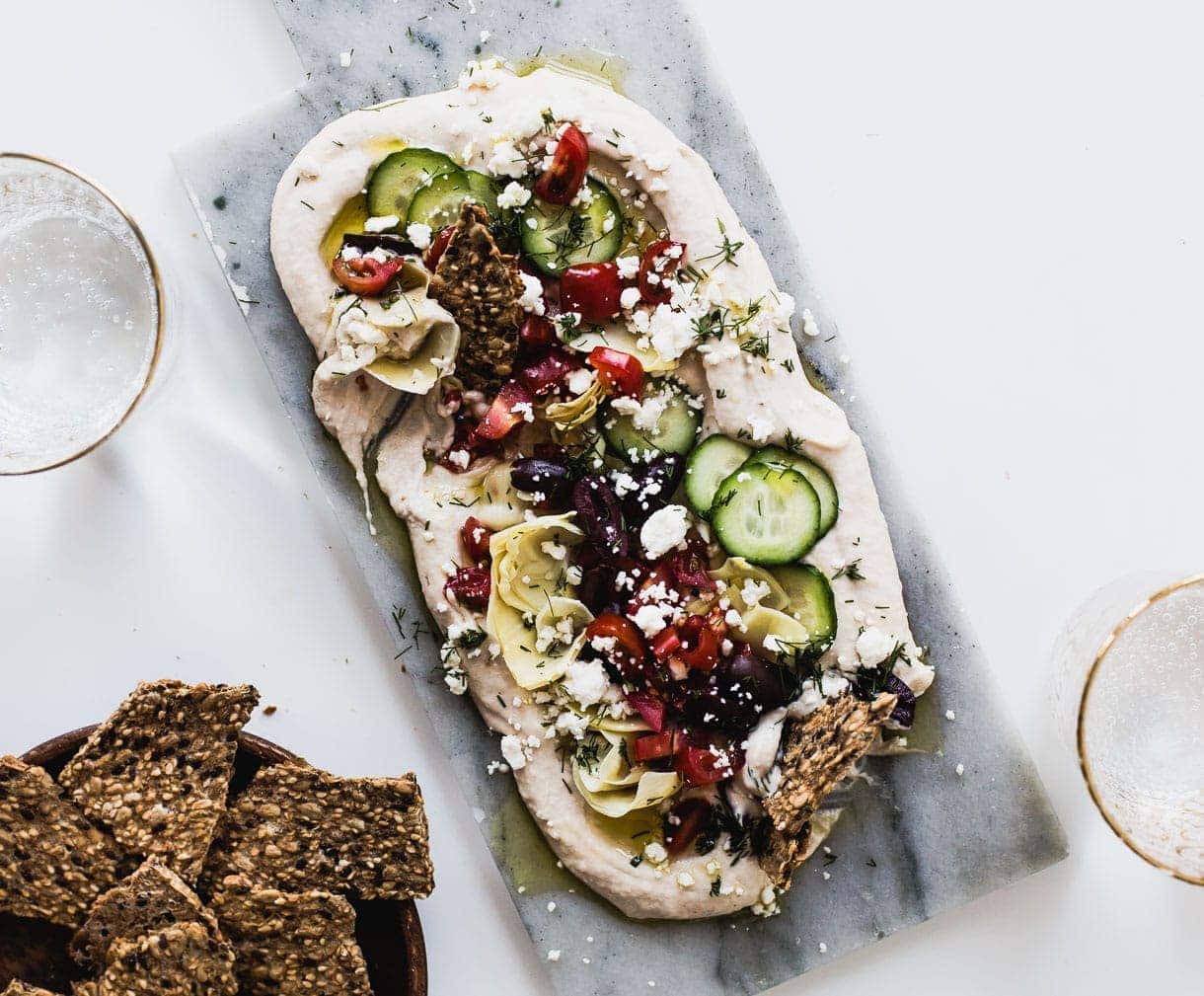 About the cookbook, Pretty Simple Cooking:
I met Sonja (Alex being her husband) of A Couple Cooks a few years ago at the Eat Sea Retreat in California. We made an instant connection, as I found out she was a Minnesota girl, born and raised. Her and Alex now live in Indiana, with their beautiful son Larson (whose adoption story is incredible), and their blog + podcast have been instrumental in teaching so many people around the world how to cook real food, and love the process while you're at it.
Pretty Simple Cooking is not only filled with 100 nourishing, vegetarian recipes, but also ten lessons sprinkled throughout that inspire a love for home cooking. Their philosophies resonate deeply with me…. that good food doesn't have to be intimidating or difficult, but it isn't always fast, like so much of our culture preaches. Of course I love shortcuts and convenience as much as anyone, but I also spend much of my time in the kitchen because I love the feeling of creating to nourish. To make something with my own hands, that made its way there because of someone else's hands (the farmer, artisan, or maker). And to spend time with others gathered around food.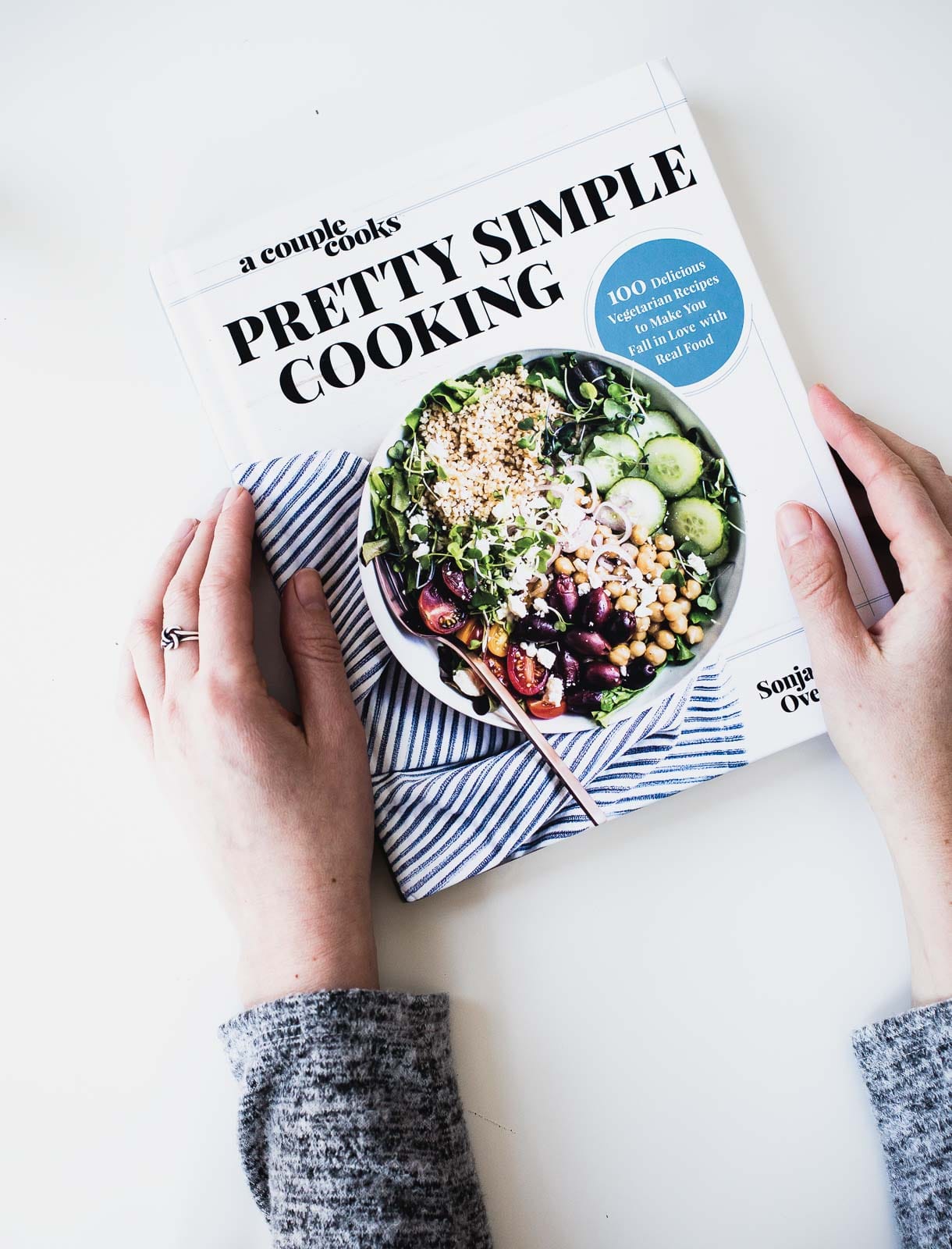 What I love about this cookbook is that it's truly is for all levels of cooking, accessible and modern – that comes from two people who first fell for each other, and then fell in love with cooking, going from eating frozen food when their first met, to regularly cooking meals from scratch and hosting dinner parties. Yes, truth. It's hard to not want to start cooking after flipping through the recipes they've created over the years! Here are some of the others I'm looking forward to making:
White Cheddar Leek & Greens Millet Bake
Two Potato Hash with Romesco
Gluten-Free Dark Chocolate Sea Salt Skillet Cookie
You can buy the cookbook HERE!
1

batch [white bean hummus]

or 12 ounces store-bought hummus

1/2

cup

chopped cucumber

1/2

cup

quartered cherry tomatoes

1/4

cup

chopped Kalamata olives

1/2

cup

drained

chopped artichoke hearts

1/4

cup

crumbled feta cheese

1

tablespoon

minced

fresh dill

olive oil for drizzling
Spread the hummus on a large plate and top with cucumber, tomatoes, olives, artichoke hearts.

Sprinkle with feta, and drizzle liberally with olive oil.

Serve with crackers or pita chips.
This recipe is adapted from the Pretty Simple Cooking cookbook, by Sonja and Alex Overhiser.