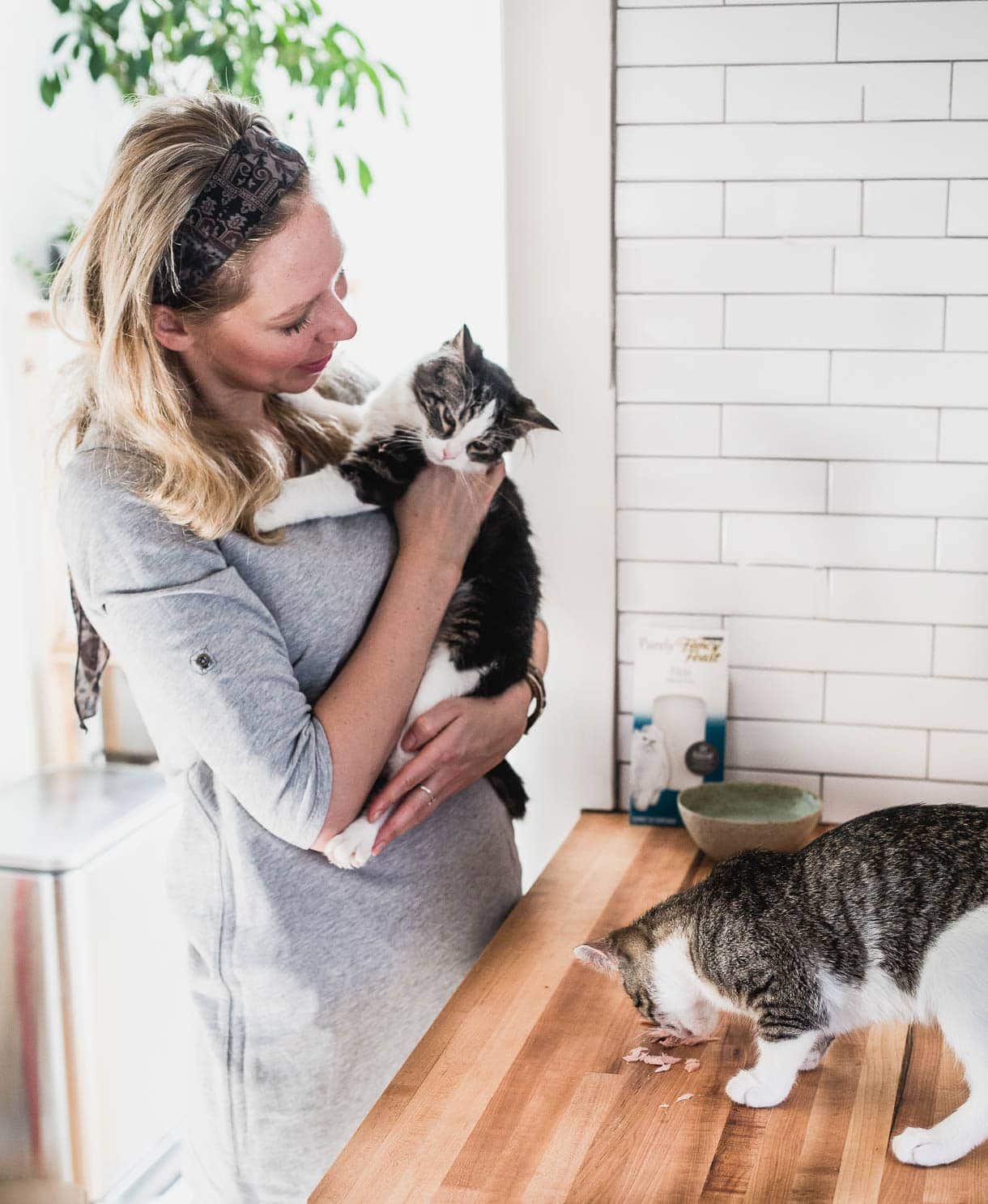 As some of you may know, six months ago I made the decision to start fostering cats and kittens for a local no-kill shelter. I have a huge heart for felines, and truthfully, it was my trip to Africa that made me think about how I could help the helpless in my own life, in whatever capacity that could be. Through a friend of a friend, I discovered that Feline Rescue was in need of new foster homes for those they were saving.
I talked it through with Brian before applying the next day. I felt compelled to help, knowing that my work situation is unique, not only working from home to give fosters lots of attention, patience, and care, but also the ability to take them to appointments at the drop of a hat. One of my biggest hesitations was not knowing how Grace, our 8 year old black cat, would adjust to other felines in the house, something she'd never been exposed to.
Before I could really plan things and google all the cat/kitten things, I received a call for a pair of kittens, whom had been dumped at the shelter by someone who couldn't keep them. I hopped in my car ten minutes later and headed to the shelter to pick them up. And from that moment until now, it has been a constant flow of learning and love, adopting our 10th little one out to his forever home last week. I've gained a lot of knowledge about felines, like bottle feeding kittens, yet still have so much to learn.
Some things have been intuitive (like always keeping the litter box clean so they use it properly), and feeding them grain-free food like Purely Fancy Feast Filets. Others have surprised me, specifically with introducing cats to humans and new felines. Above all, their senses are very critical in how they determine safety, so I've learned it's best to approach each sense on its own, one at a time.
Smell is the first one we tackle, and it starts with food – eating together, but on opposite of sides of the door. To visualize, that would be the new kittens or cats on one side, and Grace on the other. Food is such a positive reinforcement for them, that if they can associate the smell of the other cat with that, they're going to be more accepting.
Eventually, after a slow progression to a visual introduction, I have them all eat together, with their own bowls. And can I tell you how much harmony that evokes? It was incredible to me. Contrary to many sources that say food is competition for cats, I have observed some of their most calm and happy demeanor at mealtime, and cleaning/grooming themselves (or each other!) together afterwards.
Instead of feeling threatened or timid, your cats will understand others are there, and that's okay, instead of feeling like it's a threat. It's a way of distracting them to, as hunger usually wins over fear. And much to my surprise, Grace will never try to eat their food. She respects them, and is not territorial. There is no hissing or cat fights like I had always envisioned…..
Eating time becomes nearly a gathering! Sometimes I will feed them the Fancy Feast Filets whole, and they'll dance for them. It's the cutest. And they're rewarded with a treat that's nourishing and delicious. The filets are real chicken and seafood (tuna, salmon, and oceanfish) — no artificial colors, flavor or preservatives, and no byproducts or fillers. That quality is something very important to me when deciding what to feed them.
Other times I'll break the filets and sprinkle bits their dry food as a topping, something a little more decadent that encourages them to eat. And if we happen to all be in the kitchen together, I'll flake some into my hand and give them a quick snack. I've found that flexibility and variety is key to keeping them interested.
So many factors about eating that are similar to our interactions as humans, and the importance of breaking bread together, and spending time around the table together. Feeling comfortable around each other. Letting our guard down. Coexisting, even if we're not the best of best friends.
Xo,
Amanda
This post contains Amazon affiliate links, which I may make a small commission from should you decide to purchase.