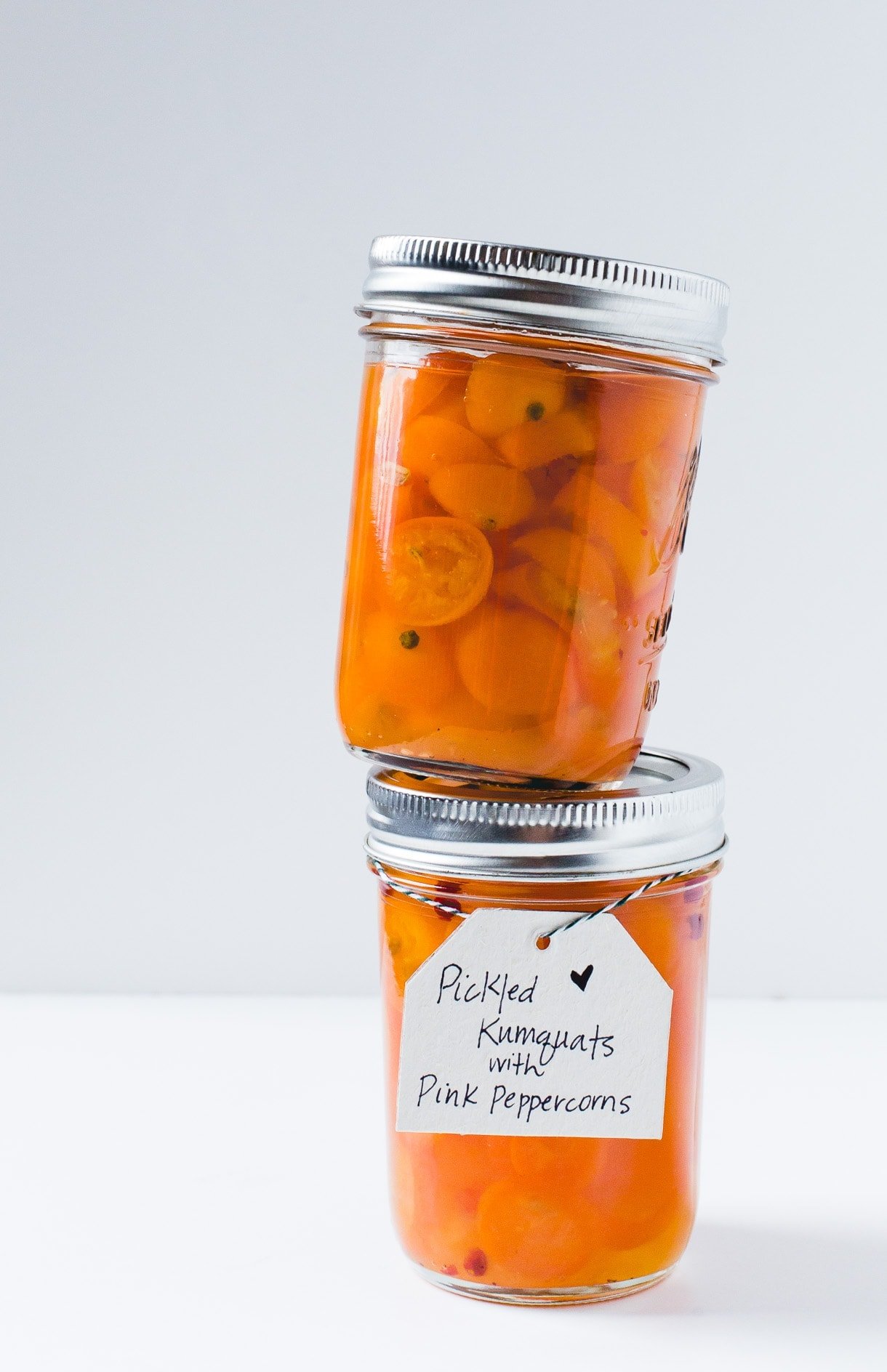 Pickles, jams, marmalades, krauts…. those little items that accompany a meal and push our palates a little further. I just love the myriad of components the little jars can house within their glass walls – sweet, sour, tart, tangy, salty, spicy, and many more.
I started canning and preserving when I was young, helping my mom make upwards of 20 pints of salsa and strawberry rhubarb jam. The process was long and tiring. So much peeling and chopping, followed by hectic rushing to fill the scalding hot jars with whatever was bubbling in the pot. BUT…. those jars were like liquid gold come winter time.
My strategy on canning is more small-batch driven, as I really enjoy being able to tuck away all sorts of options instead of focusing my energy on one or two recipes. One week I can pull out of a jar of chai pear butter, the next I'm noshing on the Kumquat Pickles you see here, a recipe I'm sharing from my friend Autumn's new book, Beyond Canning!
I've been reading Autumn's blog for quite a few years, first stumbling upon this delicious Rhubarb Shrub recipe she created. I've always admired her unique combinations, but most of all, her ability to make these fantastic small batch recipes and take away the intimidation of canning. I recently sat down with to ask her 5 questions to dig a little deeper into her inspiration, and learn more about why she loves "putting things up".
1. What was the very thing you canned, and how did you learn?
I first canned at a canning party at my friend Kate's house. I always recommend folks who are new to canning do it the first time with someone who knows what they're doing. It's just so helpful to have a friend to reassure you when you're just starting out. I remember at that canning party we made a TON of pickled green beans. Another awesome thing about making canning a social event, is that it splits up the work!
2. What do you hear most commonly that is definitely a myth about canning?
Surprisingly, I've encountered a fair number of folks who still have a perception of canning as something done only by people living on farms. I got excited about preserving when I lived in NYC.
3. What are the best fruits to make jam with and why?
The ones you enjoy eating that grow around you! ;) Really though, since I left NYC for the desert I've been focusing on discovering ways to preserve what I love that is plentiful by me– the beautiful apricots from my friends' backyard, the grapefruits from my boss' tree. The women in my boyfriend's family have an AMAZING fruit tree game. From them I get pears, figs, tiny red plums, and pomegranates. When I was a NYC greenmarket nerd, the things that I looked forward to preserving every year were sour cherries and rhubarb.
4. Do you have any secrets, or tips to make sure your fruit or vegetables don't float to the top?
That has been a problem for me in the past. This is sometimes called "fruit float" although it happens with veggies too, as you point out. Making sure that you release air bubbles before applying the lids is an easy way to help cut down on this phenomenon. It can be helpful to use a regular mouth pint jar with a shoulder (as opposed to a wide-mouth jar), which can help keep everything submerged.
5. If you had to pick one recipe from the book that you will make every year, no matter what, which one is it?
The Bergamot Scented Meyer Lemon Marmalade. I use fresh bergamot zest to scent the marmalade and it's just the most heavenly thing. That said, when I had meyer lemons this year, I didn't have bergamots, so I omitted them. Even without the fancy add-in, I love this recipe! The advantage of meyer lemons in marmalade is that the peel in more tender and less bitter, making this a perfect recipe for folks who might still be on the fence about marmalade.
That marmalade is next on my list, but I'd highly suggest you make this Kumquat Pickle recipe before the citrus season ends. They're incredible! A whole citrus pickle, known as a piquant, these punchy babes rely on vinegar, organic cane sugar and acidity of the kumquat for a long shelf life.
I love the subtle spice of the pink peppercorns and depth that comes from a dash of ginger.
The beauty of kumquats is you can eat their thin skin too, which softens even further as they're lightly boiled with the vinegar and sugar.
The process is relatively simple – from beginning to end, it took me less than an hour. And with Autumn's wonderful details on everything you need to know about canning, you'll feel ready to rock and roll even if it's your first time.
Do a little dance when you hear that "pop!" that signals a successful seal, and enjoy these Pickled Kumquats on a slice of toast with brie cheese, salads, or a slice of pound cake with whipped cream.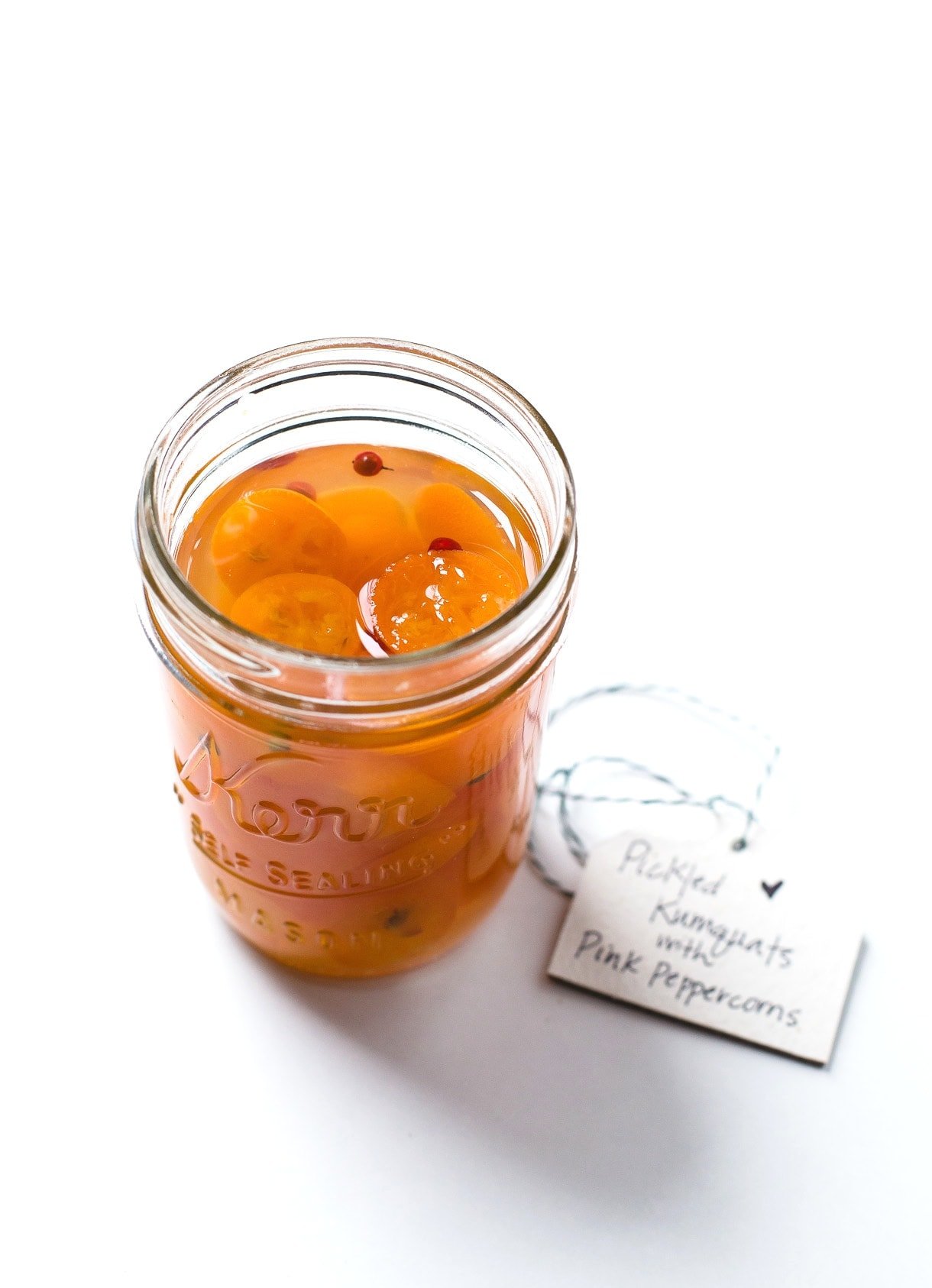 Pickled Kumquats with Pink Peppercorns
Additional Time:
10 minutes
Savor winter citrus with these kumquat pickles!
Ingredients
8 ounces kumquats, halved (the little seeds aren't even noticeable when eating so you can leave them in)
1 cup distilled white vinegar
¼ teaspoon ground ginger
Pinch salt
Instructions
In a large pot, cover the mandarinquats with cold water by 1 inch and bring to boil that cannot be stirred down.
Immediately reduce heat to low and simmer until the mandarinquats can easily be pierced with a wooden chopstick, about 30 minutes. Add more water if needed.
Drain the mandarinquats, discarding their cooking liquid. Set them aside in a separate bowl.
Combine the vinegar, sugar, ground ginger, pink peppercorns, and salt in your preserving pot and begin to bring to a boil over high heat. (You can use the same one that you just simmered the fruit in.)
Stir to dissolve the sugar and salt. Once they're dissolved, add the fruit and bring to a boil. Lower the heat and simmer for 5 minutes.
Ladle the kumquats into the prepared half-pint jars, evenly distributing them between the 2 jars and leaving ½ -inch headspace. Remove air bubbles and wipe rims. Place the lids on the jars and screw on the bands until they are fingertip tight.
Process in a water-bath canner for 10 minutes, adjusting for altitude if needed.
After 24 hours, check the seals. Label, date, and store out of direct sunlight without the bands for up to a year.
Notes
After you are done eating all the kumquats, you can use the remaining syrup as a drinking shrub to mixed into cocktails!