This clumpy granola recipe is all about the giant clusters. This healthy recipe shares the secrets to making chunky oat clusters that has a base of both steel-cut oats and rolled oats. The granola is naturally sweetened with coconut sugar and maple syrup, and happens to be vegan!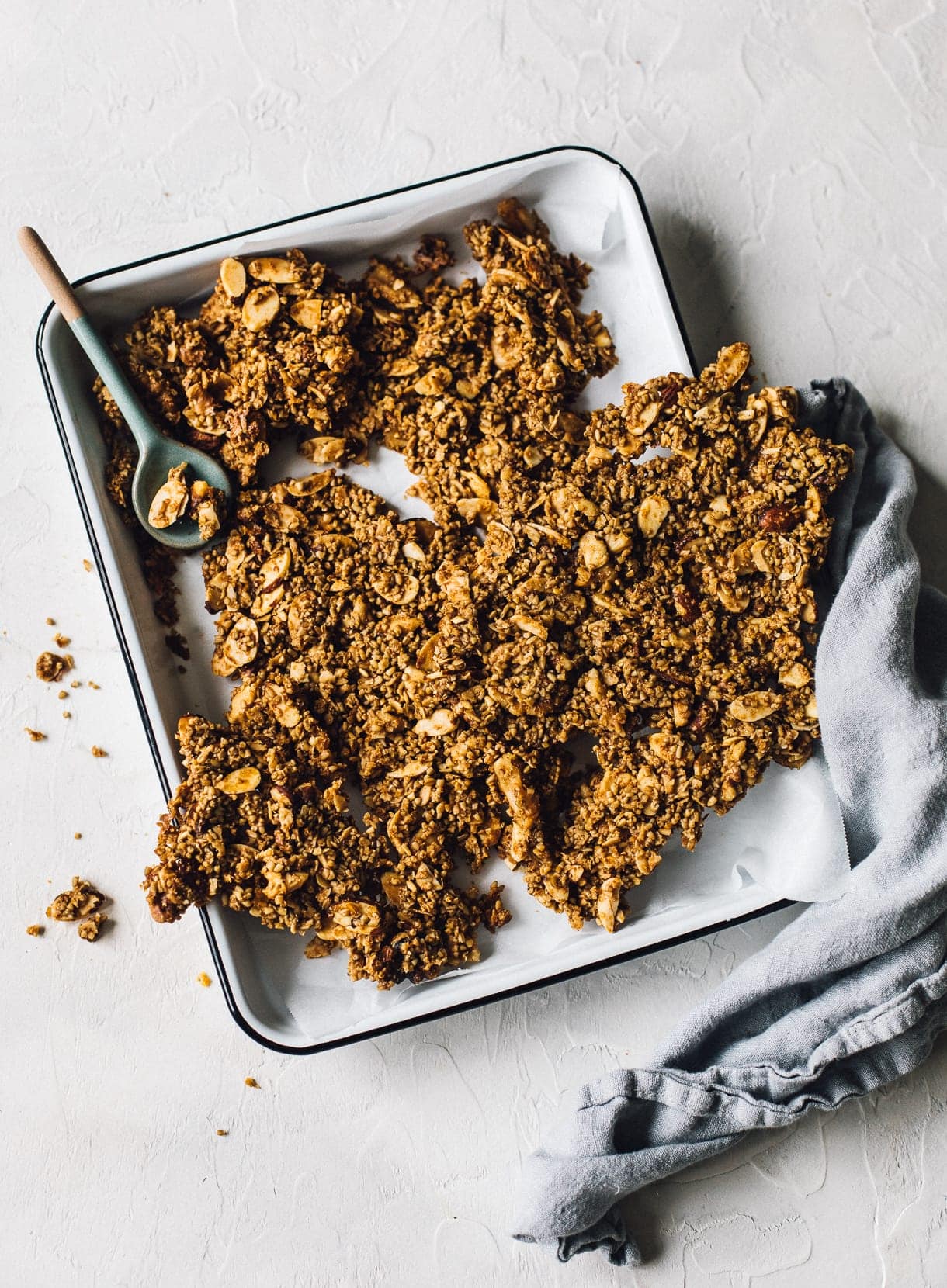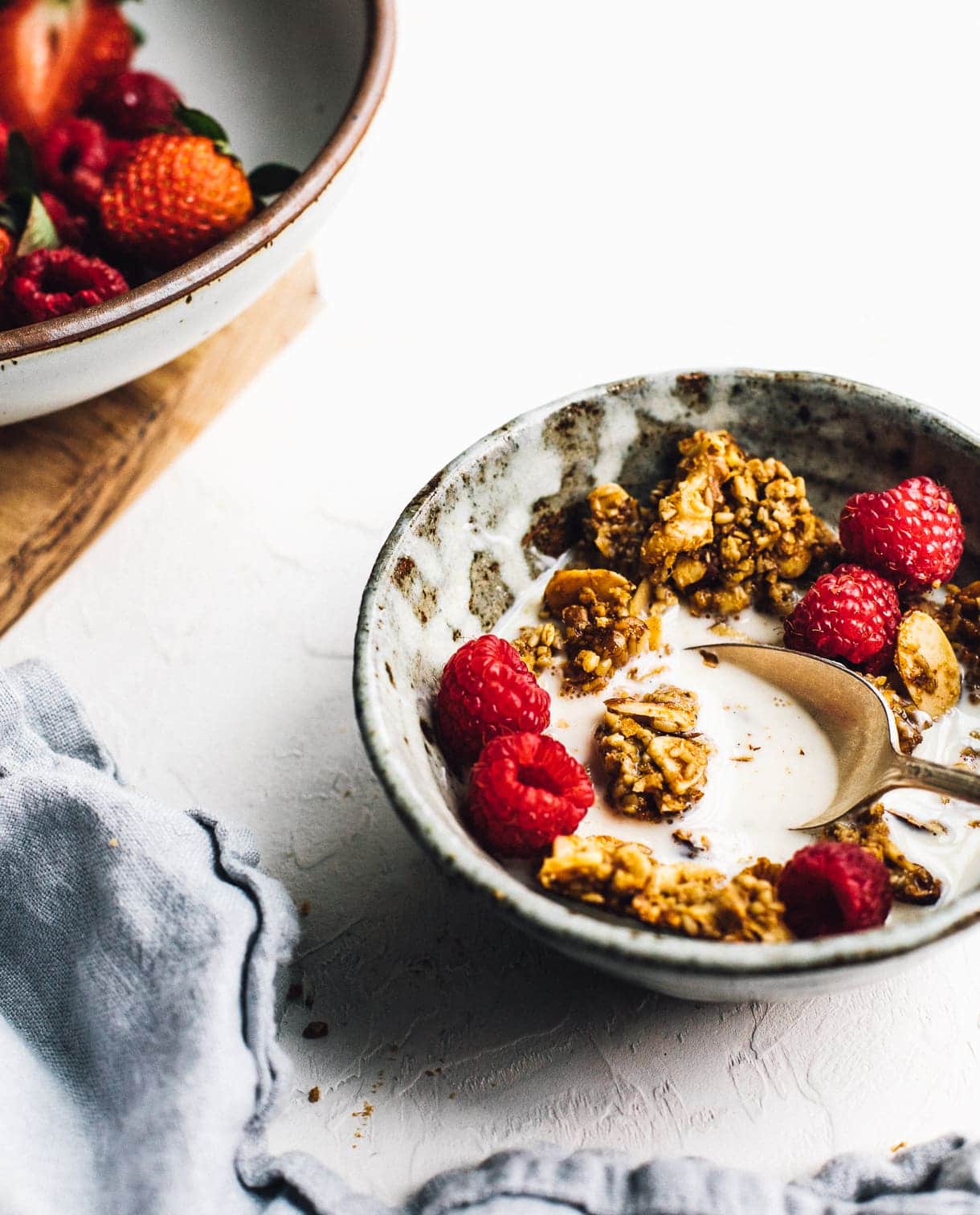 Recently, I opened the pantry to gather ingredients for my go-to clumpy granola recipe (that I've had on my list to share with you for over a year) when I realized I only had 1 cup of rolled oats left. Not good timing, as the current pandemic has me avoiding the grocery store.
I looked once more in my pantry and found a huge canister of steel cut oats.
And I quickly started to wonder if I could make granola with them. Using the 1 cup of old fashioned oats I had, and double the steel cut oats, I started testing.
Out of the oven came sheets of giant granola clusters, with any airy crunch. They shatter when they meet a tooth, just as they should. Bakery style, but homemade.
Thin and crisp. Naturally sweet and a bit salty. Absolutely divine.
It's clumpy granola heaven, if you're into that kind of thing.

Here are the main ingredients you'll need to make this Giant Cluster Granola:
steel-cut oats
old fashioned oats
nuts of any kind
ground flax seed
maple syrup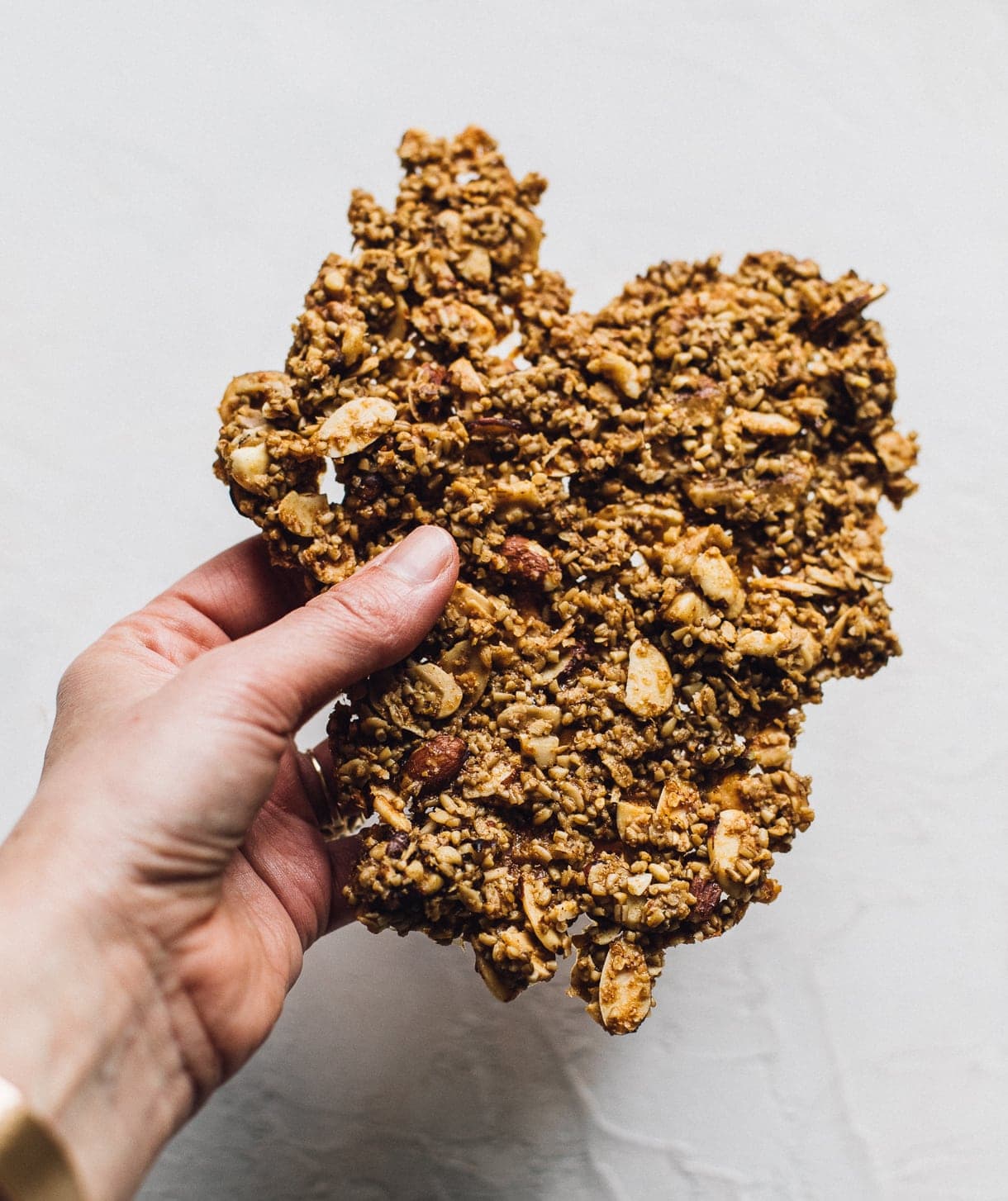 What's the secret to extra clumpy granola?
You may have heard that egg whites help granola bind together into clumps. Same thing with honey. These methods work -okay-, but they tend to result in stickiness, and over time the granola loses any crispness it came out of the oven with.
Instead, I learned from Laura Wright in her "The First Mess Cookbook", that ground flax seeds are an even better solution, while also keeping the granola vegan for those who desire it to be. When the ground flax hits liquid, it creates a coating that clings to the dry ingredients and clumps them together, creating an excellent crisp texture.
Steel-cut oats are key to the giant clusters as well! These little nubs cling to the nuts, while retaining a bit of chew against the crunch. I'm obsessed with the contrast in texture.
I've never had a granola hold together as well as when using these methods combined. Added bonus – you don't have to figure out what to do with your leftover egg yolk.
What are steel cut oats?
Steel-cut oats are made from whole oat groats that are chopped into small, nubbly pieces. Old fashioned oats are also made from whole oat groats, but they are flattened instead of chopped. Their flatness helps them cook faster in water. Steel-cut oats also have a nuttier, earthier flavor than rolled oats, that I personally love.
Baking steel cuts oats works wonderfully, just like old fashioned oats. They become crisp and chewable, not hard on the teeth or anything. The stubby, chunky texture is great.
I'll never make granola without steel-cut oats again – that good!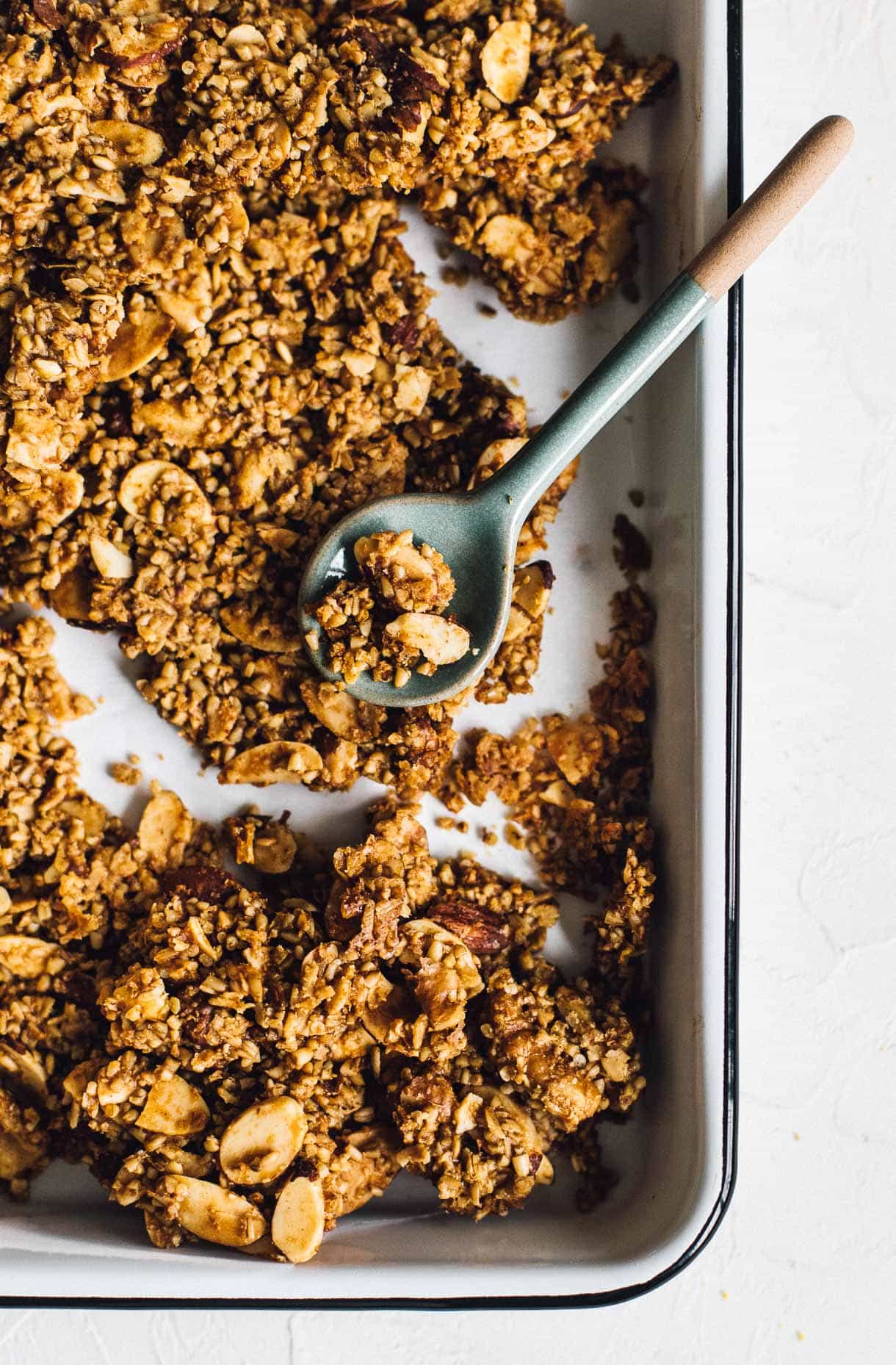 How do I store granola to keep it crisp?
I like to store my granola in a large glass container, with a top. A quart sized ziploc bag also works. Both ways keep air and moisture out, so that crisp texture is not lost.
Is this recipe refined-sugar free?
Yep! Maple syrup and coconut sugar are used in this cluster granola to naturally sweeten it. I wouldn't suggest using honey as substitute, because it will turn out sticky.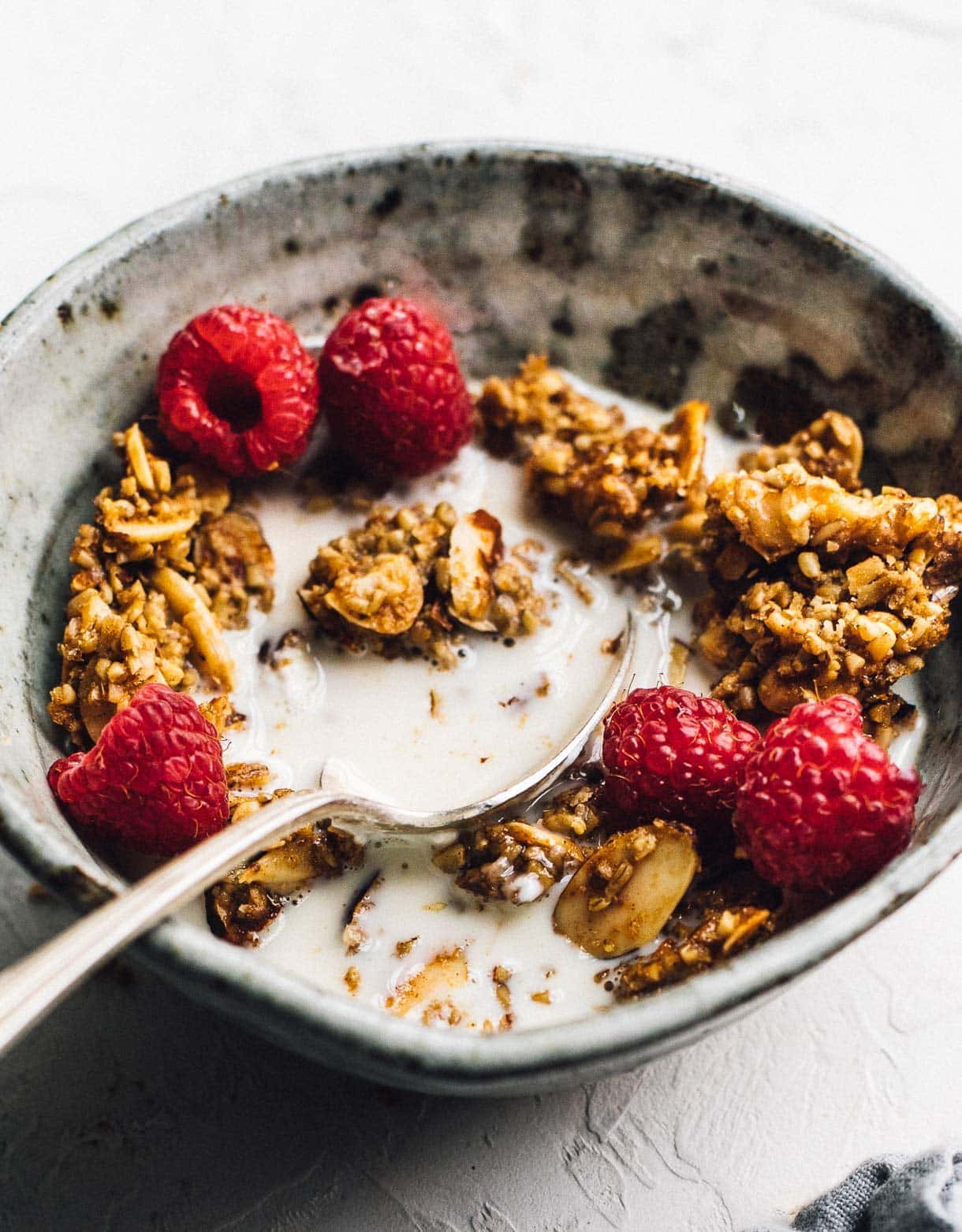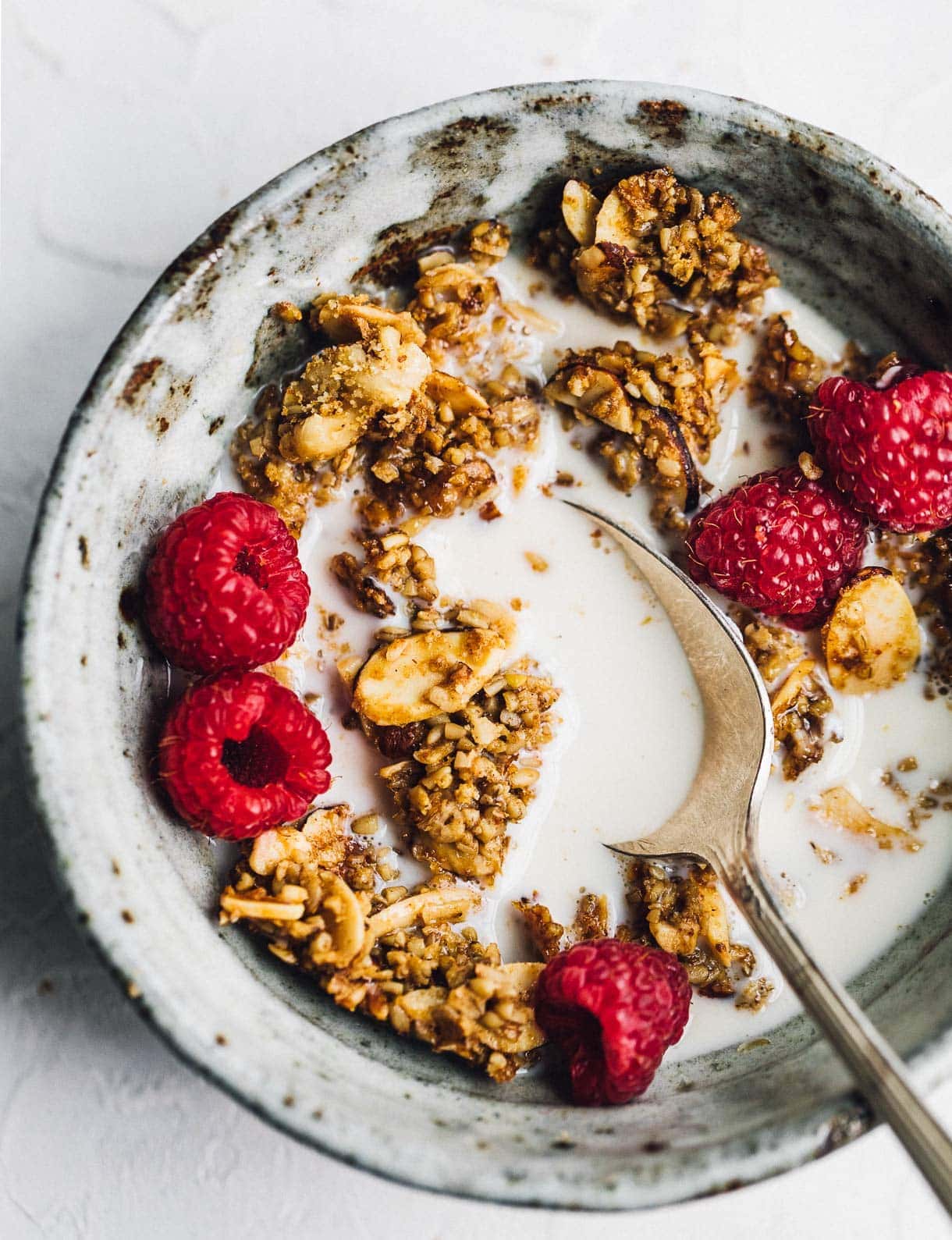 More of my favorite OAT recipes!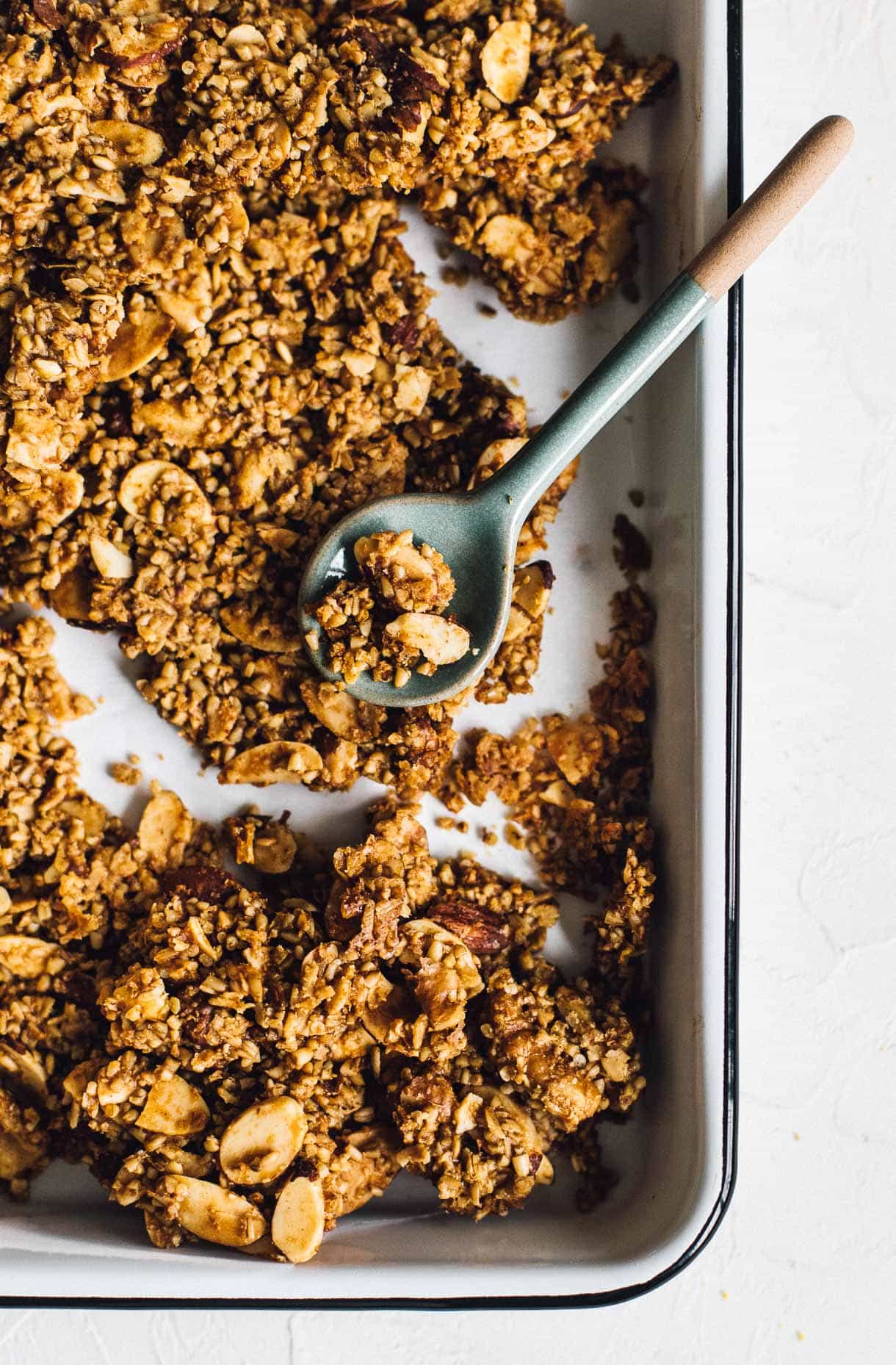 1 1/2

cups

steel-cut oats

1

cup

old-fashioned rolled oats

1/3

cup

olive oil

or avocado, or grapeseed oil

1/4

cup

maple syrup

1/4

cup

coconut sugar

1

tablespoon

vanilla extract

2

teaspoons

ground cinnamon

1/2

teaspoon

sea salt

1

cup

flaked almonds

1

cup

walnuts

or pecans, barely chopped

3

tablespoons

ground flax seed
Preheat oven to 350 degrees F.

Place parchment paper on a large rimmed baking sheet. Add both types of oats to the pan and spread out. Bake for 7 minutes, to toast them.

Meanwhile, combine olive oil, maple syrup, coconut sugar, vanilla, cinnamon, sea salt in a bowl, whisk together.

Remove oats from oven and pour into a large bowl. Add nuts and flax seed. Then pour liquid mixture over the top and stir to fully coat.

Turn oven down to 300 degrees F. Spread granola onto baking sheet, pressing down to make it stick together in compact form, as one uniform piece that is about 1/2 inch to 1 inch thick.

Bake for 30-35 minutes, until mostly dry. DO NOT STIR. Remove from oven and let cool completely (it will harden as it sits, patience) before breaking it into big chunks.