A fluffy gluten-free pancake recipe, made with oat and sorghum flours for flavor and great nutritional benefits. You can make them into traditional circles, or heart shapes for special occasions!
Does your family have a favorite pancake recipe? I've made many different gluten-free versions over the years, trying to find THE ONE. You know, that becomes a weekend tradition, that could be our go-to.
Some gluten-free pancakes I tried were good, even good enough to post here on this blog. But as expected, my preferences have changed over the years, my pantry ingredients don't quite look the same, and to be honest – I'm a little more critical of what constitutes a pancake worth making again.
Which is why I'm sharing this Homemade Gluten-Free Pancake Recipe — she's a keeper, that results in golden, fluffy vehicles for the toppings you fancy.
Ingredients for Homemade Gluten-Free Pancakes
This uniqueness in this recipe is that part of the "flour" mix is ground walnuts! I absolutely love how the irregular grind of the walnuts lead to a little bit of crunch through the pancakes. And it's another way to get omega 3 fats into your day.
Sorghum flour and oat flour make up the rest of the dry mixture, and the liquid ingredients are pretty standard – buttermilk, eggs, butter, and vanilla. To keep the recipe refined-sugar free, I used minimal honey as the sweetener, as I found the flours have a natural sweetness on their own.
Making Heart Shaped Pancakes
With Valentine's Day coming up, the heart shaped pancakes seemed to be an ideal way to have breakfast together. Easier than making a big fancy meal, but just as loving.
And I was super impressed with these non-stick heart pancake rings that were less than $8. !! Besides – I see no reason why heart shaped pancakes shouldn't be made year round.
Okay, so I bet you're wondering……..
How do homemade gluten-free pancakes taste?
They taste amazing! Nutty from the walnuts, and toasty sweet from the oat flours. The tiny doses of vanilla and cinnamon play off the natural sweetness, and give them the old fashioned flavor you're used to.
Is their texture similar to a regular pancake?
Yes! In fact, I think their texture is better than many traditional pancakes. They're soft inside, with a lofty rise, and sturdy edges. More thick than thin, which bodes well for soaking up pure maple syrup.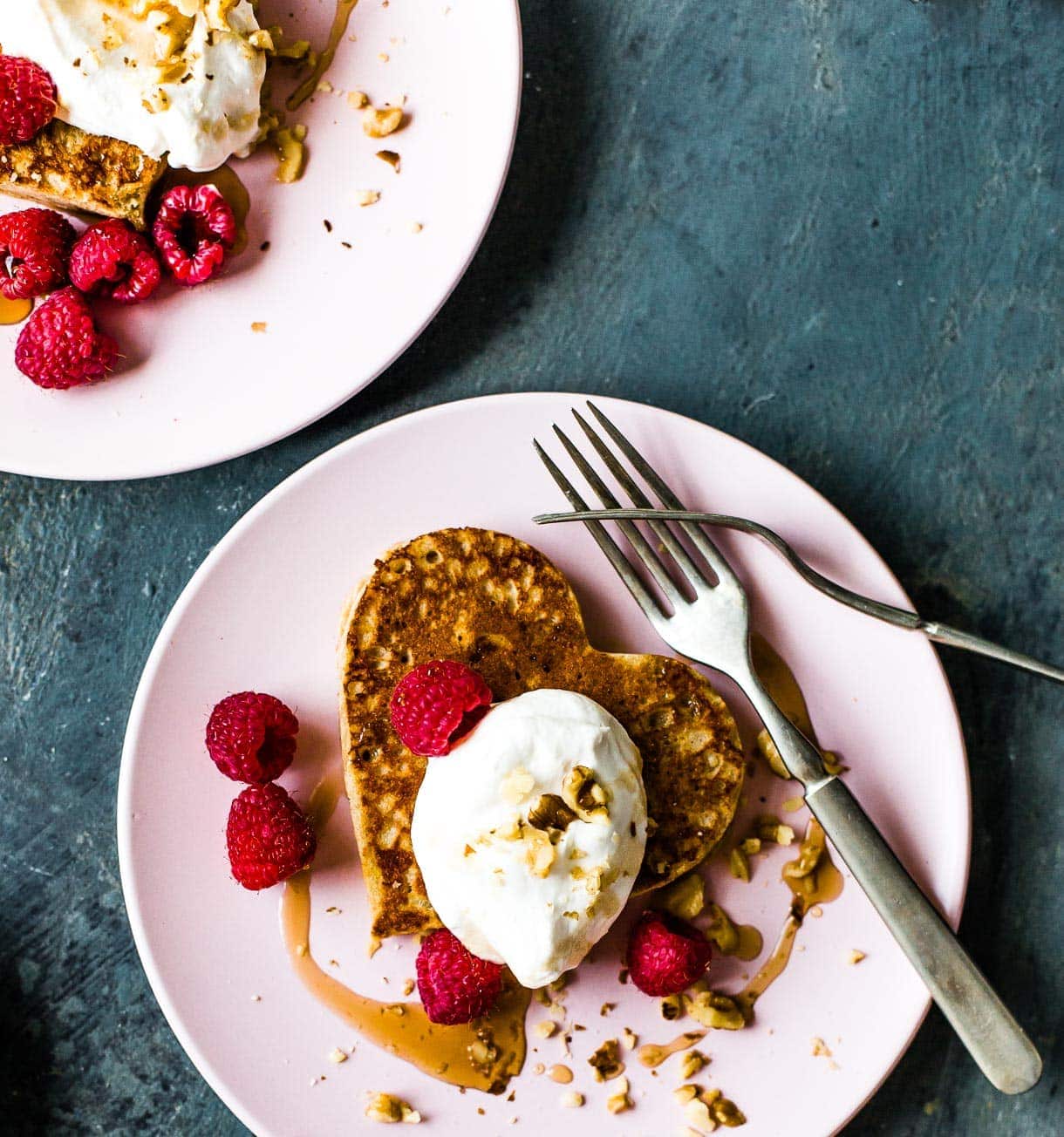 More Gluten-Free Breakfast Recipes: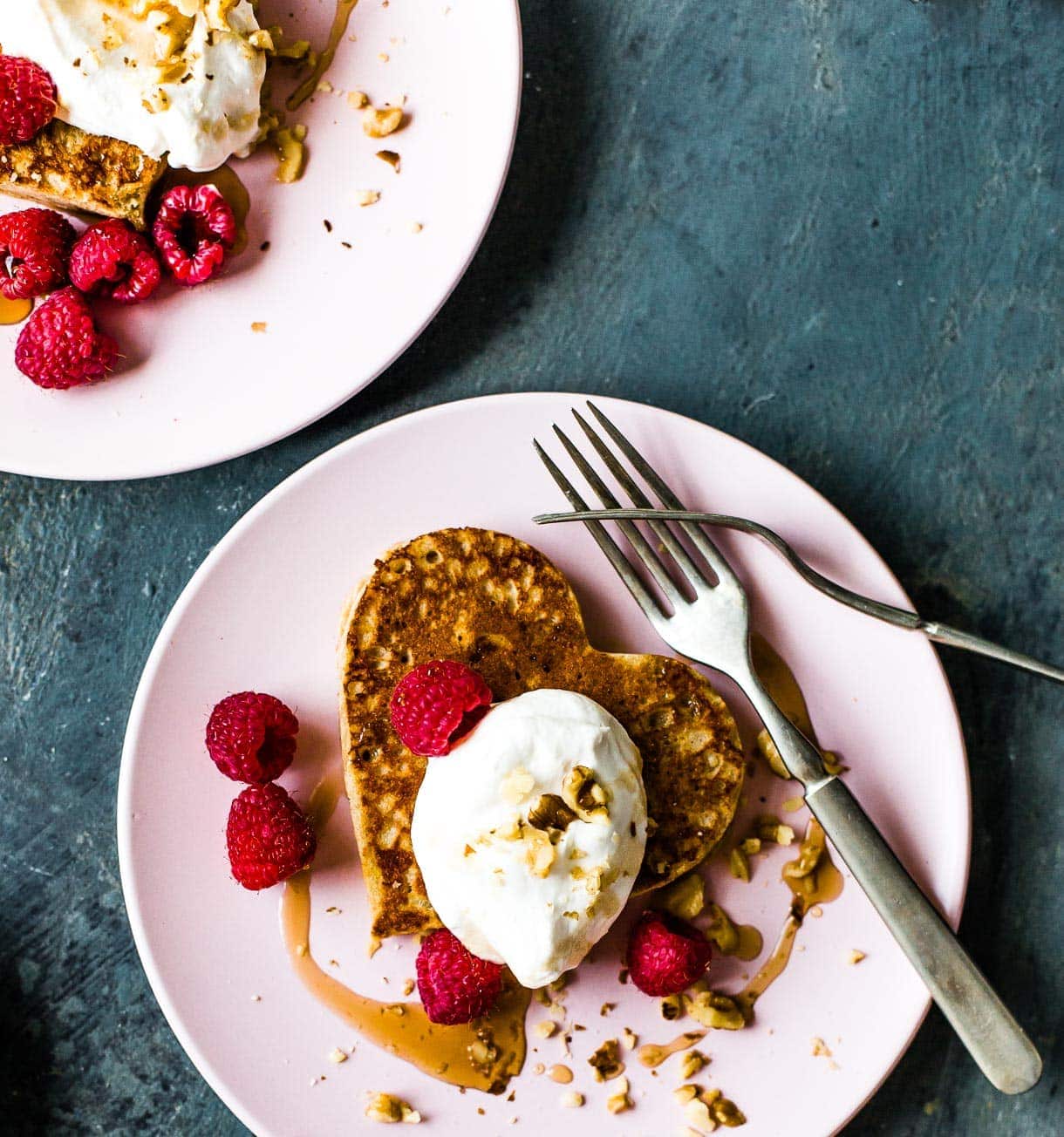 Roughly chop walnuts and add to a spice grinder. Blitz until walnuts are ground up pretty fine, but without turning to "walnut butter". It's okay if some chunks remain.

Add ground walnuts to a large bowl, along with oat flour and sorghum flour. Then grind flax seeds until they are fine and sandy. Add to bowl with other dry ingredients, along with baking powder, cinnamon, and salt. Stir with a fork to combine.

In a separate bowl, whisk buttermilk, eggs, honey, vanilla, and cooled butter. Stir wet ingredients into dry ingredients, until no flour streaks remain. But don't overmix. Let batter sit for 5 minutes, while you heat up your pan. THE BATTER WILL BE THICK. And that's okay. :)

Spray non-stick pancake rings* (see note below), and your skillet with olive oil. Heat pan to medium heat. Place rings on the skillet, and fill with 1/4 cup pancake batter. (If you do not have rings, you can make regular circle pancakes.)

Let cook until you see bubbles coming through the top of the pancakes, and sides of pancake are setting. Gently lift pancake ring up to remove. Then flip pancakes, and cook for 2-3 more minutes until done.

Serve with extra walnuts, whipped cream, raspberries and maple syrup.