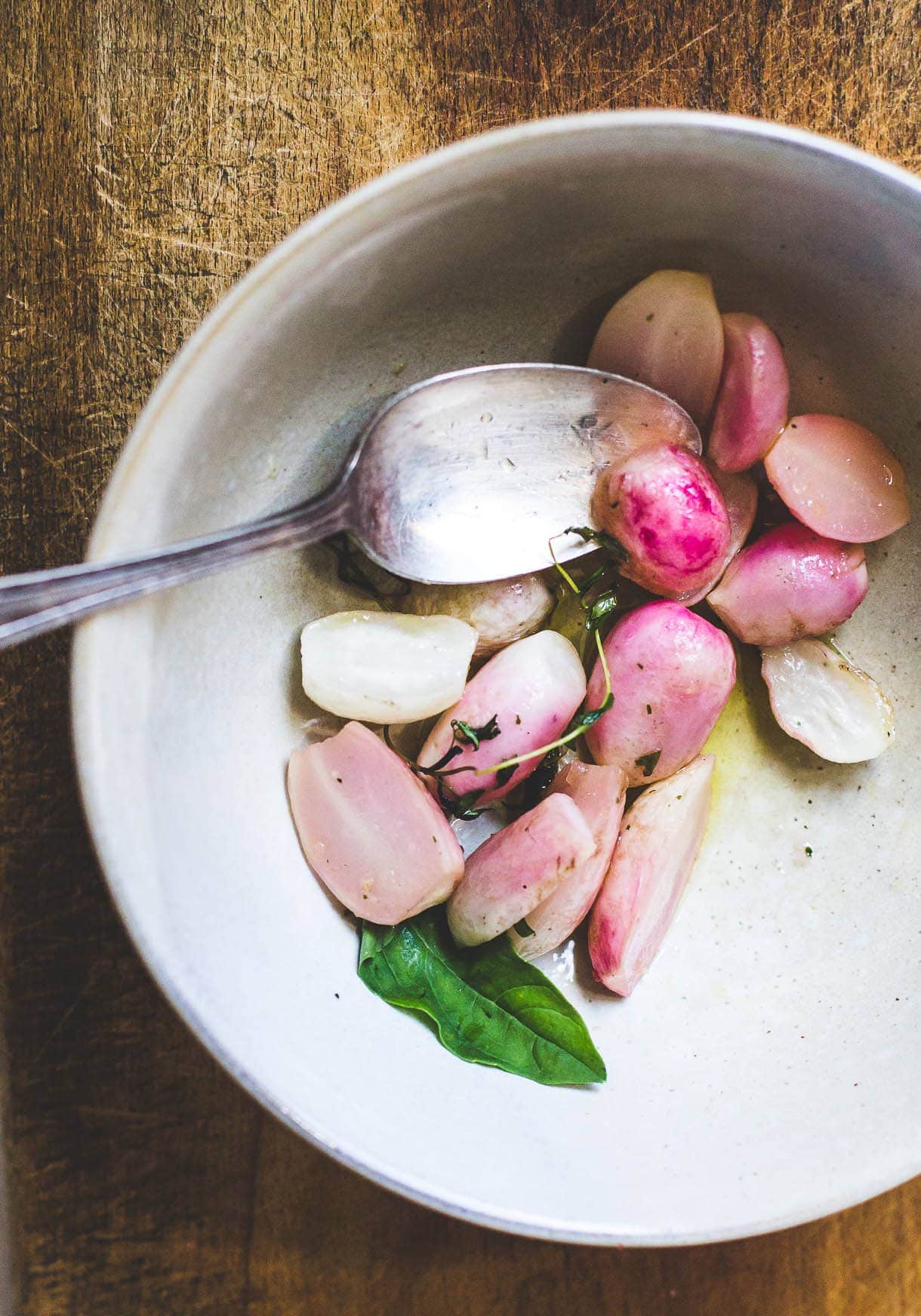 Never would I have imagined the joy that flowed through my hands as I picked these tiny radishes and fresh herbs from my vertical garden. Even though it may have been a small harvest, the fact that I grew my own food was extremely satisfying.
I've been watching over them as if they were children since planting them about a month and a half ago. The radish leaves shot through the soil in a week, seemingly magic. And at 20 days, their green arms hung over the edge, mustering strength and stability for the fruit below.
Coffee cup in one hand, watering can in the other, we sipped our morning beverage together. And although I've pulled these babes from their home, I continue to do the same for the flowers, lettuce (getting closer to harvest), and herbs that are still flourishing.
After washing the dirt off their bottoms, I ate a few of them raw, dusted with flaky sea salt. They were perfectly tender, and their pastel pink color quite stunning.
From there I knew I wanted to to create a simple dish with just a few ingredients so let them shine, exactly what these Ghee Braised Breakfast Radish recipe yielded. If you're radish-averse because you've bitten into a few that were hot and peppery, you'll find these to be juicy and mellow, sure to challenge that opinion.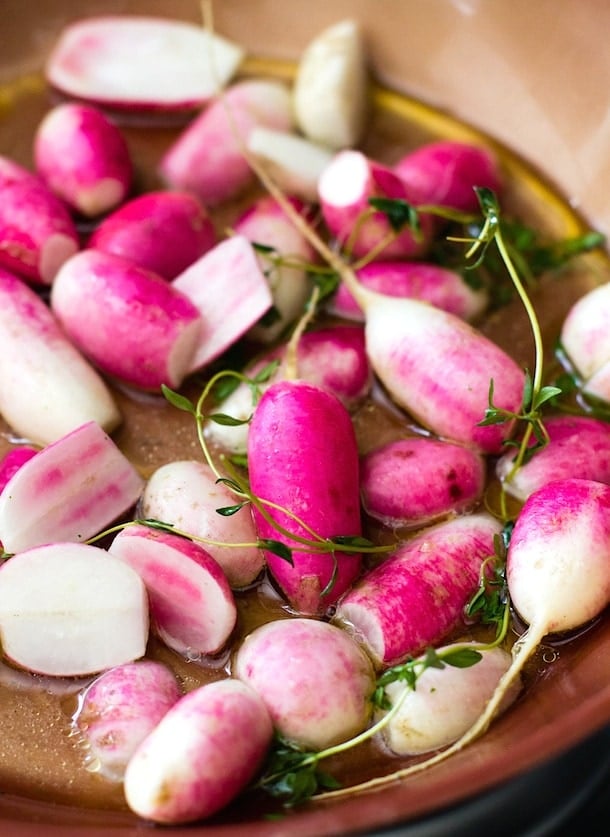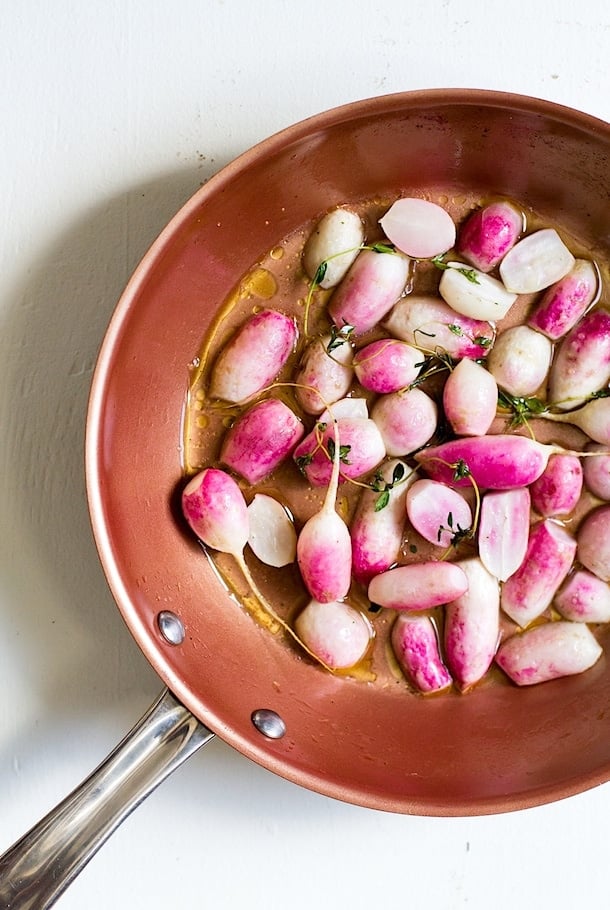 We often think of braising as a technique just for meat, but it works wonders for vegetables too, transforming them into flavorful, soul-warming dishes. It requires little more than cooking ingredients gently with a little bit of liquid (I used vegetable stock) in a covered pan.
So ghee….. are you familiar? It has quickly become one of my favorite fats to cook with. It's made by simmering unsalted butter for a long time and removing the milk solids (making it dairy-free) that have separated from the butterfat. The result? Golden, pure fat with a high smoke point. Since it has more contact with the browning milk solids compared to clarified butter, a different flavor profile emerges. It is unexplainably rich, reminiscent of nutty, brown butter.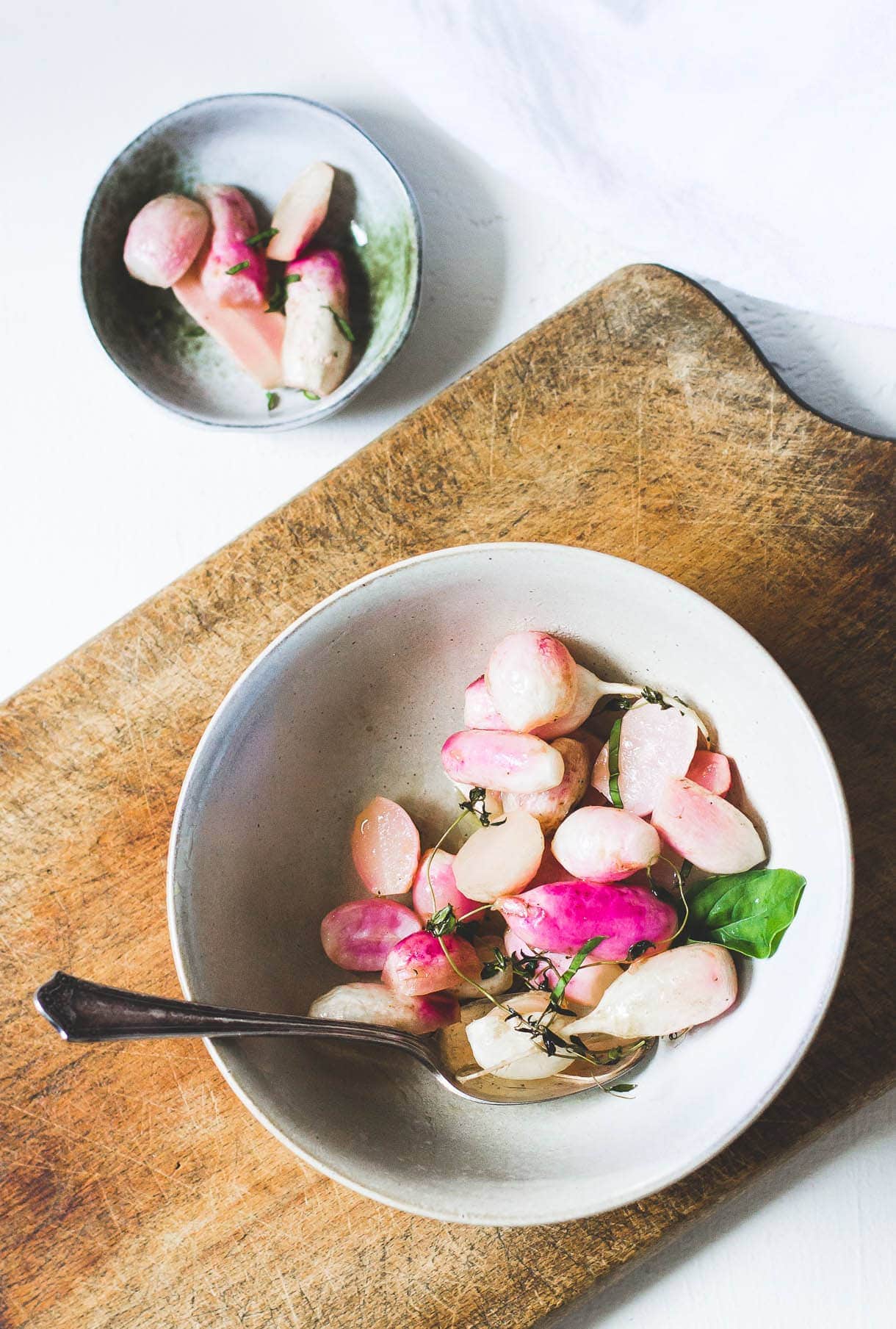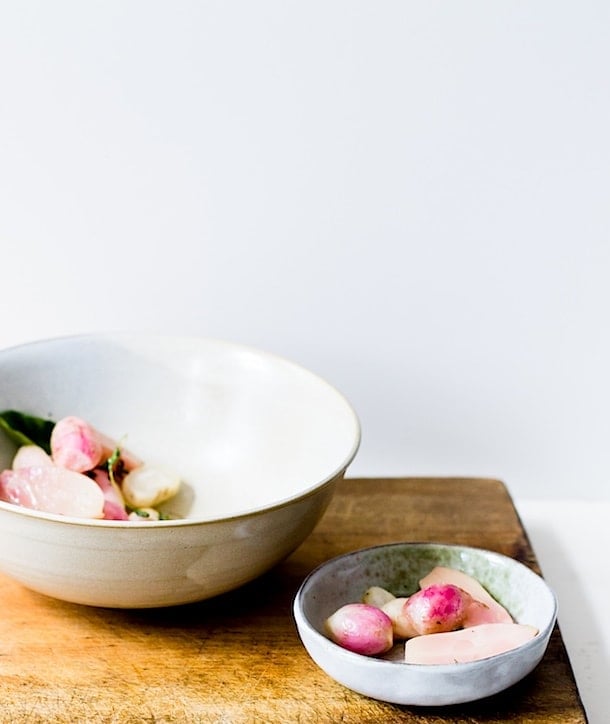 The decadence of the ghee soaks into the radishes as they braise alongside earthy thyme and salt. Simply put, it's a delicious infusion. And because they're tiny and tender, they're ready in about 20 minutes.
As I sit on my patio and savor this homegrown breakfast radish dish, I'm grateful for my partnership with Burpee Home Gardens. I doubt I would have tried gardening again after many failed attempts. I certainly haven't become a master, but I think my once brown thumb has turned a shade of green.
With all the joy and solitude that my tiny garden has brought me, there's no doubt I'll continue this practice regardless of where I'm living. I encourage you to do the same, for the power of plants is more than just food.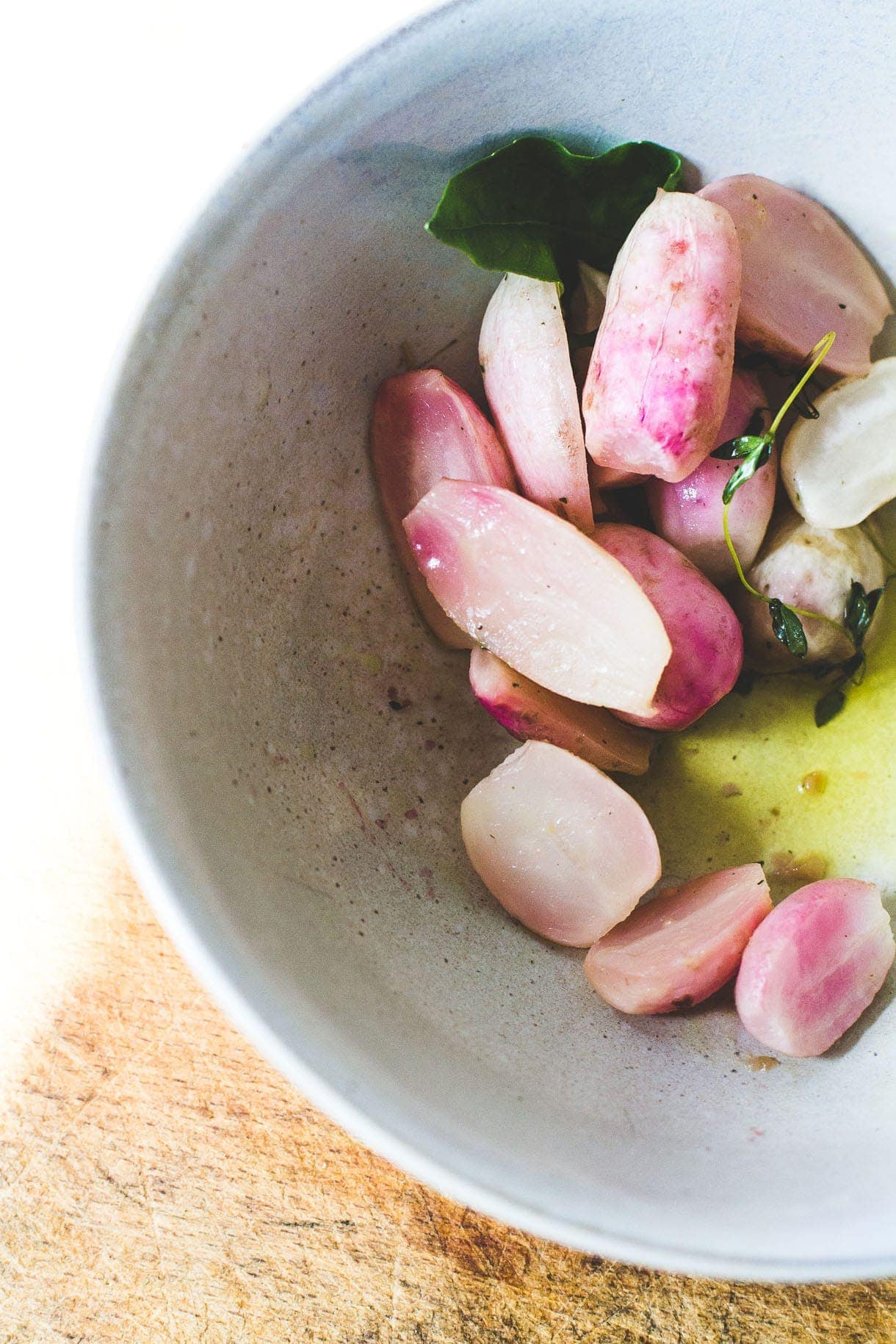 If you make this Breakfast Radish recipe, be sure to tag me on Instagram with hashtag #heartbeetkitchen or @heartbeetkitchen!
1

small bunch of radishes

leaves removed and trimmed, than sliced in half vertically

1/4

cup

vegetable broth

water will work in a pinch, but they won't be as flavorful and you'll need to add a little more salt

1 1/2

tablespoons

ghee

depending on how big your radishes are

1/4

teaspoon

salt

4

sprigs of fresh thyme
In a small saucepan, bring the broth to a simmer, then whisk in the ghee. Add radishes, salt and thyme, then stir to coat.

Cover the pan, then cook so that there are bubbles barely around the edges, for 20 minutes.

Then remove cover and raise heat to medium-high and cook for 3 minutes to reduce the liquid just a bit. Serve warm.
I'm thankful to work with sponsors like Burpee Home Gardens, that I value in order to make Heartbeet Kitchen possible! This blog is also supported through the use of affiliate links, which means I may earn a small commission if you make a purchase through one of these links.