This homemade spicy hummus is incredibly smooth and flavorful from blending chickpeas with sriracha, garlic, and tahini! The finished hummus is topped with chili crisp for extra heat and crunch. It comes together quickly in a high speed blender for the ultimate creaminess, but you can also use a food processor. Store-bought brands just can't compare to hummus made from scratch!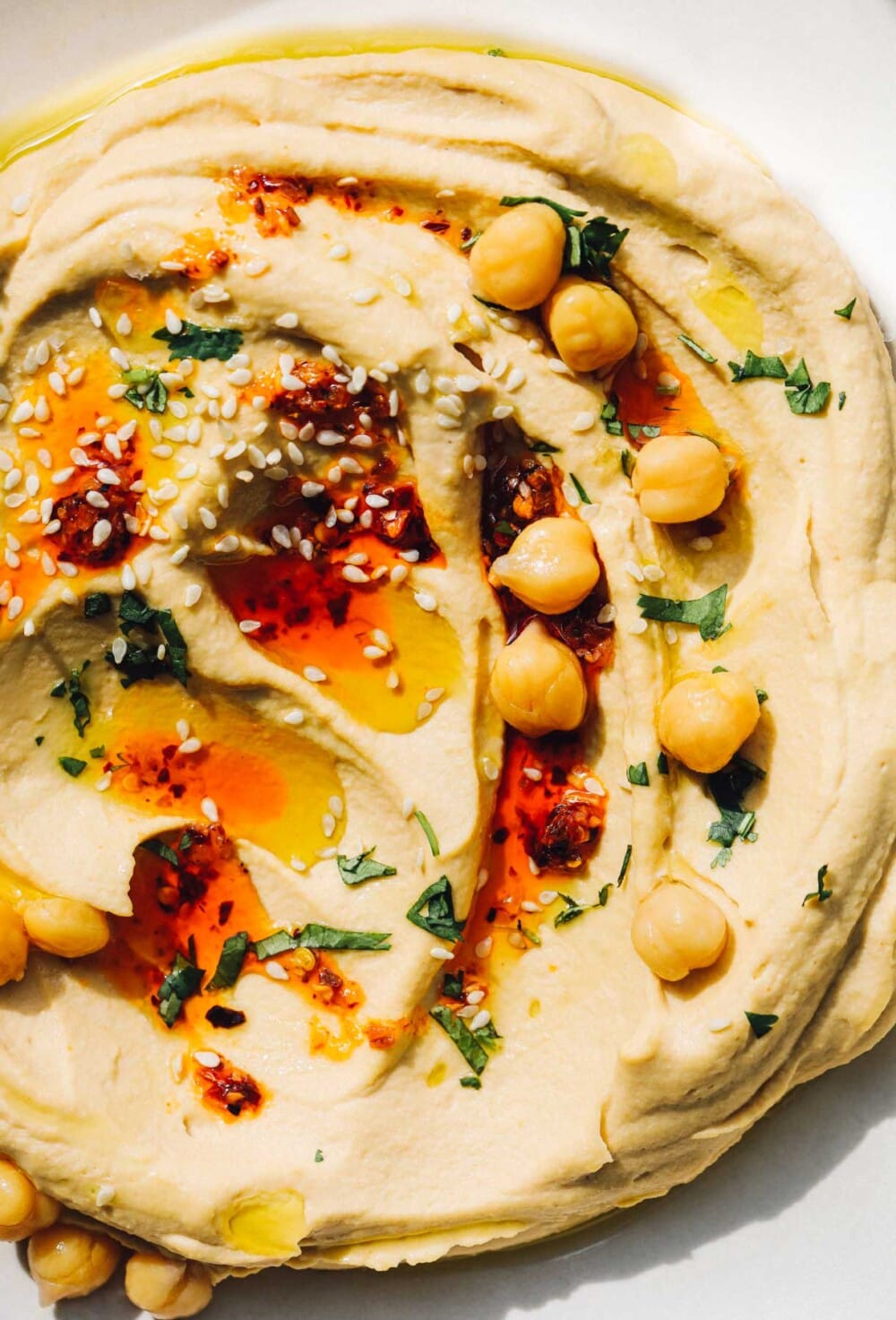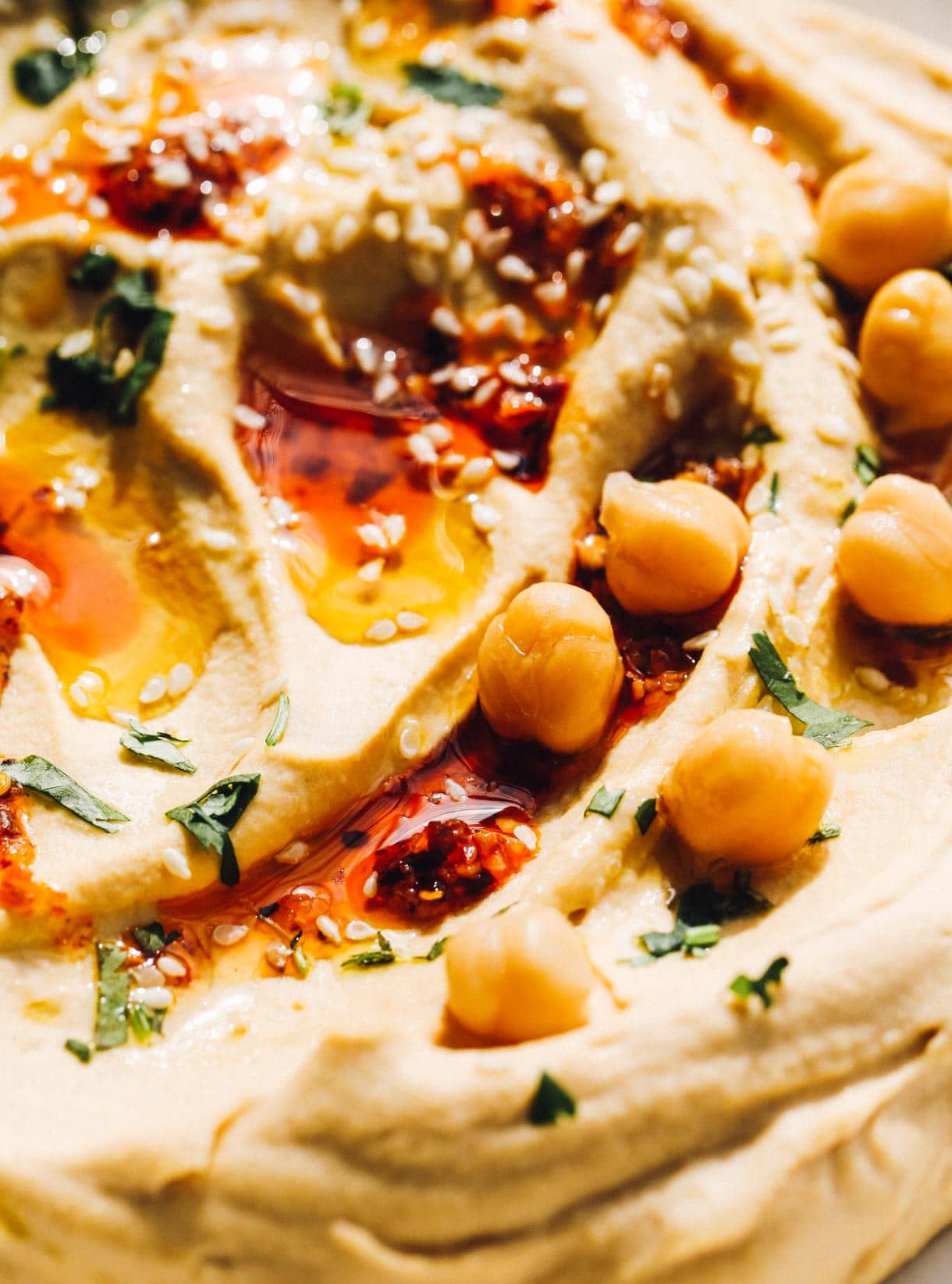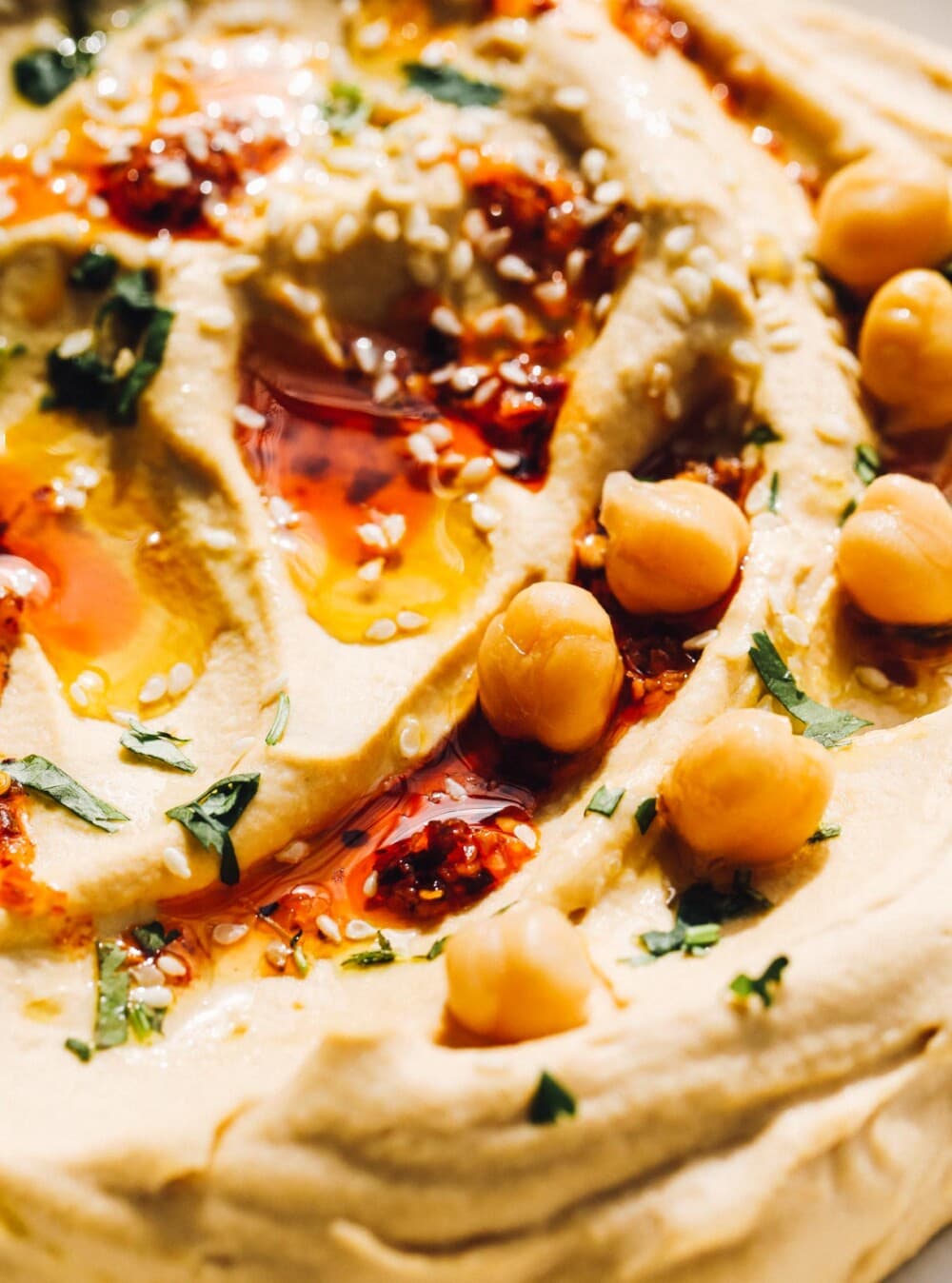 I made homemade hummus for the first time about 12 years ago and have never looked back. From my vibrant beet hummus to za'atar white bean hummus, to this crave-worthy spicy version.
Hummus is incredibly simple to make with pantry ingredients. But best of all, its luxurious creaminess, fluff, and flavor cannot be matched by that of store-bought, which I often find paste-like and bland.
Plus, hummus variations are endless! I love this creamy, Spicy Hummus for its flavorful kick without being over the top. Sriracha is added at the end of pureeing and it's finished with one of my favorite ingredients; chili crisp, which not only adds richness and spice to each bite, but crunchy contrasting texture to the smoothness of the hummus.
Why Use Tahini in Hummus
A good amount of tahini is used in this recipe because of its ability to add richness, depth, and wonderful nutty flavors to the chickpea base. Not all tahini is made equal though, so be sure to use a high quality brand that is very smooth and not overly bitter – my favorite brands are Soom and Seed & Mill. Although you may tempted to cut back on the tahini or the olive oil amounts called for, don't. These two things and my other tips below make this the best hummus you'll ever make, and one of my top gluten-free snack recipes.
Top Tips for Making Smooth Hummus:
I normally used a food processor to make hummus, but recently started using my Blendtec blender and am never going back. A food processor just can't get hummus as creamy, no matter how long you puree it. The power of a high speed blender completely pulverizes the beans and their skin. It's amazing!
Adding cold water to hummus is an important step because it makes for a super fluffy dip. Using ice cold water also lightens the color of tahini, creating a hummus that is light and fresh looking.
Don't skimp on blending time. It will ensure the end product is super creamy and aerate the hummus, making it light in texture.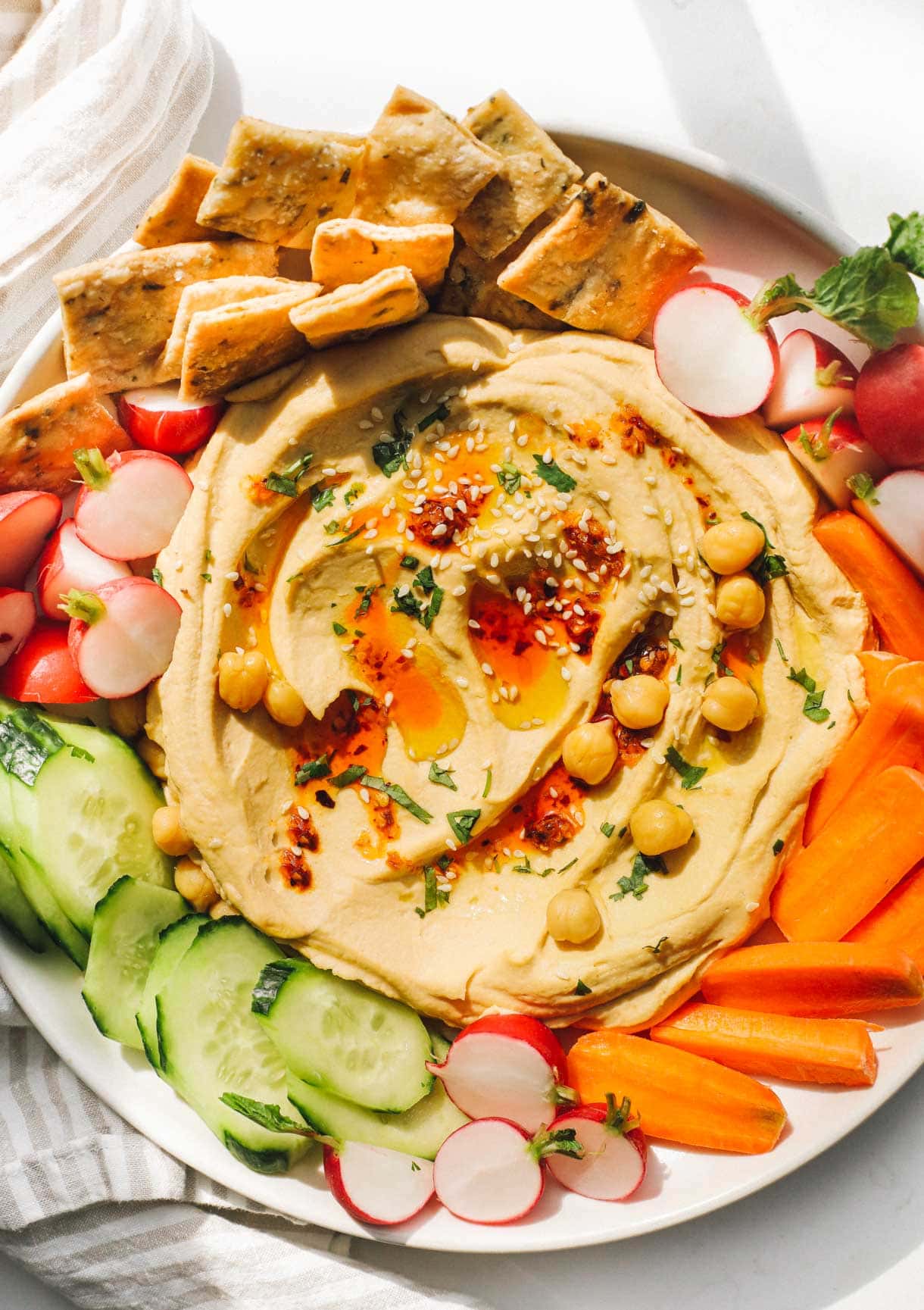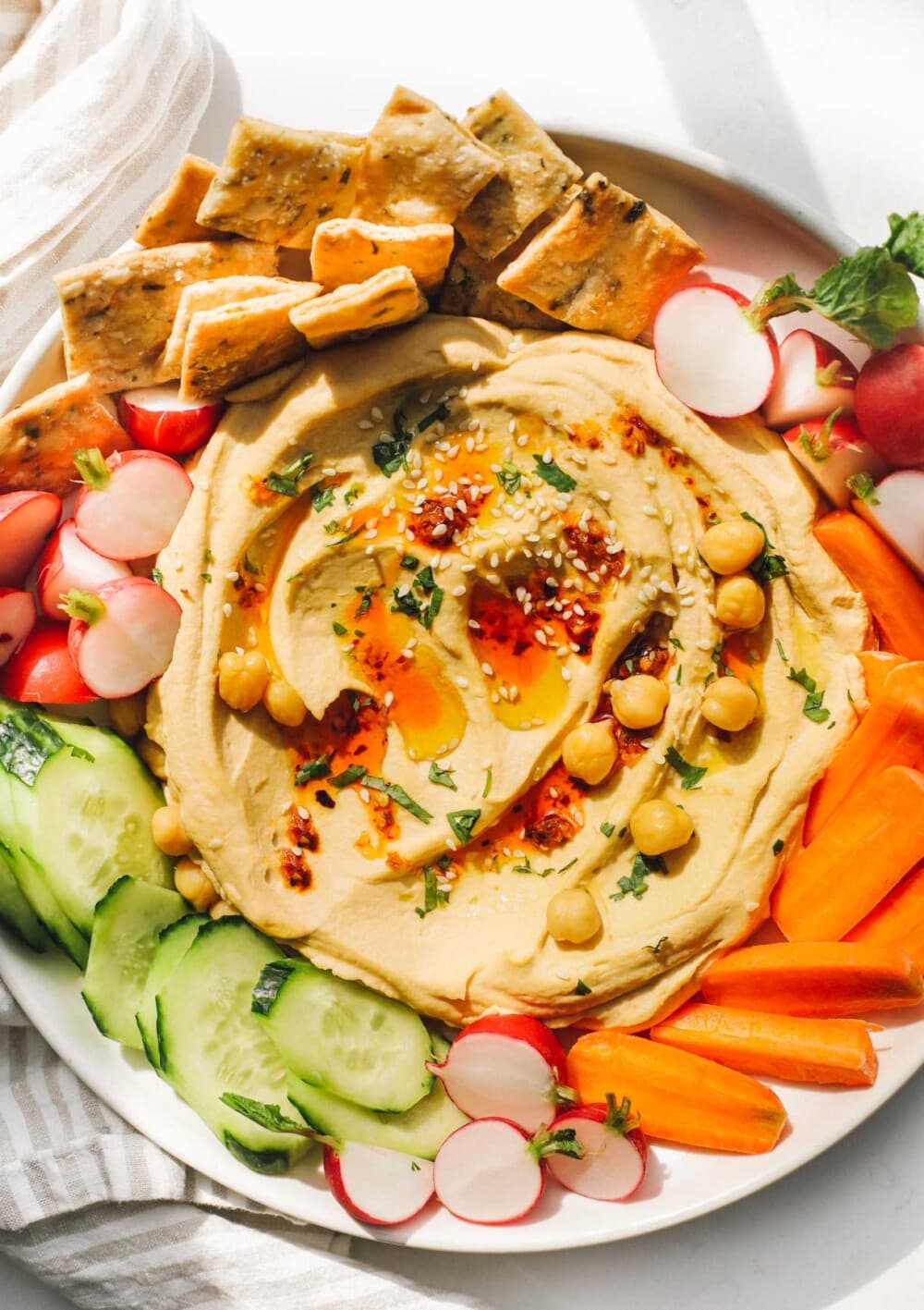 Ingredients for Spicy Hummus:
cooked chickpeas
fresh lime (or lemon) juice
tahini
olive oil
garlic
sriracha
How to Make Hummus from Scratch:
Place garlic, lemon, and salt in a small bowl and let it for 10 minutes. Place that mixture, along with chickpeas, tahini, olive oil, and lime juice in a blender (or food processor). Blend and process for 20 seconds, stop to scrape sides, then slowly stream in cold water.
Blend for 2 minutes, stopping to scrape down the sides once during this blend. This will make it so creamy!
Stop and scrape down sides. Add sriracha and blend for 30 more seconds.
Spoon onto a plate or container and top with chili crisp and minced cilantro.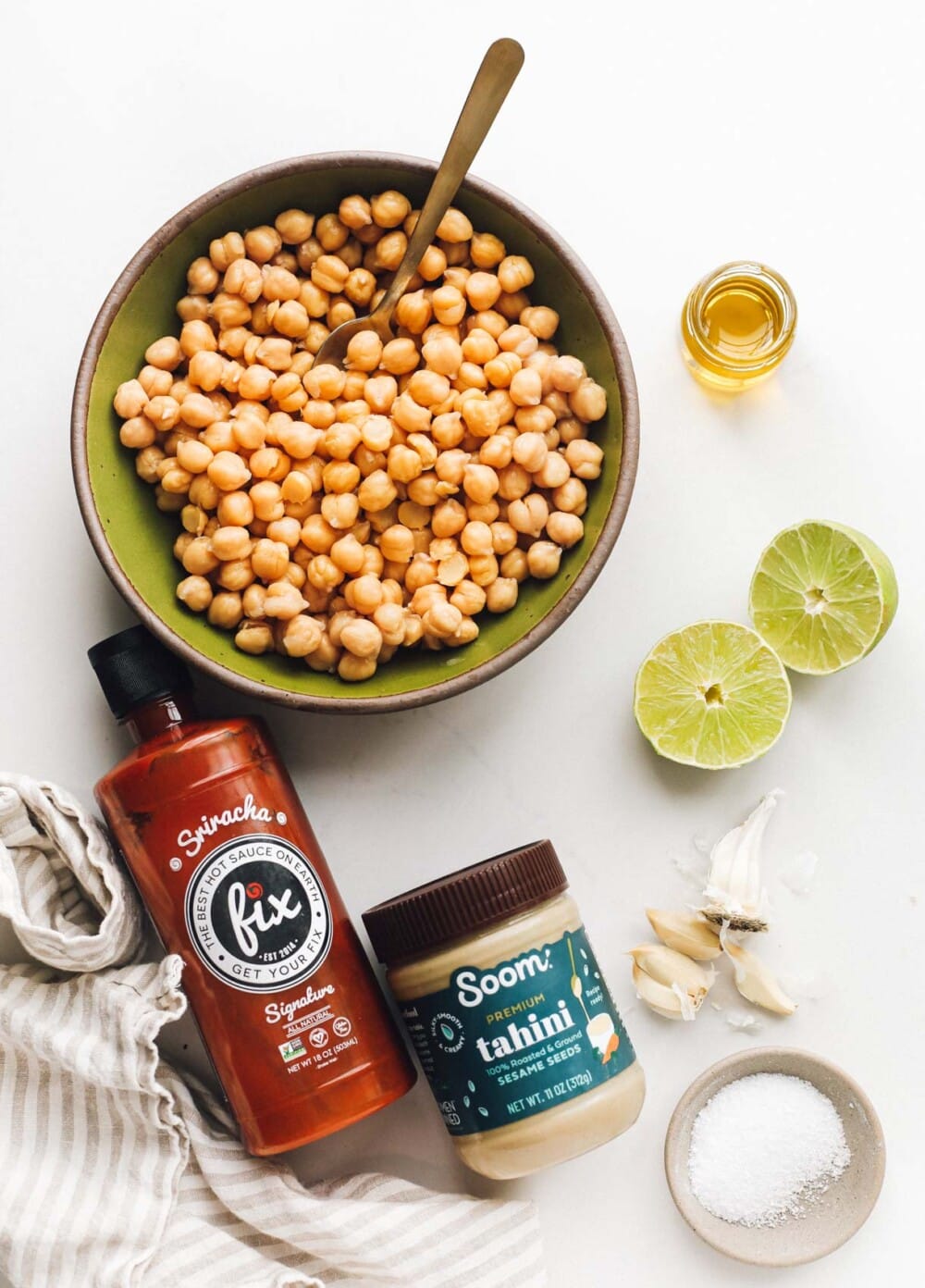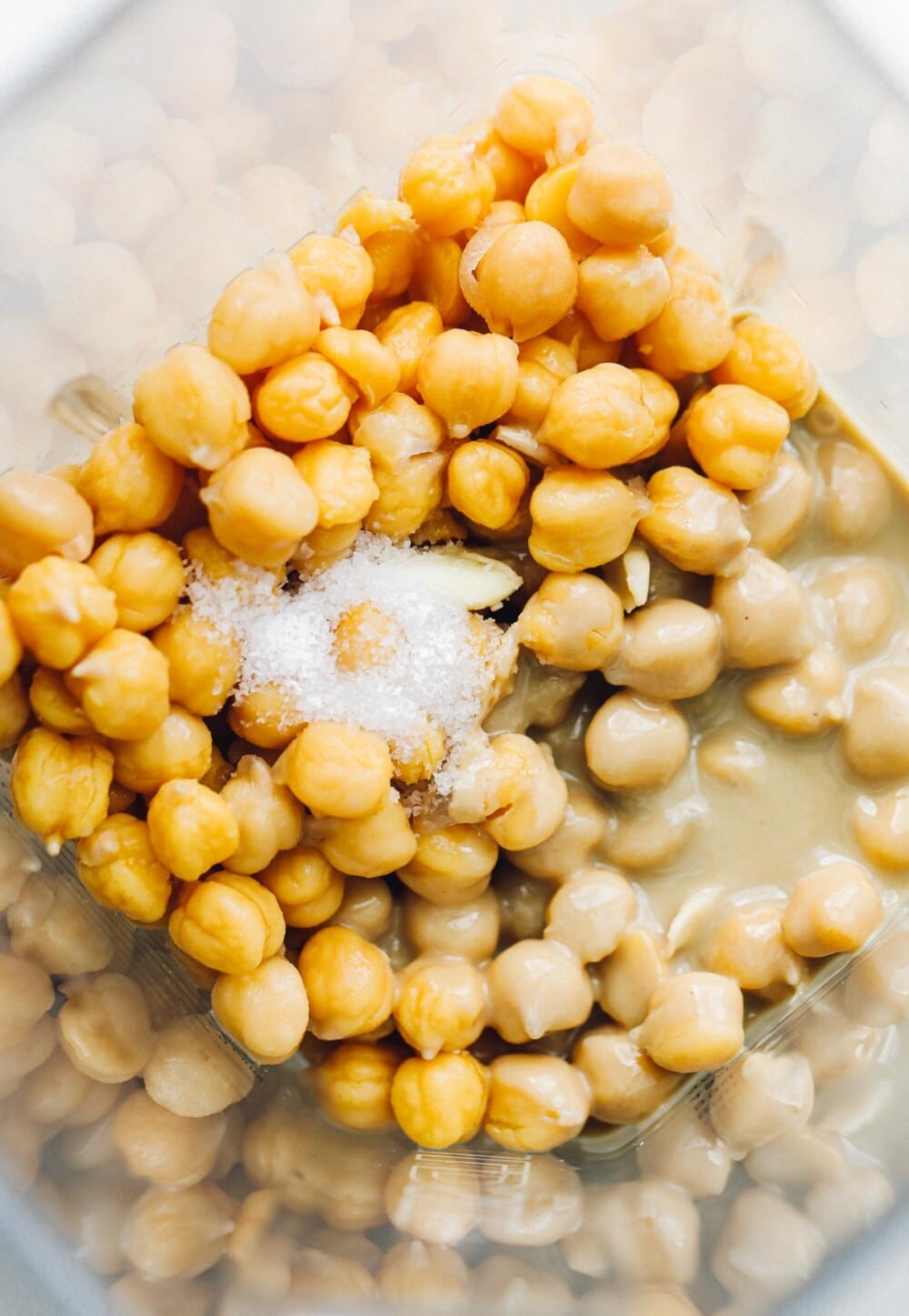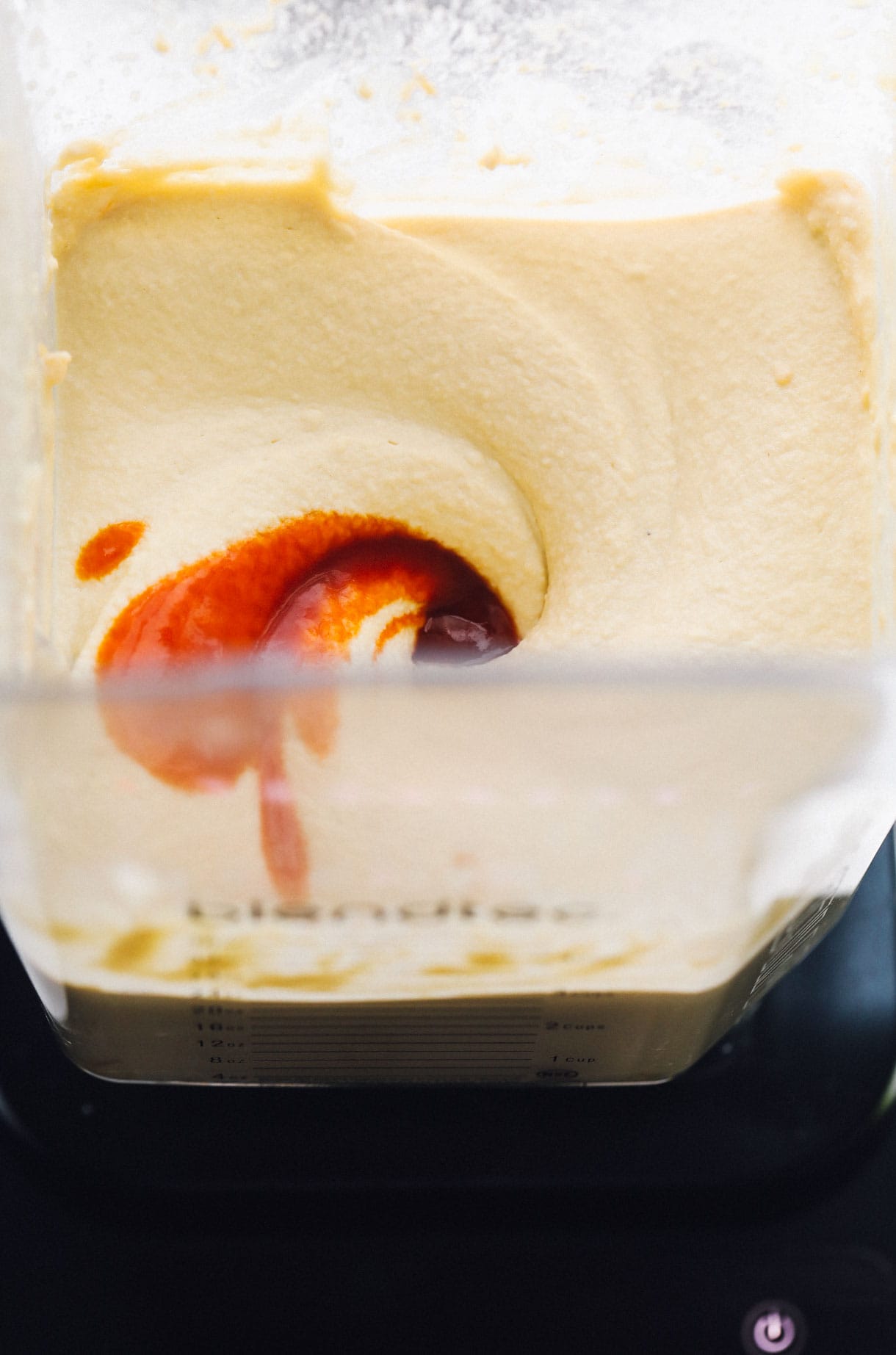 Delicious and Easy Ways to Eat Hummus
There are so many ways to enjoy this protein-packed spread. Of course you can use it as an appetizer dip, scooping the creamy hummus up with fresh vegetables and crackers or pita bread.
It is also the key to some of the best vegetarian sandwiches, when used as a spread on sourdough sandwich bread. Stack it with with crunchy lettuce, fresh tomatoes, cucumber, and avocado, and hummus on both slices of bread!
One of favorite summer dinners is this hummus platter with roasted or grilled vegetables, and brown rice. I love all the textures and freshness!
How long does hummus last in the refrigerator?
When store in an airtight container, hummus will last up to five days in the refrigerator. It will get thicker when it's chilled, but simply give it a stir to re-lighten it. Please note, I do not recommend freezing hummus, as the texture will change.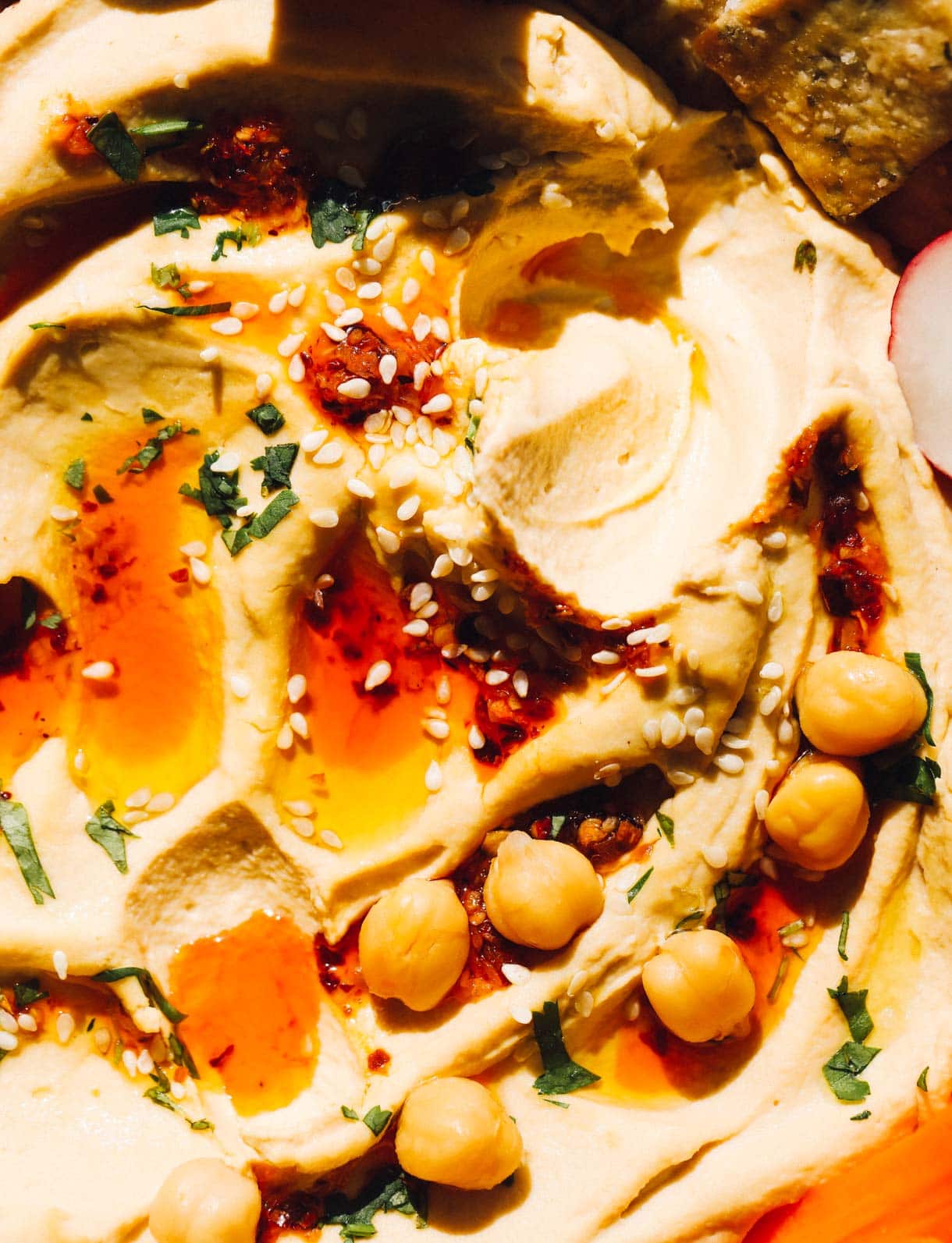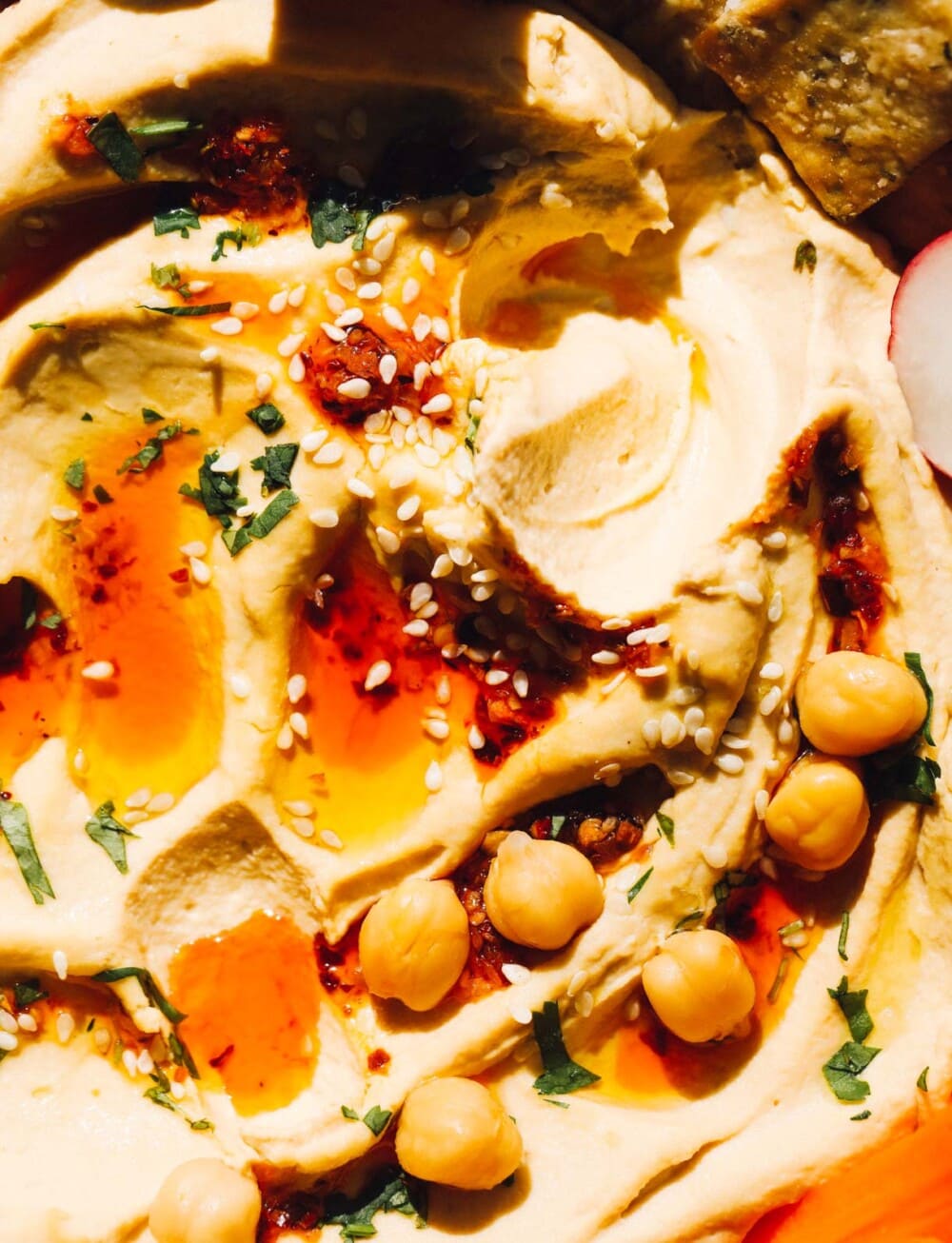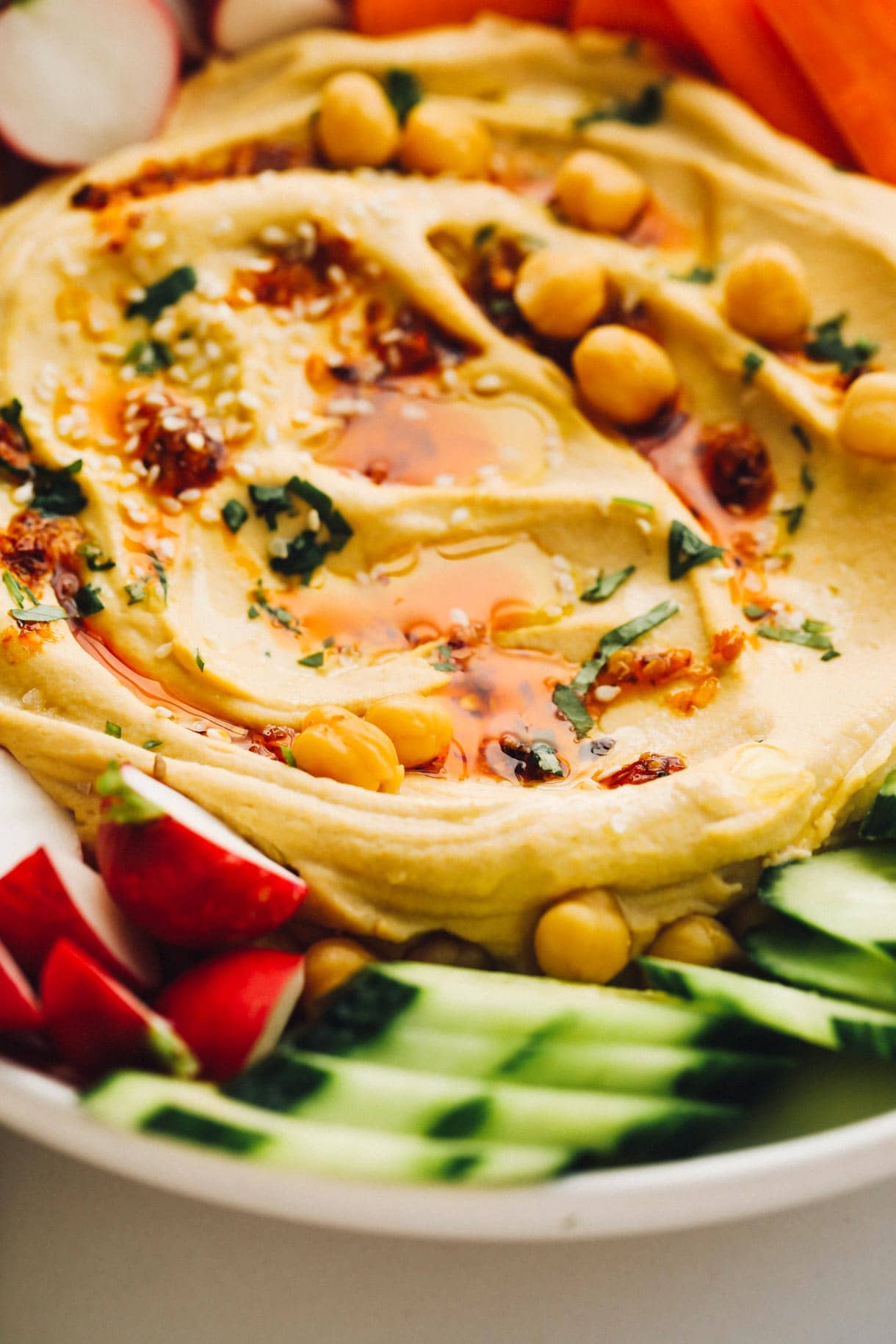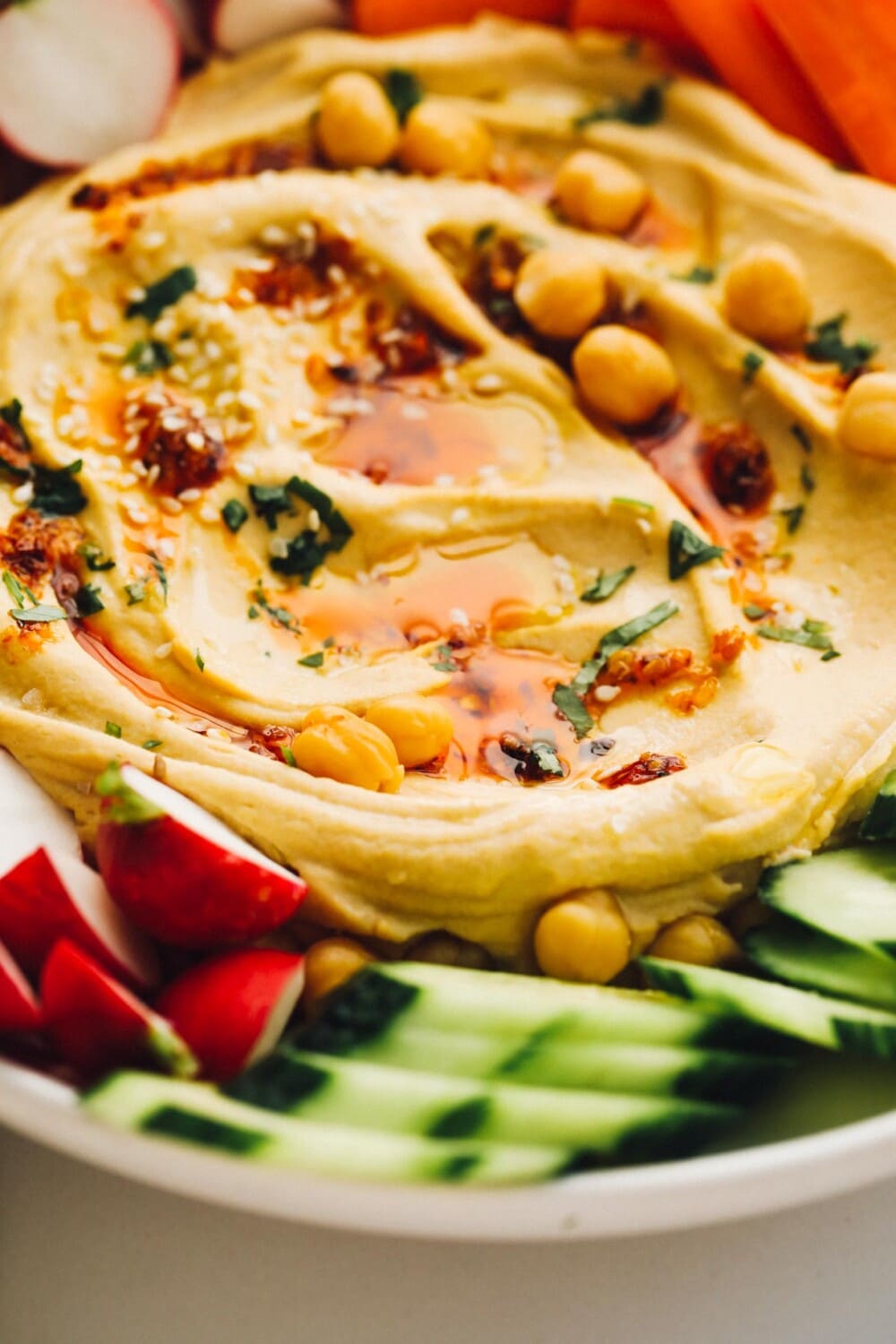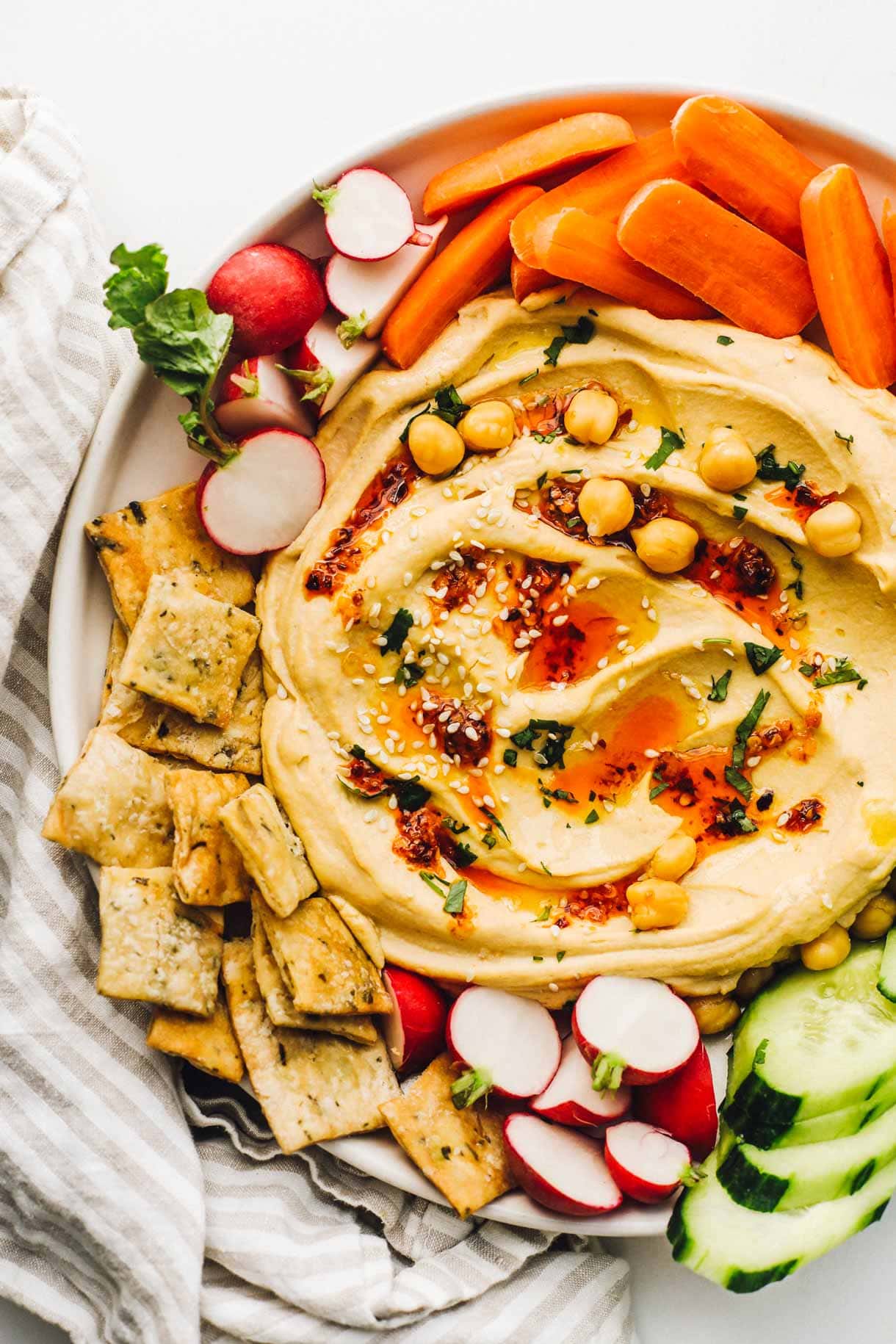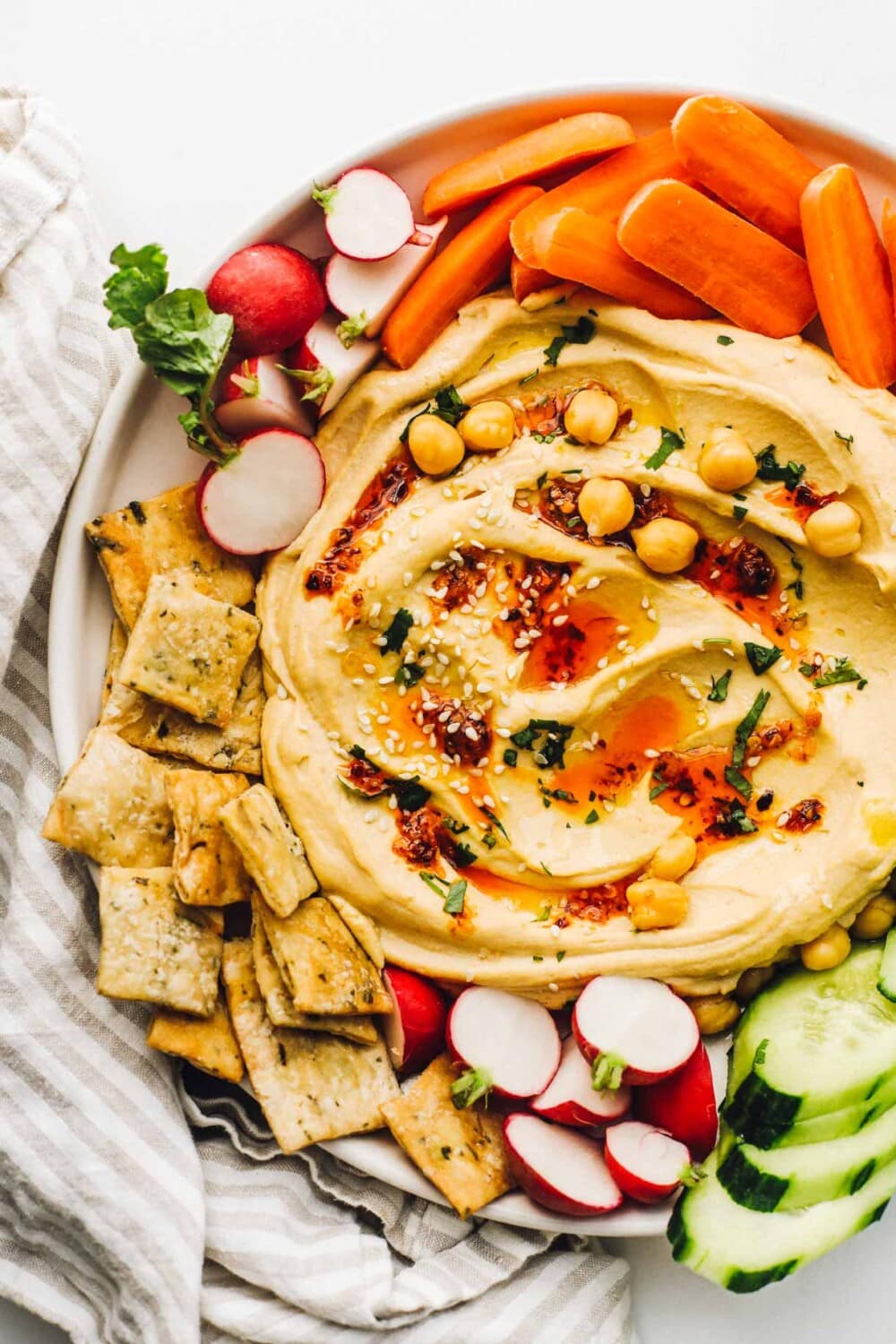 More Hummus Recipes:
15-Minute Creamy Spicy Hummus
This homemade spicy hummus is incredibly smooth and flavorful from sriracha, garlic, and tahini! Topped with chili crisp for extra heat and crunch. It comes together quickly in a high speed blender for the ultimate creaminess, but you can also use a food processor.
1

clove

garlic,

coarsely chopped

1 1/2

tablespoons

fresh lime (or lemon) juice

3/4

teaspoon

Diamond Crystal kosher salt

(use a 1/2 teaspoon if you are using Morton)

1

can

(14.5 ounces) chickpeas, drained and rinsed (or you can use 14.5 ounces cooked chickpeas that you've made from scratch)

1/4

cup

good quality extra virgin olive oil

2/3

cup

cold water (about 5 ounces)

1

tablespoon

sriracha

(you can start with less if you think it will be too spicy for you)

chili crisp

(I love the Trader Joe's brand)

minced cilantro
The garlic, lime juice, and salt sitting together for a few minutes is it important, as it reduces the sharpness that can often happen result from garlic being blended.
I get the best flavor from chickpeas that I've cooked on the stovetop compared to those in the can. But either work!
Don't reduce the amount of tahini or olive oil. Their richness and fats provide so much flavor, and emulsify to give the hummus ultimate creaminess.