These are the best split pea soup recipes, in one spot! Whether you're looking for the classic version with ham, a slow cooker split pea soup, or a vegetarian twist, you'll find it here. And if you're only cooking for two, I've included an easy, small batch split pea soup.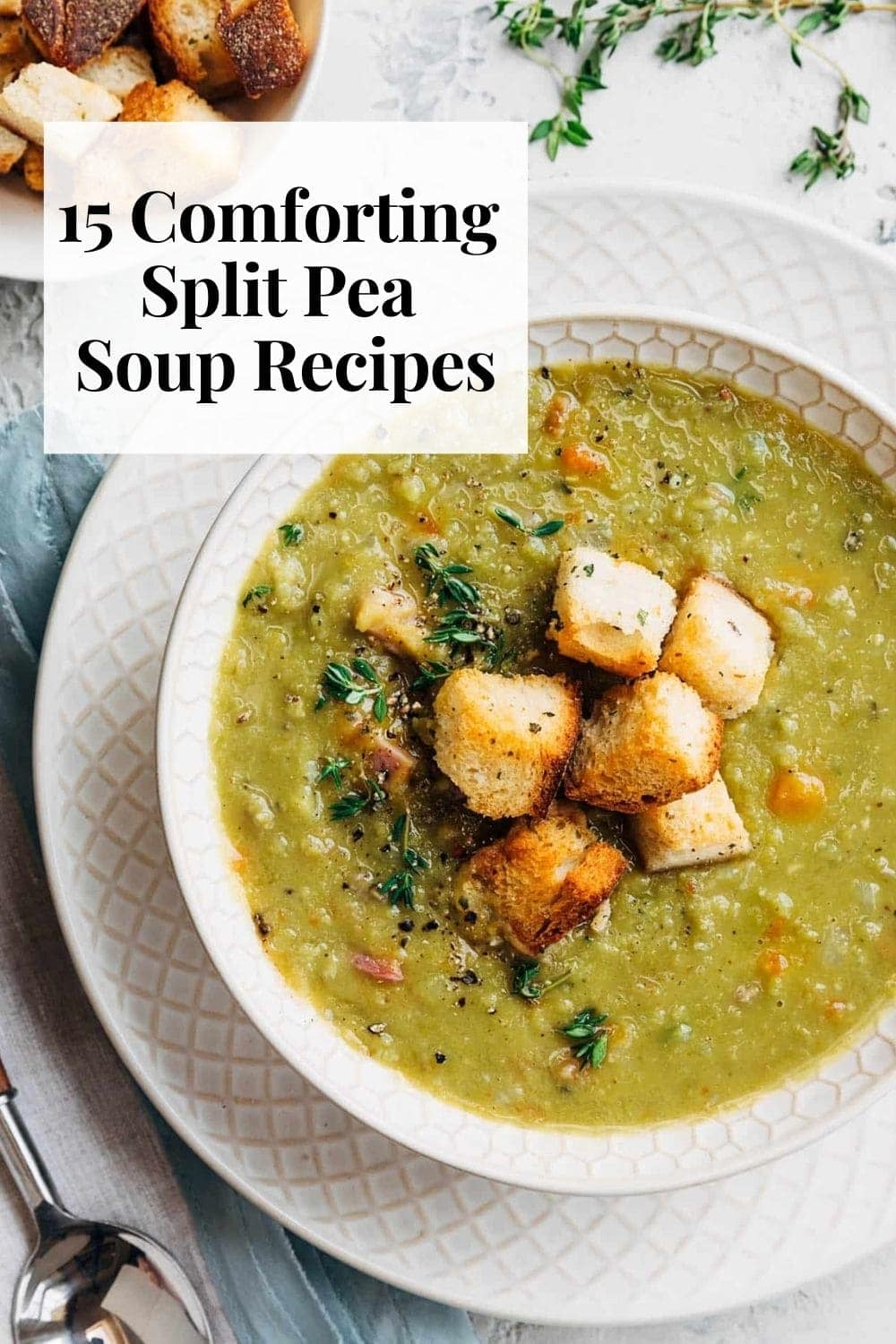 Comfort is a bowl of warm, homemade split pea soup. It's hearty, healthy, and exactly what I crave in winter. I especially love the rich, smoky flavors from the split peas simmering with a ham hock, or smoked paprika if you're making it vegetarian.
Split pea soup is also budget friendly, made from mostly pantry ingredients!
In the list below, you'll find classic split pea soup, instant pot and slow cooker split pea soup techniques, and delicious vegetarian split pea soup recipes!
What are split peas?
Split peas are the same green peas you might buy in the frozen section, or see at the farmers market in the summer – except they're shelled, dried, and then split in half along the natural seam of the pea. This splitting process is what makes them faster to cook (no soaking needed!), ultimately making split pea soup a perfect weeknight dinner.
How to Store Split Pea Soup
Refrigerator: Leftovers will keep for 5 days in the refrigerator, stored in a covered container.
Freezer: Most split pea soups are freezer friendly and freeze well for 2 – 3 months. To freeze, let cool completely and store in freezer safe containers, leaving ½ inch head space for expansion. Reheat: Simply re-warm on the stovetop over low heat until warmed through. If using a microwave, do so in 30 to 60 second intervals, stirring after each, until warm.
Below you'll find my favorite, tried and true split pea soup. It's hearty, while still being healthy, and made with real food ingredients.
You can use diced ham, but I prefer simmering a ham shank in the soup, so that it can infuse a lovely smokiness while it simmers. Then you can shred the ham off the bone and add back to the soup.
This recipe is perfect if you're a household of 2 like we are, as it makes enough for 2 main meals. The leftovers are delicious! The flavor deepens even more.
And you can plan the rest of your week with one of these gluten-free dinner recipes!