These are the best split pea soup recipes, in one spot! Whether you're looking for the classic version with ham, a slow cooker split pea soup, or a vegetarian twist, you'll find it here. And if you're only cooking for two, I've included an easy, small batch split pea soup.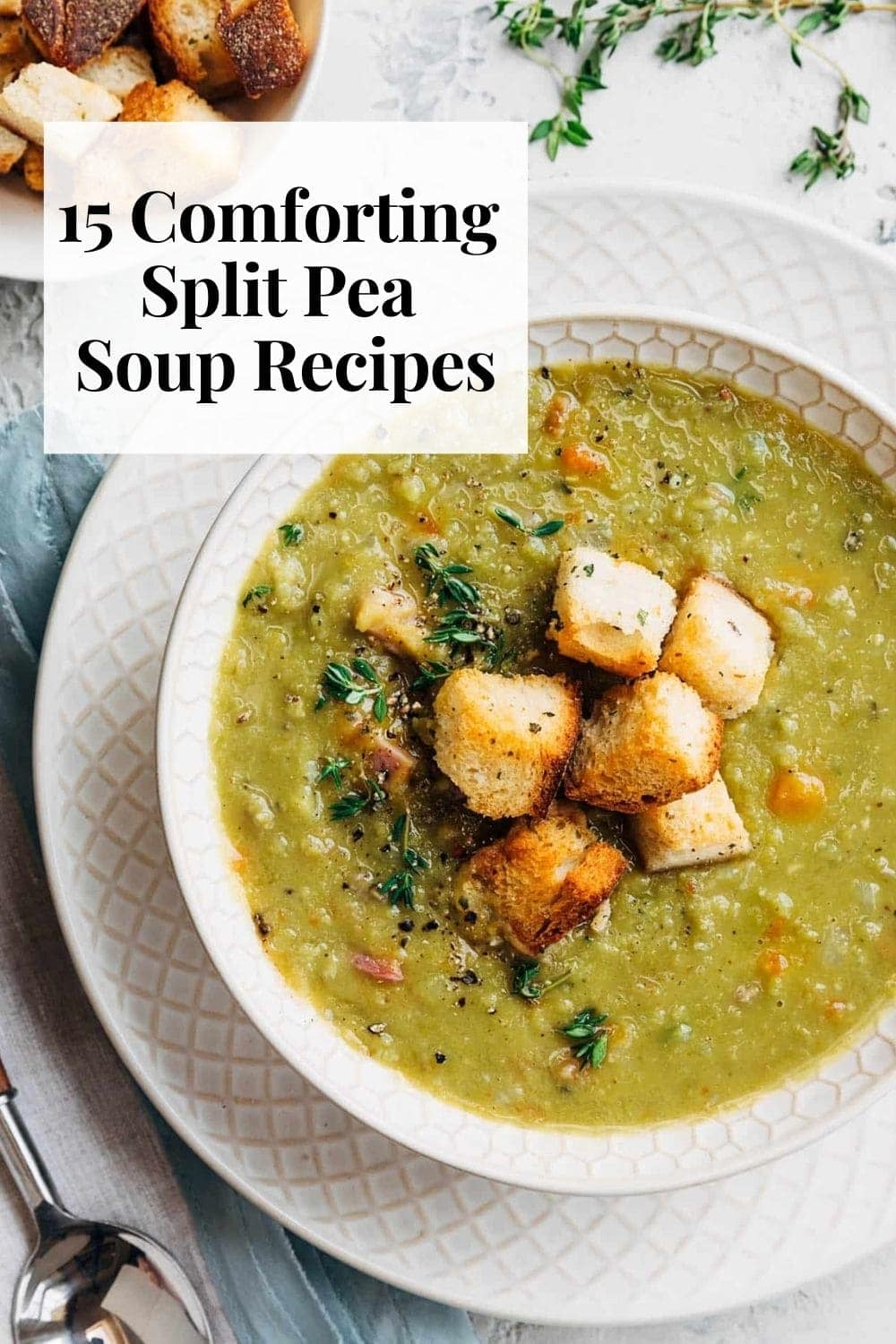 Comfort is a bowl of warm, homemade split pea soup. It's hearty, healthy, and exactly what I crave in winter. I especially love the rich, smoky flavors from the split peas simmering with a ham hock, or smoked paprika if you're making it vegetarian.
Split pea soup is also budget friendly, made from mostly pantry ingredients!
In the list below, you'll find classic split pea soup, instant pot and slow cooker split pea soup techniques, and delicious vegetarian split pea soup recipes!
What are split peas?
Surprise! Split peas are the same green peas you might buy in the frozen section, or see at the farmers market in the summer – except they're shelled, dried, and then split in half along the natural seam of the pea. This splitting process is what makes them faster to cook (no soaking needed!), ultimately making split pea soup a perfect weeknight dinner.
How to Store Split Pea Soup
Refrigerator: Leftovers will keep for 5 days in the refrigerator, stored in a covered container.
Freezer: Most split pea soups are freezer friendly and freeze well for 2 – 3 months. To freeze, let cool completely and store in freezer safe containers, leaving ½ inch head space for expansion. Reheat: Simply re-warm on the stovetop over low heat until warmed through. If using a microwave, do so in 30 to 60 second intervals, stirring after each, until warm.
15 Split Pea Soups Recipes For Everyone
Whether you love a classic split pea soup with ham, or are looking for a vegetarian split pea soup that's just as tasty, there's a recipe here for everyone. Split pea soup is naturally gluten-free and packed with protein and fiber! Since split peas are mild in flavor, a base of aromatics, fresh herbs, and well-flavored stock boost its seasoning.
For more gluten-free soup recipes, check out my library HERE!
Below you'll find my favorite, tried and true split pea soup. It's hearty, while still being healthy, and made with real food ingredients.
You can use diced ham, but I prefer simmering a ham shank in the soup, so that it can infuse a lovely smokiness while it simmers. Then you can shred the ham off the bone and add back to the soup.
This recipe is perfect if you're a household of 2 like we are, as it makes enough for 2 main meals. The leftovers are delicious! The flavor deepens even more.
15 Comforting Split Pea Soup Recipes: Easy Split Pea Soup & More
Total Time:
1 hour
10 minutes
Make split pea soup for 2 with this small batch recipe. Flavored fresh herbs, and a classic smokiness from ham. Plus 14 other split pea soup recipes!
Ingredients
2 tablespoons olive oil
4 ounces diced onion, (about 1 large)
1/2 cup (2 ounces) diced carrot
1/2 cup (2 ounces) diced celery
4 cloves garlic, minced (about 1 1/2 tablespoons)
1 (32 ounce) box chicken stock
2 dried bay leaves
3 sprigs fresh thyme
1/2 teaspoon ground black pepper
1 small ham shank (preffered) or 1 cup diced ham
1/2 cup to 1 cup water
1 teaspoon white wine vinegar
1 teaspoon Worcestershire sauce
salt to taste
Instructions
In a stock pot, heat olive oil to medium heat. Add onion, carrot, and celery to pot with 1/4 teaspoon salt. Cook for 8-10 minutes until vegetables are softened and onions are translucent. Add garlic and split peas, and cook for 1 more minute.
Add chicken stock, bay leaves, thyme, and black pepper to the pot. Add ham shank. Bring soup to a boil, stir thoroughly then turn heat down to a simmer and cover.
Simmer, stirring occasionally. After 45 minutes of cooking, remove ham shank so that you can let lightly cool, then shred meat off the bone. Add meat to pot (if you are using diced ham, add it now), then simmer soup for another 10-15 minutes, until split peas have started to break apart, are very soft, and desired thickness of your soup has been reached, adding 1/2 to 1 cup water. When desired thickness is achieved, discard thyme sprigs and bay leaves. Stir in vinegar and Worcestershire sauce. Taste and adjust salt by 1/4 teaspoon increments if needed.
Serve with crusty bread or croutons!
Leftovers keep well in covered container in refrigerator for 4 days. When reheating, add water to loosen.