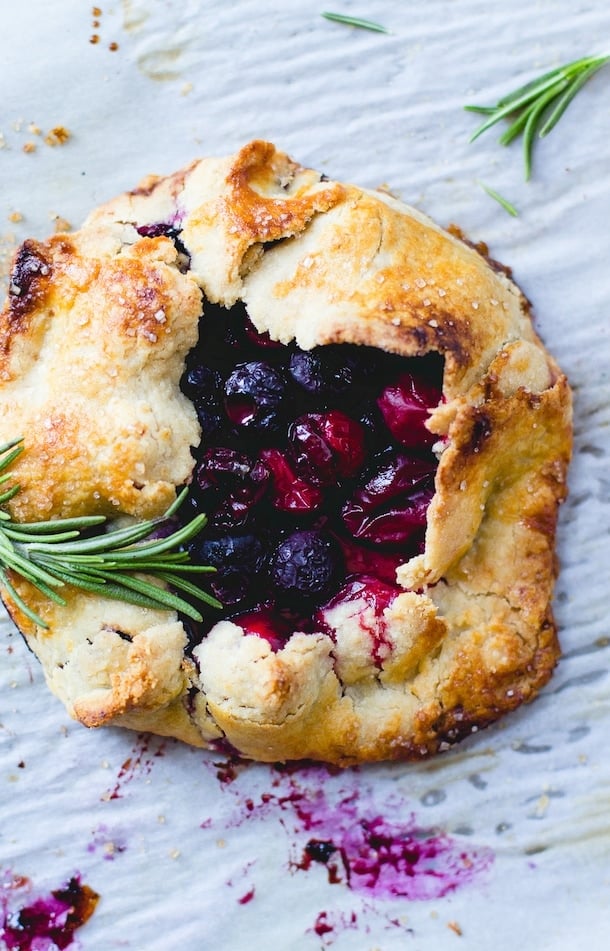 I have big love for pastry magicians and pie queens. Even after lots of practice making gluten-free crusts and baked goods of different kinds, working with a sheet of dough is still intimidating.
So mini blueberry galettes to the rescue this Thanksgiving… rustic and juicy, with a flaky crust that doesn't have to be carefully configured. My way of saying thanks for a little less imperfection in my life, and a whole lot to be grateful for.
Sure, we should count our blessings every day as some would say, not just the holidays. But I appreciate their power in making us all pause a bit, to reflect on why we're so fortunate to be right where we are. To spend extra time together, to love a little harder.
This year I'm saying extra prayers for my restored health, and ability to live a full life that I wasn't sure I'd ever have again – grateful to have healed the small intestinal bacterial overgrowth so I can eat what I love and embrace all that food brings to my life, including the people and a career I wouldn't trade for the world.
This post is sponsored by Cascadian Farm, and I'm using their special Mountain Peak Organic Blueberries, grown on their farm in Skagit Valley, WA. They're so bountiful and juicy! Four varieties of blueberries (Patriots, Toros, Bluecrop, & Spartan) are in each bag, making for a diverse and flavorful blend. Be on the lookout for them exclusively at Whole Foods.
And finally an answer last month to the intense headaches and constant earaches. The epiglottis in my throat is out of place, which has decreased my airway to 1/3 of normal. From the distress of trying to figure out how to breathe, my jaw moved out of place and now I have bone on bone contact on both sides.
The constant grinding and all of my muscles in my face trying to brace the pain is inevitably the cause, so to we fix it, I am wearing a custom brace on my lower teeth all day, every day, for 8 months. If all goes correctly, my jaw will move forward, and allow the soft tissue to slide into place and act as a cushion. When that happens, my epiglottis should move at the same time.
Hallelujah. I've been wearing the "retainer" for about two weeks and the number of days in between the headaches is getting longer, which is great. I know it will be up and down as my face tries to figure out what is going on, but it's progress. Not only am I feeling better, but much more at peace knowing there is an answer, and a reason.
And did I mention there's a reason for these mini galettes too? They were the answer to my desire for everyone at the Thanksgiving table to have their own little pie, without all the fuss.
The gluten-free crust is one of all butter, flaky and light, yet holds the cranberries and blueberries inside. These two fruits are the perfect match for each other, a combination of tart and sweet in each bite.
Fruit forward and juicy, just like a good wine.
Some of the juices will bubble over the top as they bake, creating a beautiful, rustic bleed.
Not only would the galettes be a great end to y0ur turkey feast, but really anytime during the holidays.
I love to serve these fruit purses with homemade vanilla ice cream, straight from the the oven, melting its way into dessert heaven.
It reminds me of berries and cream, one of the simplest delights.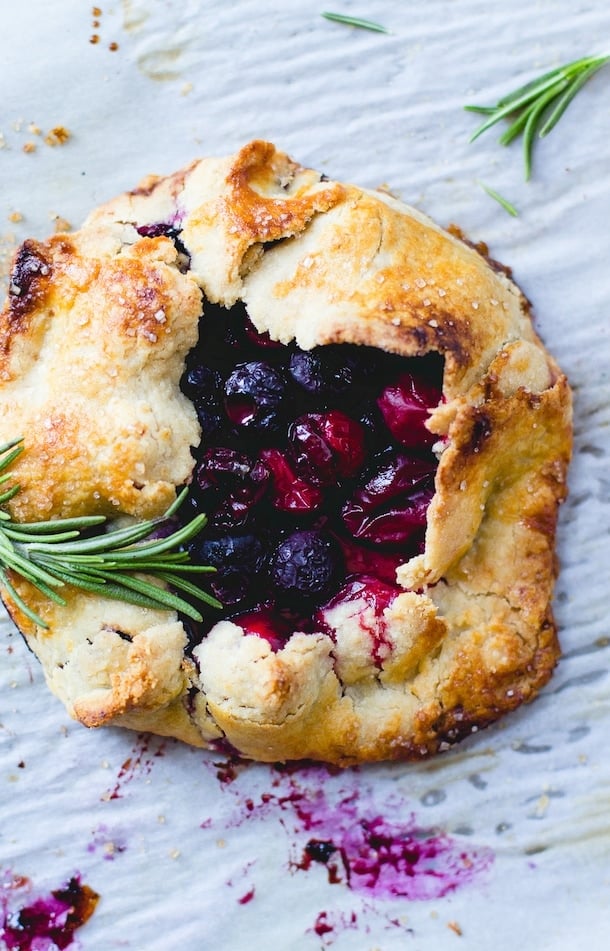 gluten-free pastry dough:

50

grams

superfine brown rice flour

plus more for dusting

90

grams

oat flour

40

grams

tapioca starch

1

tablespoon

organic cane sugar

1/4

teaspoon

cinnamon

1/4

teaspoon

salt

1

stick

8 tablespoons or 110 g cold unsalted butter, cut into 1/2-inch cubes

1

egg yolk

5

tablespoons

ice cold water

cranberry-blueberry filling:

1

8 ounce bag Cascadian Farm organic Mountain Peak frozen blueberries

1 1/4

cups

fresh cranberries

1 1/2

tablespoons

tapioca starch

or cornstarch

1/3

cup

organic cane sugar

1 1/2

tablespoons

fresh lemon juice

for top of crust:

1

egg yolk

beaten

turbinado sugar for dusting
Combine the first six ingredients in a food processor. Pulse once or twice to combine. Add the diced butter and pulse until you end up with small pieces of butter that are visible throughout the flour.

In a small bowl, whisk together the egg yolk and 3 tablespoons ice water. Add it to the dough and pulse until it comes together. Add 2 more tablespoons ice water.

Turn the dough onto a work surface, knead it a couple of times, and form a disk. Wrap in plastic wrap, flatten it, and refrigerate for at least 40 minutes.

Preheat the oven to 400 degrees F. Mix together the filling ingredients in a large bowl, coating completely, and let sit. Then, generously flour your surface, and grab about 2 tablespoons dough. Roll out each dough ball into 4 to 5 inch wide circles, about 1/8 inch thick. Transfer to a parchment lined baking pan. Then, add 3 tablespoons fruit mixture to the middle of the dough. Fold the edges up and pinch together where possible.

Brush the edges with egg yolk, and sprinkle with turbinado sugar. Repeat.

Bake for 22 to 24 minutes, until bubbling and golden brown. Remove from oven and let stand for 15 minutes before serving
Thank you for making Heartbeet Kitchen possible! To help me pay for my domain, hosting, and enormous grocery bill, this blog is supported through the use of affiliate links. This means that I will earn a commission if you make a purchase through one of these links.