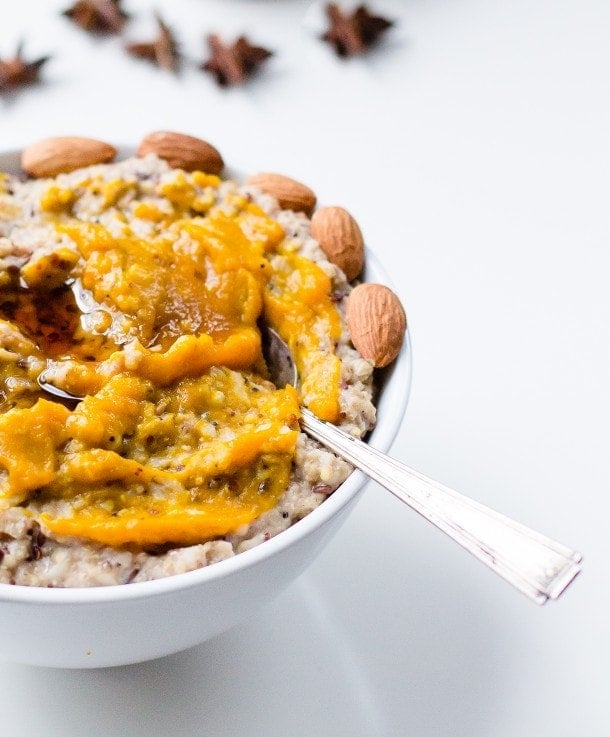 At any point this week, you could have found me surrounded by nearly 20 pounds of squash – peeling, chopping, and roasting in anticipation of the Squash-tastic Side Dishes for Thanksgiving class I was teaching. Standing in my kitchen, packing up tools and ingredients, the feelings I wore for many years playing competitive golf came over me again. Excitement with a few nerves, wondering if I had prepared enough, wondering if those who attended would be inspired…..
As I introduced myself to the fifteen eager students and began making the Golden Curried Acorn Squash Hummus, they seemed to welcome me with open eyes and ears. The anxious feelings left, and it began to feel like we were a team. Next I showed them how to peel & cut a large butternut, and shared tips on how to safely handle all squash to take a little of the intimidation factor away. I dispelled the correlation between pasta and spaghetti squash, as many times this can trick our brains and not meet expectations. Instead, I think of it as the only vegetable that can spiralize itself.
And I also mentioned the many uses for leftover squash puree, like this Chai Porridge with Roasted Kabocha Squash.
The four courses came and went, their questions created conversation, and the sound of forks scraping the plate hinted at approval of the recipes. Seeing the smiles on their faces as they left, and the kind words of, "I'm a squash convert!" spoken, I was humbled once again.
As I cleaned up that night, wiping the orange stains from the cupboards, and even a bit that decided to take residence on my cheek, I thought about the uniqueness of each of our paths, that lead us to our passion. Of which in writing probably sounds quite cliche, yet isn't.
Never would I have thought that what we put on our plate and the connections with others it brings would fill my cup every day. Not the golf course, not the marketing degree, or even the pharmaceutical job I held for many years. Somedays I wonder if I'm doing enough to pay the bills, to buy the really expensive artisan cheese at the market, but I know I'd wonder the same thing regardless of job title.
For now it could be queen of dirty dishes and squash whisperer, and I'm quite alright with that.
Chai Porridge with Roasted Kabocha Squash
Author:
Oatmeal, or porridge as you see here is a great way to use up leftover squash puree, like the kabocha I had roasted earlier in the week. Naturally sweeter than pumpkin and super creamy, it makes any breakfast bowl nearly taste like dessert, especially when combined with chai spices. To make that happen, I simmered a mix of gluten-free grains with almond milk and a chai tea bag, then sweetened it with maple syrup.
About 2/3 cup leftover squash puree, or 1 small kabocha squash (buttercup or red kuri squash would also work), cut in half and seeds removed
1 tablespoon coconut oil
2 cups almond milk
1/2 cup water
1 organic chai tea bag
3/4 teaspoon cinnamon
1/4 teaspoon freshly grated nutmeg
3 tablespoons [url href="http://amzn.to/2gxxfbL" target="_blank" rel="nofollow"]organic coconut sugar[/url]
2/3 cup mixed grains like oats, millet, and quinoa – I[url href="http://amzn.to/2fllEiJ" target="_blank" rel="nofollow"]used this mix from Purely Elizabeth[/url]
pure maple syrup for drizzling
Preheat oven to 400 degrees F. Rub the inside of squash half with the coconut oil the flesh with the coconut oil. (Use the other half for another meal.) Roast for 40 minutes or until squash is completely tender and can be easily scooped out of its skin.
Meanwhile, bring almond milk, water, chai tea bag, cinnamon, nutmeg and coconut sugar to a boil. Press tea bag with back of spoon to coax flavors out, add grains, then reduce to a simmer. Cook for 5 more minutes, remove tea bag after pressing on with back of spoon once more, then cook for another 10 minutes, stirring occasionally until it is the consistency you would like it.
When squash is finished roasting, scoop flesh out and add to food processor with three tablespoons of water, then puree until smooth. Add a few more tablespoons of water if you would like it to be a thinner consistency. Stir about 1/3 cup puree into each serving of oatmeal and drizzle with pure maple syrup to the sweetness you desire.
This post contains Amazon affiliate links, which I make a small commission on to pay for my giant grocery bill if you happen to purchase something.