This delicious no-churn ice cream is made with dried tart cherries and toasted almonds for salty, nutty crunch. The real cherries add wonderful sweet tart flavor, and the fruit shines. With just a few simple ingredients, you can have homemade ice cream without an ice cream maker!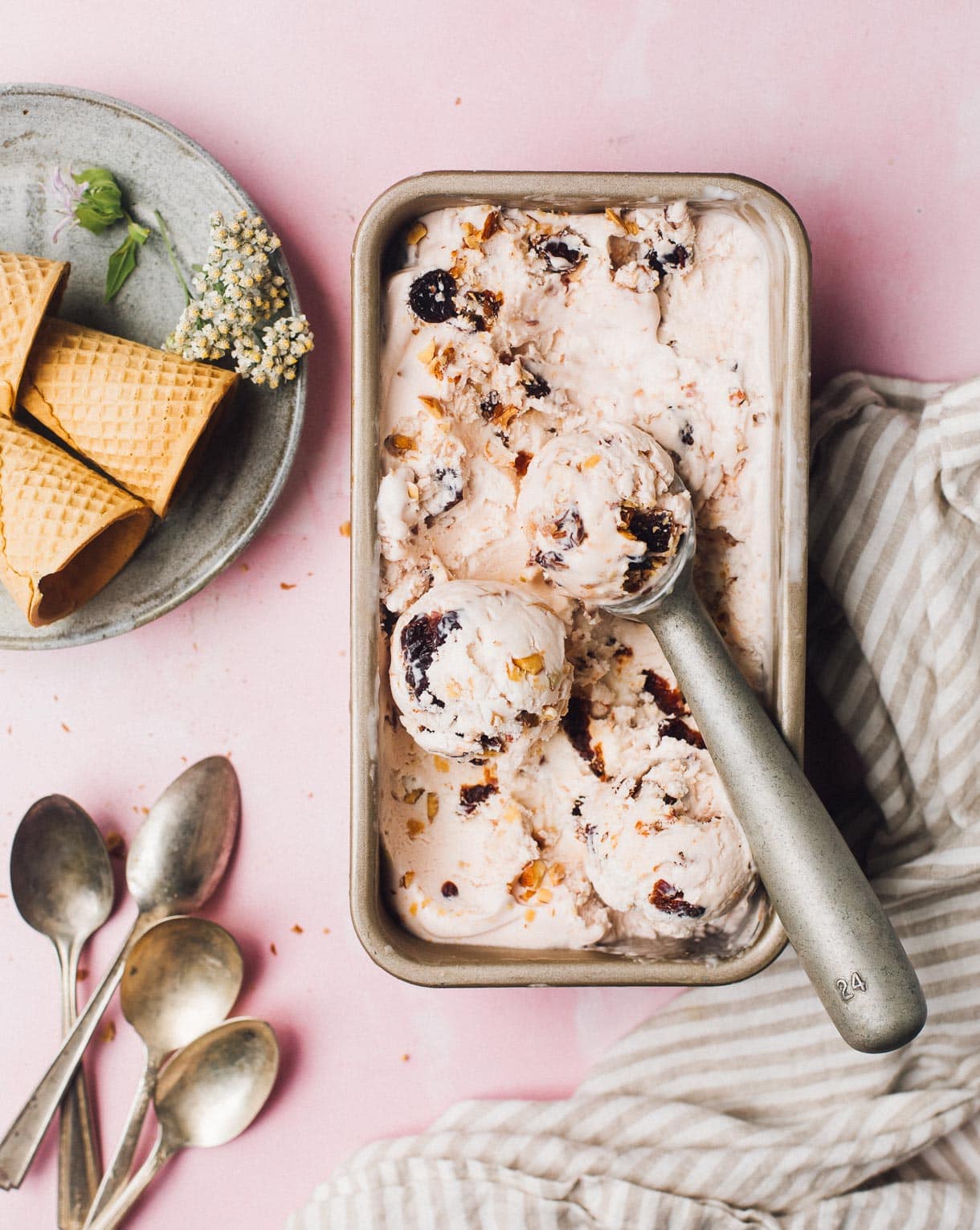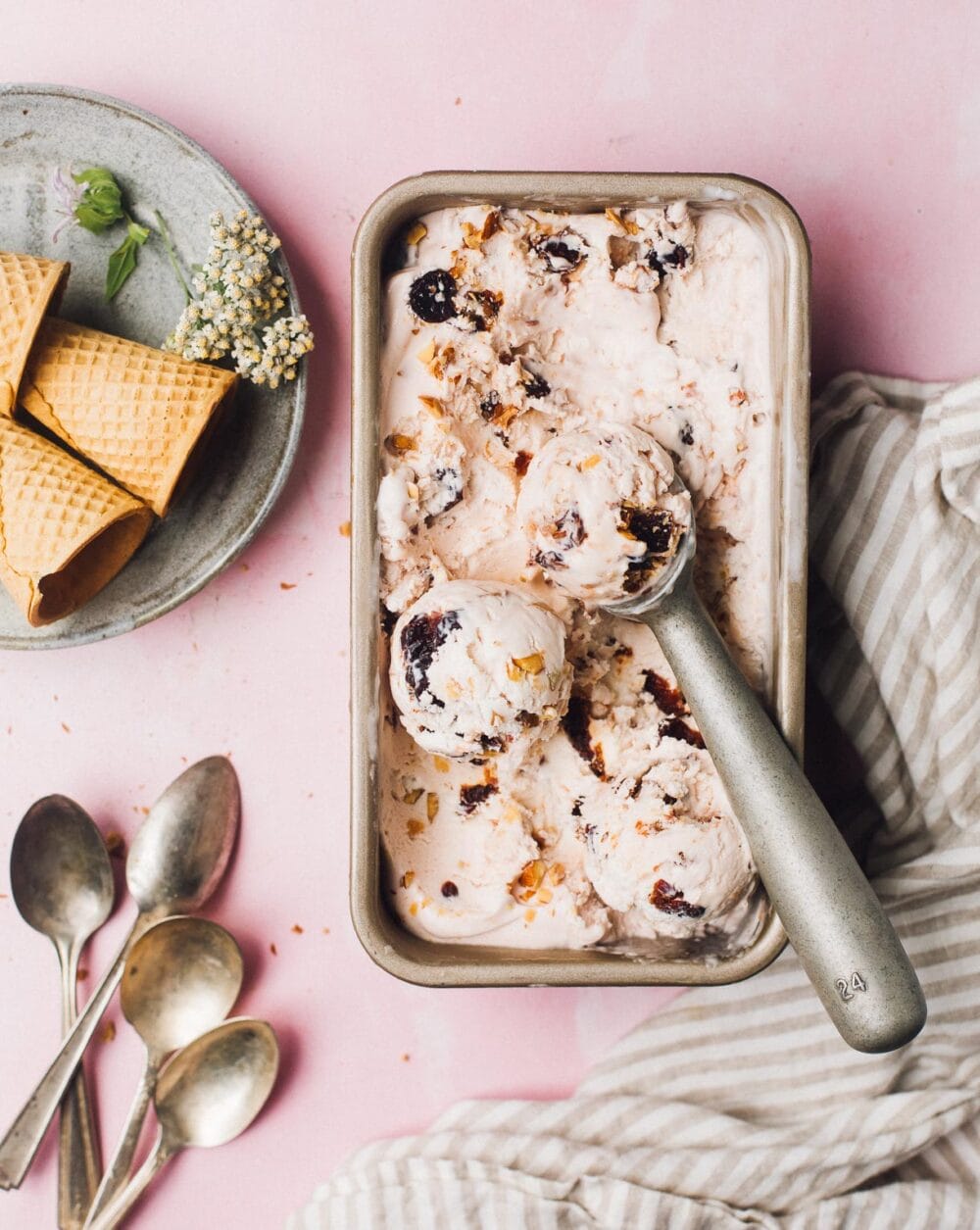 This recipe is sponsored by Michigan Cherry Committee, a valued partner of Heartbeet Kitchen. For more of my Montmorency Tart Cherry recipes, click here.
If you're new to the no-churn ice cream world, prepare to have a homemade pint in your freezer at all times from now on. It's incredibly easy to make, just a few simple ingredients needed, and the creaminess is unparalleled.
No egg yolks to mess with, and no ice cream maker required either.
We've fallen in love with this Tart Cherry Nut version over the last month as I've been testing the recipe, and I can't wait for you to make it in your kitchen. Cherries pair particularly well with almonds and vanilla, and when made into ice cream, each scoop is a quintessential summer treat! It's fresh and bright, ultra creamy, and delicious – vastly different than most artificially flavored cherry ice cream you'll find in the store.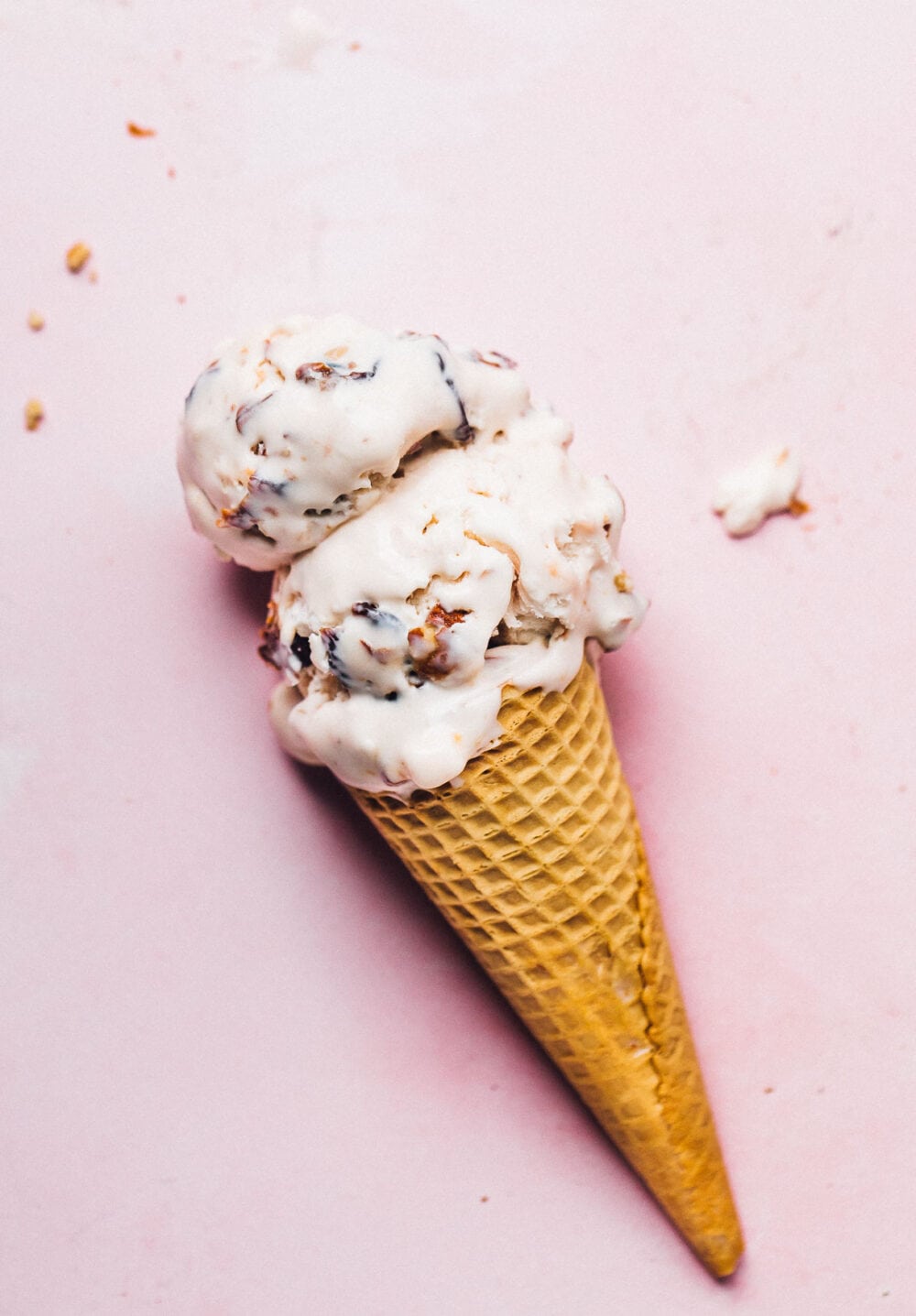 Dried Montmorency tart cherries (also known as sour cherries) are soaked in rosé wine to slightly rehydrate them, giving them a nice fruit chew even when they're frozen into the ice cream. Roasted, salted almonds crunch and lovely toasted flavor that's the perfect contrast to tart cherries and sweet cream.
Ingredients for No-Churn Cherry Ice Cream:
heavy cream
roasted, salted almonds
vanilla extract
cream cheese
rosé wine
How to Make No-Churn Cherry Nut Ice Cream
Soak the dried cherries in rose wine for 30 minutes. (white wine or tart cherry juice would work too!)
Whip the cream cheese, then pour in heavy cream and whip until stiff peaks form.
Whisk together the sweetened condensed milk, vanilla, and salt. Then whisk in half of the whipped cream, until fully combined. Then gently fold in remaining whipped cream.
Fold in cherries and finely chopped almonds.
Pour into pan and freeze!
Sarah Kieffer, an amazing baker, adds a small amount of cream cheese to her no-churn ice cream recipes, to offset the sweetness of the condensed milk. And it works like a charm. I've followed her lead and added 2 ounces of cream cheese to this recipe, which you whip for one minute until it's fluffy, then pour in the heavy cream and continue whipping until stiff peaks form.
---
Using Dried Fruit in Ice Cream
Dried cherries are a terrific mix-in to ice cream, as fresh Montmorency tart cherries are only available for a short period of time each year. Their flavor intensifies, and you get a sweet tart zing in each bite. Soaking them in wine (tart cherry juice would also work!) not only adds depth, but is important for ensuring they don't freeze solid in the ice cream.
What to Look For When Buying Montmorency Cherry Products:
Montmorency tart cherries, also referred to as sour cherries, are the most common variety of tart cherries grown in the U.S, 75% of the Montmorency tart cherry crop is grown in Michigan. They're available year-round in dried, juice, canned, and frozen forms. I love using the frozen cherries to make my Gluten-Free Cherry Pie, and the juice to make this Pink Moon Milk, a sleep tonic.
Recently there has been an influx of imported foreign cherries that are deceivingly packaged to look like Michigan grown cherries, even organic brands. For instance, some U.S. brands that use imported juice have the appearance of being made here, while the bottle needs to be tilted to see the small dark writing, hidden by the dark cherry juice background, indicating that it is in fact a product of Turkey or other foreign country. Imported tart cherries may travel more than 5,000 miles before reaching your grocery store, whereas locally-grown Michigan Montmorency tart cherries go straight from an American farm to your local grocery store.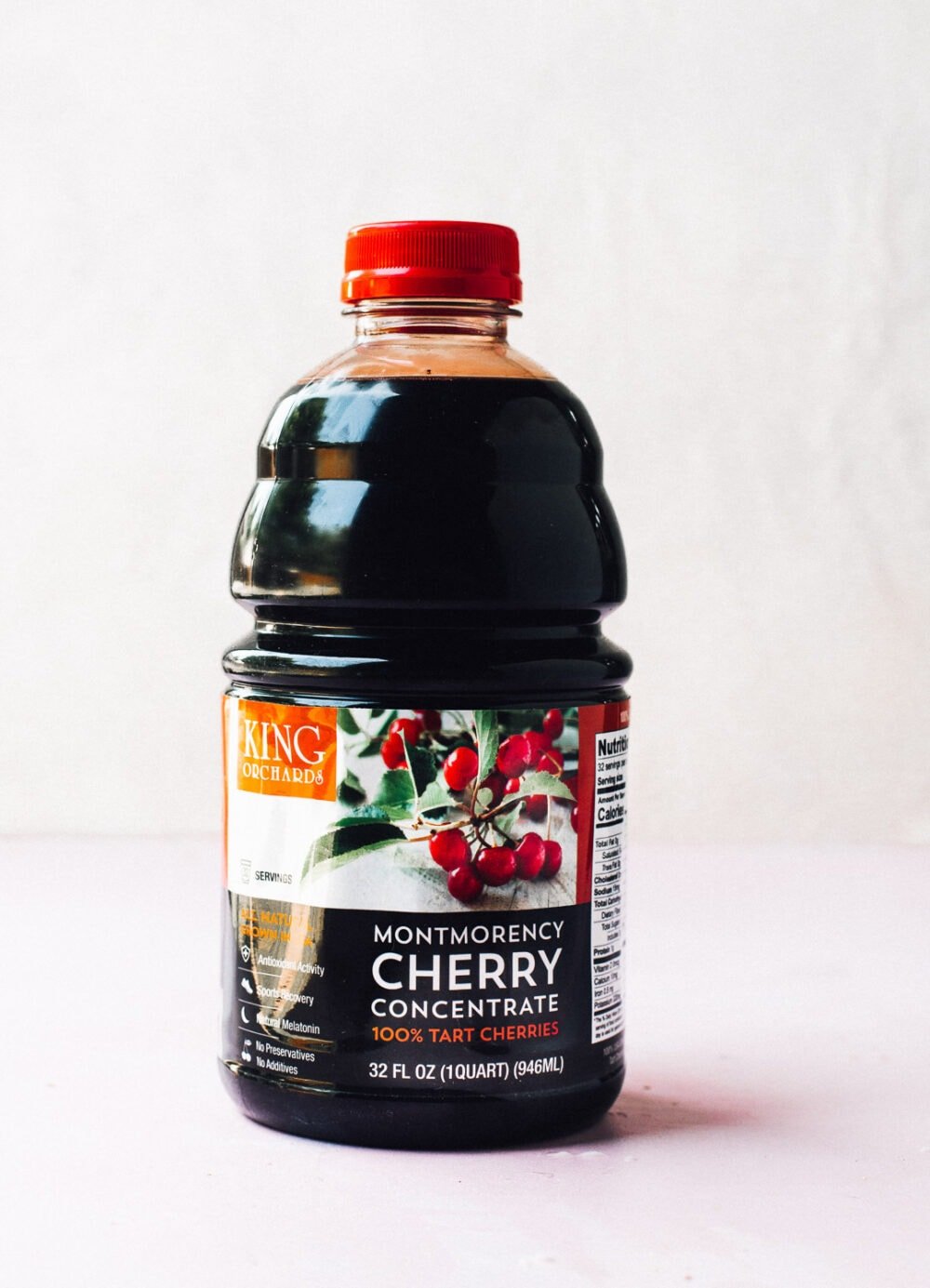 Health benefits of Montmorency tart cherries:
They're are a good source of vitamin C, vitamin A and copper!
They contain 56 mg of flavonoids, including anthocyanins.
Research suggests Montmorency tart cherry juice may help aid exercise recovery.
Melatonin-containing Montmorency tart cherries have been the focus of multiple sleep studies.
More Tart Cherry Recipes:
No-Churn Tart Cherry Nut Ice Cream
An amazing tart cherry ice cream, with toasted almonds and vanilla. This is a no-churn recipe, no ice cream maker required! It's super creamy, filled with vibrant cherry flavor from using dried tart cherries. The almonds add a bit of crunch and salty, toasted notes.
Add cherries to a bowl and pour wine over them. Let soak for at least 30 minutes, up to 2 hours on the counter. When finished soaked, drain and oat cherries slightly dry. Run your knife through them once to lightly chop.

In a large bowl, whisk together sweetened condensed milk, vanilla, and salt.

In a stand mixer, or with a hand mixer, use the whisk attachment to whip the cream cheese on medium about one minute. Scrape sides down. With mixer on low speed, add heavy cream in a slow stream. Then bring mixer up to medium high speed, until stiff peaks form. Check frequently once it starts to become fluffy so you don't overwhip.

When stiff peaks have formed, add ½ of the mixture to sweetened condensed milk, and whisk until smooth. Then gently fold in remaining whipped cream, until no streaks remain. Error on the side of NOT overmixing/overfolding. Then gently fold in cherries and chopped almonds.

Put ice cream into a loaf pan, sprinkle with a few extra cherries and chopped almonds. Cover and freeze for at least 6 hours. Enjoy!