These are my favorite, go-to gluten free dinner recipes that I've used over and over! You'll find some classics, as well as exciting new gluten-free meal ideas for you.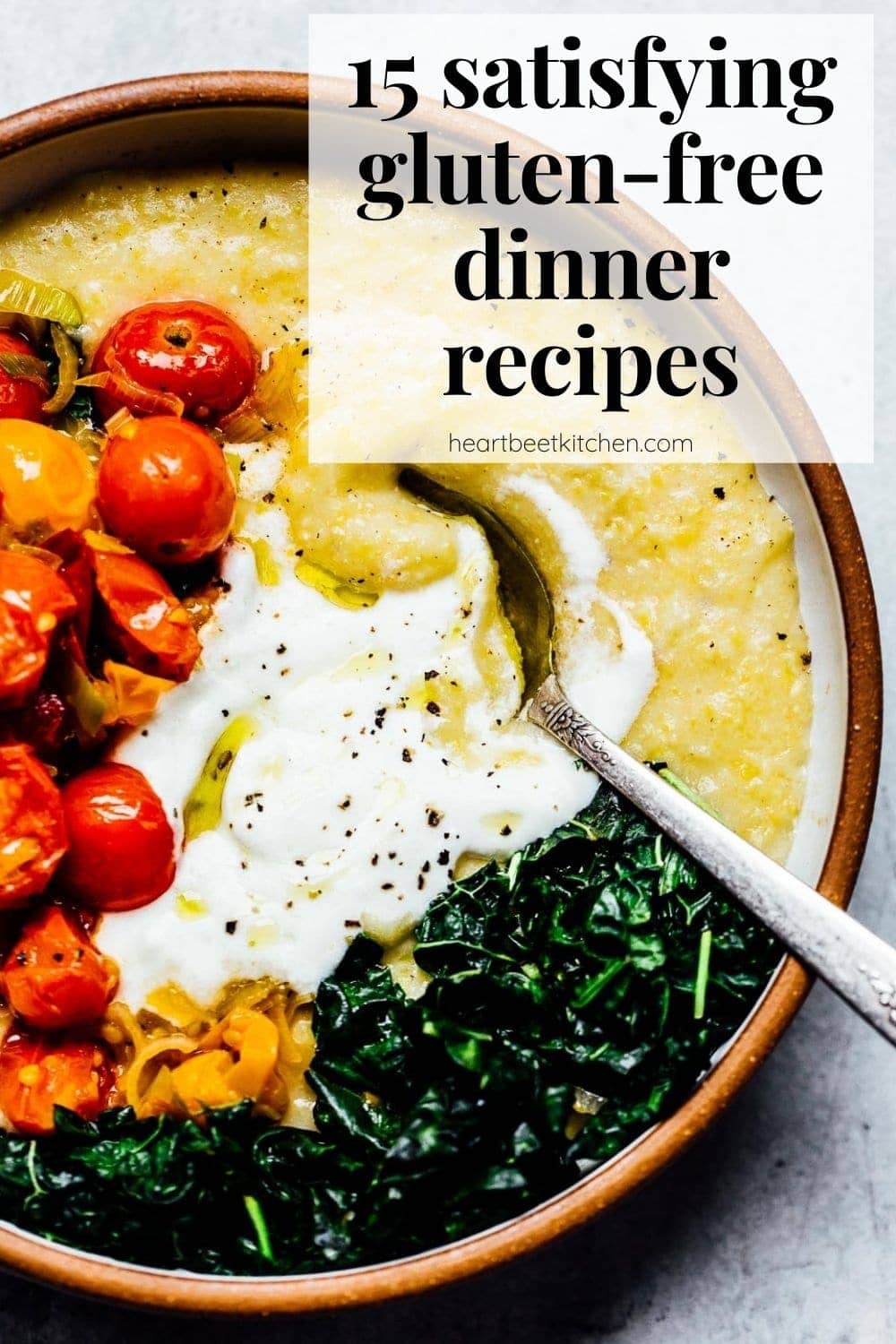 If healthy comfort food is what you're after, these 15 gluten-free dinner recipes are the delicious solution! Each one is hearty and satisfying, made with real food ingredients, and give off all the feel-good vibes.
Whether you've just gone gluten-free, have been that way for years, or are cooking for a gluten-intolerant friend, you'll find a recipe here that fits.
Gluten-Free Meal Ideas
Instead of using processed convenience ingredients, I like to use a mix of fresh vegetables and pantry ingredients like rice and quinoa to make dinner come to life. There are both gluten-free vegetarian dinner recipes, and those that include meat or seafood in the list below, but lean heavily on vegetables.
Tips for Gluten-Free Living
Fill up your meals with pantry staples like lentils, rice, quinoa, millet, and polenta
Read food labels so you can be sure it doesn't contain gluten
Sauces are a hidden culprit of gluten, many times thickened with flour or flavored with soy sauce (which is wheat based)
Remember, so many foods are naturally gluten-free! Create your dinners around fresh fruit and vegetables, meat, poultry, fish, cheese and eggs.
Once you've got made your favorite gluten-free dinner recipes, here are 15 gluten-free snack ideas to keep you fueled all day long! And many gluten-free breakfast recipes to start the morning with.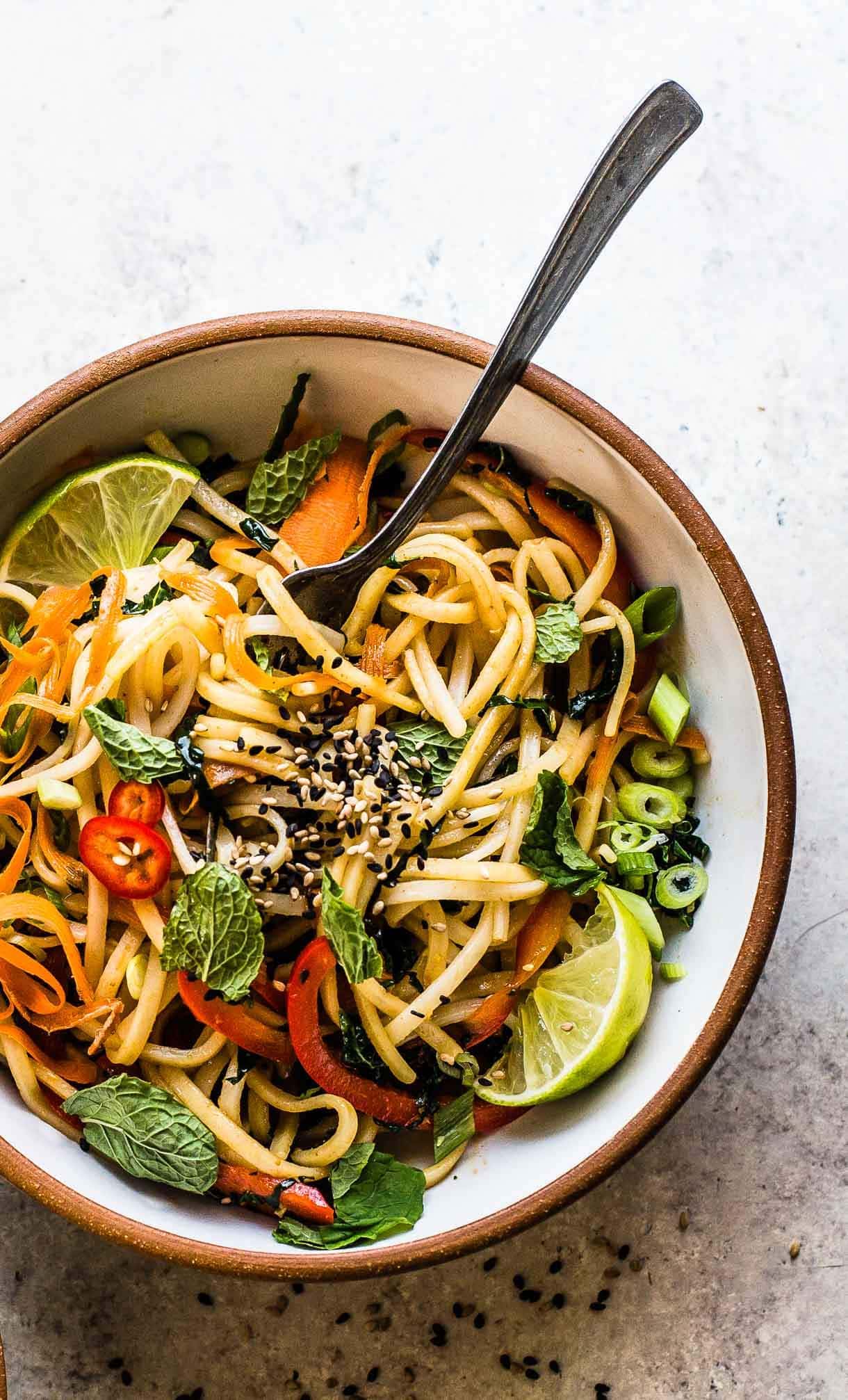 1/2

teaspoon

kosher salt

4

ounces

flat pad thai rice noodles

3

tablespoons

grapeseed oil

divided

1

medium red pepper

thinly sliced

5

dyno kale leaves

stems removed, thinly sliced

1

large carrot

peeled into ribbons with a vegetable peeler

3

cloves

garlic

minced

2

teaspoons

fresh ginger

minced

1/4

cup

gluten-free hoisin sauce

2

tablespoons

tamari

1

tablespoon

rice wine vinegar

2-3

teaspoons

toasted sesame oil

1

red serrano pepper

cut into rounds

2

tablespoons

minced cilantro

2

tablespoons

chopped fresh mint

2

tablespoons

sliced green onions

juice of a 1/2 lime

sesame seeds for garnish
Bring a large pot of water to a boil, and salt. When boiling, add noodles and cook according to package directions. When finished cooking, drain and rinse THOROUGHLY with cold water (otherwise the noodles will stick to each other).

Heat a large skillet to medium high. Add 2 tablespoons grapeseed oil, and when hot, add kale and red peppers. Cook for 4-5 minutes, until the vegetables are tender and have begun breaking down.

Then add carrot and cook for a minute. Move vegetables to the side of the pan and add the remaining 1 tablespoon of grapeseed oil. When hot, add garlic and ginger, cooking 30 seconds, until fragrant. 

Turn heat down to medium low and add noodles. Use a tongs to combine with vegetables. Then add hoisin sauce, tamari, rice wine vinegar, and sesame oil. Toss and combine again, with tongs, to ensure everything is fully coated. 

Divide into bowls and top each with serranos, cilantro, fresh mint, green onions, squeeze of lime, and sesame seeds. 

*Leftovers will keep in the refrigerator for 4 days. Best reheated on stovetop with a few tablespoons of water to rehydrate the noodles.