Using sourdough bread to make a grilled cheese sandwich is the way to go because it adds such wonderful flavor and is nice and sturdy! Filled with two delicious cheeses; sharp cheddar and gouda, these cheeses melt well, taste great, and can be found in any grocery store. Cooking the sandwich in butter adds richness, while mayonnaise on the outside of each slice leads to the perfect, golden brown, crisp crust.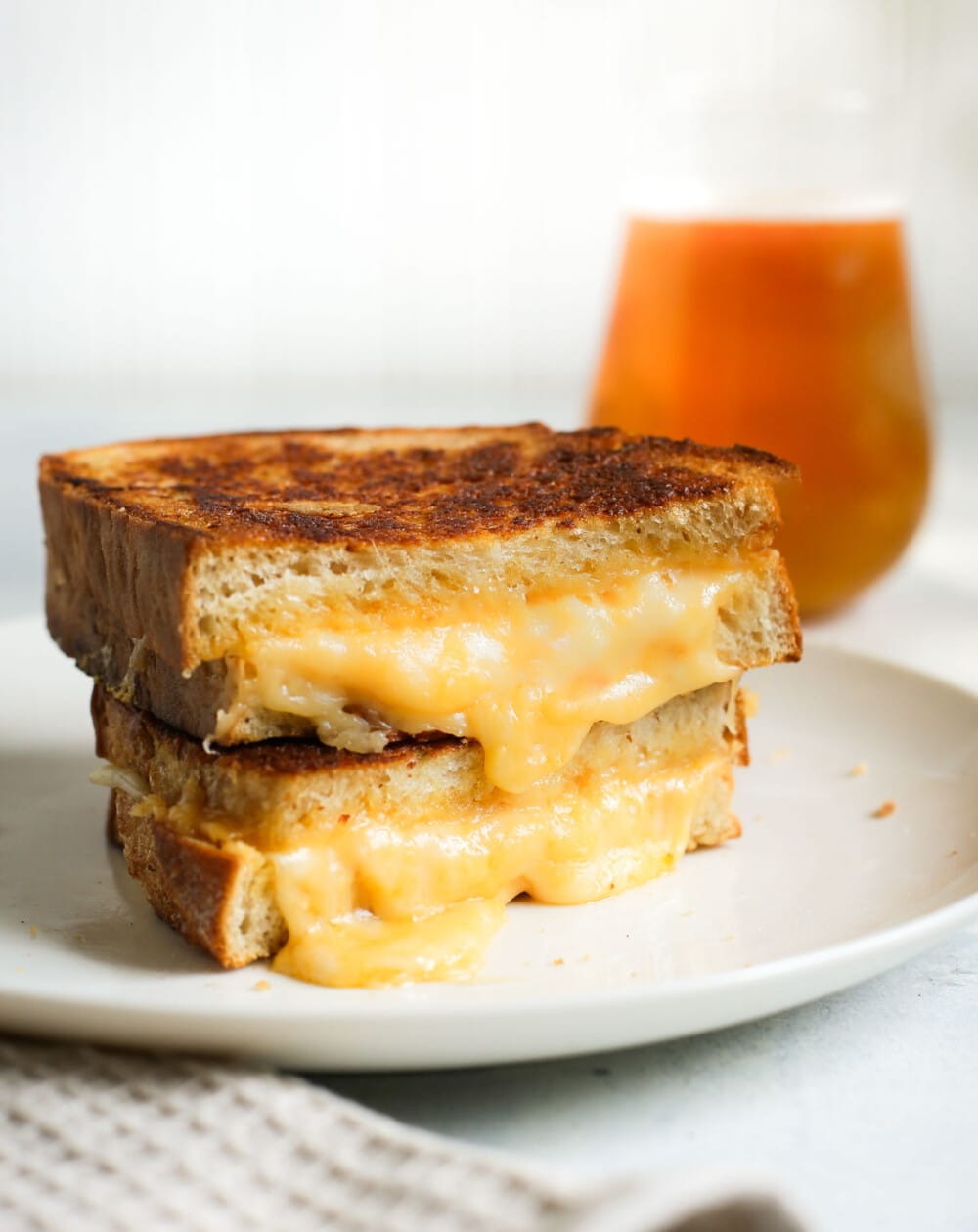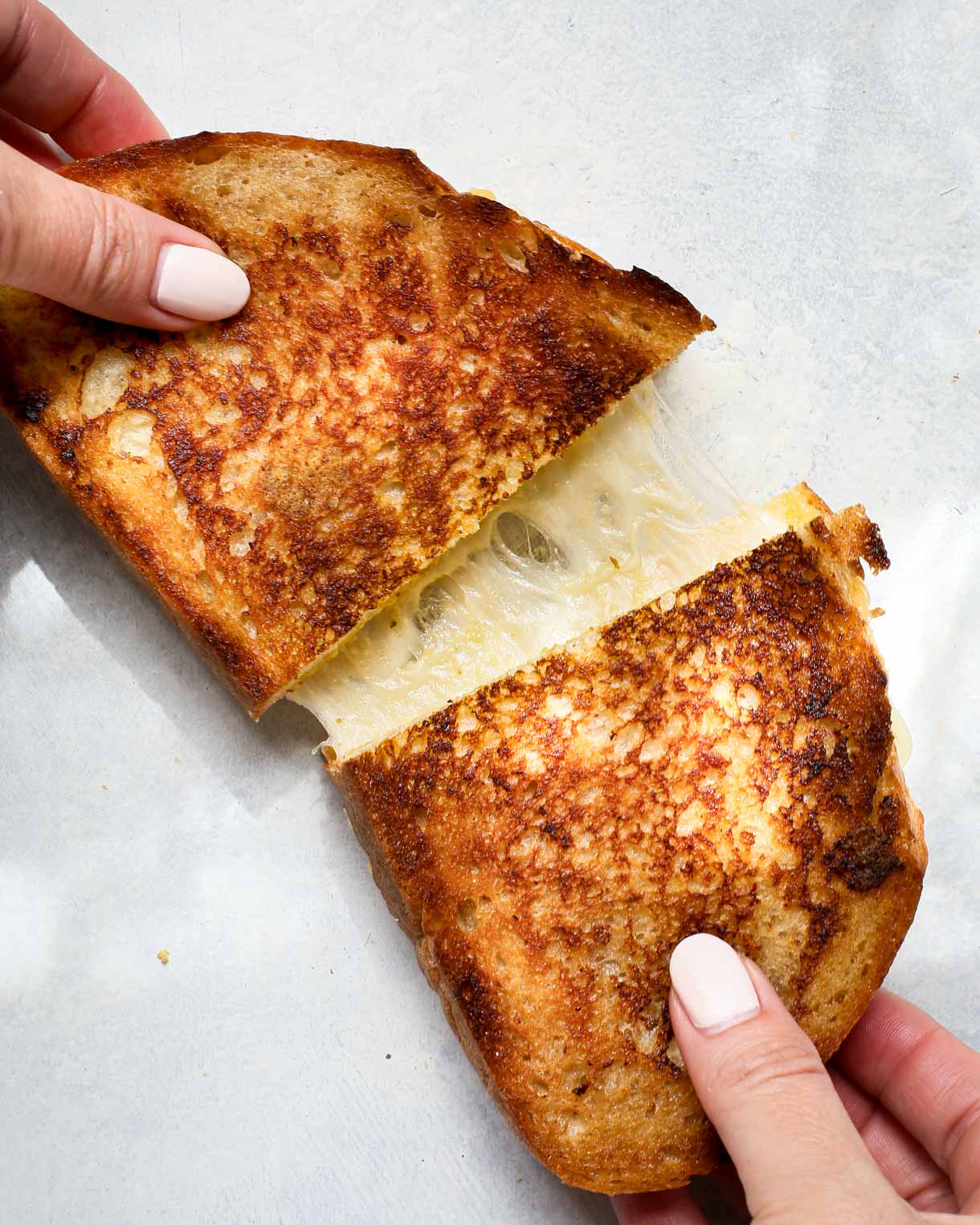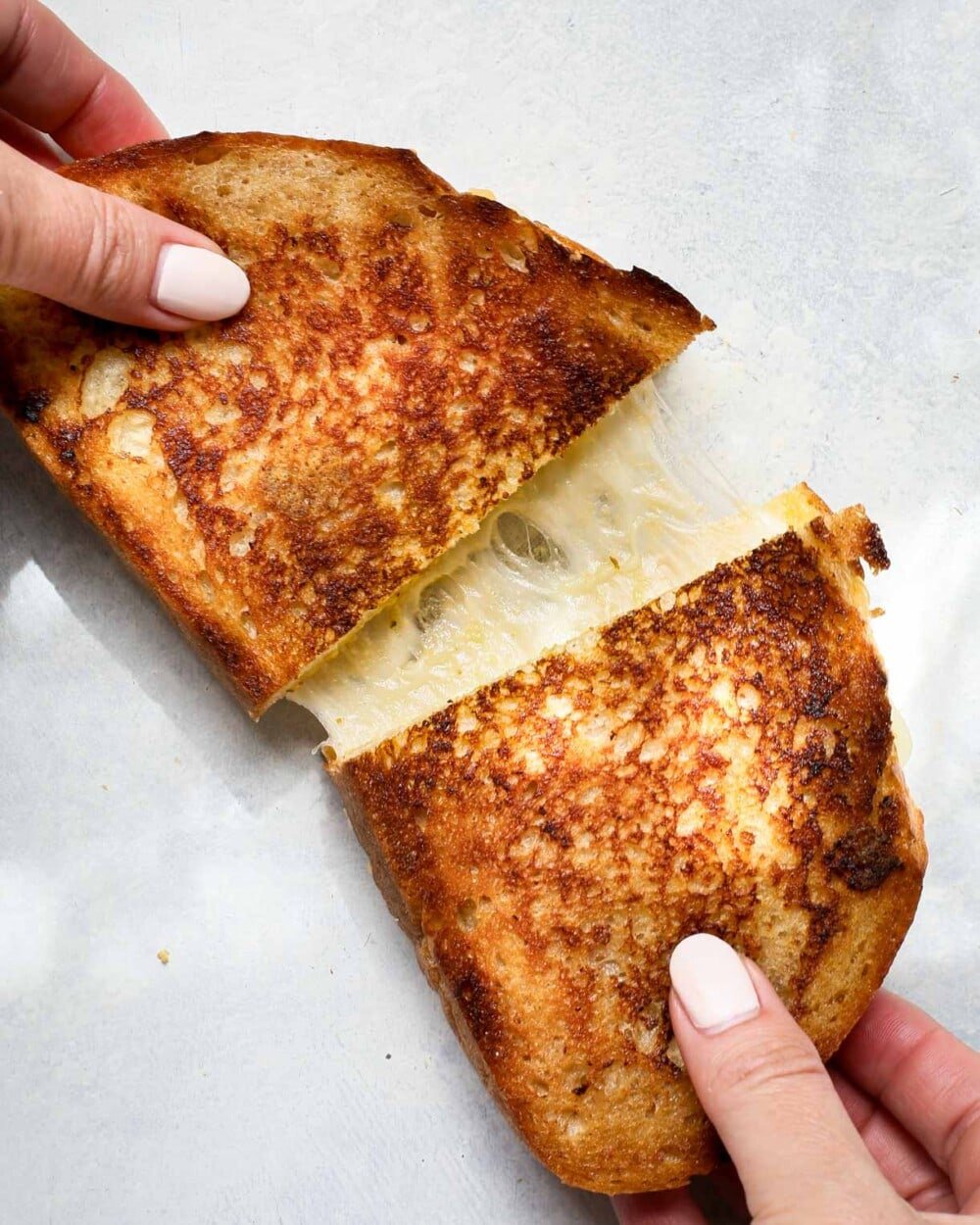 Why Sourdough is The Best Bread for Making Grilled Cheese
Grilled cheese sandwiches are pure comfort food that many of us have grown up with. You've probably had good ones that satisfy a craving, but I'm going to share with you how to make a GREAT grilled cheese sandwich, the best in fact, without any extra work.
And it starts with the bread! Pick up your favorite sourdough loaf at the grocery store, or make my Everyday Sourdough Bread or (for a whole grain option, my Rye Sourdough makes a great grilled cheese too) rather than standard bread. It has depth of flavor that you can't get from commercial bread, a soft custardy crumb, and sturdy texture that's perfect for cooking in a skillet (the same reasons I love using it for Sourdough French Toast!).
Mayo or Butter?
Mayonnaise is what you need to spread on the outer sides of your bread slices, and that is a hill I will die on. Why? Because it has a higher smoke point than butter (so it's less likely to burn) and is an oil based fat, which possesses the combined browning power of oil and egg yolks.
It is pertinent to achieving the golden color you dream of, with a crisp, buttery bite that is nothing short of amazing. And if you don't like mayo, I promise you won't taste it. Really.
What Type of Cheese to Use For Grilled Cheese
Choosing the cheese you'll put inside your sandwich is based on two factors; taste and ability to melt.
I grew up on grilled cheese stuffed with American cheese, which melts in an instant (win!) however it lacks flavor. That's why I use a combination of grated sharp cheddar for its bold, very cheesy flavor and gouda for it's creamy, epic melty-ness. Both are semi-soft cheeses, which is important for melting. You could also use havarti instead of gouda. These are cheeses that you'll find in any grocery store and are relatively affordable, too.
Aged cheeses have excellent flavor, but they do not melt well. Blue cheese and feta can be overpowering, and fresh cheeses like mozzarella can be too stretchy.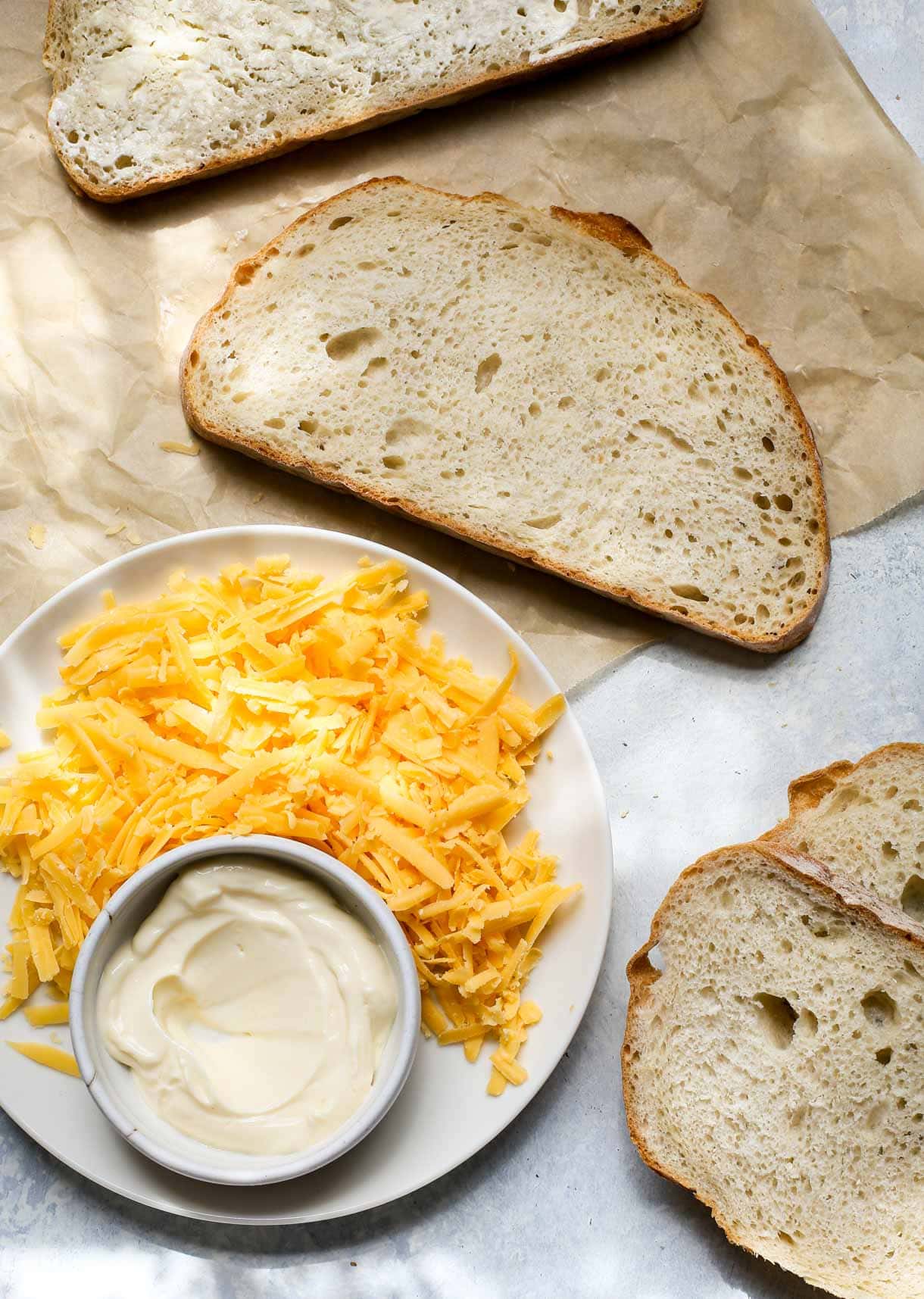 Ideally, you will grate your own cheese for your sandwiches than buying pre-shredded.
Bagged cheese is convenient, but it usually contains preservatives like potato starch and natamycin, meant to keep the shreds from clumping together in the bag. Unfortunately, those ingredients also inhibit smooth melting.
What Temperature To Cook Grilled Cheese At
The ideal cooking temperature for making a grilled cheese sandwich is typically medium-low to medium heat. Cooking at this temperature range allows the cheese to melt evenly, and it gives the bread a chance to become golden brown and crispy without burning.
I like to cover the sandwich when I'm cooking the first side to help getting the melting started. I find this really helps in making a successful grilled cheese.
Tips for Making An Awesome Grilled Cheese Sandwich:
Preheat your pan to a nice steady, medium heat before putting the butter and bread into it. This will ensure the butter does not burn and the sandwich begins cooking as soon as it hits the pan.
Slice your bread 1/2 inch thick, or a bit thinner. Do not go thicker; your crusts will be browned before the cheese is melted because the heat will take longer to get to the middle.
Use the amount of cheese called for in the recipe. This produces a melty, rich grilled cheese without being too heavy. If you use less, it just won't give you the flavor or texture you're looking for.
Press down on the sandwich with a spatula while you are cooking. This helps the cheese melt and adhere to the slices.
Keep an eye on the sandwich as it cooks, adjusting the heat if necessary to prevent burning. Cooking times can vary depending on your stovetop and the thickness of your bread slices, so use the appearance and texture of the sandwich as your guide.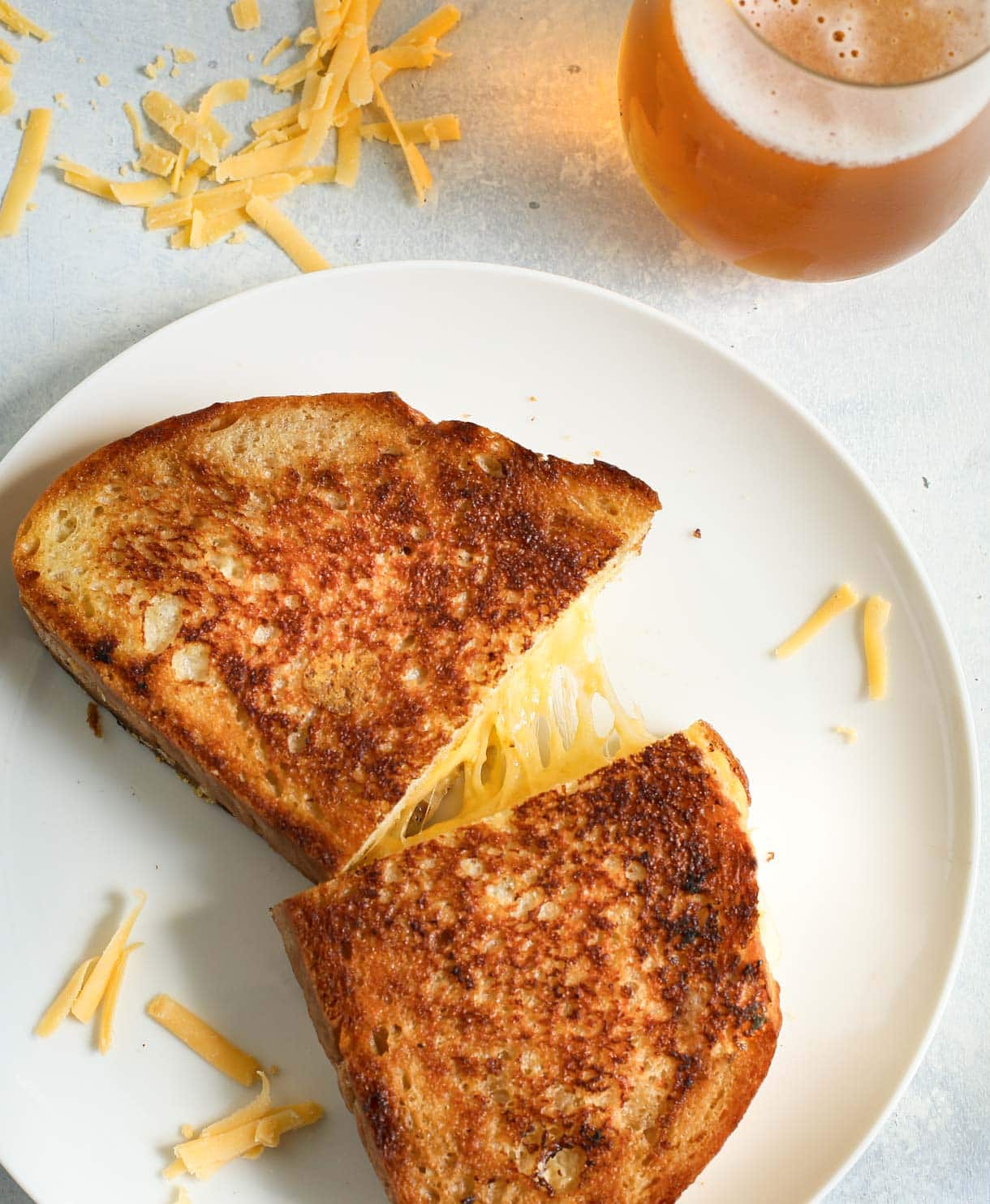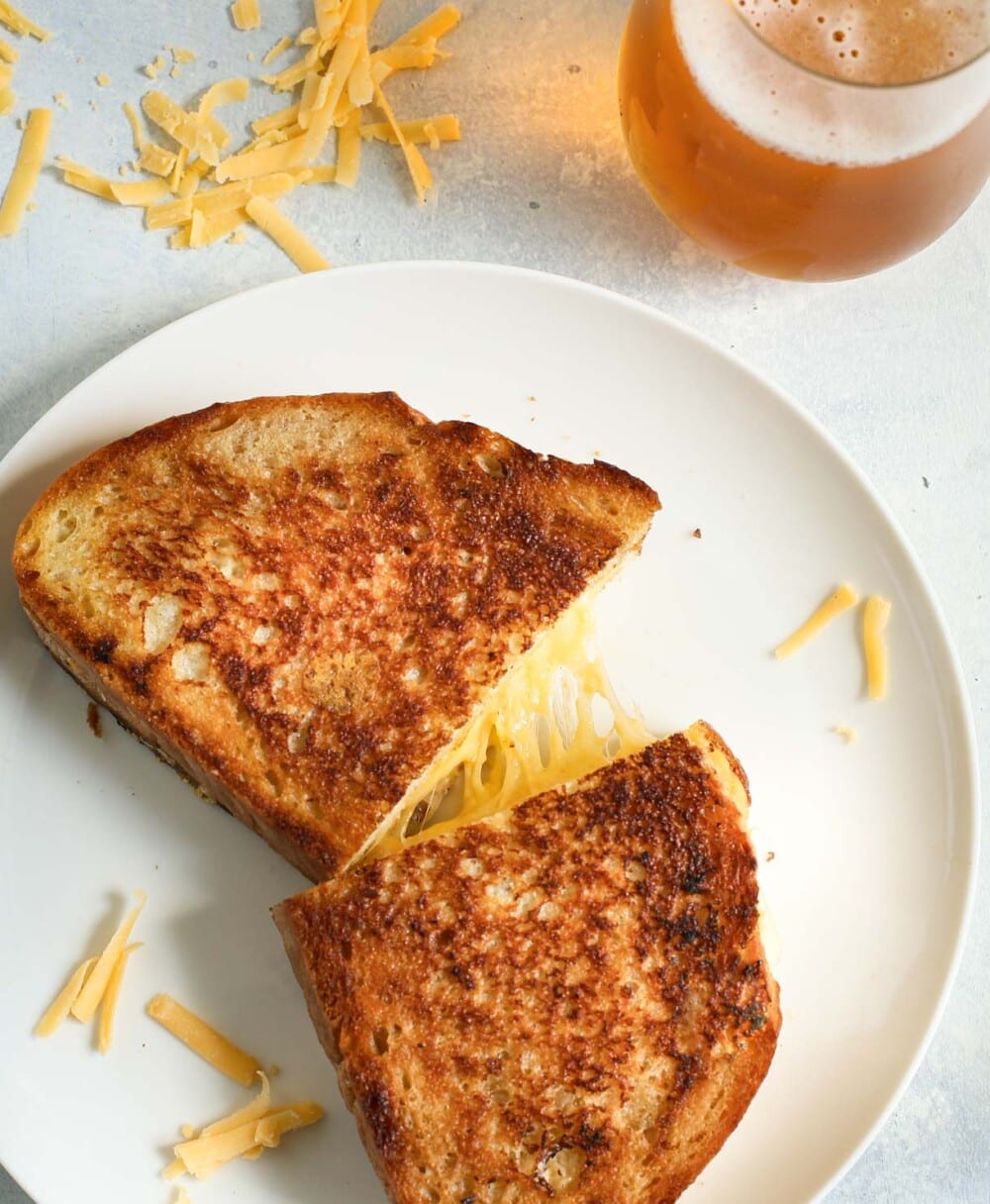 What to Serve with Grilled Cheese Sandwiches:
I love paring this hearty sandwich with something lighter, like soup, salad, or vegetables. Here are some my recipes that I make as a pairing: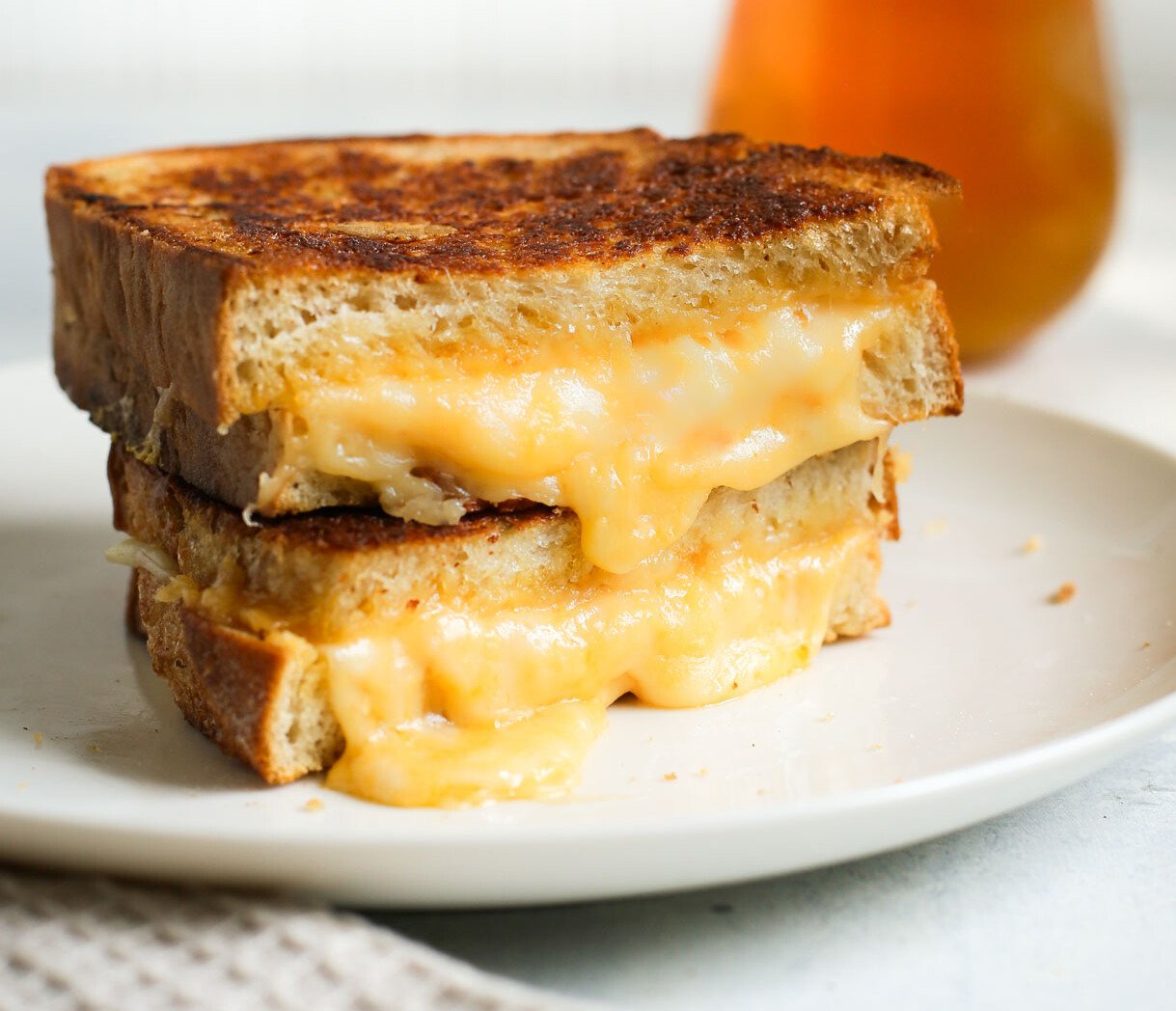 Melty Sourdough Grilled Cheese
This simple grilled cheese sandwich has superb flavor because it's made with sourdough bread and two delicious cheeses; sharp cheddar and gouda! These cheeses melt well and taste great. Cooking it over medium heat allows you to achieve a golden, crisp crust that leads to the perfect bite.