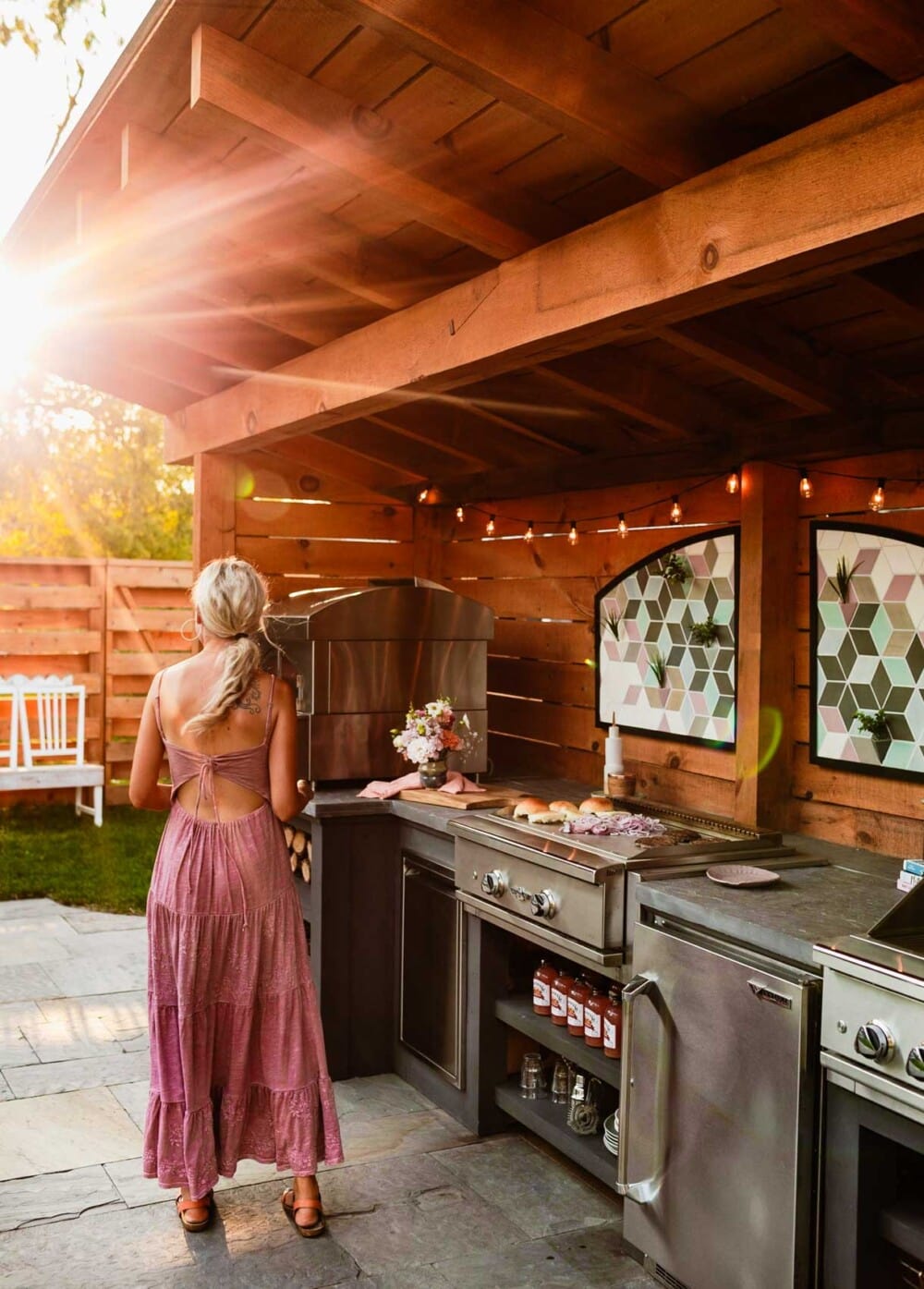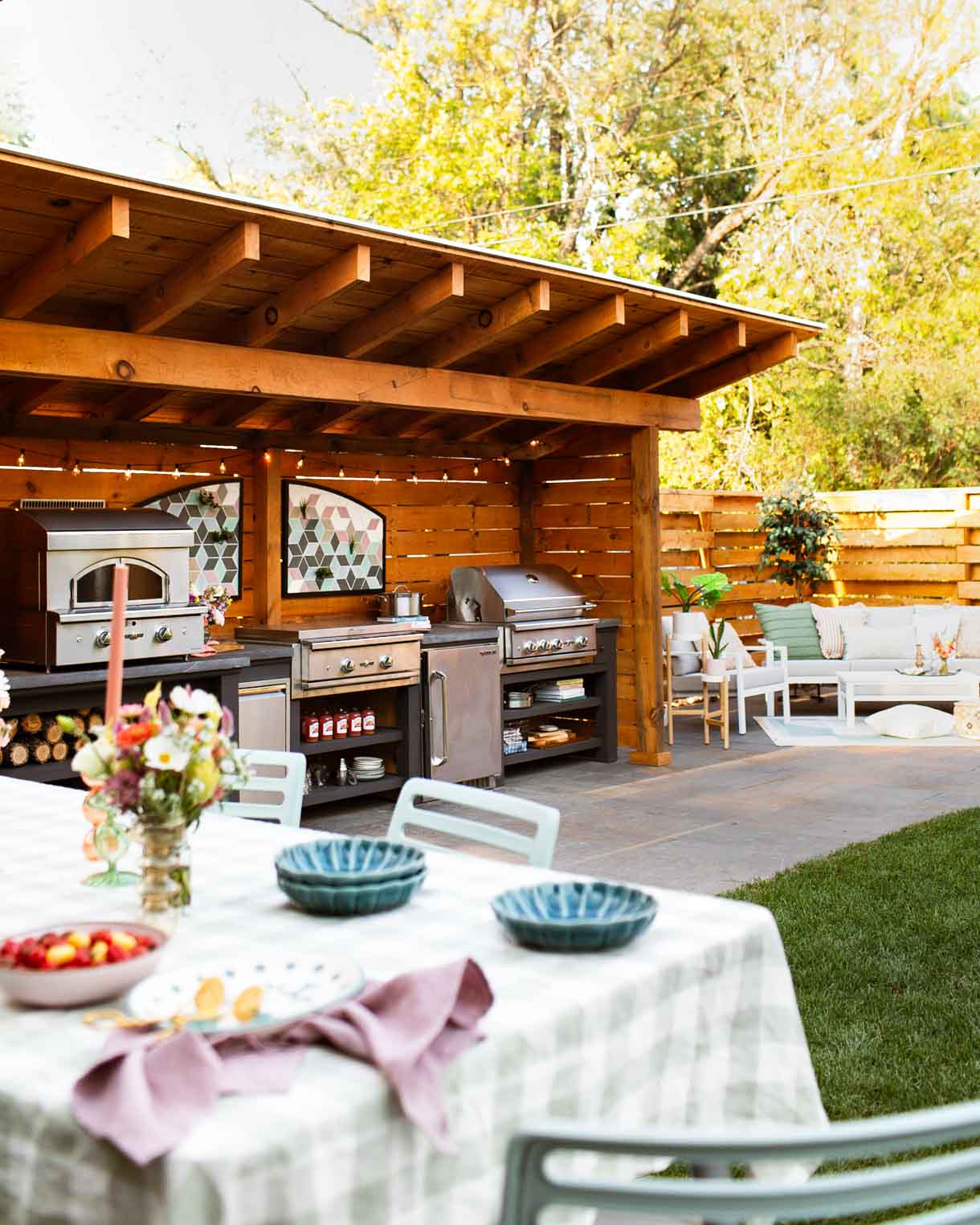 Photos by Chelsie Lopez Productions and Styling by Creekwoodhill
When we moved into this house five years ago, we fell in love with all its 1908 charm. Of course, the age of the home comes with renovations and upkeep, but in our eyes it was so worth it. First, we fully renovated the indoor kitchen, creating a space that truly brings me joy every day I walk into it, with its enormous amount of natural light, pops of color, unique backsplash, original hardwood floors, and open shelving.
The front and backyard showed lots of potential. It was only a matter of time until we could put the work and thought into those areas, bringing them to life in ways that matched our style and functional needs. I'm so excited to show you today our latest project; completing renovating the backyard from ground up.
We've spent the last year fully renovating the backyard, bringing it all the way down to the dirt and rebuilding from scratch to include a patio, pergola, outdoor kitchen, lounge space, and my studio/she-shed (which is almost finished). This summer we've entertained more than we have in all the years we've lived here combined. It has become the very best extension of our home that I could have ever wanted. It has only confirmed my love for cooking for others and sharing a table with them. ❤️
BEFORE PHOTOS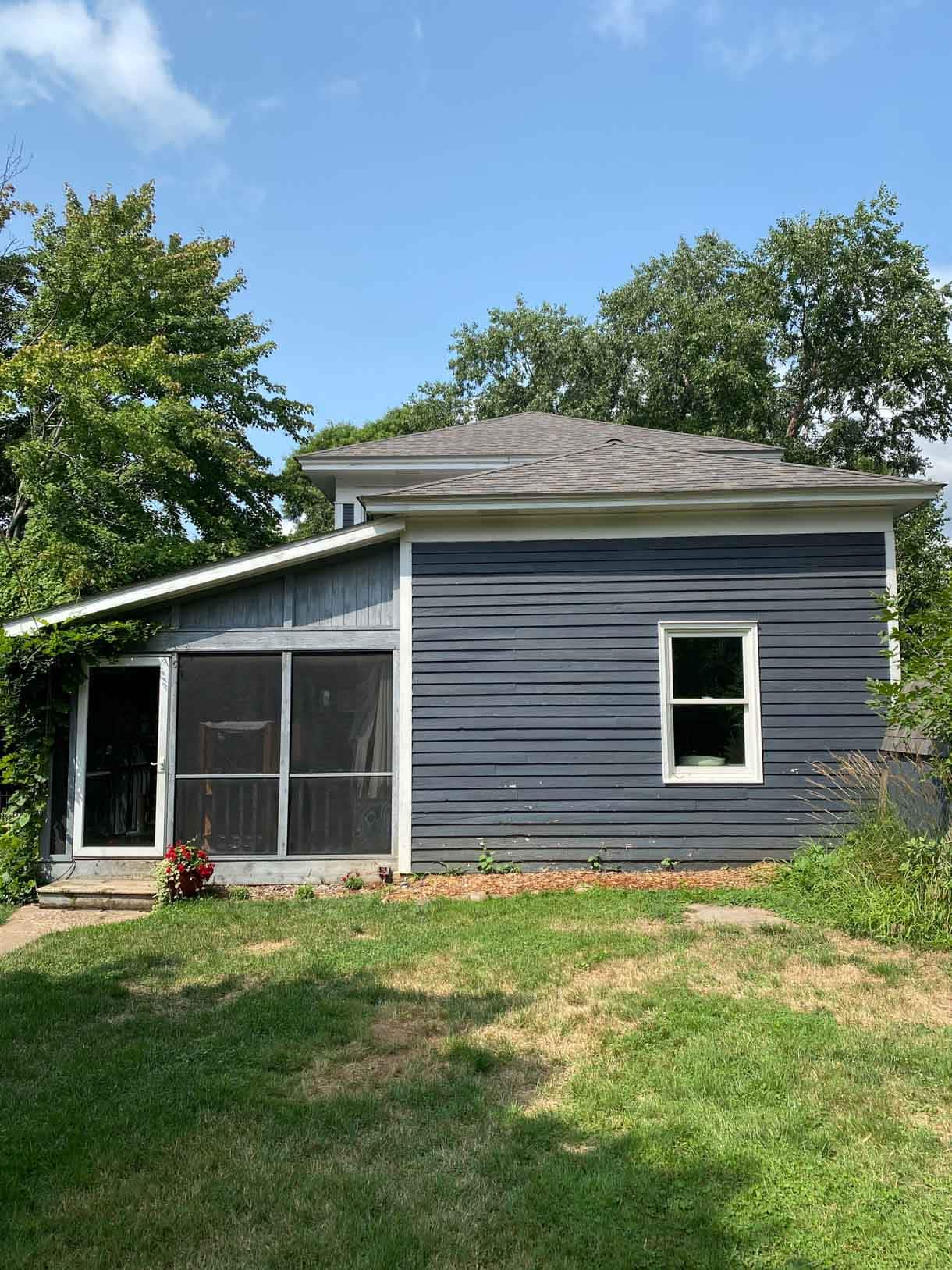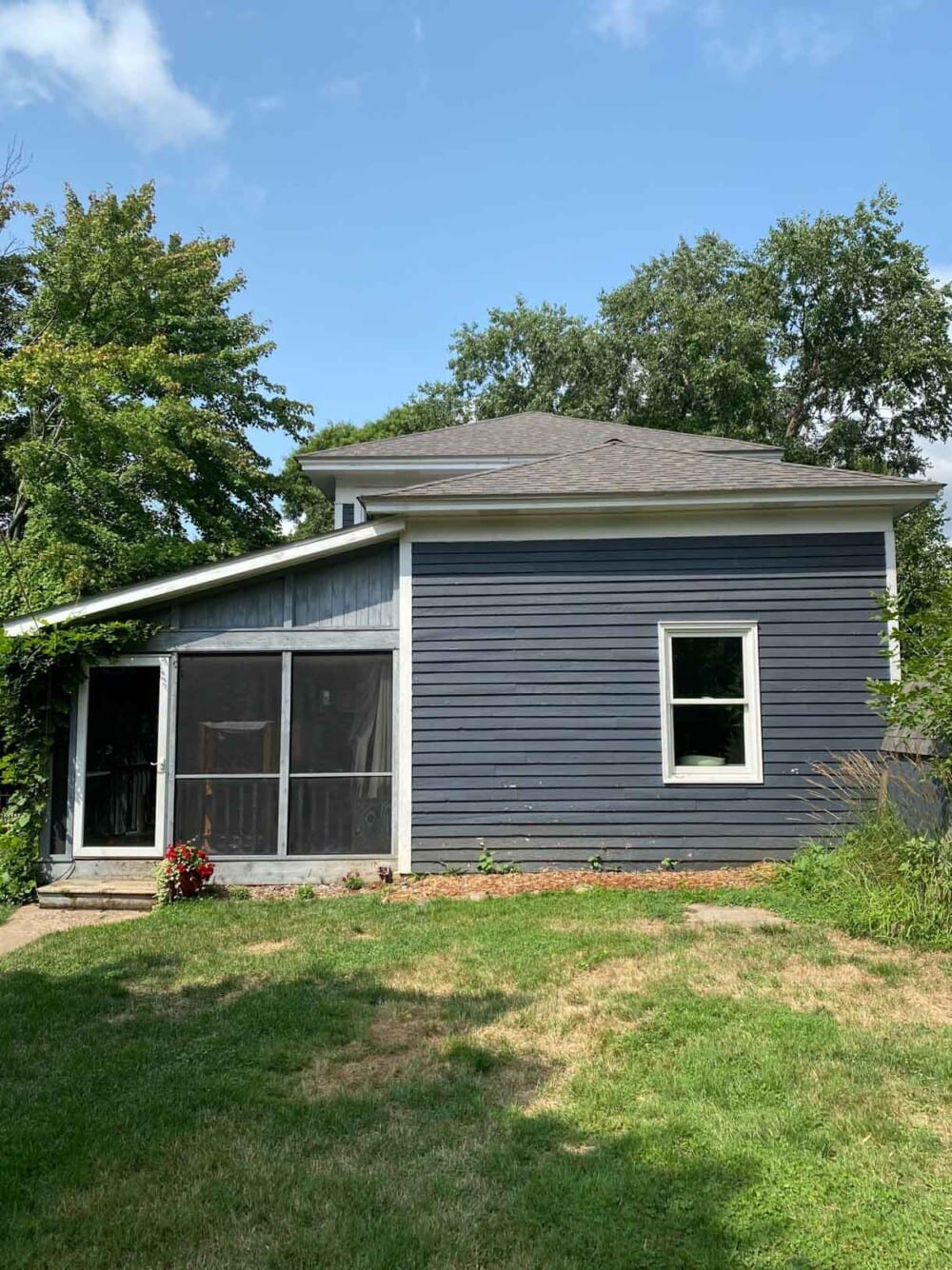 Covered Outdoor Kitchen Design
Rather than work with a designer, Brian and I spent months gathering design ideas from Pinterest and Instagram for covered outdoor kitchens. Although unconventional, this is what we've found works best for us; finding elements we like and then mimicking them to create our vision. The other unconventional part of how we tackle projects is that we do not go into it with a finalized design. We design as we go with input from the builders, labor crew, stone mason, and ourselves.
It's how we designed our kitchen, too. This way of working is a little bit slower and intensive, however it allows for pivots and creativity to flow as we go.
An example being; we originally planned to build custom shelving behind the appliances. Late in the game we saw a story on Twin Cities Live about mosaic art pieces made by Mercury Mosaics. That sparked many conversations and turned into custom pieces that tie in the backsplash design of our indoor kitchen.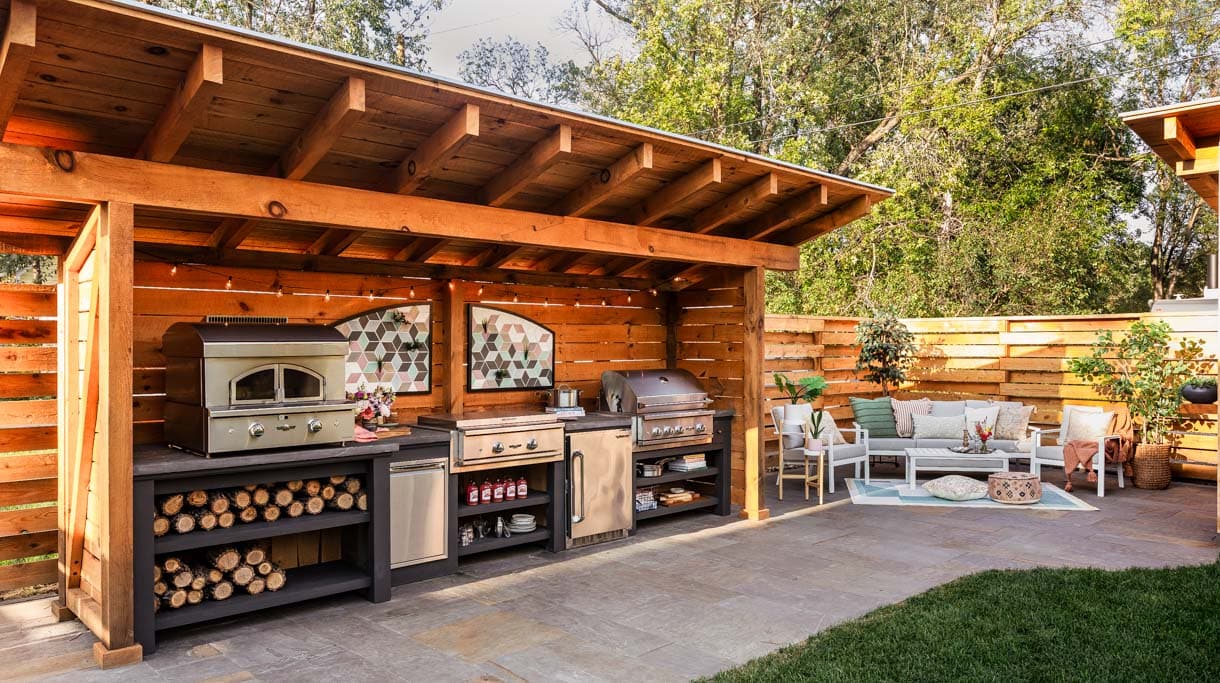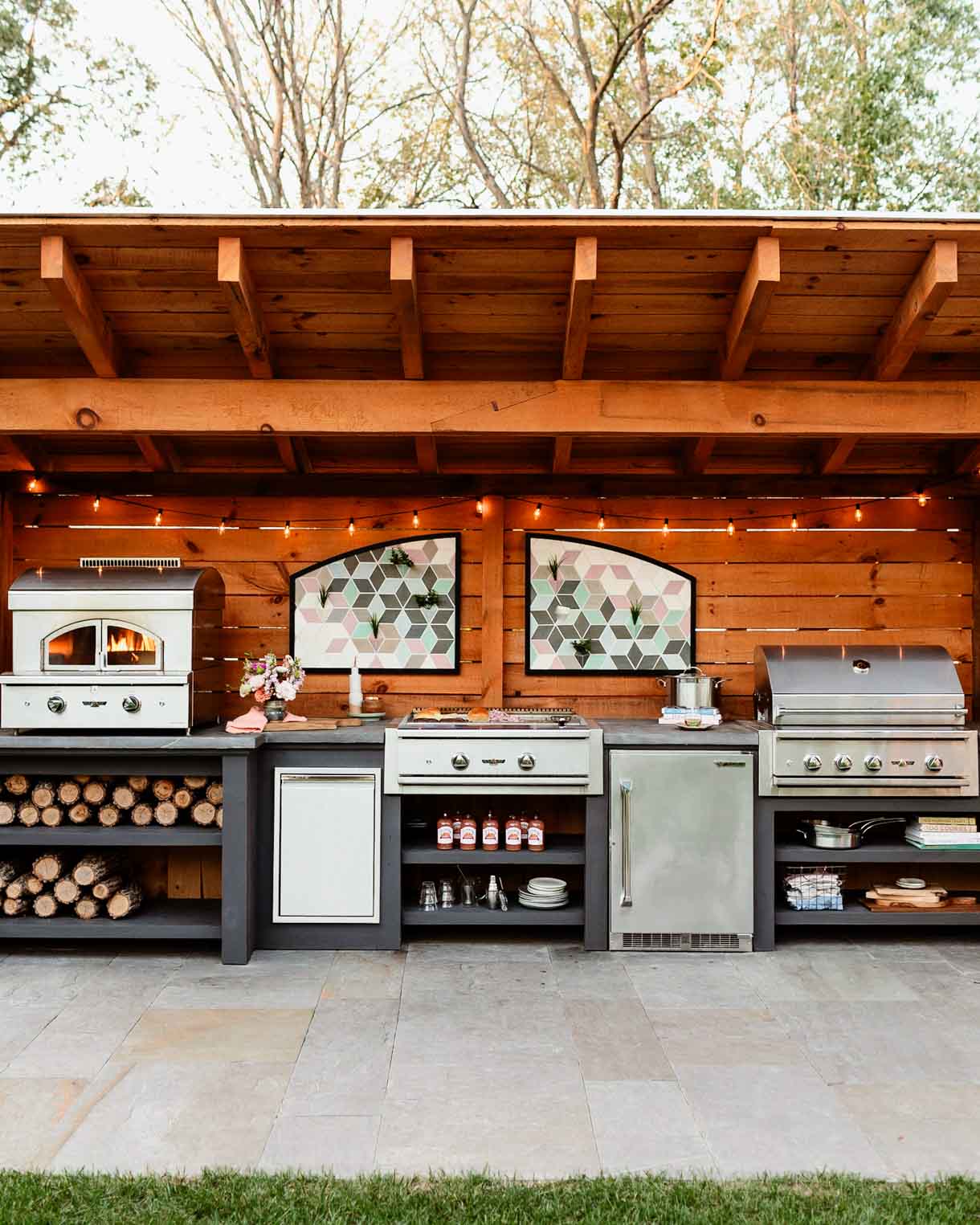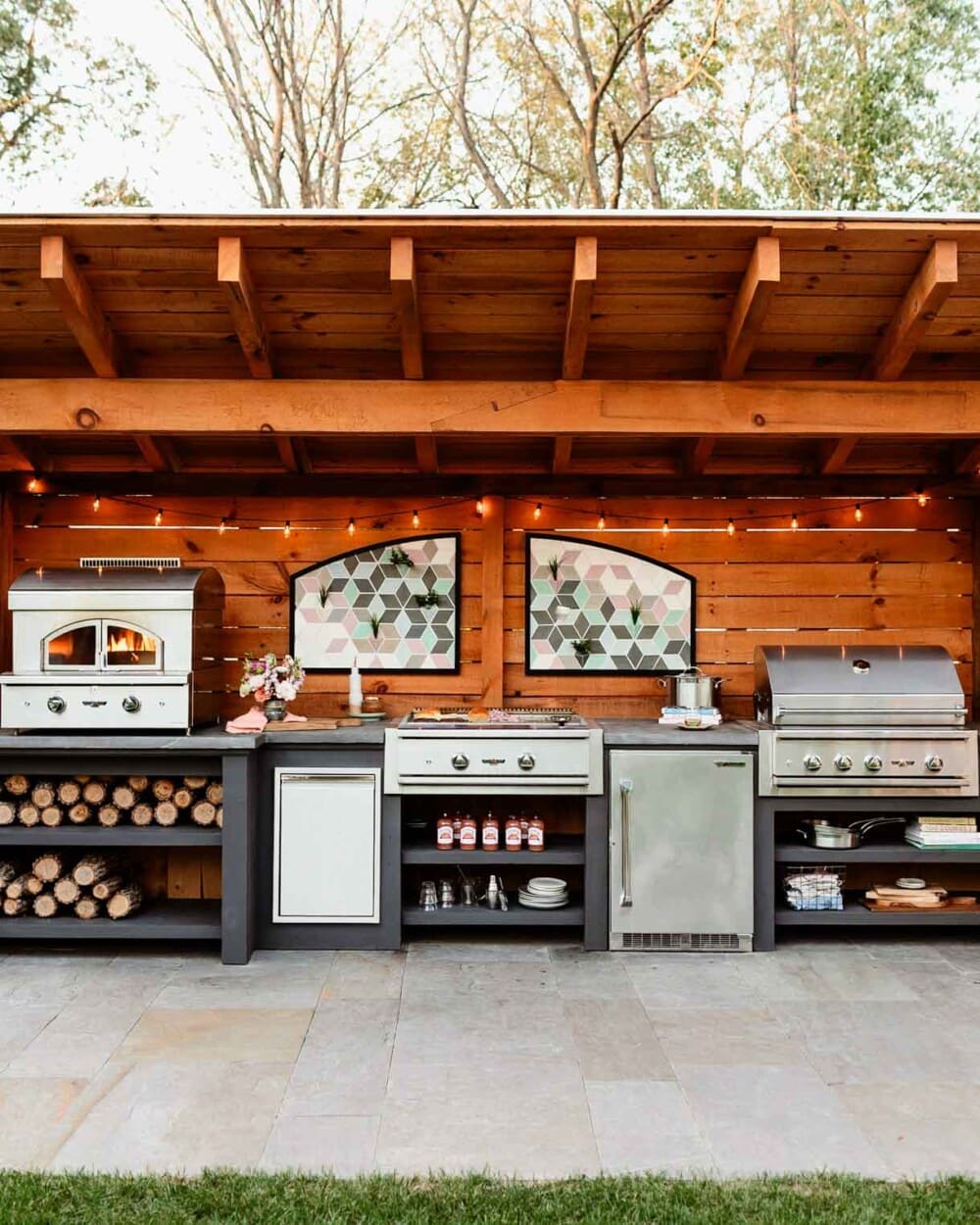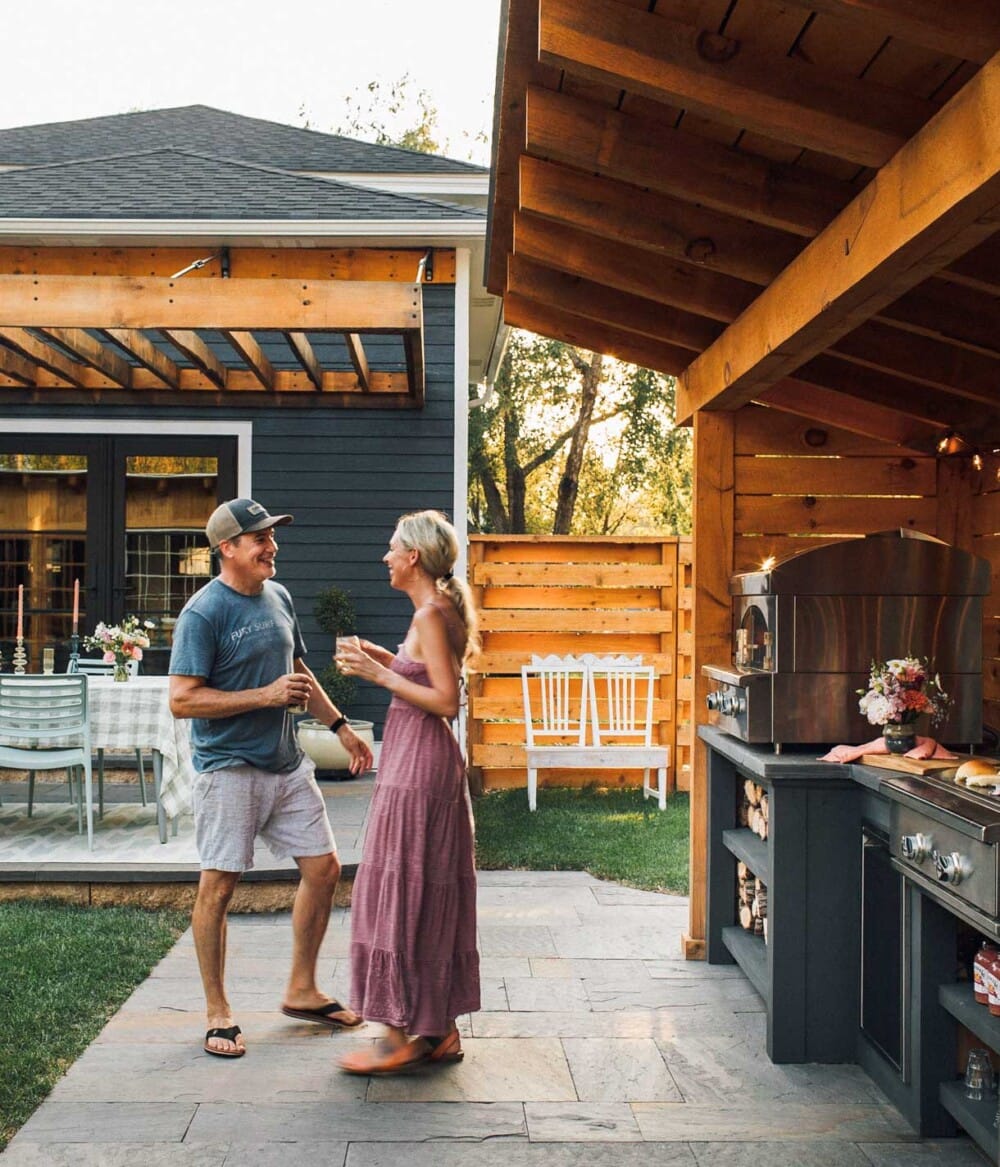 The Structure
The decision to build the structure out of locally milled rough sawn pine brought so much natural beauty and felt aligned with the rest of our old home. It was important for us to embrace the warmth of the wood and polished feel, without being too modern.
The custom cabinetry is also made from rough sawn pine that we sanded down and painted Iron Ore from Sherwin Williams (in Emerald Rain Refresh finish). I love the contrasting dark color against the pine, without having it be too heavy.
Our design was brought to life by High Noon Construction and J. White Builds. (This is the crew that Brian worked with on a 1800's Scandinavian homestead restoration a few years ago.) They do incredible work and are true craftsman. We are so happy with the outcome. Brian also did a lot of the work, from the design to painting, building to figuring, troubleshooting and fixing; and I am forever grateful for that.
Disclaimer: When building outdoor kitchen structures, it is important to ensure that you follow all local codes and consult with your builder to ensure safety. Please refer to the product manufacturer's manual for instructions on how to install your kitchen equipment.
What We Installed for Outdoor Kitchen Appliances
For the past four years, we have made so many delicious meals on our grill. Part of the reason I was so excited to build an outdoor kitchen was to incorporate other appliances in addition to a grill to expand on the range of recipes and food I could cook. Plus, I wanted to create an outdoor kitchen that could mostly replace my indoor kitchen for the hot summer months when I don't want to be heating up the house.
We choose to install a gas pizza oven, flat-top griddle, and grill with rotisserie. After that decision, the first step was running a 90 foot gas line from the house to the outdoor kitchen so that we could use them on demand rather than propane tanks.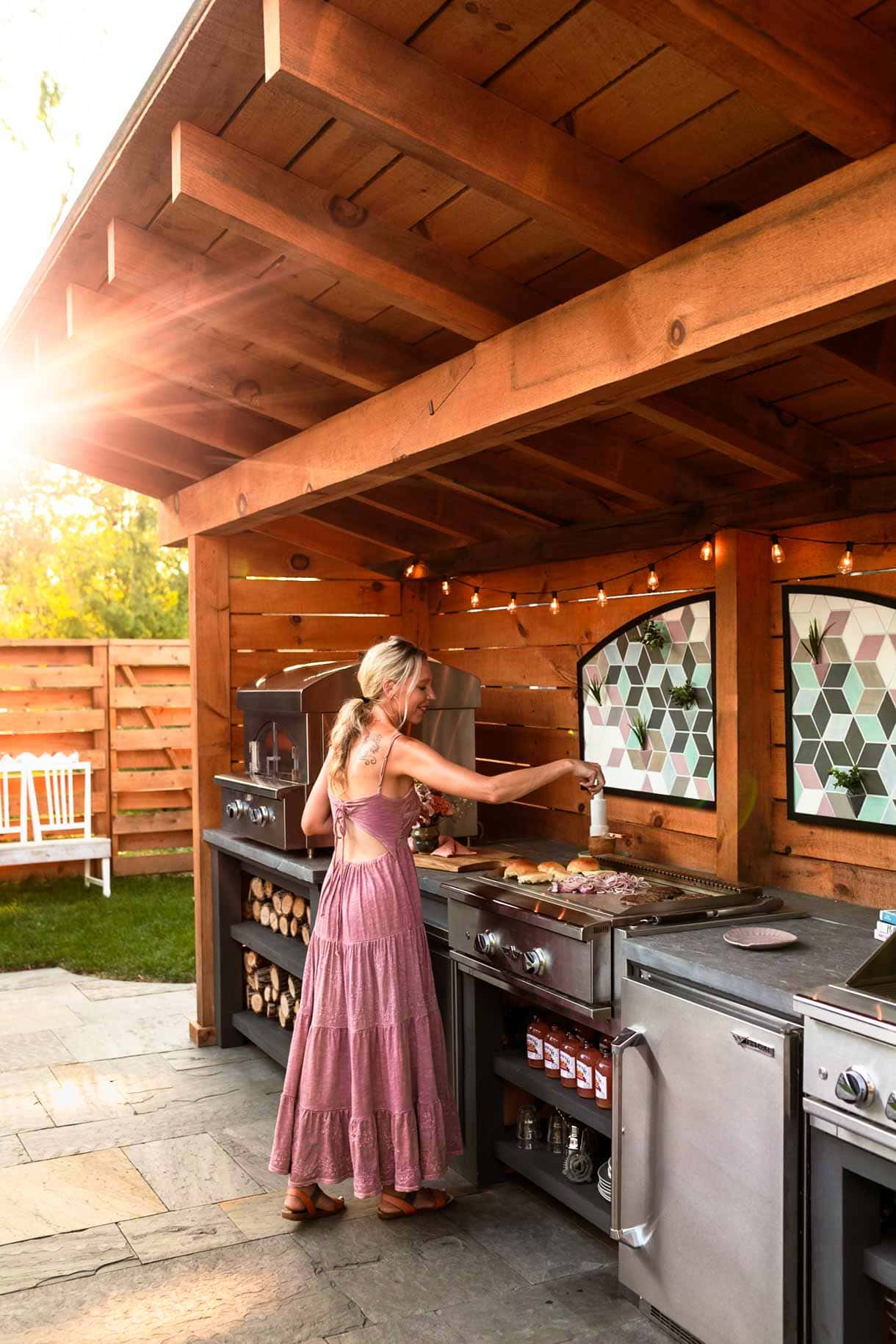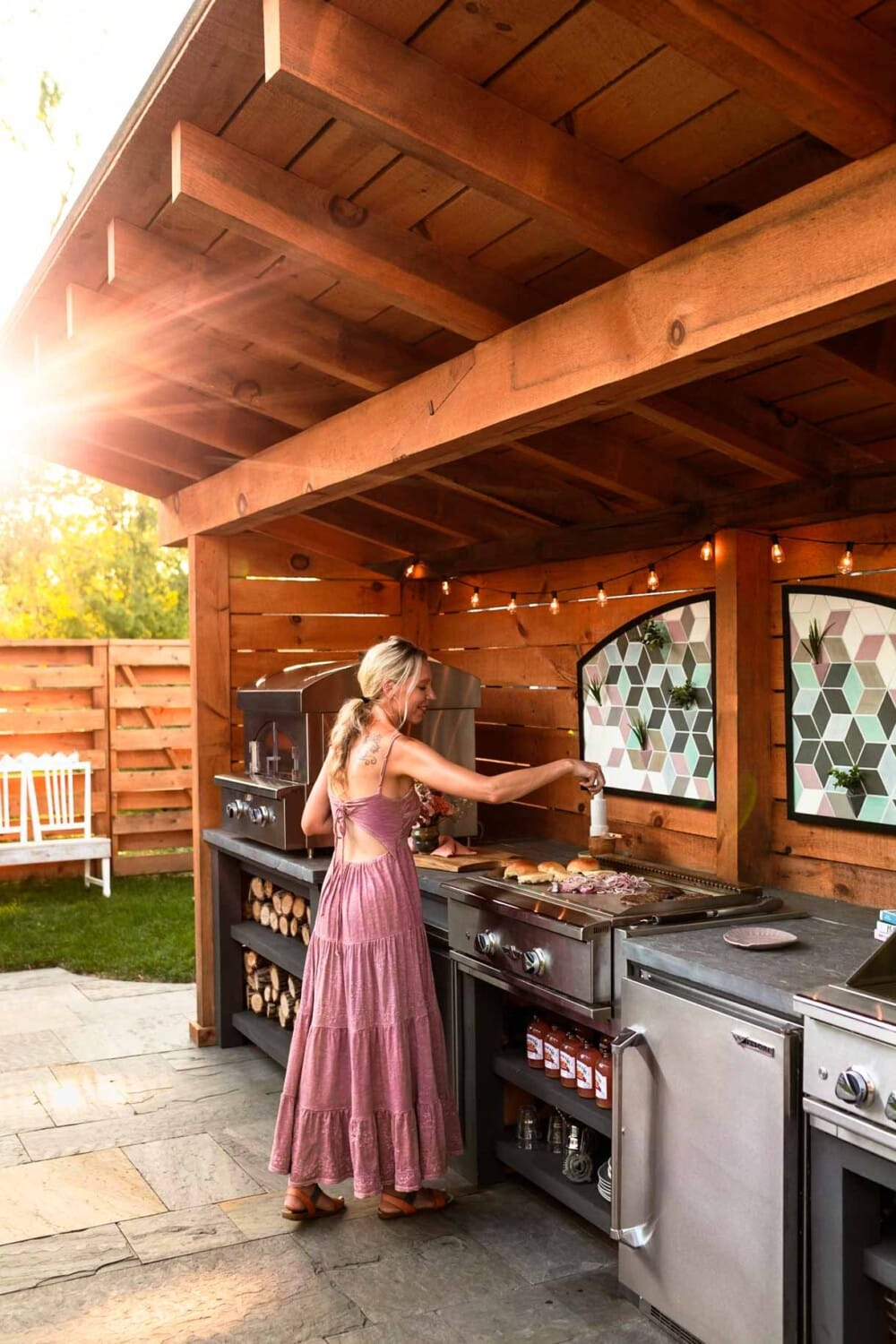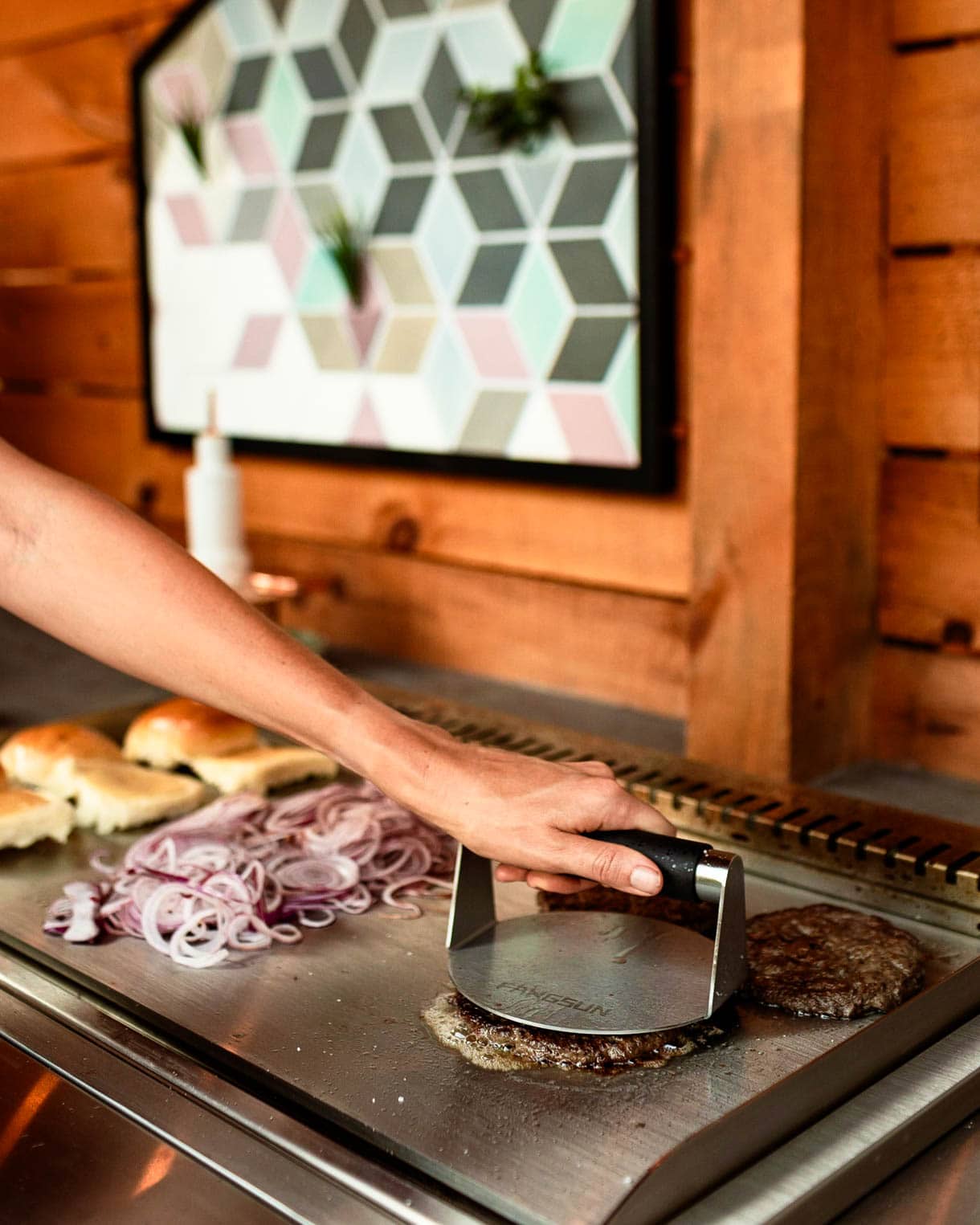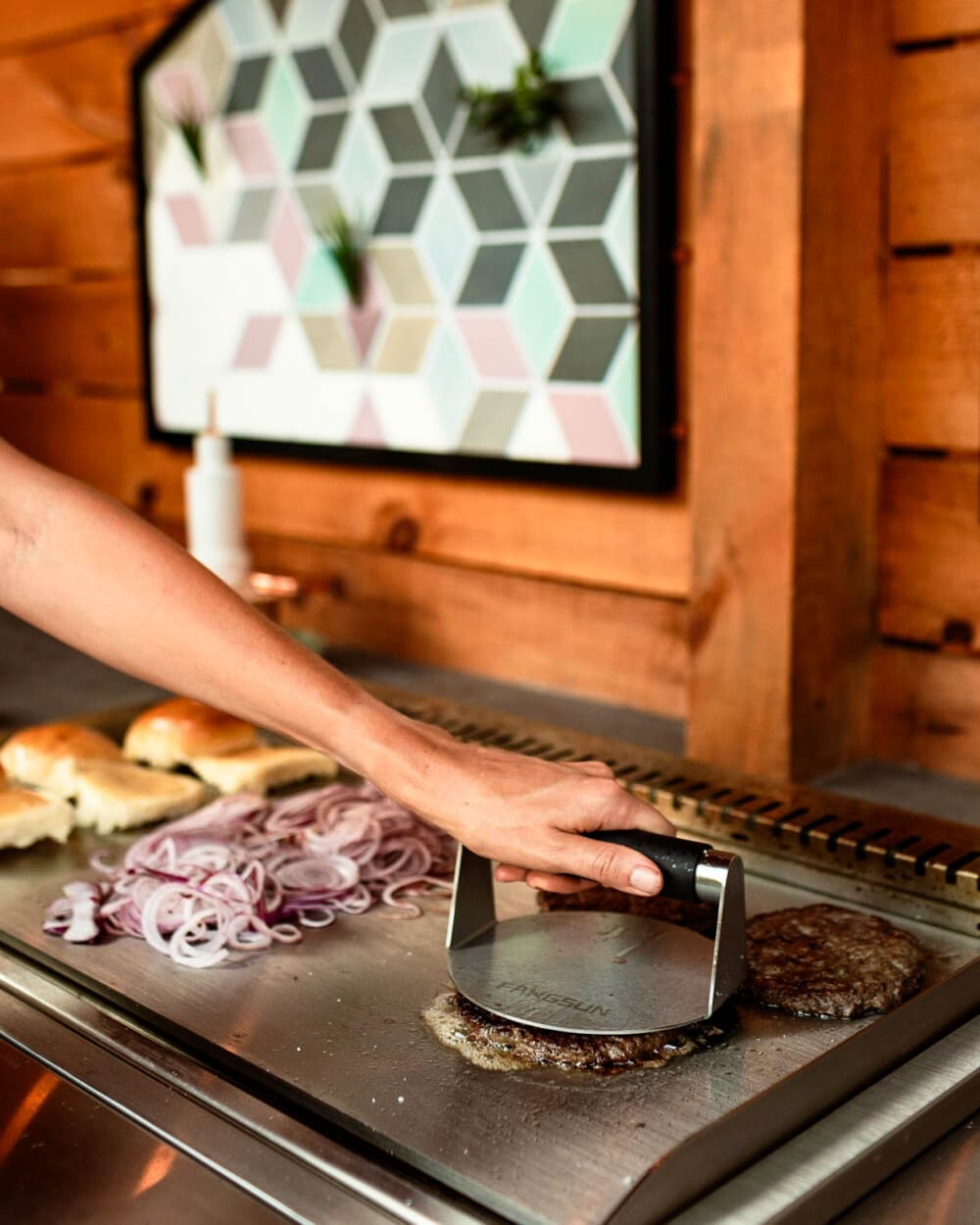 Built-In Dometic Delta Heat Teppanyaki Flat Top Griddle:
From sourdough pancakes to smashburgers, crispy potatoes to fried rice, I have been using my flat top griddle even more than I expected. It is incredibly versatile. I truly think if you are building an outdoor kitchen, this piece is a must.
I love its sleek, premium stainless-steel construction, hot surface ignition, and illuminated control knobs. The grease tray makes it super easy to clean and get rid of leftover remnants, and the stainless steel cover doubles as protection for when it's not in use and as a backsplash to keep grease spatters contained. The generous cooking surface is especially beneficial when cooking for a party or preparing multiple items simultaneously.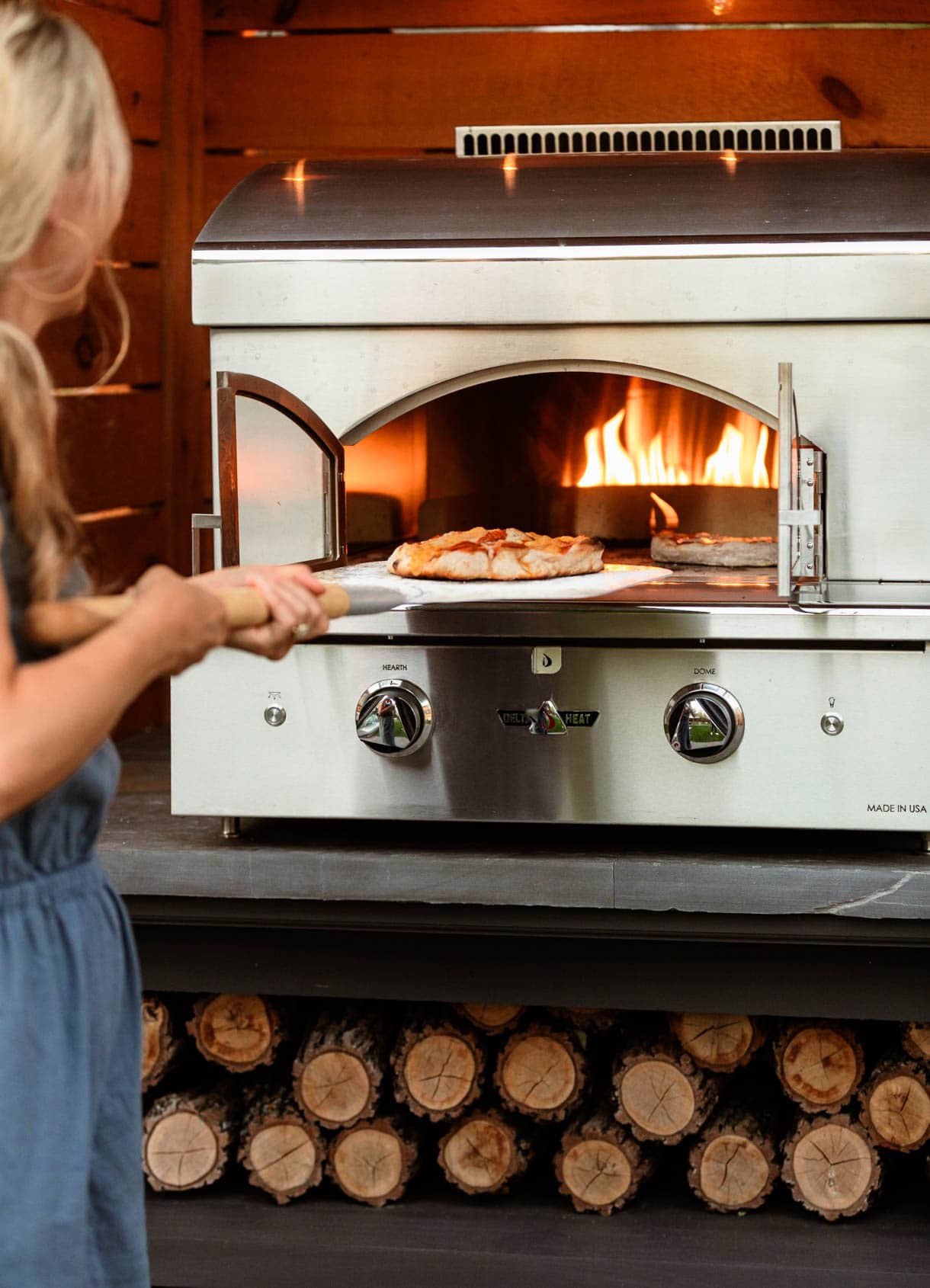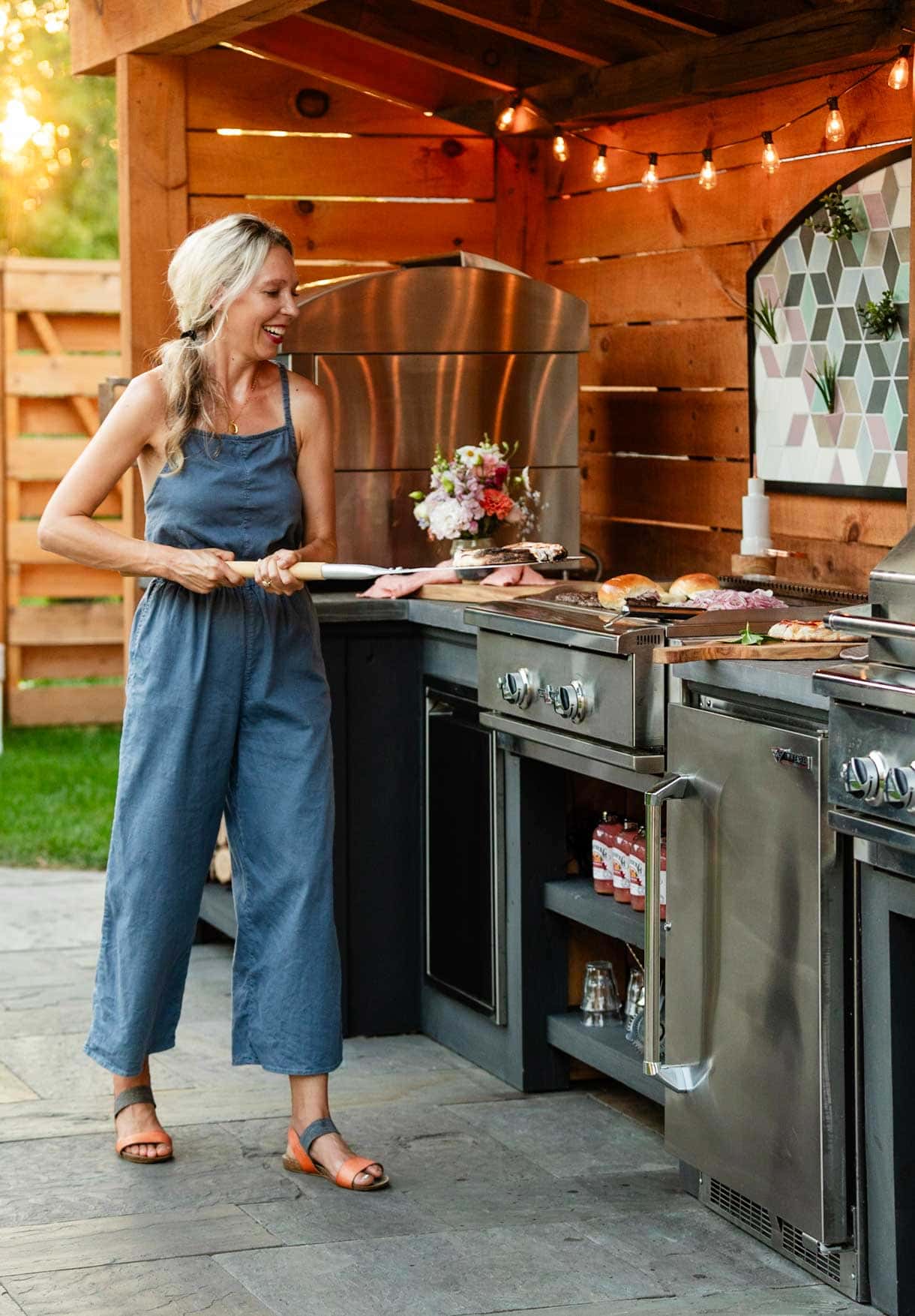 Dometic Delta Heat Freestanding Outdoor Pizza Oven:
I don't want to be overly dramatic, but when I say the outdoor pizza oven has changed my life, I kind of mean it. Using my sourdough pizza crust recipe, the pizzas that have come out of this oven have pretty much ruined all other pizza for me! There is nothing better than achieving the perfectly crisp crust with bubbly, chewy bite that comes from the functionality of this appliance.
The pizza oven is gas powered, with independently controlled burners for both hearth and dome allow for precision temperature control to suit the requirements of your cook.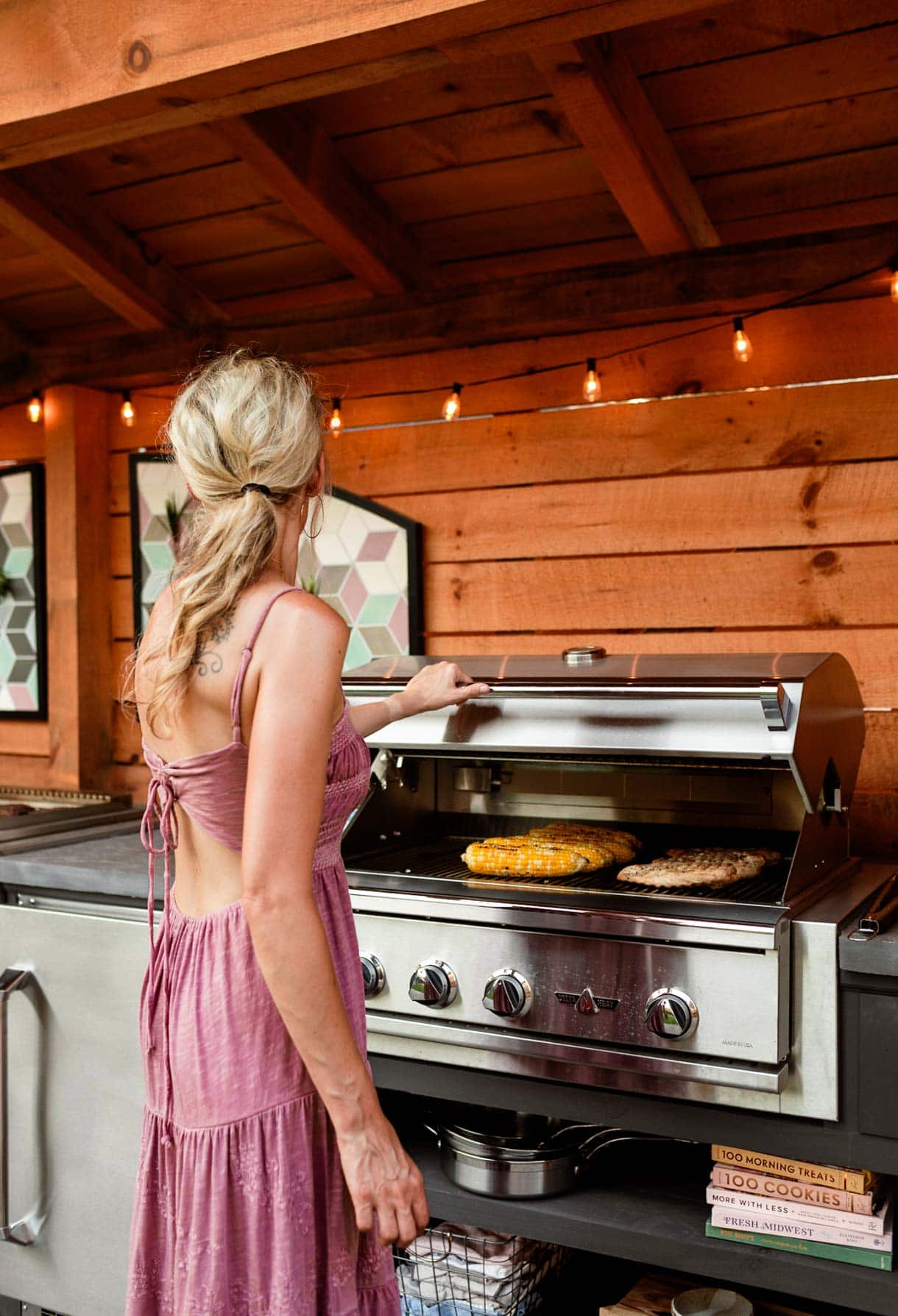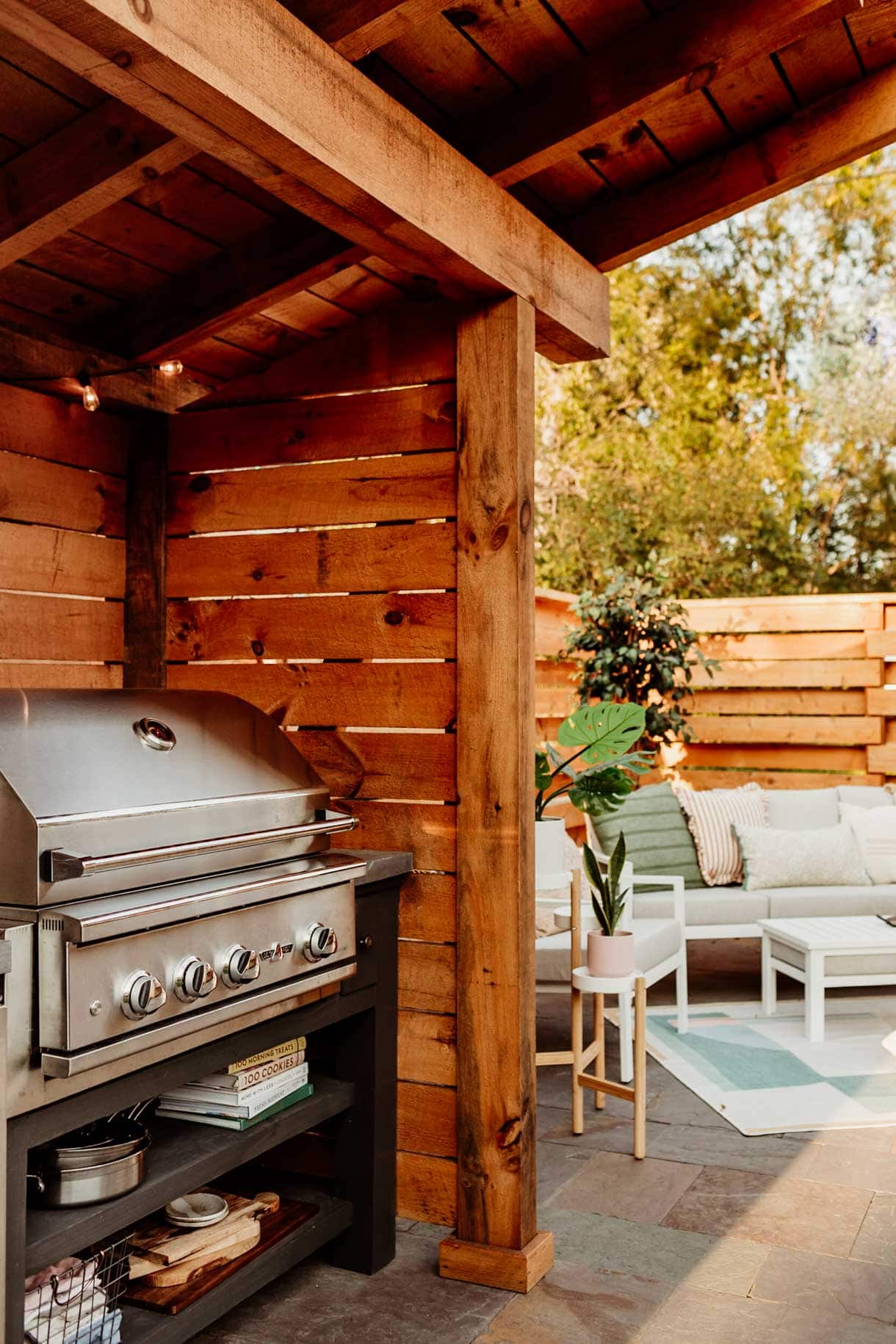 Built-In Dometic Delta Heat 32-Inch Gas Grill
I love this grill. The short amount of time in which it takes to heat up is unlike any other grill I've ever used, with precise direct heat, special sear zone, and ceramic radiant system. Have you ever wondered how restaurants achieve beautiful sear marks and perfectly grilled food? It's with a setup like this.
Just like our previous grill, it has a two position rotisserie with heavy duty stainless steel motor that I use to make this rotisserie chicken recipe and prime rib! It is such a fun way to cook and is very hands off.
In terms of size, I find that the 32-inch grill has plenty of grilling space and convenient top warming rack for our needs. I also really love the LED control panel lights and interior halogen lights for night time cooking. It's one of those features you don't even think about until you have it, making it so much easier to see.
Mosaic Tiled Artwork
Many of you are familiar with the vibrant backsplash in our indoor kitchen. The colors and feel of it have seemingly become a part of me, and it seemed logical to bring that energy to the outdoor kitchen as well. Mercury Mosaics, a local ceramic tile maker, has begun creating art pieces from their beautiful, handmade tiles. In coordination with their team, we took the design and colors from the indoor kitchen and created the two custom pieces you see in the outdoor kitchen.
The unique shape of the pieces was Brian's idea, which happens to be the shape of the pizza oven doors. We then used a steel fabricator to create the frames to size, had them welded by a friend's son, and powder coated by a local company. Brian spent several days installing the tile within the frames, which turned out beautifully. They really bring the entire kitchen together, and I can't imagine it without these stunning handmade pieces that reflect my style.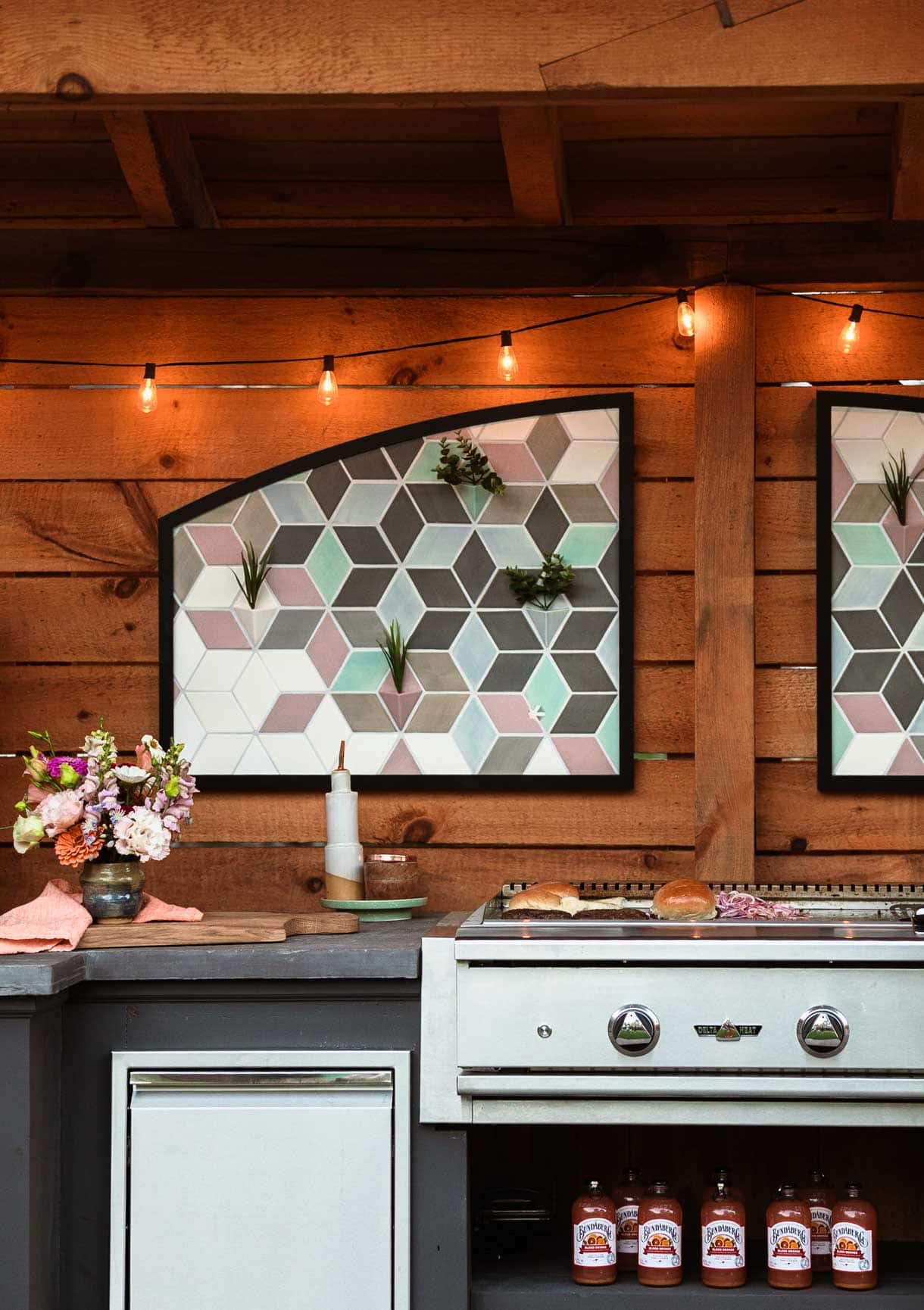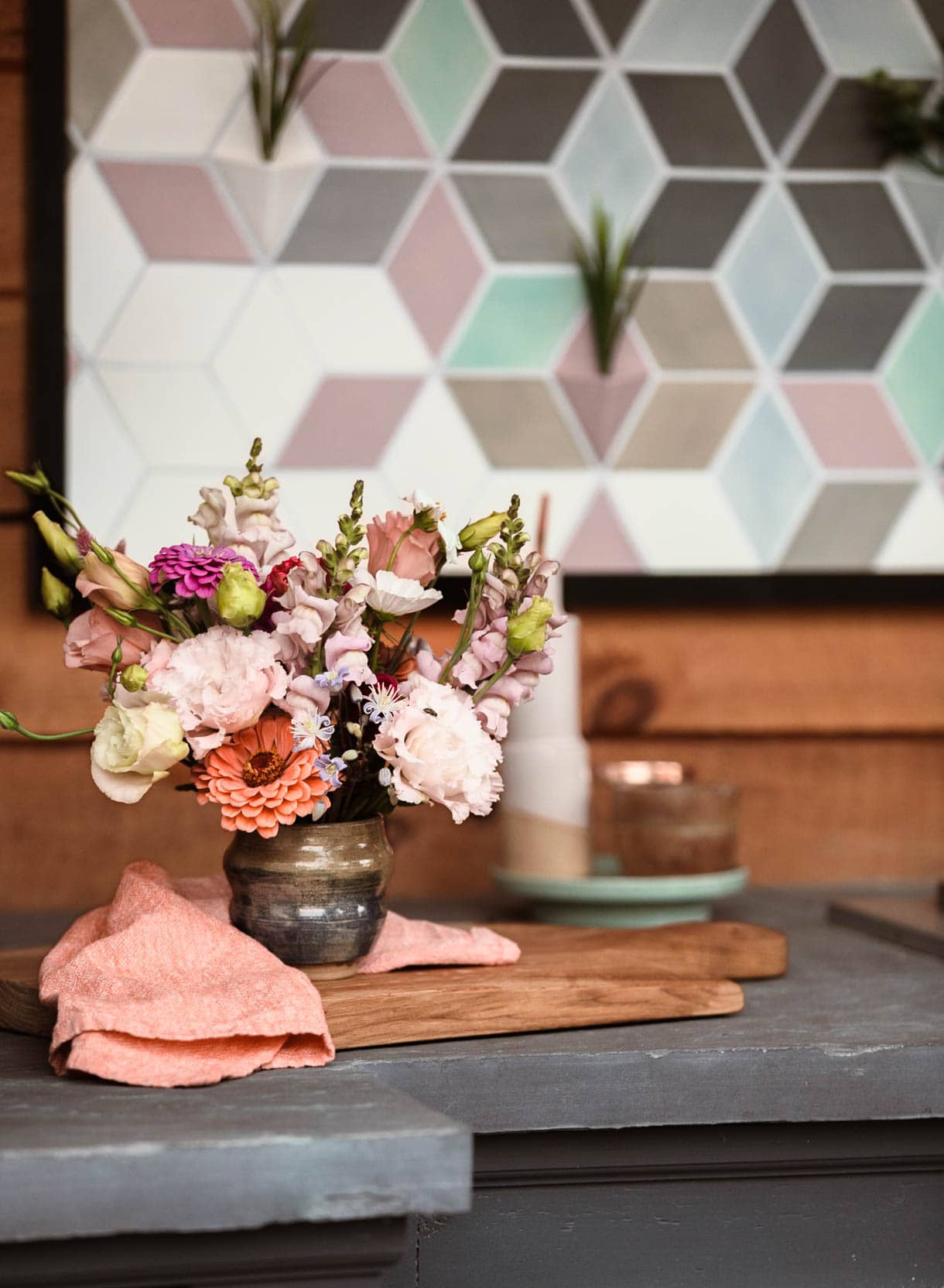 Choosing Outdoor Kitchen Countertops
Originally we planned on installing poured concrete countertops, but we had natural Bluestone left from the stone work used throughout the backyard renovation. We played around with using it as the countertop material and decided to go with it.
And so far, so good! Brian used a sealer to protect it, but is still porous so grease can be an issue. Nothing has stained permanently; washing it with Dawn dish soap the day of cooking has kept that at bay.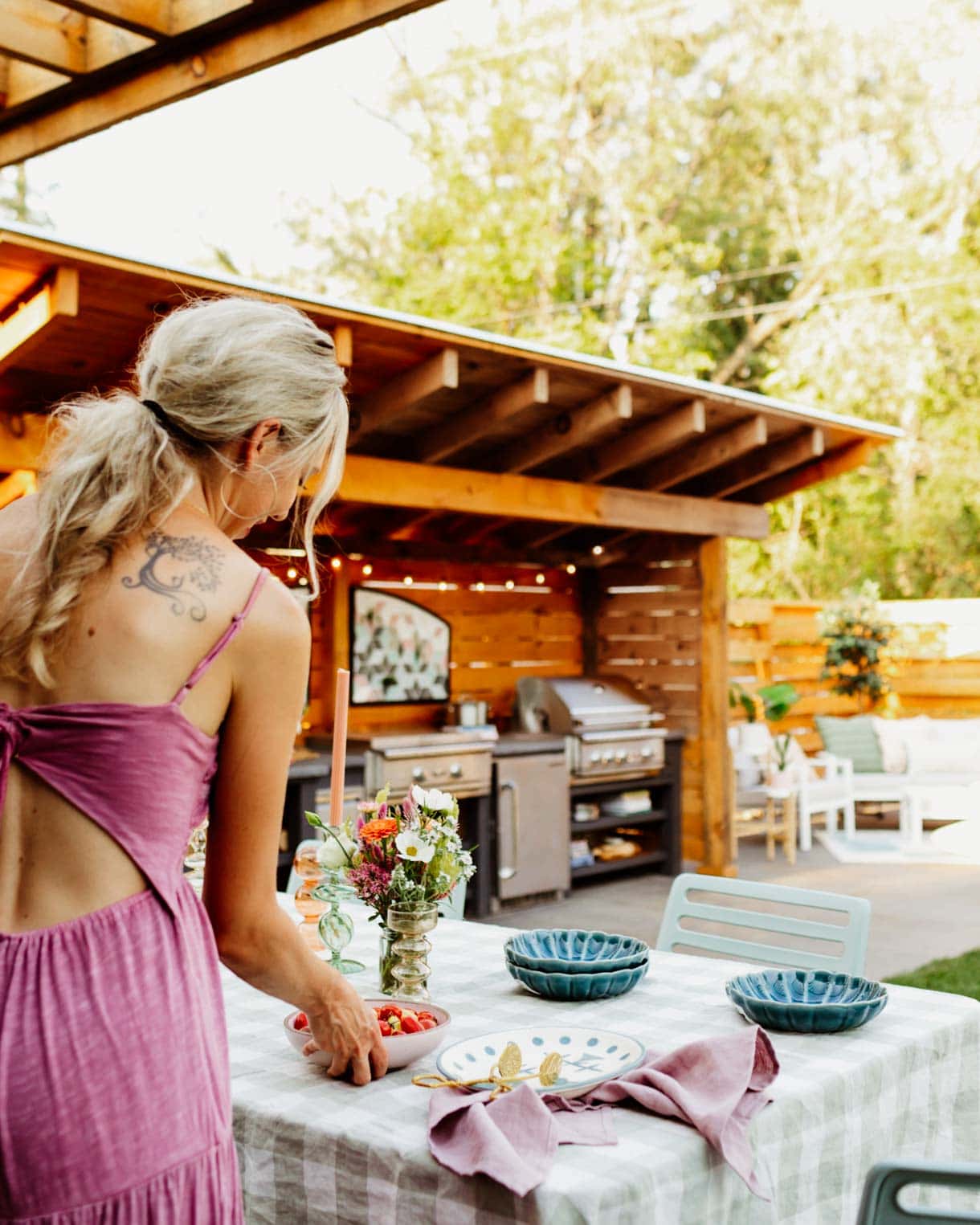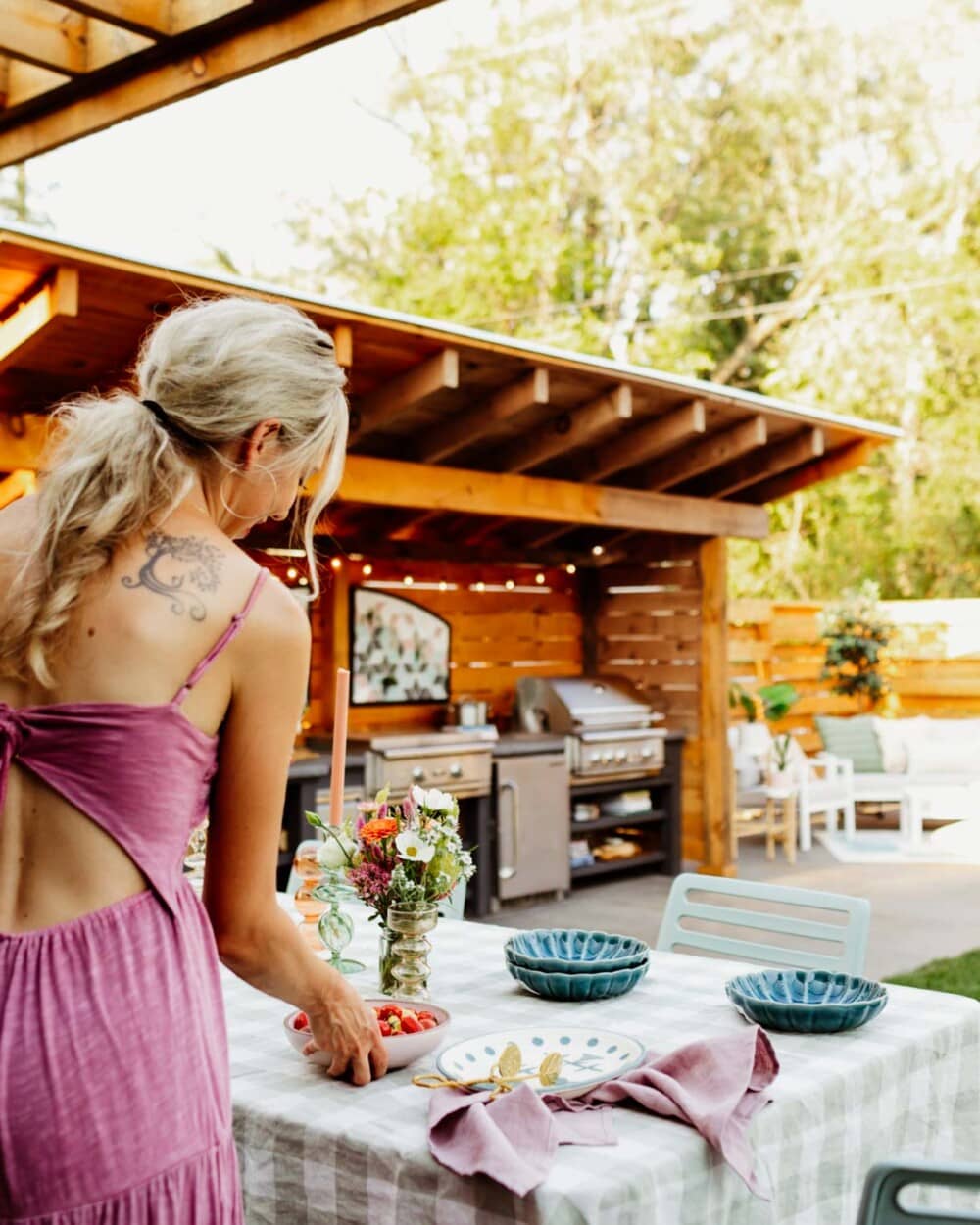 This is the 1st post of our backyard renovation reveal! Stay tuned for more information on our patio and pergola build, lounge area, and she-shed studio. You can also follow along on Instagram to see videos and more footage of the space. I can't wait to share more, and appreciate you reading. Let me know if you have questions about the kitchen build or any of the resources we used.