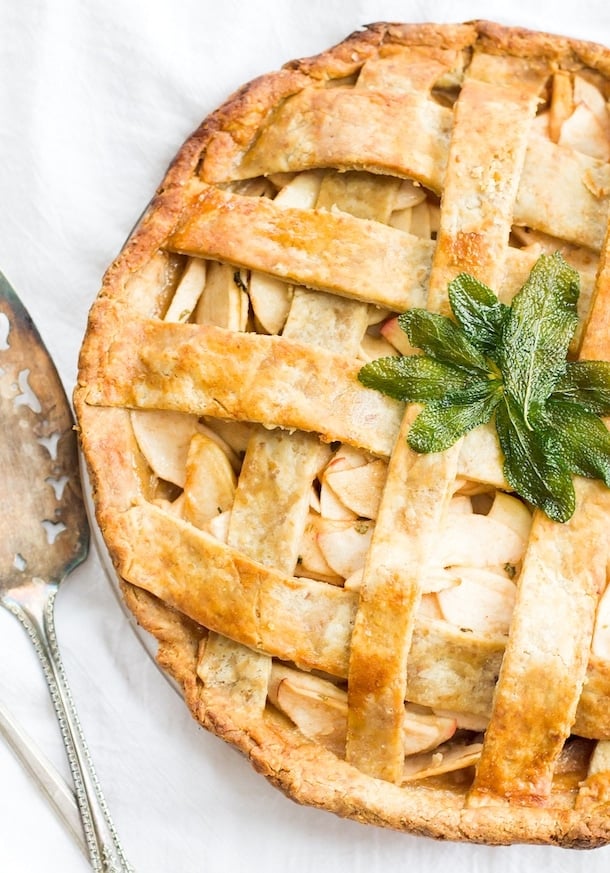 Growing up, every family gathering during the months of September to January included my grandmother's apple pie. I would help her pick and peel the apples, she would bake. She made rolling out the crust look like a breeze.
And when it came out of the oven it was always perfectly browned, with flakey layers made possible from a heavy dose of butter. The top glistened with sugar and a little egg wash, a caramelized glaze stuck to the sides from the juices that escaped.
Those sweet memories flowed through my mind as I made this homemade gluten-free apple pie, with a lattice-top crust and SnowSweet apples from my favorite local orchard, Whistling Well Farms. Admittedly I felt proud as I took it out of my (NEW!) convection oven, the classic cinnamon sugar scent covering me like perfume.
Similar to how everyone fought over the first piece of my grandma's pie, I fought with myself to resist a bite before I photographed it.
Just like a cake, you can usually tell much of your success/fail ratio when cutting the first slice. I wanted to rejoice as I felt the knife slide through the crisp crust and hit the bottom.
The crust hadn't gotten soggy, and the leisurely bake had given the highly stacked apples a tenderness, with jammy pockets of their own juices. Although the crispy sage that I used for garnish is optional, I think it adds such a beautiful touch.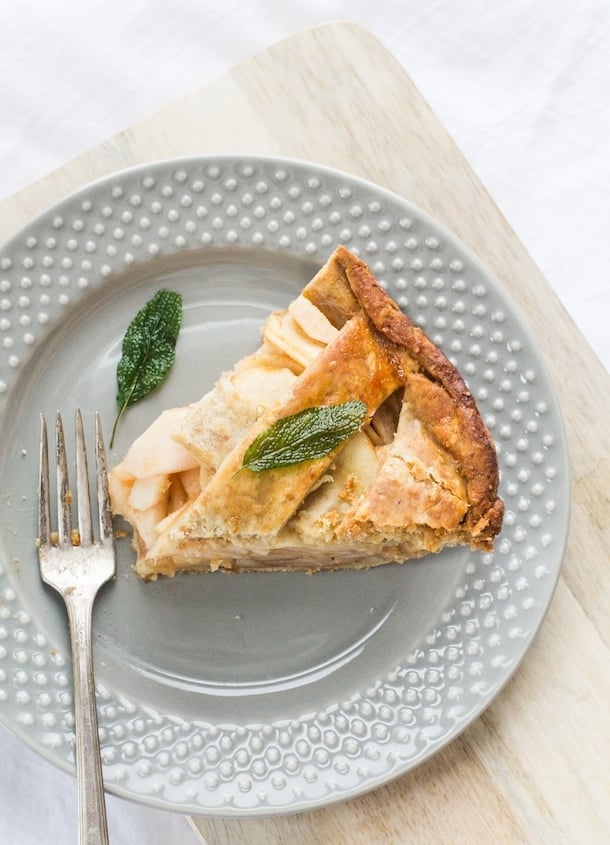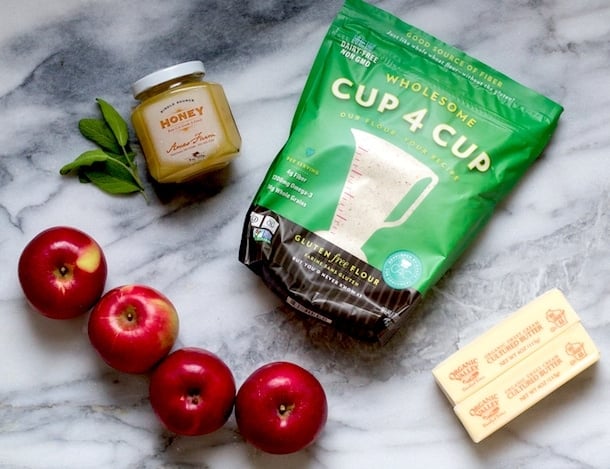 Pie crusts can be intimidating even though they're made from just a few ingredients. Getting them to roll out evenly, not fall apart, turn out buttery & flakey – there's a lot of components. Then throw gluten-free into the mix and it can seem even more difficult.
Last spring I made gluten-free rhubarb hand pies, which certainly helped me get over some of my fears, but its not the same as making a whole pie. Armed with a little research and the gluten-free flour blend that never lets me down, Cup4Cup, I set out to conquer an all-butter crust complete with a lattice crust. It's the gluten-free flour I always have at home and what I used throughout my book. So when Cup4Cup asked me to partner with them for autumn pie inspiration using their new Wholesome Blend, I was excited to create something for you.
This new blend is wonderful: full of nutrient dense flours, dairy & corn free (I know many of you had been asking for that) & non-GMO.
Think of the Wholesome Blend like you would whole wheat flour, hearty and nutritious. It's made from brown rice flour, white rice flour, golden flaxseed, rice bran & xanthum gum.
The combination of these ingredients gives it great color & texture, making for one gorgeously browned crust. It turned out light, flakey and nutty from the whole grains,
One of my favorite things about cooking is the continuous learning. Here are some tips I took away after a few trials in gluten-free pie making that will hopefully help you:
1. More whole grains in this blend means more fiber. Fiber acts as an absorbent, so you'll always need a little more liquid or fat when baking with it. That being said, for the crust I used honey instead of sugar and a little more water than what you would typically use.
2. Leverage is key for rolling out the dough. Even though I'm quite tall, it helped immensely when I got on a stepping stool and was able to take control of the crust.
3. Gluten-free dough is stickier, so always line your counter with saran wrap, dust it with flour. Then put your dough on top of it, followed by another sprinkle of flour, followed by saran wrap. Then you'll be able to roll it just like your grandmother did.
4. I know you've heard it before, but all crust ingredients should be ICE cold. This helps the butter stay firm so those fats can expand and create air bubbles when baked, which is where the flakiness comes from. Also, use the refrigerator and freezer to your advantage when working with the raw crust. When it's cold, its much easier to work with.
5. Don't mix your fruit (apples in this case) with sugar & cornstarch too far in advance of filling the crust. Since sugar pulls out the liquid in fruit, you will end up with too much water, resulting in a soggy crust.
Gluten-Free Pie Crust
makes 2 single crusts
305 grams of Cup4Cup Wholesome Gluten-Free Flour (if using a gluten-free flour blend that does not contain xanthum gum you should add 3/4 teaspoon to your mix)
1 tablespoon honey
1 teaspoon salt
14 tablespoons (1 stick + 6 tablespoons) very cold unsalted butter, cut into cubes
1/2 cup + 3 tablespoons ice cold water
Add flour, honey and salt to food processor. Pulse a couple of times to blend. Then add cold butter and pulse until most of the butter is the size of peas. It's okay if you see a few larger chunks.
Remove food processor base and stir water in by hand (I like to save on dishes so I don't use another bowl, but you could). Dump the scraggly dough onto your counter and work in together with your hands to form a tight circle.
Flatten the circle, wrap in saran wrap and place in refrigerator for at least one hour, up to overnight. When chilled, divide the dough into two equal pieces. Line your counter with saran wrap, dust it with flour, then put your dough on top. Sprinkle top of crust with a little more dough, cover with large piece of saran and roll out into a large circle that will fit your pan. Remove saran and gently lift into pie pan. Use THESE amazing details to make your lattice top – thanks to The Kitchn for always being such a wonderful resource!
If you make this Gluten-Free Apple Pie recipe, tag me on Instagram @heartbeetkitchen, or using hashtag #heartbeetkitchen!
Homemade Gluten-Free Apple Pie with Lattice Top Crust
Cook Time:
1 hour
5 minutes
Total Time:
1 hour
25 minutes
Make this gluten-free apple pie in the fall! Use crust instructions from above
Ingredients
Apple Pie Filling
2 3/4 pounds firm apples such as Honeycrisp, Pink Lady or SnowSweet (about 6-7 medium), peeled and cored
1 1/2 tablespoons lemon juice
1/2 cup + 2 tablespoons granulated sugar
1 1/4 teaspoons cinnamon
1/4 teaspoon ground ginger
pinch of salt
2 tablespoons cornstarch
2 tablespoons minced fresh sage + extra leaves for garnish (both are optional)
Instructions
Preheat oven to 400 degrees. Make pie crust above, put bottom crust into your pie plate and set in refrigerator.
Cut peeled apples into thin wedges and put into a large bowl. Stir in lemon juice. In a small bowl, combine sugar, cinnamon, ginger, cornstarch and minced sage. Add this mixture to the bowl of apples and stir to coat. Dump into pie plate with bottom crust. Top apples with the lattice strips that you have made, following instructions linked to above.
Bake pie on the bottom rack for 7 minutes, then move to the middle rack, placing pie on a metal baking sheet to catch spills. Reduce heat to 350 degrees and bake for additional 40 minutes or until juices are bubbling and crust is nicely browned. Then remove from oven and let rest for 1 hour on a wire rack. (About midway through baking, put a foil lining around the edges of the crust to ensure that it does not burn.) Remove at this point.
If you want the crispy sage for a pretty garnish, heat about ½ inch of oil in a small saute pan over medium high heat. Add clean sage leaves and fry until crispy, about 3 minutes. Pie will keep for 3 days (do not refrigerate or will turn soggy) or you can freeze it.