A rustic loaf of naturally leavened sourdough bread made with 50% heritage wheat, and bread flour. Makes for an amazingly nutty and flavorful bread. The heritage grain component is red fife flour.
If you're new to sourdough, and are looking for a sourdough starter to begin, I ship my 13+ year old starter to anyone in the U.S! You can order it here.
I've fallen hard for this rustic loaf of sourdough bread made with 50% red fife flour, a heritage wheat that leads to fantastic flavor without taking away from the texture. A tender interior with small, porous holes, and a crispy crust that breaks the silence in all its glory when cut.
Whole grain flours keep every part of their seed architecture (bran, germ, endosperm) throughout the milling process. That means fiber, micronutrients, nutrition, flavor. These are great things for health, but they can prove a little bit tricky for baking, namely the fiber in the bran, which will interfere with carbon dioxide production in the dough and compromise rise.
Using whole grains in homemade sourdough bread baking takes a bit of practice and experimenting. And luck, if I'm being honest. Because the conditions are never going to be exactly the same in your house, but the one thing you can control every time is the flour you use. My go-to brand on whole grain flours are from One Degree Organics. I've been experimenting with everything from spelt, rye, khorasan, and red fife.
What kind of wheat is red fife?
The foundation seed for One Degree Organics Bernie's heritage Red Fife wheat is derived from the Keremeos strain that was brought to Canada from Scotland 170 years ago. Often referred to as Faith Red Fife (and also the oldest Canadian wheat), it has a different flavor compared to modern wheat, that of honey overtones and nuttiness.
It is a superior flour for baking bread, which attributes to it being the favorite wheat of the baking and milling industry of the 1800's.
Baking Notes for Whole Grain Sourdough Bread:
To keep this homemade sourdough bread soft on the inside, the hydration is moderate, at 75%. That means you'll need to build strength in the initial stages of bulk fermentation, incorporating a few sets of stretch and folds. This technique helps develop the gluten and helps it hold its shape later on in the process.
Once the bulk fermentation and shaping is complete, you're on easy street! Just slide the dough into the refrigerator for up to 12 hours for its second rise and bake when you're ready.
This long, slow rise yields a traditional sourdough taste that I've been after for quite some time, a sweet tang with its own unique flavor.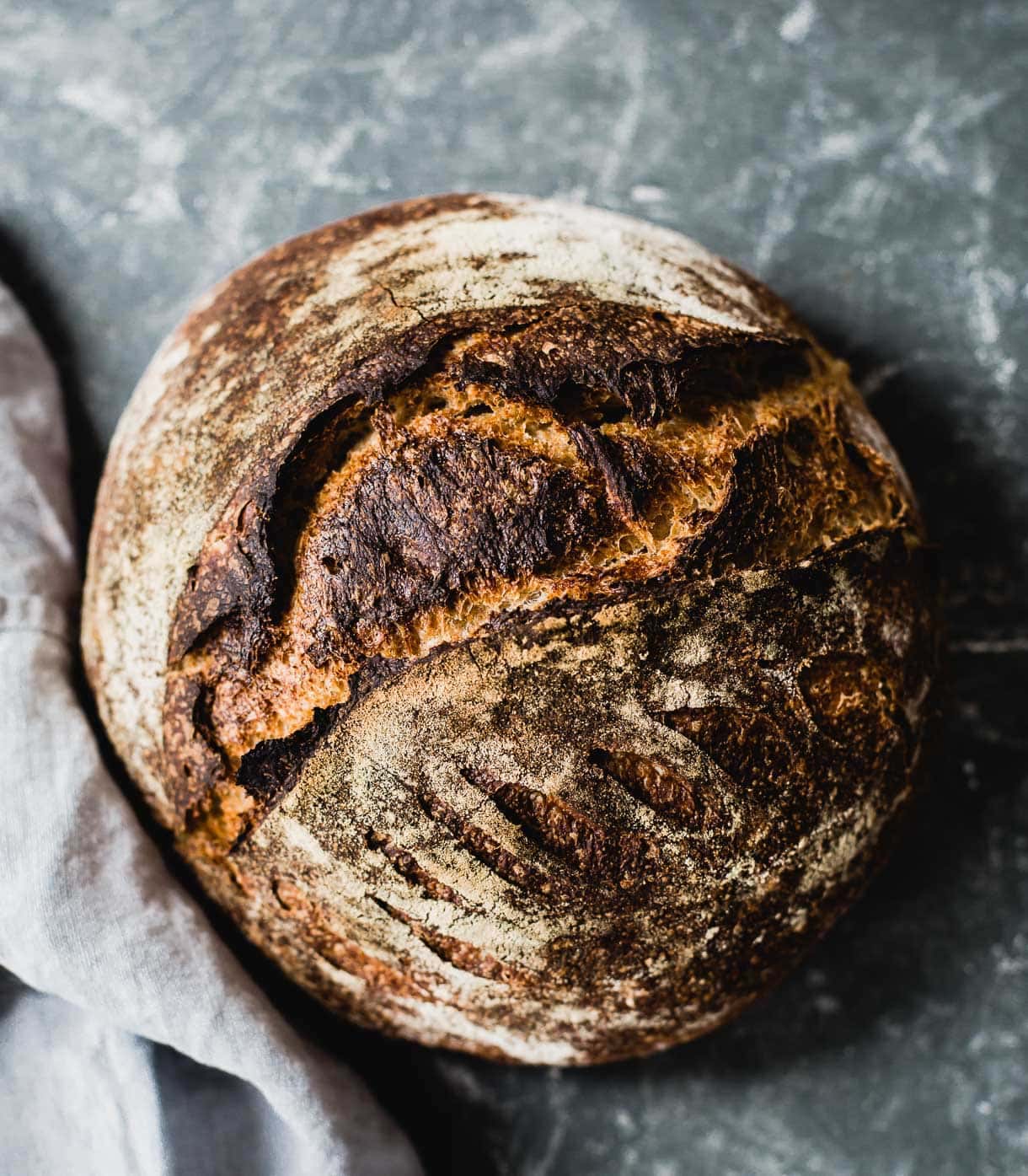 Out of the oven this bread has a crackly crust: rustic fissures with golden brown undertones. The perfect balance between tender interior with HOLES! (sometimes difficult to achieve with whole grains), and substantial exterior structure.
With it being the end of summer, I've been enjoying it with these slow roasted cherry tomatoes, and avocado – of course. But it also makes a killer grilled cheese sandwich bread.
More Sourdough Recipes:
57

grams

active starter

320

grams

cool water

215

grams

One Degree Organic Red Fife Flour

215

grams

organic

unbleached, all purpose flour

9

grams

fine sea salt
Mix starter and water with a fork until distributed. Add flours and salt. Mix with fork until dry, then finish incorporating flours with hands until no flour streaks remain.

Let rest, covered, for 30 minutes. This is the autolyse stage.

Then perform 4 sets of stretch and folds, every 30 minutes.

When that is finished (2 hours in), the bulk fermentation will start. Let rest, covered until doubled in size and dough is a bit jiggly when you move the bowl. In 80 degree F temperatures, this took 3 hours for me.

Gently move dough onto a lightly floured surface. Let rest for 15 minutes, covered. Then perform shaping, into a round. Let rest 2 minutes, and tighten the round by cupping your hands around it and pulling towards you, creating tension.

Using a bench scraper, place dough into banneton, seam side up. (So you'll be flipping the dough from how it is sitting on the counter, as seam side is down.)

Cover with a floured towel, and then a plastic bag, and refrigerate for 8-12 hours. The longer it stays in the refrigerator, the more tang (sour) you will get from the loaf.

Preheat oven to 475 degrees F. Remove dough fro refrigerator and score according to your preference. Place into a dutch oven, on a piece of parchment paper. Place in oven when ready, and turn down heat to 450 degrees. Bake for 20 minutes with lid on, then remove lid and bake for additional 20-25 minutes, until crust is golden brown.

Remove from oven and place on cooling rack. Let rest for one hour before slicing.