These are the chewiest no-bake peanut butter granola bars, they even bend! Easy to make, just pressed in a pan. They have great texture and so much flavor from pecans, dried cranberries, oats, and gluten-free pretzels. These gluten-free granola bars are dairy free too. They are the perfect snack for at home or traveling!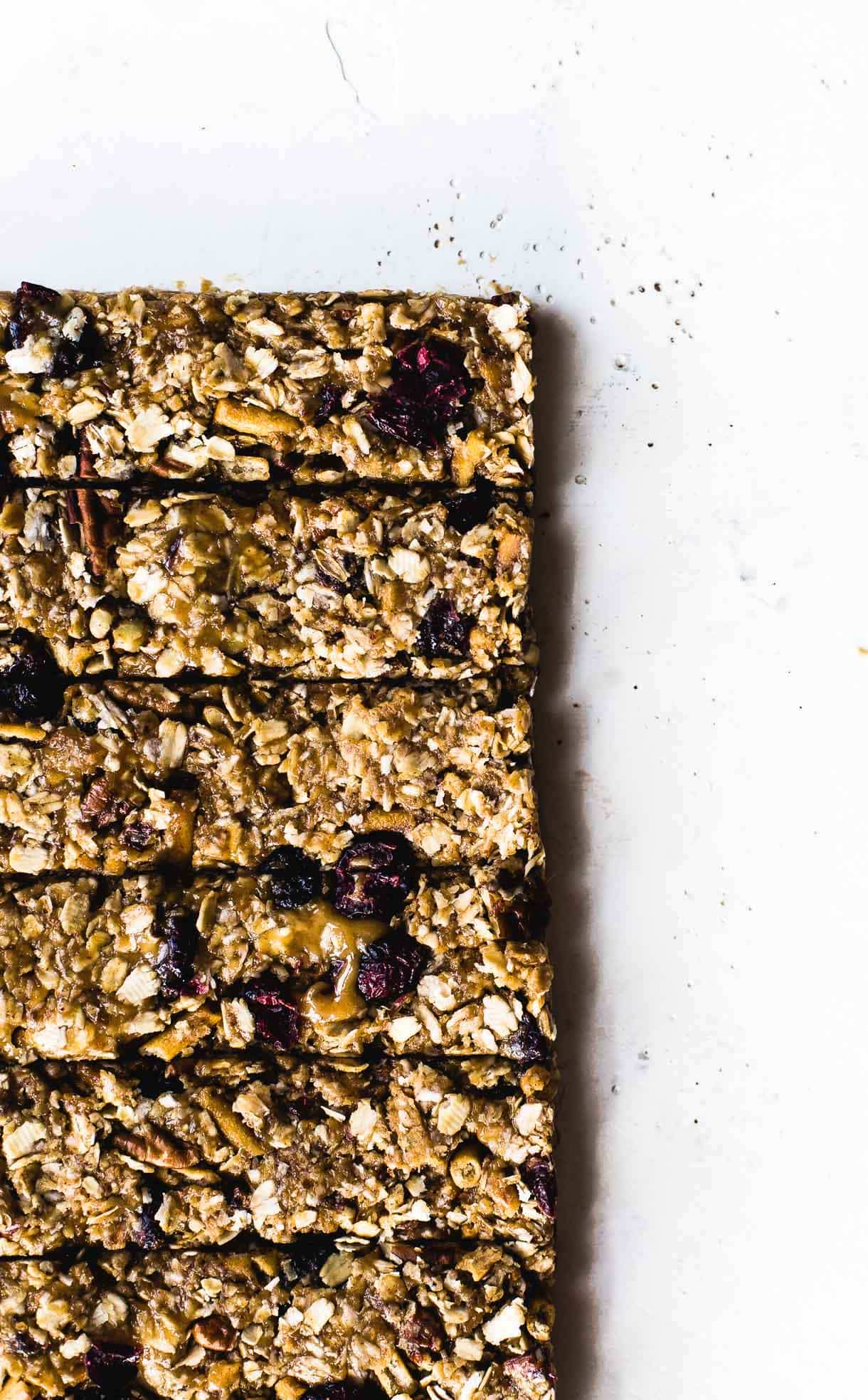 In thinking about needing wholesome snacks to avoid the "hangry traveler" scenario at all costs, I decided it was finally time to achieve soft and chewy, no-bake granola bar perfection.
Because these types of bars don't meet the oven, getting them to set properly while still being nice and chewy is a challenge. I've been working on the recipe for a few months, testing different binders, sweeteners, ratios, and finally found the salty-sweet flavor combined with the bendablity that I was looking for.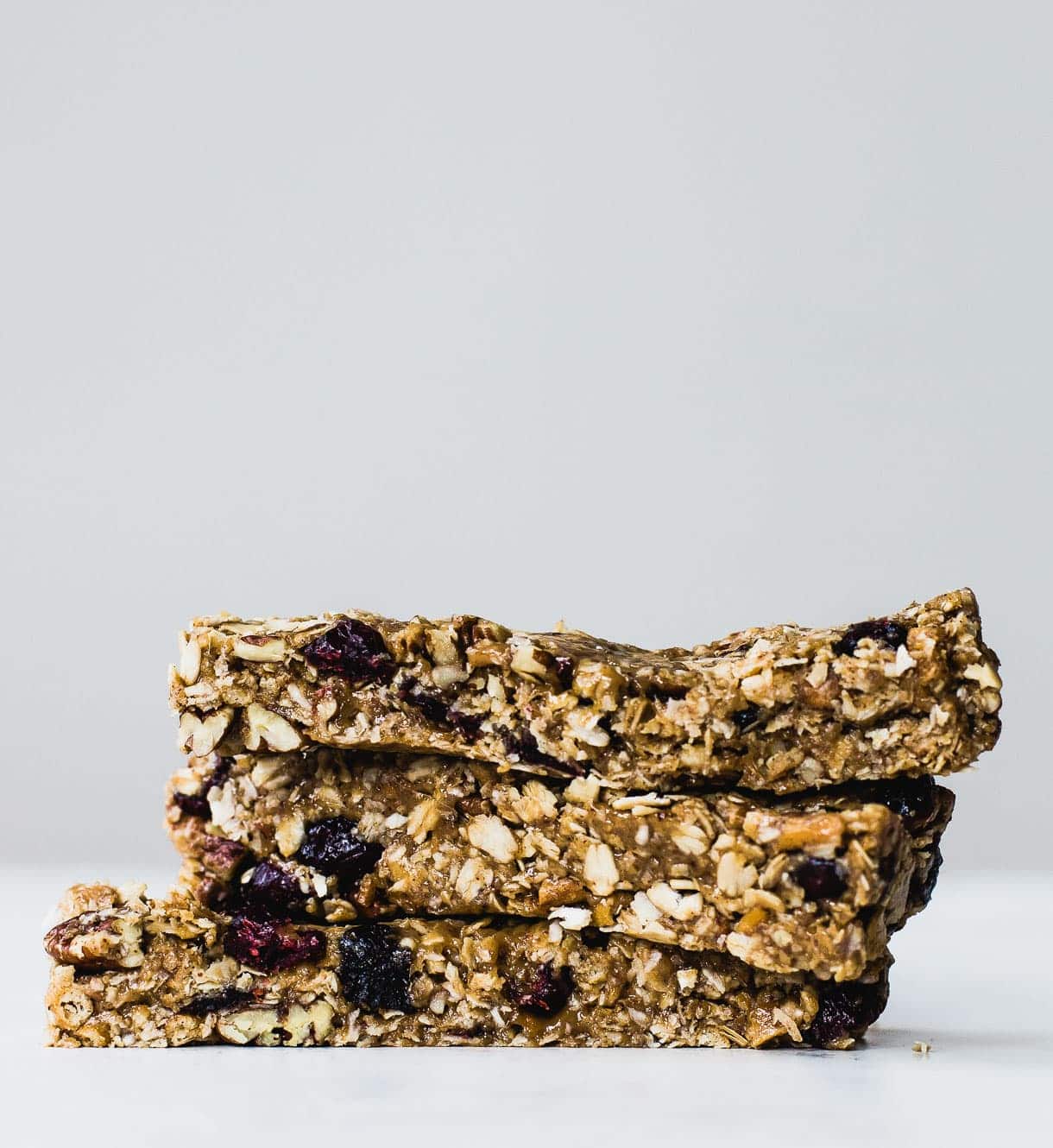 Let me count the things I love about these Really Chewy No-Bake Peanut Butter Granola Bars
Nutty oats.
Creamy peanut butter.
Salty, crunchy gluten-free pretzels.
Dried cranberries that give you a pb & j kind of memory.
And toasted pecans.
How to get Homemade Granola Bars to Hold Together
But the real key to chewy, no-bake granola bar bliss? Brown rice syrup. If you haven't used it before, think of it as a real food version of Karo syrup. It's made by culturing cooked rice starch, and is sweet like honey, but even stickier. That means it's an excellent binder that never fully hardens, and works like a charm when you want things to be chewy without falling apart. You can find it in the sweetener section of the grocery store, or here.
You'll warm the syrup, peanut butter, and a little bit of honey on the stove, then mix it with all the dry ingredients. Press them in a pan and let them chill out in the refrigerator for about an hour.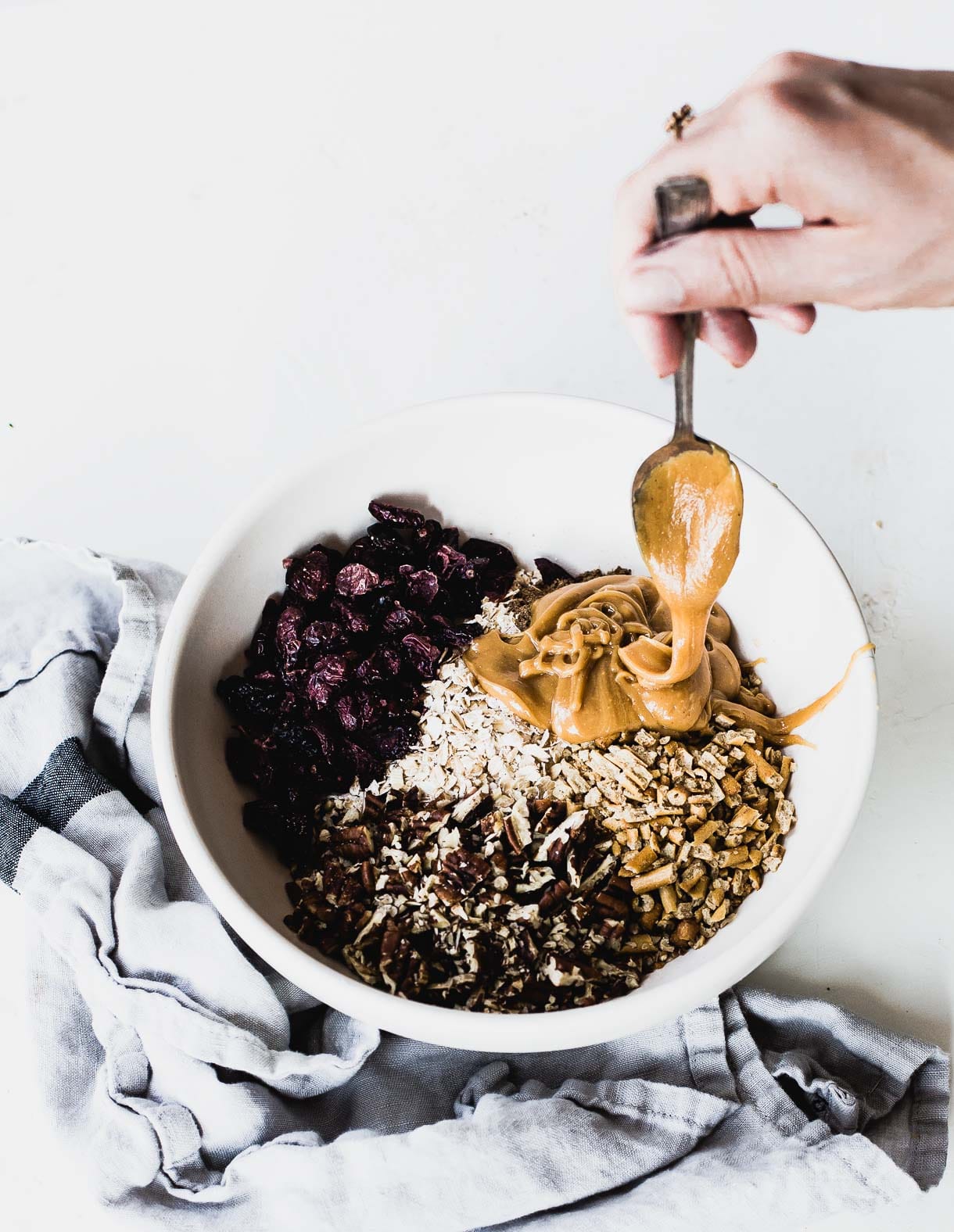 Yes, I could buy granola bars, but truthfully, I haven't found one this chewy and flavorful yet. These healthy, homemade beauties land halfway between peanut butter bliss and a warm oatmeal cookie. They travel well.
And it's a huge bonus to be able to control the exact ingredients going in, without preservatives or other odd additions I often see on labels in the store.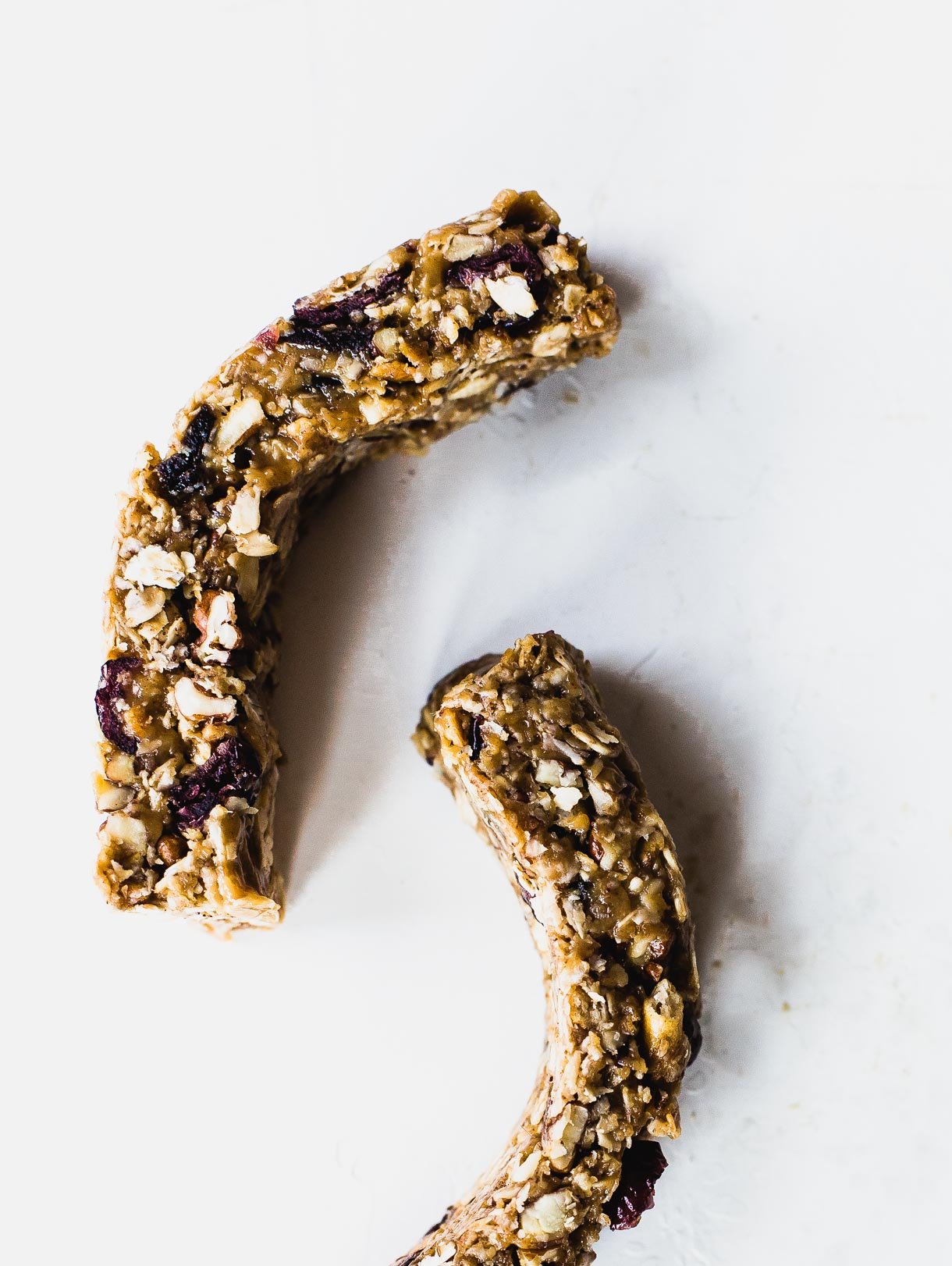 More Gluten-Free Snack Recipes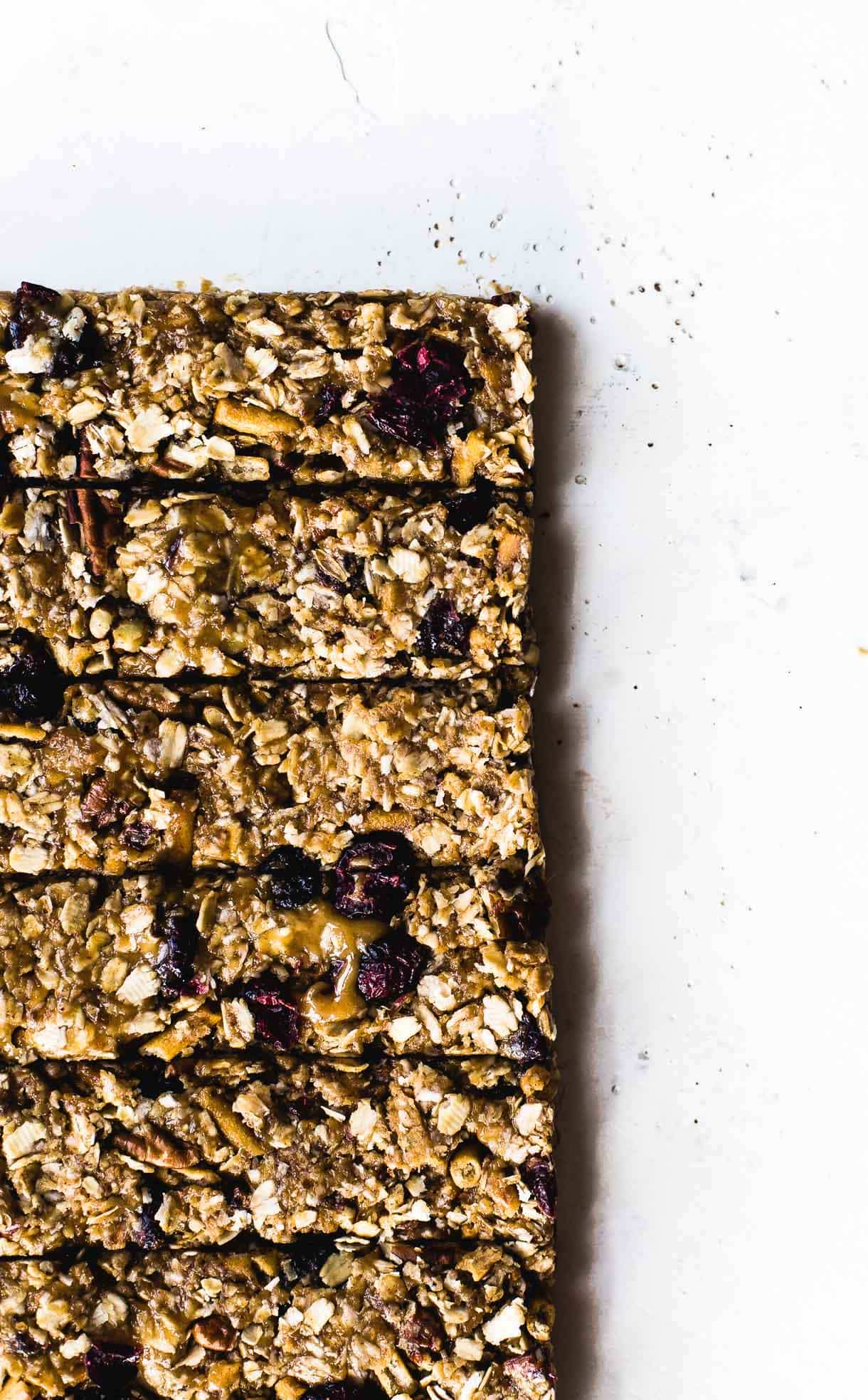 Mix oats, pretzels, pecans, and dried cranberries together in a bowl. Set aside.

In a small saucepan, heat peanut butter, honey, and brown rice syrup on low, just to a warm temperature, mixing to combine. Do not simmer it.

Remove from heat and stir in vanilla, then pour on to dry ingredients. Stirring to coat completely, even using hands to help with this.

Make a parchment sling for a bread loaf pan, and then dump mixture into pan. Press down firmly with the back of a measuring cup, sprayed with non-stick spray. Refrigerator for one hour. Then cut and enjoy! Store in the refrigerator for up to two weeks.