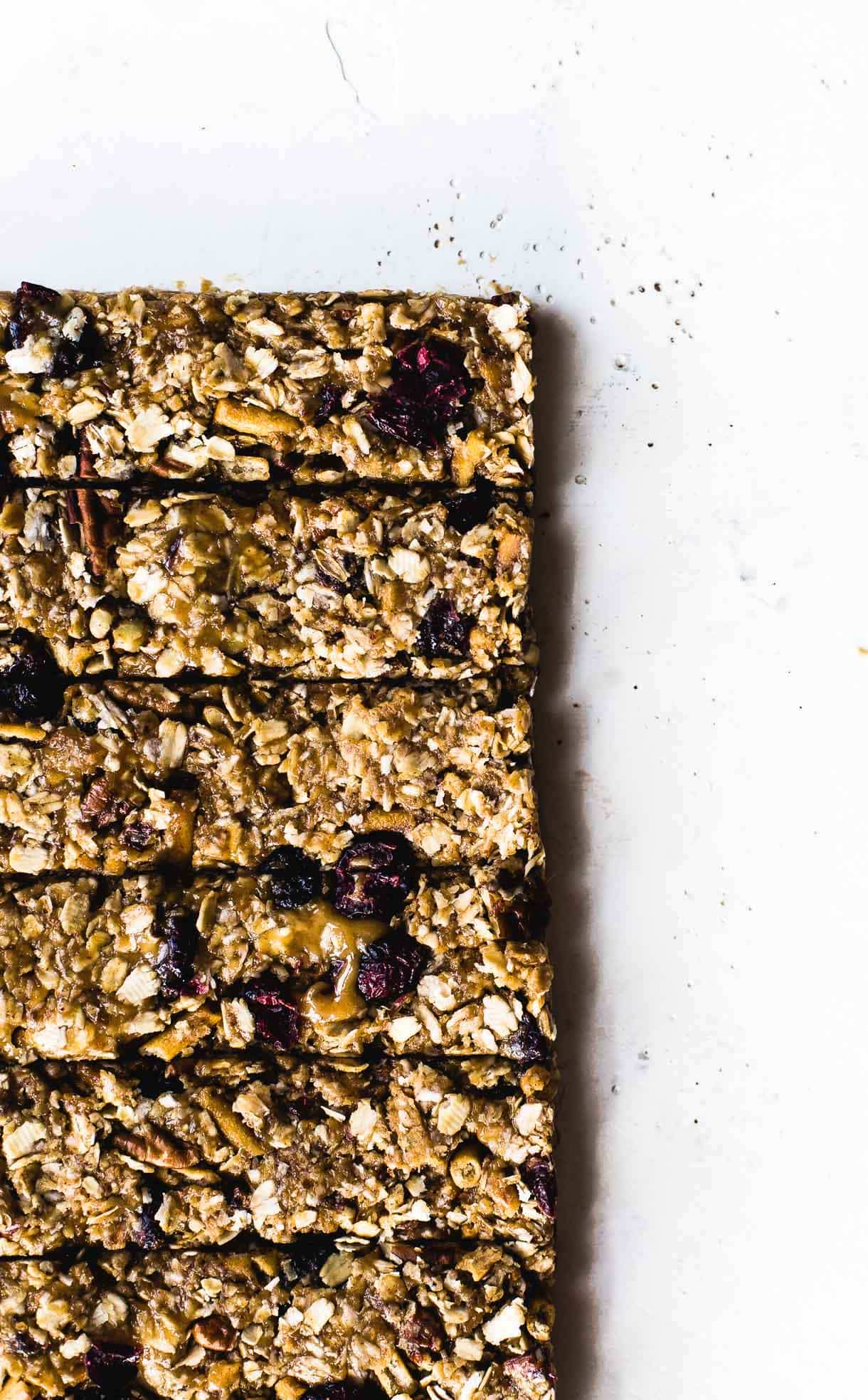 This blog post is sponsored by MegaFood a year-long partner of Heartbeet Kitchen.
I'm writing this in-between unpacking from Canada and packing for tomorrow's trip to Oregon, and cleaning. After all these years, I'm starting to realize my mom was right about how good it feels to return to an uncluttered house.
It's going to be a busy month and a half for me. This work trip is the second of five between now and mid-October. That means not a lot of time at home, but lots of exploring, experiencing, and documenting. I'm ready for that, and grateful to have squeezed every last drop out of the Minnesota summer, staying put after my visit to Africa in June.
In thinking about needing wholesome snacks to avoid the "hangry traveler" scenario at all costs, I decided it was finally time to achieve soft and chewy, no-bake granola bar perfection. Because these types of bars don't meet the oven, getting them to set properly while still being nice and chewy is a challenge. I've been working on the recipe for a few months, testing different binders, sweeteners, ratios, and finally found the salty-sweet flavor combined with the bendablity that I was looking for.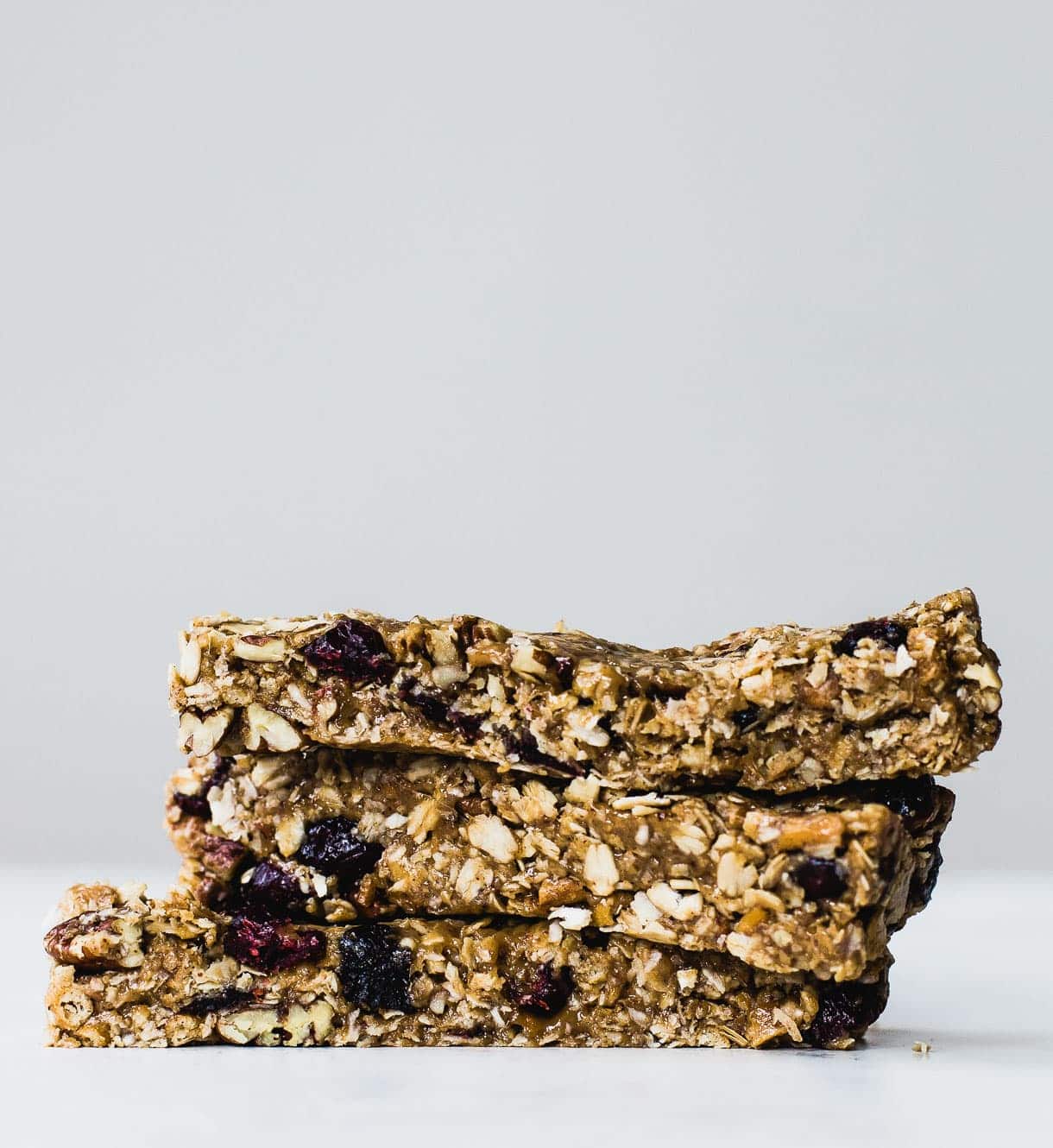 Let me count the things I love about these Really Chewy No-Bake Peanut Butter Granola Bars …. starting with nutty oats.
Creamy peanut butter.
And toasted pecans.
Dried cranberries (or tart cherries) that give you a pb & j kind of memory.
Chopped gluten-free pretzels for salty, savory, crunch.
And I even snuck in a boost of MegaFood's Purify powder (a blend of Artichoke Leaf, Burdock Root and Dandelion Root, time-honored foods traditionally used to promote healthy liver detoxification, and their Beet Root + Fruit Phenolic Blend combined with Purple Reishi Mushroom and Schisandra Berry to provide a powerful array of protective antioxidants)!*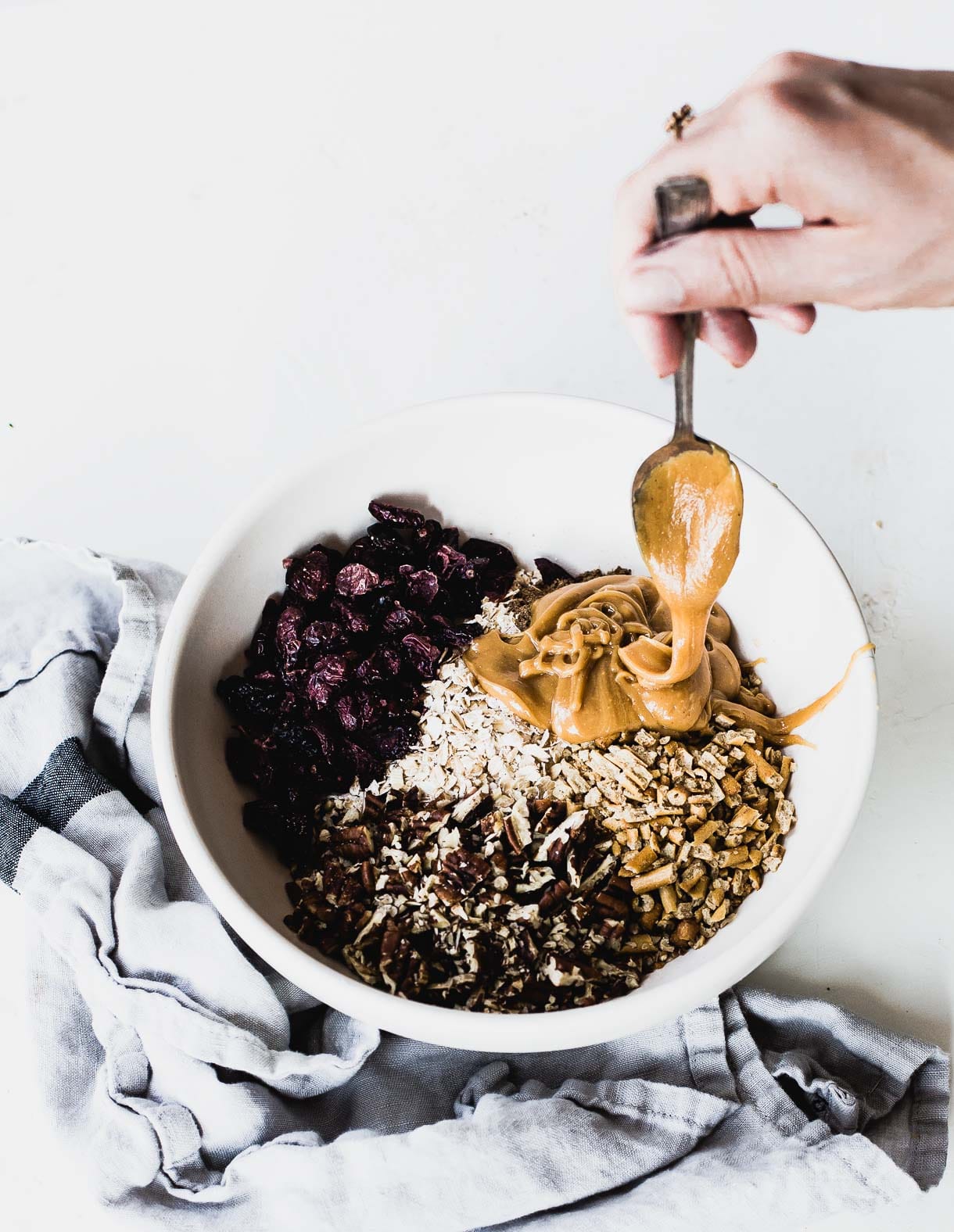 But the real key to chewy, no-bake granola bar bliss? Brown rice syrup. If you haven't used it before, think of it as a real food version of Karo syrup. It's made by culturing cooked rice starch, and is sweet like honey, but even stickier. That means it's an excellent binder that never fully hardens, and works like a charm when you want things to be chewy without falling apart. You can find it in the sweetener section of the grocery store, or here.
You'll warm the syrup, peanut butter, and a little bit of honey on the stove, then mix it with all the dry ingredients. Press them in a pan and let them chill out in the refrigerator for about an hour.
Yes, I could buy granola bars, but truthfully, I haven't found one this chewy and flavorful yet. These healthy, homemade beauties land halfway between peanut butter bliss and a warm oatmeal cookie. They travel well. And it's a huge bonus to be able to control the exact ingredients going in, without preservatives or other odd additions I often see on labels in the store.
Enjoy! xo
*These statements have not been evaluated by the Food and Drug Administration, and this product is not intended to diagnose, treat, cure or prevent any disease.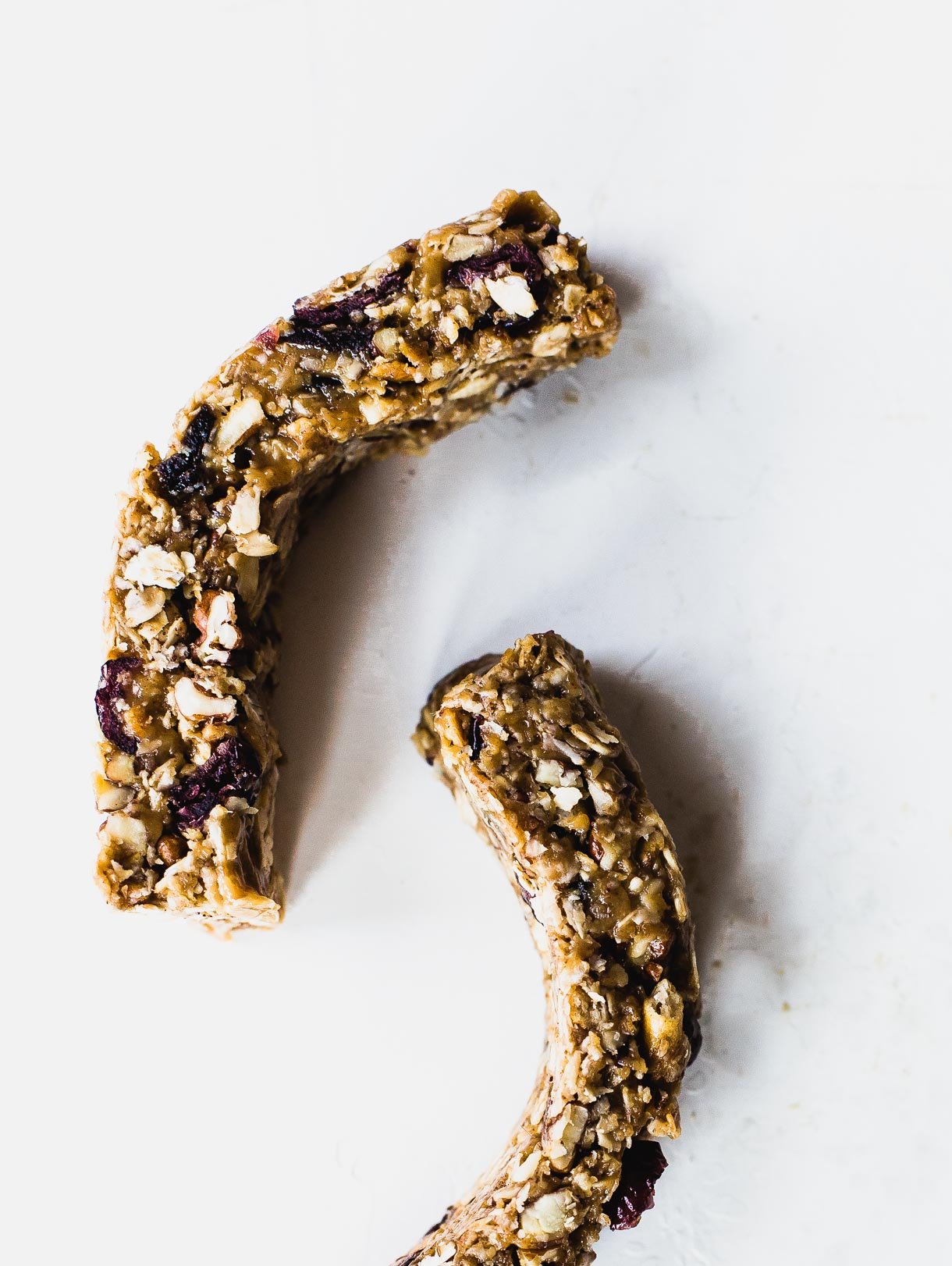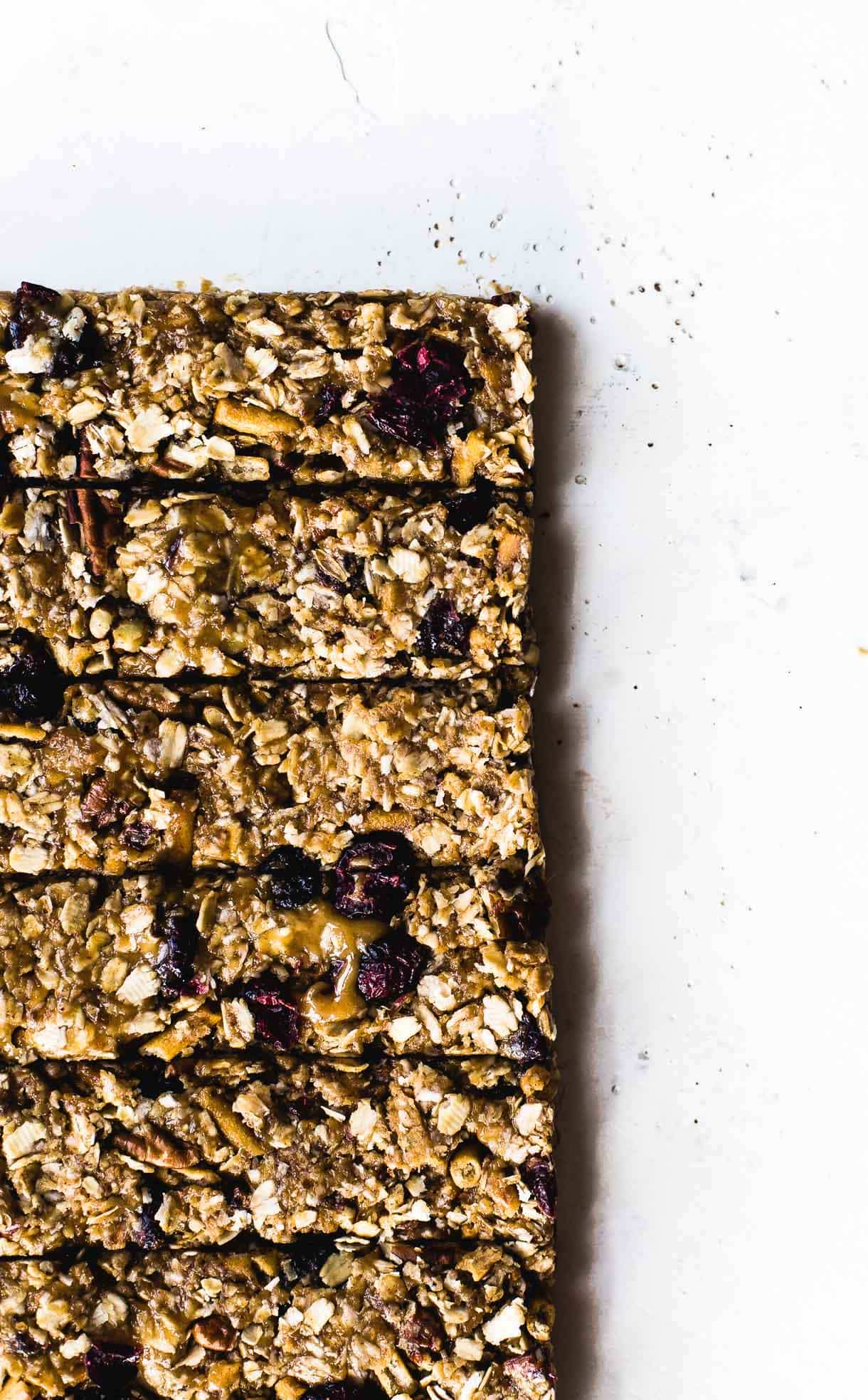 1 1/2

cups

rolled oats

1/2

cup

finely chopped gluten-free or regular pretzles

1/2

cup

chopped

toasted pecans

1/2

cup

dried cranberries or tart cherries

2

scoops MegaFood Daily Purify Nutrient Booster Powder

generous pinch of salt

1/2

cup

natural peanut butter

the runny kind

2

tablespoons

honey

1/4

cup

+ 1/2 tablespoon brown rice syrup

1

teaspoon

vanilla
Mix oats, pretzels, pecans, dried cranberries, MegaFood Daily Purify Nutrient Booster Powder, and salt in a large bowl. Set aside.

In a small saucepan, heat peanut butter, honey, and brown rice syrup on low, just to a warm temperature, mixing to combine. Do not simmer it.

Remove from heat and stir in vanilla, then pour on to dry ingredients. Stirring to coat completely, even using hands to help with this.

Make a parchment sling for a bread loaf pan, and then dump mixture into pan. Press down firmly with the back of a measuring cup, sprayed with non-stick spray. Refrigerator for one hour. Then cut and enjoy! Store in the refrigerator for up to two weeks.