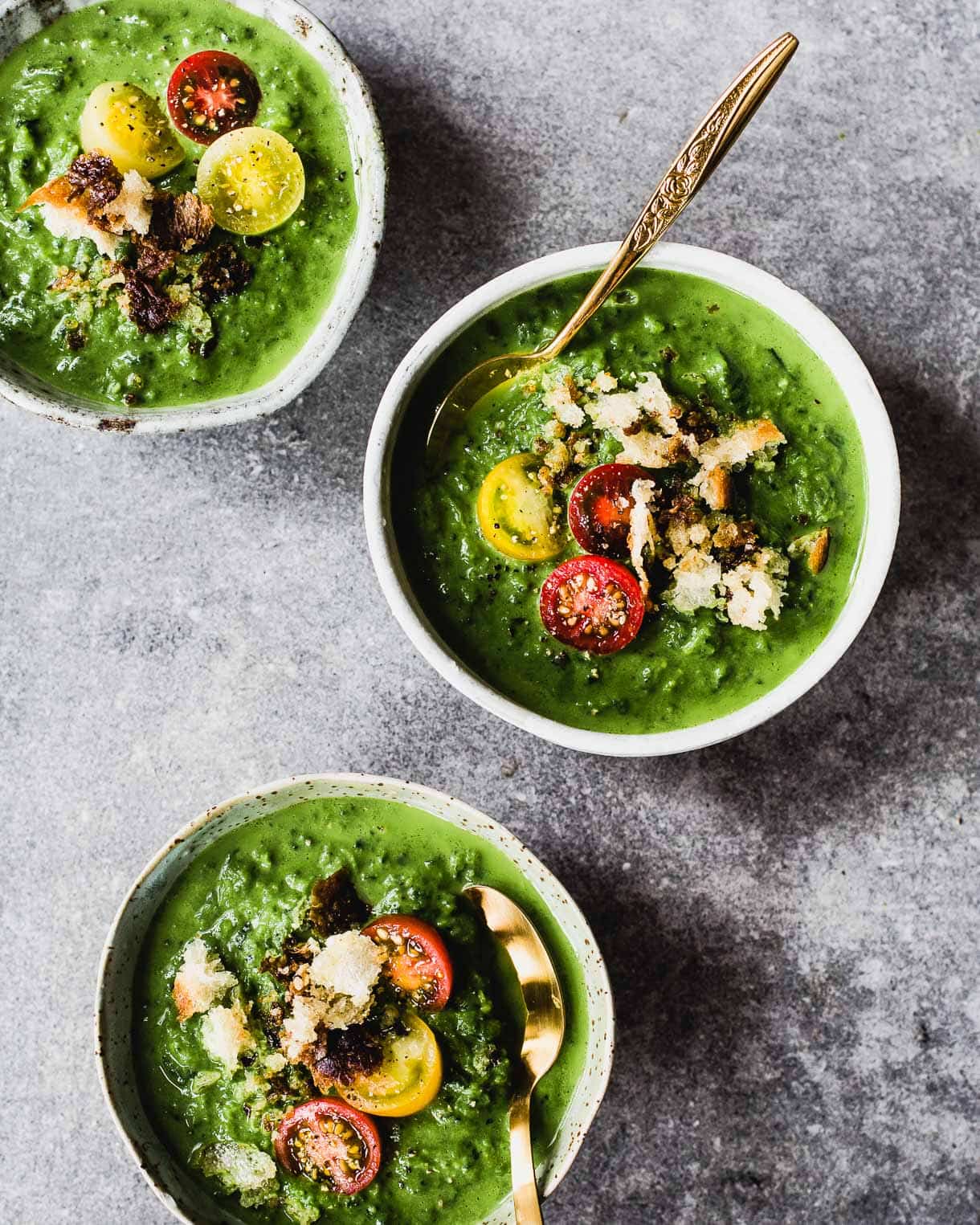 This broccoli potato soup recipe is sponsored by ALDI, a partner of Heartbeet Kitchen. They've recently expanded their product offering to provide even more quality options, such as the organic ingredients I developed this recipe with.
Posting a soup recipe. In August. Do you think I'm crazy? Understandably so. But these glowing green bowls were too good to keep from you.
Creamy, flavorful, and we're sneaking a whole lot of vegetables in there. And some mozzarella cheese too. Organic spinach and broccoli, garlic, and a potato to add a little heft. Fresh lemon and herbs to brighten. And because I'm a proponent of contrasting texture on most things – toasted, buttery sourdough bread hunks and fresh tomatoes on top. More cheese would not be shamed either.
My curiosity about soup came from a recent weekend getaway to the woods of Wisconsin, where most towns have one stoplight, a bar, and maybe a gas station. We stopped into a country tavern just a few miles from our cabin. It was the most unassuming spot, but even on google reviews (which is all I use these days to determine where we should eat when traveling) the locals raved about the home cooking, especially the from-scratch soups. We didn't deviate from the suggestions, and ordered a drink and tomato basil soup, even though the temperature on our car had read 91 degrees. I took one bite, looked at Brian, and said, "Oh my… I should have ordered a bowl instead of a cup." It was so good, with layers of depth. Close to a bisque, but not quite. We returned to the Country Line each of the 3 days we spent in the area, and had a different soup every day. French onion, creamy potato, and the memorable tomato basil.
It got me thinking about the making of a good soup, and how most often, you can judge a restaurant by how good theirs are (and how they cook their eggs, in my opinion). They know how to build flavor starting from the beginning, and tend to use just a few star ingredients that shine. The soup is satisfying, even if it's on the lighter side, and not overly rich if it is on the heavier side. It has enough acid, and salt, to brighten. And its texture has been perfected for the application, much like using the right noodle shape when making a pasta dinner.
This bright green broccoli potato soup needed several tests before I was proud of it, as well as approved by my main taste tester, Brian. I made my way to ALDI to check out their expanded product lines, and was happy to see the organic cheese selections, and organic frozen vegetables that I like to have on hand. Because you can do so much with them! I use frozen spinach in almost all of my smoothies, casseroles, and I've been experimenting with how to roast frozen broccoli/cauliflower – more on that in another post. Do you shop at ALDI? I find it's a great way for me to save money on organic items that tend to cost quite a bit more at other stores. Some of my favorites are nut butters, coconut oil, and gluten-free crackers. I also love that they don't use plastic bags, or any bags for that matter, and you bring your own reusable.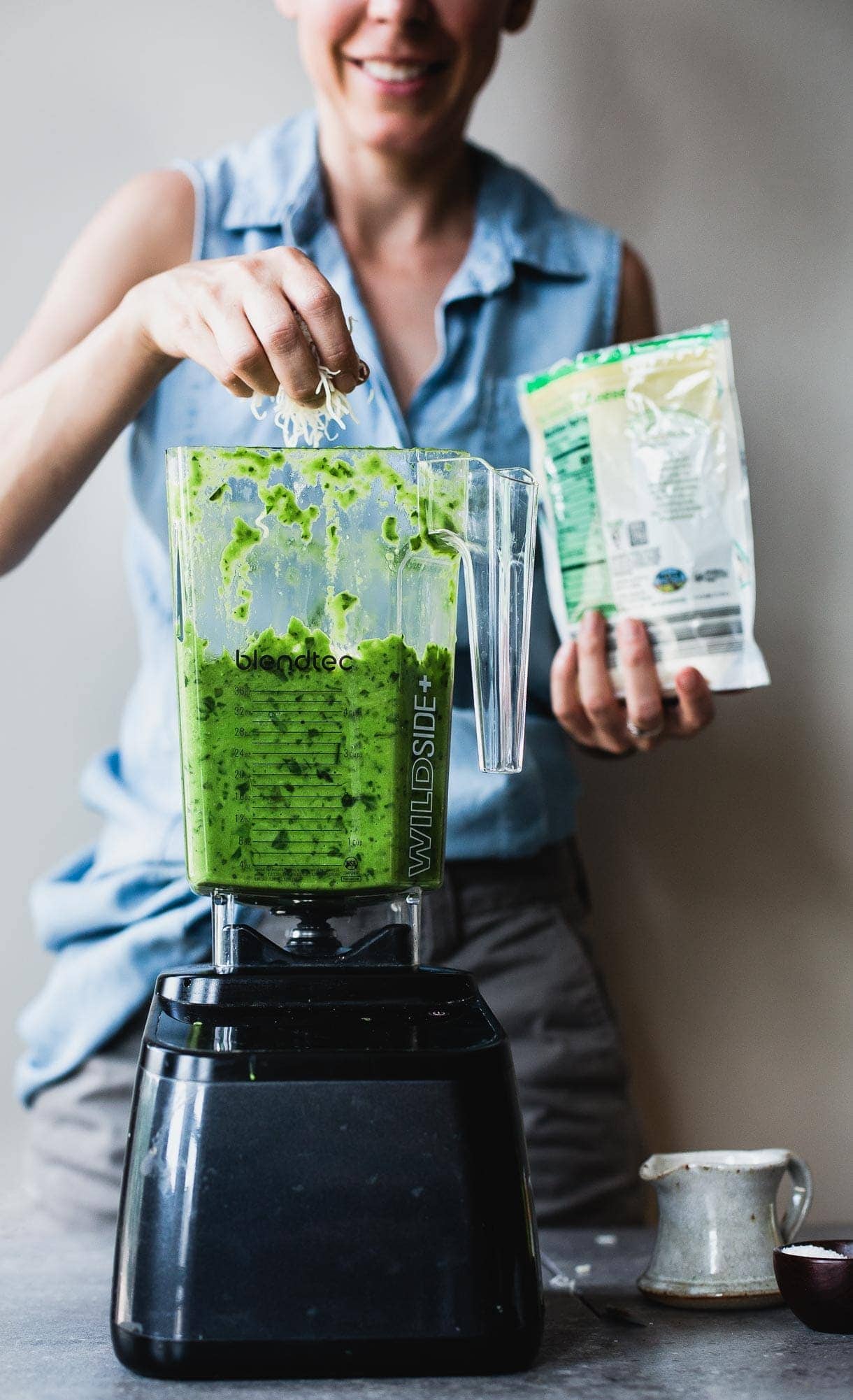 I coaxed a lot of flavor out of the vegetables by cooking them with onion and garlic, then simmered in chicken stock with a dried bay leaf. You'll see that I don't call for a whole lot of stock, as I found out during testing that it can overpower the broccoli and spinach. But it does add necessary umami compared to using all water as the liquid.
What you might not assume from the looks of the vibrant green is the cheese component! Mozzarella naturally adds salt and a bit of creaminess that might remind you of the not-so-healthy broccoli cheddar soups that are often served. But don't skip out on the butter. It's essential to its goodness, trust me.
If you make this recipe, tag me on instagram, @heartbeetkitchen or with #heartbeetkitchen.
To find the closest ALDI store to you, here is the store locator.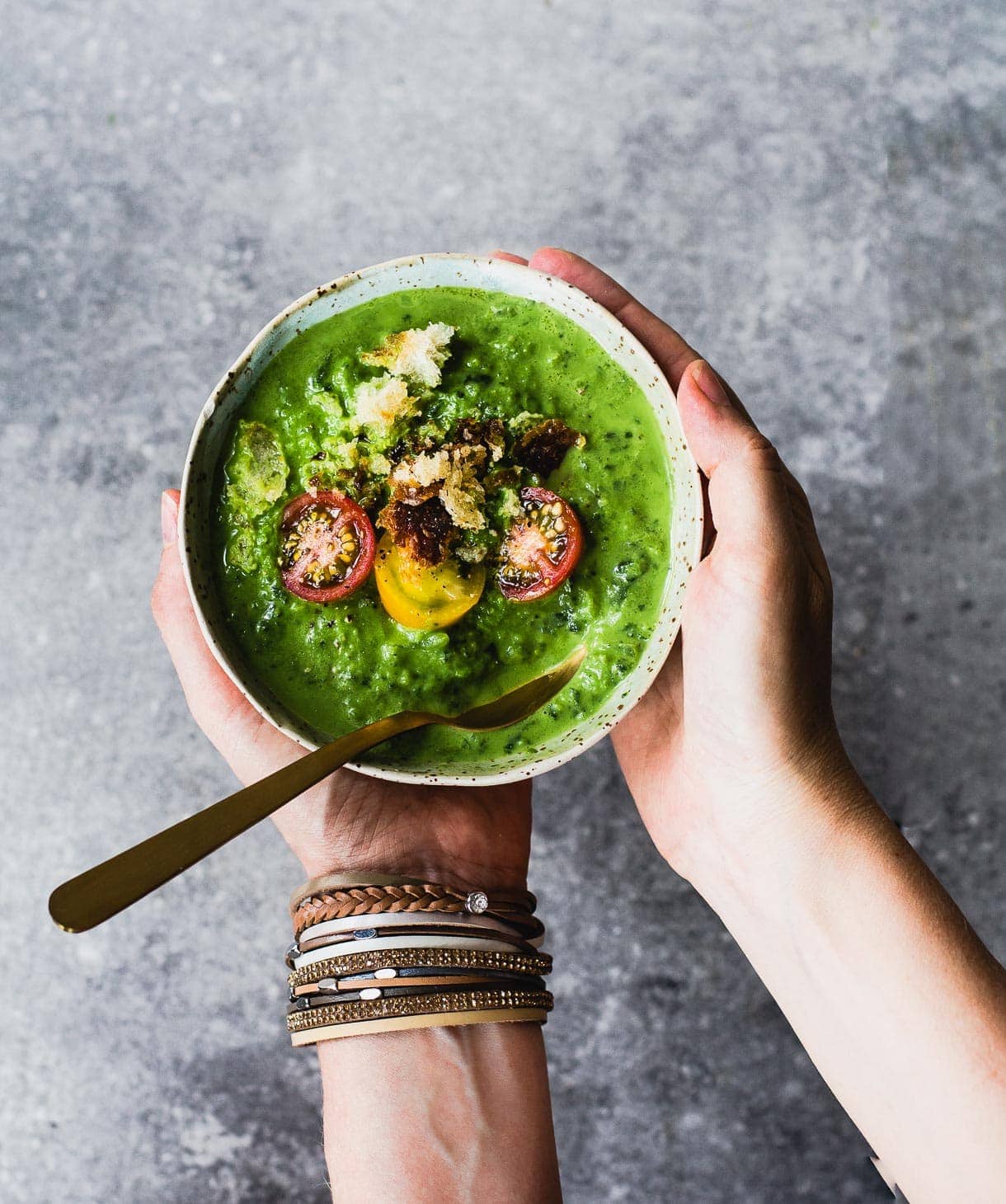 Very Green Broccoli Potato Soup with Mozzarella
Ingredients
2 tablespoons SimplyNature Extra Virgin Olive Oil
1 large onion, diced
2 teaspoons Stonemill Sea Salt, divided
2 cloves garlic, sliced
1 large russet potato, peeled and diced
2 cups SimplyNature Organic Chicken Broth
1 dried bay leaf
1 1/2 teaspoons Stonemill Ground Black Pepper
1/2 bag SimplyNature Frozen Organic Spinach (8 ounces)
1 bag SimplyNature Frozen Organic Broccoli (16 ounces)
1 cup water
3 tablespoons fresh parsley or basil
4 ounces SimplyNature Organic Mozzarella Shredded Cheese
juice of one lemon
1 teaspoon white wine vinegar
4 tablespoons butter
toasted chunks of sourdough bread and sliced cherry tomatoes
Directions
In a large stockpot, heat olive oil to medium heat. Add onion and 1 teaspoon salt. Cook for 6 minutes. Then stir in garlic and potato. Cook for 2 minutes to combine flavors. Add stock, bay leaf, black pepper, spinach, and broccoli.
Simmer for 5 minutes to concentrate flavors, then add water. Cook for another 10 minutes with lid on. All vegetables should be softened.
Add half of the mixture to a blender and puree until smooth. Pour into a small stockpot. Then add remaining soup mixture, herbs, and cheese to blender. Pulse to break down vegetables nicely, but not puree. You want some texture to this soup.
Stir what's in the blender into the pureed soup mixture in the smaller stock pot. Add remaining 1 teaspoon salt, lemon juice, white wine vinegar, and butter. Stir completely, until all is combined and melted. Taste, and add salt if it doesn't pop with flavor. Add toasted bread hunks and sliced cherry tomatoes to top of each bowl and serve.