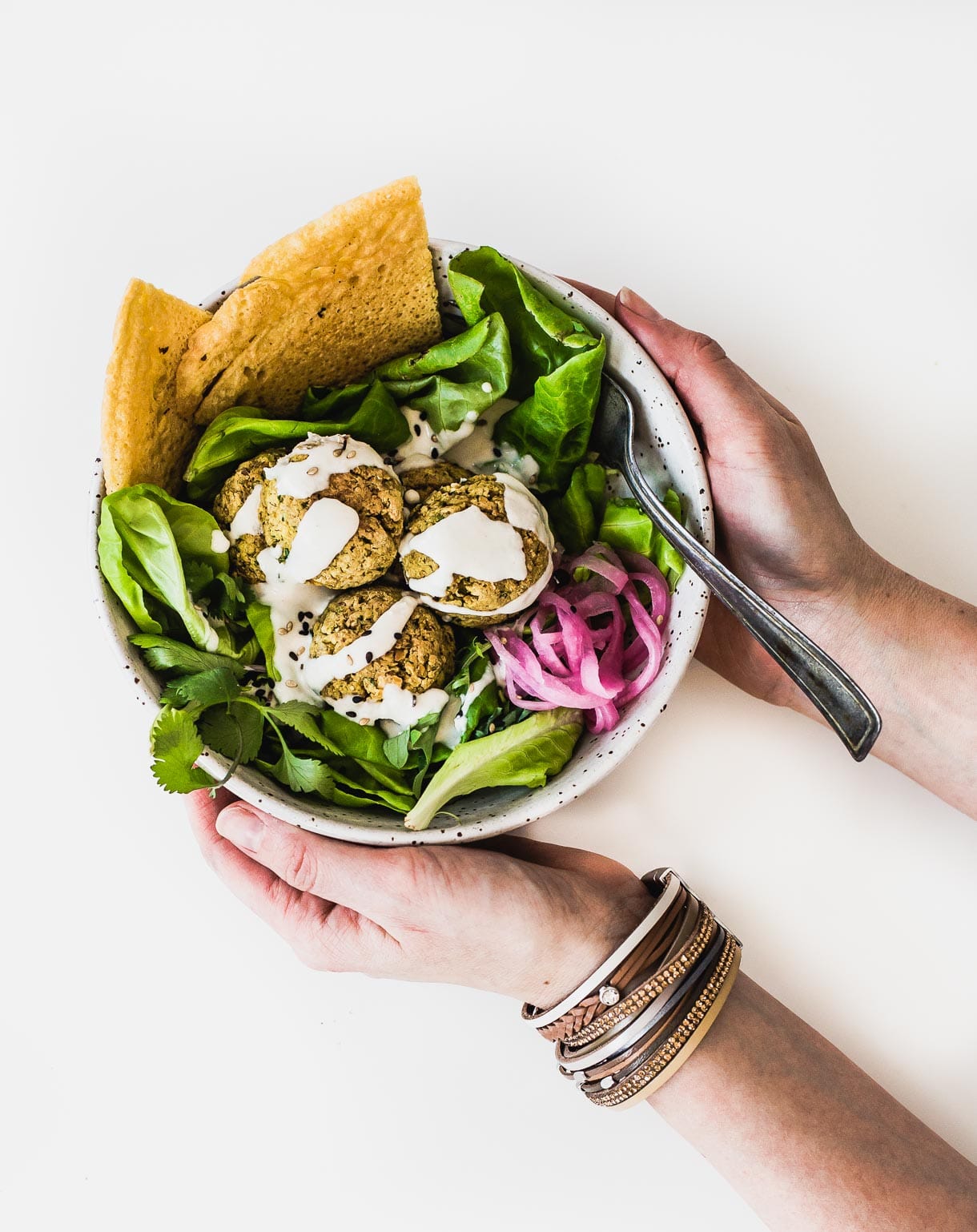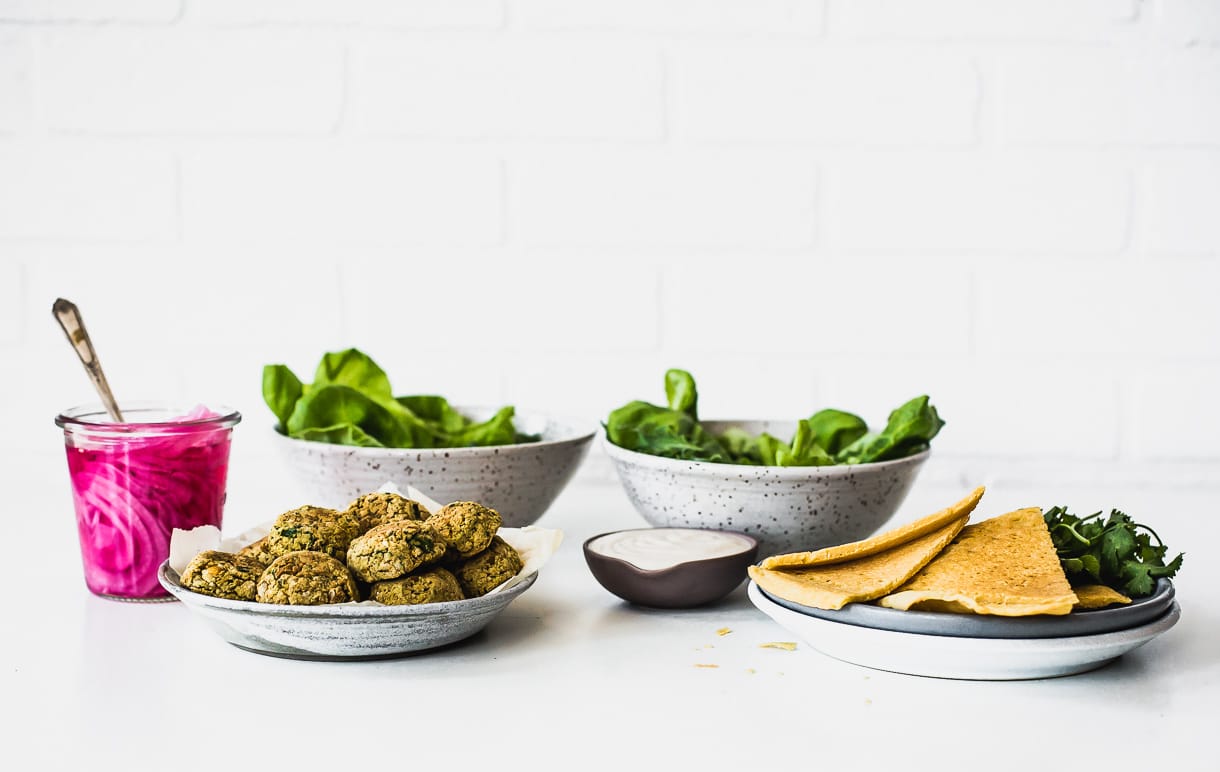 About this Baked Falafel Salad recipe:
I've been searching for a good baked falafel recipe for what feels like forever. None of them have ever been good enough to make twice. Whether they required too much planning, were too crumbly and dry, or completely flavorless…. I had given up on making them at home.
But when I opened up The Faux Martha's new book, The Minimalist Kitchen, and saw her recipe, I decided to give falafels one.more.try. Because in getting to know Melissa over the last three years (I feel very lucky that she lives 5 miles from me), not only can I attest that she is a fantastic human, but also the type who publishes recipes with 100% confidence that they work.
These are practical (no soaking chickpeas, this recipe uses canned!), flavorful, and you bet I'll be making them again. And again. And again.
I was so impressed by their texture, staying soft inside and acquiring a crispy outside with the help of olive oil. They held together well, and the flavor was dynamite. Garlic, herbs, and a little kick of cayenne at the end to kick up the tastebuds! The falafels are meal prep friendly too, in a couple of ways:
You can freeze the the uncooked patties and pop them in the oven when you're ready.
The cooked patties will last up to four days in the refrigerator, which leads to these next two ideas.👇
Make them into a salad as I did, for lunches throughout the week.
Or nestle them into a pita for a traditional falafel sandwich!
I rounded out the salad with a few pieces of socca, flatbread made from chickpea flour and water, and naturally gluten-free for those who need. Melissa includes recipes for pickled red onions and tahini dressing in the book, which you see topping the salad, both of which are now staples in my refrigerator. They're a great way to add flavor to any meal throughout the week, not just this salad!
About transitioning to a Minimalist Kitchen:
It's hard to keep an uncluttered kitchen. Really hard. And it doesn't matter how often you cook, how much you love/hate the process, or the size of your space. Over time we acquire extra gadgets, dinnerware, pantry staples, spices. And it's become clear to me that the clutter takes a lot of energy to keep up with.
In my mind, I've always had good intentions to be more organized in the kitchen (and the entire house actually). But I've really fumbled on how to pare down, maximize space, and minimize the clutter, which is why I'm so excited about the The Minimalist Kitchen book from Melissa Coleman, creator of The Faux Martha, and I think you will be too. She was a designer in her first career, and you'll see that play into her practical cooking philosophy, the art of making more with less, and her simplified way of reclaiming the kitchen.
The book is a collection of essential tools and efficient techniques, that lead to 100 wholesome recipes. There are familiar ingredients, and basic tools you'll need, but so many different ways to create each recipe, according to how you like to eat. Melissa says it best…..
"And when a recipe enters your kitchen, let it become yours. Add more salt if the flavor tastes flat, or a splash of vinegar if it needs zing. Trust your gut and know your appliances, tools, and ingredients well so you can adjust as needed. "
What I love most about the book is that it's not a prescription, but simply a framework. It's not or a must/have to/should that makes you feel like you've been doing everything wrong, like I felt after reading "The Magic Art of Tidying Up" was. Melissa talks to you in the book just like she does in person – with a humble, welcoming, happy spirit.
The Minimalist Kitchen creates a doable, and sustainable course of action. It makes you excited to create a kitchen that feels light and fresh, a place you want to spend time in. And it feels empowering. And meals feel more fluid.
In fact, I've already made headway, sending two bins to Goodwill. Saying goodbye to sheet pans that had seen their better day, and two hand mixers I'd acquired over the years when all I need is my stand mixer. Glasses from the local bar and college, bowls that I thought were pretty at one time, an overabundance of mismatched utensils….. they'll have a recycled home.
I also tackled the refrigerator/freezer, cleaning it, tossing out things I've been holding onto thinking I'd use, and freezer burned this and that. I split the refrigerator into sections, and started labeling things. It's one month in, and I'm happy to report that it looks exactly like it did after the purge. It feels like a breath of fresh air to open, rather than inducing a headache.
We're also starting a kitchen remodel after 18 years, and utilize the space better. I'm so excited to use the book to help us plan and decision make. I'll keep you updated on the progress!
But for now, I recommend saying goodbye to four books sitting on your kitchen shelf that you haven't cooked from in the two years, and replacing them with The Minimalist Kitchen, which you can buy here. You'll be so glad you did.
xo,
Amanda
***And hey, I'm hosting a GIVEAWAY for a copy of The Minimalist Kitchen!
To enter, sign up for my newsletter, HERE. Or follow me on Instagram, HERE. (Entry ends Tuesday, April 17, 2018 at 11am CST – winner will be announced on Instagram. Open to US residents.)***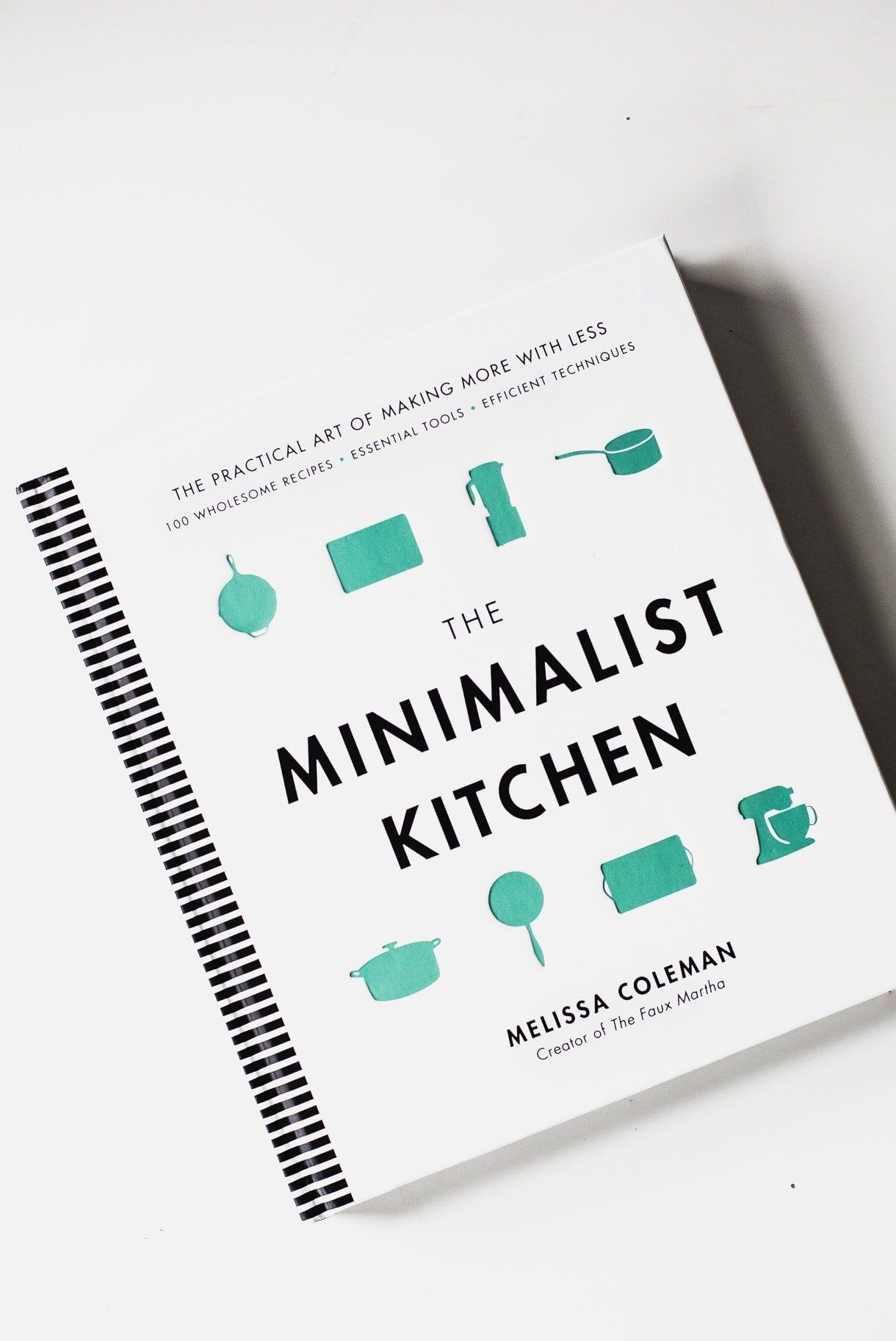 Baked Falafel Salad with Tahini Dressing
How to make healthy falafel that tops a vibrant salad!
Ingredients
Falafel
2 (15 ounce) can chickpeas, drained well
1/4 cup old fashioned oats
1 teaspoon cumin
1 teaspoon coriander
heaping 3/4 teaspoon kosher salt
1/4 teaspoon baking soda
1/4 teaspoon cayenne pepper
1/2 cup packed fresh cilantro
1/2 cup packed fresh parsley
1/4 cup roughly chopped onion
4 cloves garlic, smashed
Tahini Dressing
1/3 cup tahini
1/4 cup lemon juice
1/4 cup water
1/4 teaspoon garlic powder
1/2 teaspoon kosher salt
1/2 teaspoon honey
Instructions
Preheat the oven to 425 degrees F and line a baking sheet with parchment paper.
In a high powered blender or spice grinder, blend the oats until a fine powder. Pour into a bowl. Stir in the cumin, coriander, salt, baking soda, and cayenne, and set aside.
In a food processor, combine the cilantro, parsley,onion, and garlic, pulsing to coarsely chop. Add chickpeas, and pulse on low until a chunky mixture forms (not smooth), stopping to scrape down the sides every so often.
Add the chickpea mixture to the oat mixture, and use your hands to combine evenly. Using a cookie dough scoop, scoop balls and lightly shape with your hands.
Place on the prepared baking sheet. Just before placing in the oven, liberally spray both sides with olive oil cooking spray. Bake for 12 minutes on each side.
Make the sauce by whisking all ingredients until smooth.
Assemble salad with fresh lettuces, falafel, pickled red onion, extra herbs, tahini sauce, and socca or pita.
Notes
This recipe comes from The Minimalist Kitchen cookbook, by Melissa Coleman.