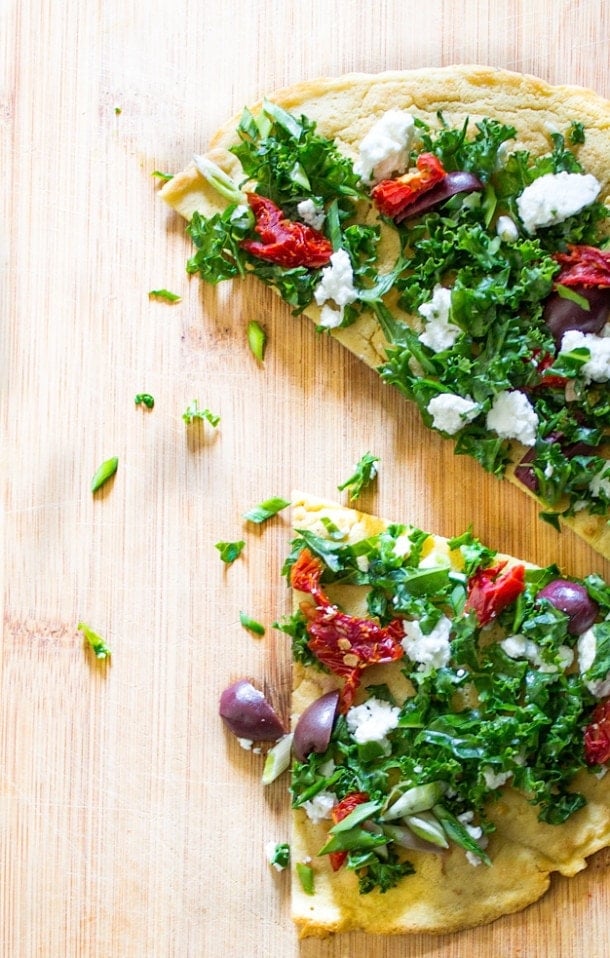 Have you ever heard of socca? I hadn't either until I craved a crispy flatbread after learning of my gluten allergy several years ago. Imagine your favorite thin crust pizza only made of chickpea flour & a little olive oil, cooked on a blistering hot cast iron skillet. It's a fine example of crunchy deliciousness that makes the perfect single lady meal when topped with in season fixings.
Solo dinners happen quite often around here in summer, as I enjoy coming home to relax and Brian likes to head out for an evening round of golf or a soccer game. As two very independent people, we both support each other in doing the things that make us happy whether that be together or alone. It's part of the reason our relationship works.
But on to the main topic –> Socca originated in France which surprised me. I figured it came from somewhere like India where they make many different flatbreads out of ground grains or lentils. Since I now have a grainmill, I can grind chickpeas and have super fresh flour, a very nice perk thanks to their team. I do have to say that grinding beans takes a little longer than grains because you have to grind fewer at a time otherwise the mill will jam. Not that I would know. Oops.
You'll probably find several different ways to make socca around the internet, but my preferred method is to mix it with equal parts water and a splash of olive oil, then sear it in a smoking hot cast iron skillet that's been preheated in the oven. When I have fresh herbs on hand, I throw them into the batter, along with a pinch of garlic powder.
But the best thing about socca? It works with every season or whatever you have mingling in your fridge, which is exactly how this version came about. I massaged a few kale leaves, chopped up some kalamata olives, green onions and sundried tomatoes, then sprinkled it with some fresh feta. It reminded me of a "just picked from the garden" salad on flatbread. Simple flavors, simply good.
And a single lady dinner wouldn't be complete without a glass of wine now would it? I enjoyed it my favorite Chardonnay, but a Pinot Grigio would be just as nice. Bon appetit!
Socca for One : With Sundried Tomatoes, Kale and Feta
Adapted from The Kitchn and Dolly and Oatmeal
½ cup chickpea flour
½ cup water
1 tablespoon olive oil, divided
¼ teaspoon salt
pinch of garlic powder
½ cup cup thinly sliced kale, massaged for a few minutes to soften in it
handful each of chopped kalamata olives, sundried tomatoes and green onions
feta cheese
Preheat oven to 500 degrees and place cast iron skillet (mine is a 10 inch) inside of it. Whisk together the chickpea flour, water, 1/2 tablespoon of olive oil, salt and garlic powder in a small bowl using a whisk. Let rest for 20 minutes.
Remove the skillet from the oven using oven mitts. Set on a burner, which you turn onto high heat. Add remaining 1/2 tablespoon of olive oil and swirl to coat the bottom of the pan. Whisk the chickpea batter quickly and then pour into the hot skillet. Tilt the pan so the batter coats the entire surface of the pan. Cook for 1-2 minutes, then flip socca and cook for another 2 minutes. Return skillet to oven, turn to broil and cook for 4 minutes until edges are golden brown. Remove from oven and scatter toppings onto socca. Cut into wedges and serve.