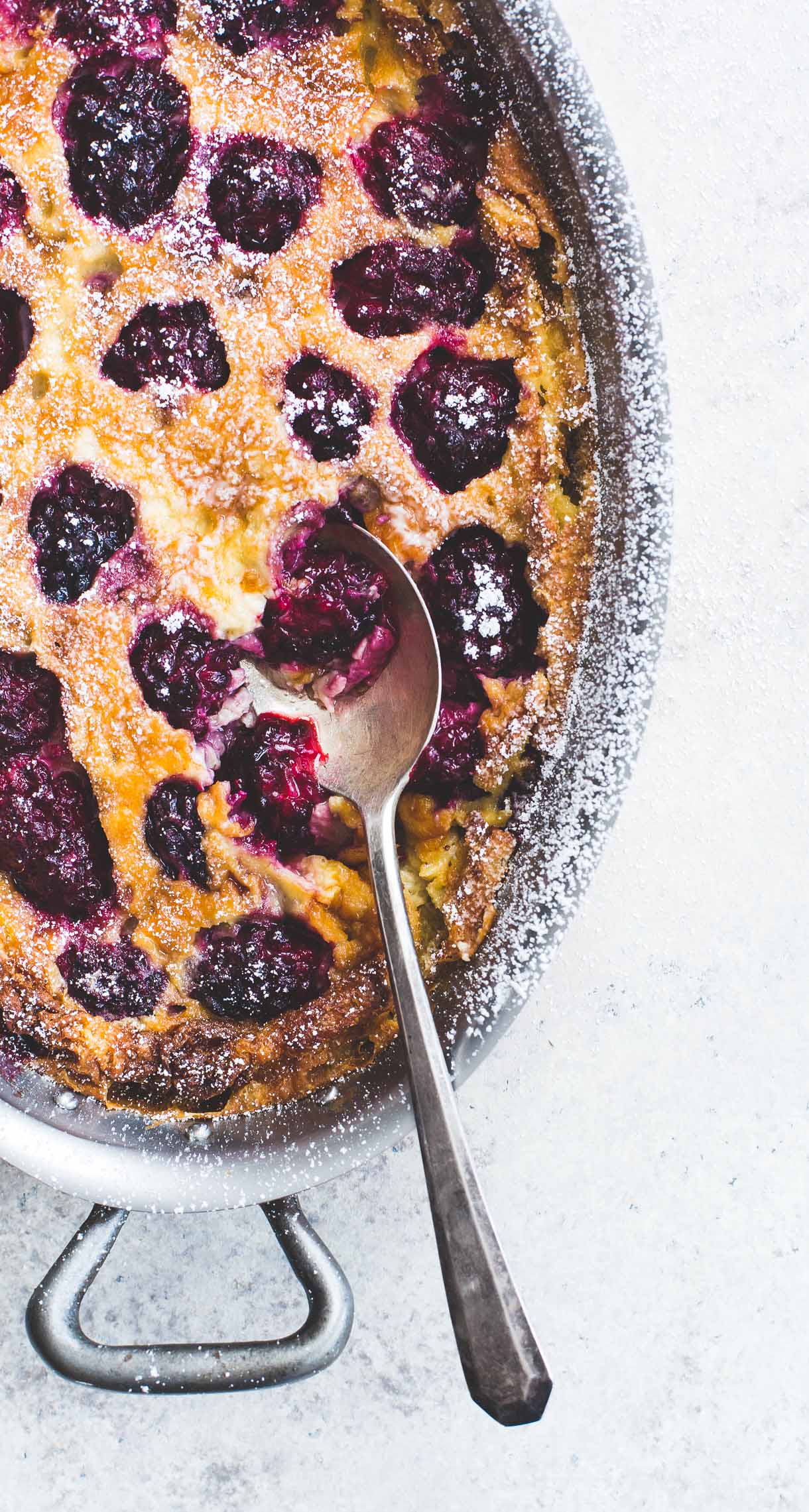 I'm calling this blackberry baked custard, but in all honesty, I'm not sure what it's technical term should because it literally has a 3 pronged evolution. It changes (unexpectedly) from dutch baby, to claufoutis, to custard, depending on when you eat it. What I do know is that it's incredibly delicious at any and all stages…. Softly sweet, studded with jammy blackberries, and real creamy. One bowl magic with ingredients you probably always have on hand, and the fruit can change with the seasons.
Inspiration came from Martha and Julia, their custard and flan both looked like the perfect way to showcase the berry of fall – blackberries. Both of the recipes used just a little flour, so I substituted tapioca starch and went the unrefined sugar route with maple syrup. Studying their recipes, I pictured it coming out of the oven like you see throughout this post, but I opened the oven to a big, gorgeous, poofy dutch baby.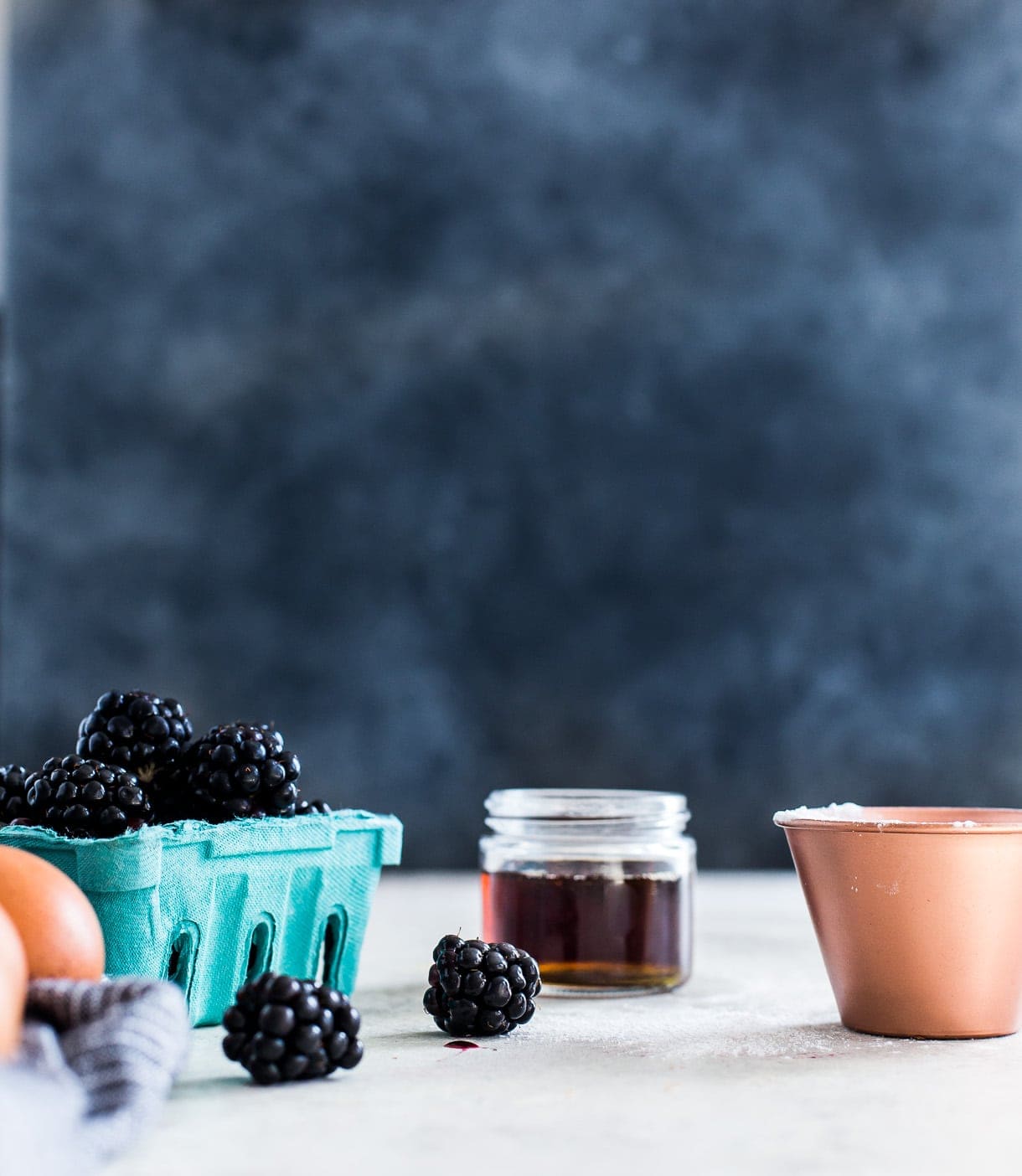 Although it wasn't what I was planning on, I figured I'd go with it, and rushed with the hot pan to photograph it before collapsing. But the fluffy cloud deflated in literally 30 seconds, leaving me a little deflated as well.
So stage one was a dutch baby. That sunk into stage two: a claufoutis. Still warm from the oven, I took a few tastes, trying to decide if it was still good despite it not being what I expected. And it certainly was. Browned on the edges, slightly airy, and a little bit of egg texture left. The flavor was spot on, delicately sweet and a hint of tartness from the blackberries was a nice contrast.
I declared the claufoutis a winner, something I could serve for dessert or an indulgent breakfast and tucked the leftovers in the refrigerator. The next morning it was the first thing I wanted a bite of, so I drove my spoon into the top.
PURE, DENSE, CREAMY BLISS. And a transformation into stage 3, custard, the real winner. My favorite stage of them all. The cold had worked its own kind of magic, solidifying the butter and protein from the eggs, giving it almost a cheesecake texture because it had been baked, rather than a soft pudding-like custard.
Maybe I should have named it a blackberry baked chameleon, but I'm sticking with custard. And as odd of a technique it may be, I've written the recipe to reflect the chill and refrigeration, as I liked it best this way. Which also means that it's a make-ahead dream for entertaining, just save the powder dusting for the grand finale right before serving. xo!
side note: I'm off to Salt Lake City later this week to gather with some blogger friends for a business brainstorm, which got me thinking about my luggage situation. I'd love to know your suggestions on luggage, both large and carry-on, as my 10 year old purple beasts are on their way out.
If you make this Blackberry Baked Custard recipe, be sure to tag me on Instagram with hashtag #heartbeetkitchen or @heartbeetkitchen!
1/4

cup

butter

melted and cooled

3

large eggs

1/4

cup

+ 1 tablespoon pure maple syrup

3/4

cup

whole milk

1/2

cup

tapioca starch

1/4

teaspoon

salt

1

teaspoon

pure vanilla extract

1

pint

blackberries

powdered sugar for dusting
Preheat oven to 385 degrees F.

In a blender, combine eggs, milk, maple syrup, tapioca starch, salt, and vanilla.

Use a touch of the butter to wipe the inside of a shallow gratin pan or 9 inch pie plate, then add the butter to blender. Blend until smooth, 30 seconds.

Distribute berries evenly in pie plate and pour batter over top. Bake until puffed, a little brown, and just set in middle, 25 minutes. Remove from oven and let deflate, and cool. Refrigerate at least six hours or overnight. (see note above) Before serving, sprinkle with powdered sugar.
Bake this, and let it completely cool and refigerate overnight for it to be custard. Straight out of the oven it will look like a dutch baby, then deflate into a claufoutis. Still good, but I prefer it cold.