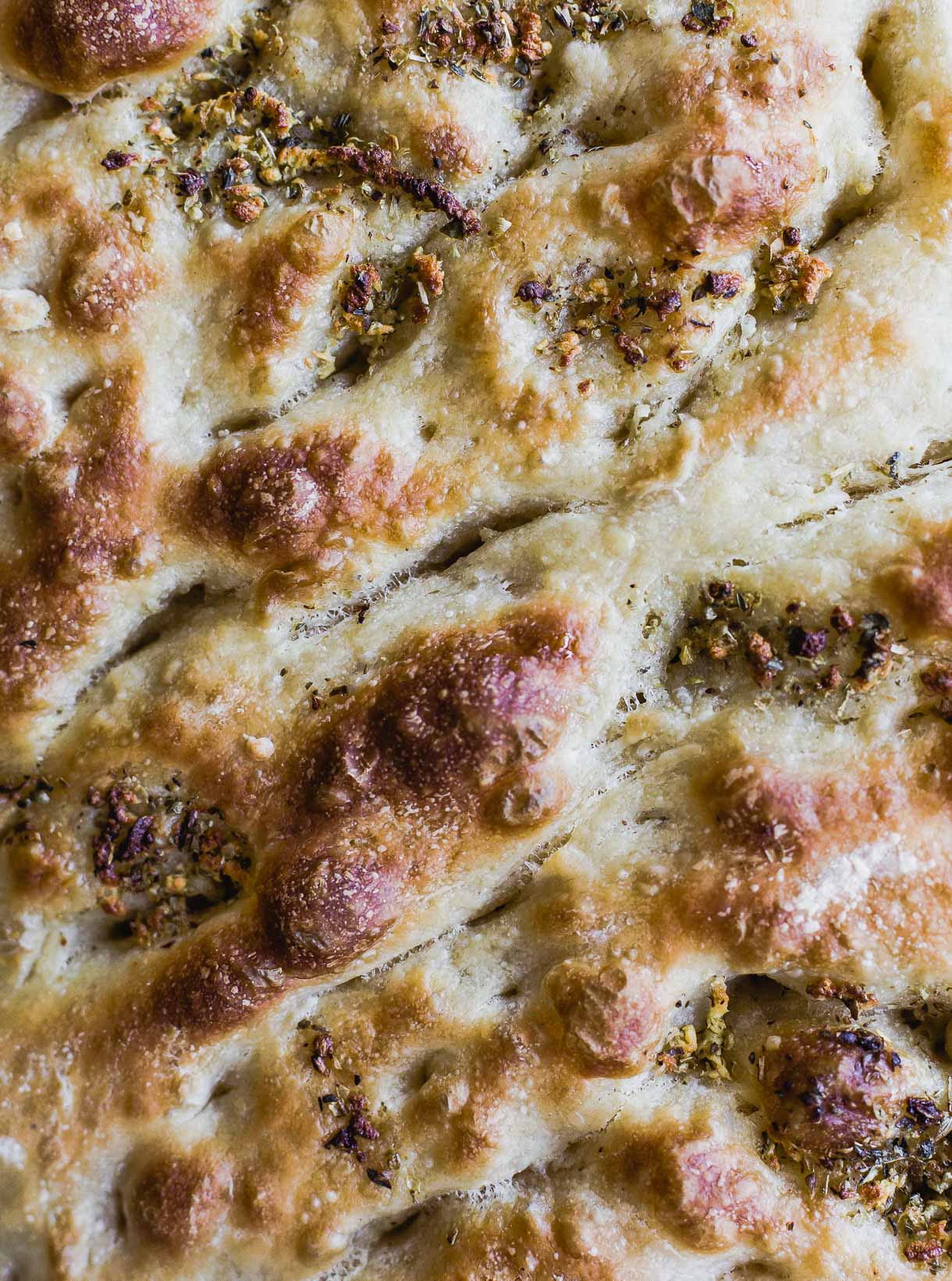 This post is sponsored by OXO, a year long partner of Heartbeet Kitchen. Their kitchen supplies have been and continue to be influential in Amanda's cooking.
After starting my sourdough baking journey and feeling mostly confident in the vitality of my starter plus the resulting breads, it was time to experiment beyond the standard loaf. First it was bagels, then english muffins, and the latest – sourdough focaccia. Puffy and fluffy. Bubbly holes throughout. And a golden brown exterior that rose through the dimples left behind by pressing fingers into the dough, just before baking.
Experimenting with different techniques and water ratios, I settled on this recipe that encompasses a very high hydration dough, mixed by hand or stand mixer, and a lengthy, hands off bulk fermentation. In all honesty, I wish I would have started my sourdough journey with focaccia, as I think it's one of the easiest things to make because there is no folding, no shaping, and little timing that needs to be projected. In short, it looks like: stir, long rest & rise, a short rest & rise, dimple, then bake. Then devour. J
So much of my fascination with sourdough comes with the highly sensory process that it is. Touch, smell, sight, taste… it's everything. I'm learning as I go, and and by no means an expert. Much of sourdough success comes from experience and getting to know how things should smell during different stages, and look, as funny as that may sound. I thought it may be helpful to see detailed nearly ever step of making sourdough focaccia to guide and give you hints.
There have been a few relatively inexpensive, well-engineered OXO tools that I've added to my kitchen as I've dove head first into sourdough baking. They make certain steps much easier, and ultimately reproducible and accurate. Certainly you don't need all of them right away if you're just getting started (I'll reference and link to each in the tutorial to give you a better sense of their impact on the end result), but the one you MUST have is a digital scale. Since sourdough baking is a game of ratios and percentages dictated by grams, you won't be able to work without it.
So let's get started! (It may also be helpful to read this post I did regarding 5 important tips for creating and maintaining a sourdough starter. And if you are just beginning and need to acquire a starter, I'd be happy to share mine with you! Just email me at amanda@heartbeetkitchen.com and I'll get some on its way to you. Cost is $11.)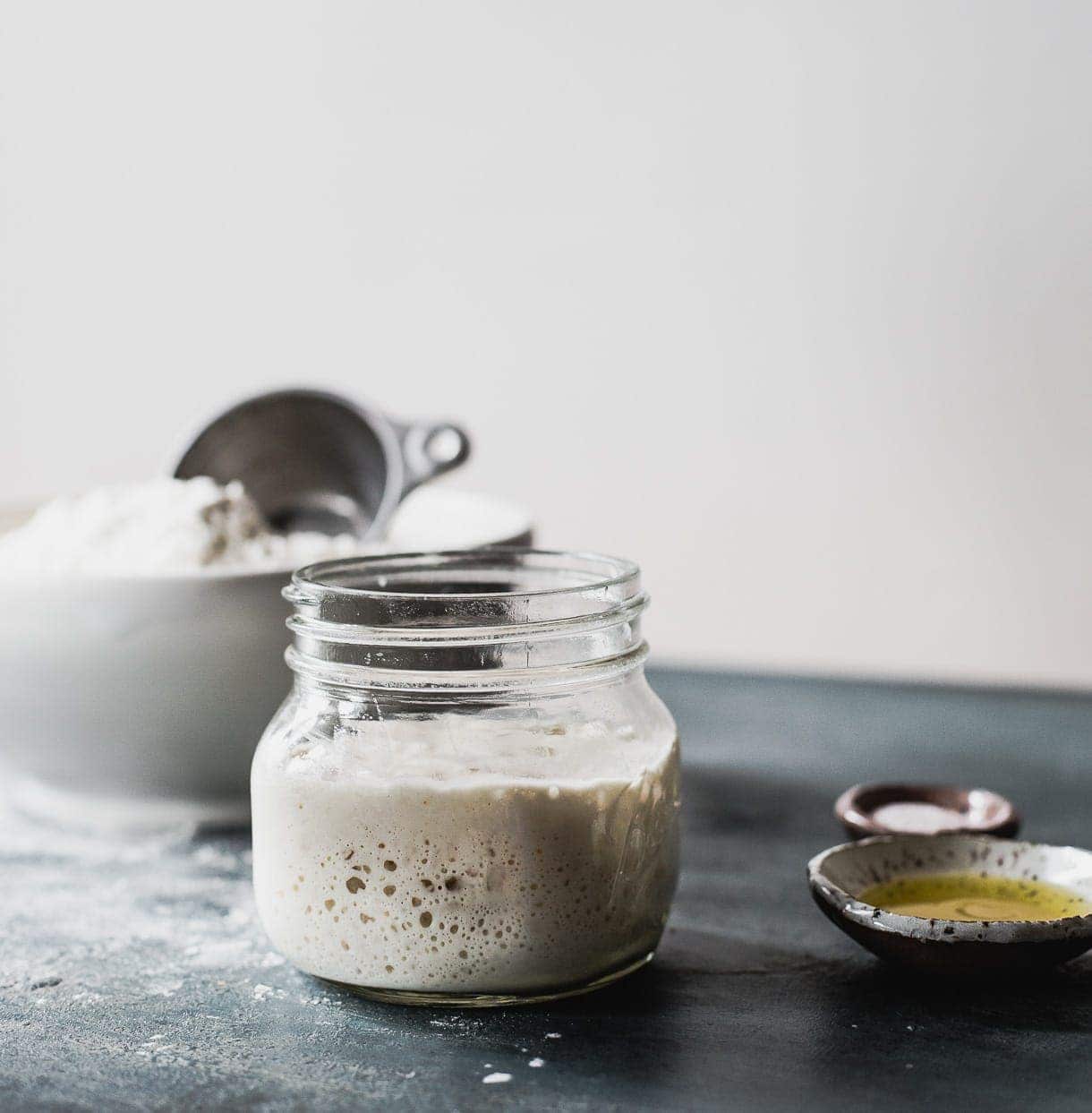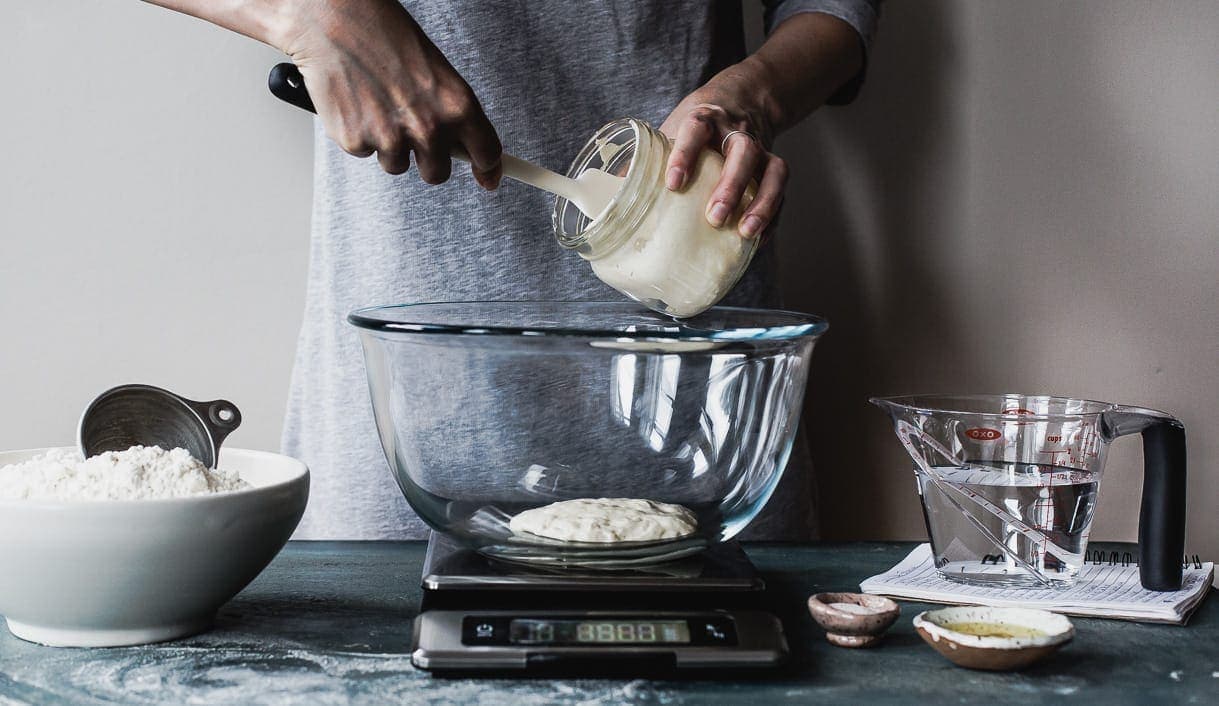 1. Two days (or more) before you want to start the process, feed your starter each day, 60 grams each of flour and water, discarding about 30 grams right before re-feeding. The goal is to build up the quantity of your starter. You'll need 190 grams for baking. I keep my starter in mason jars and find the OXO jar spatula to be perfect for getting around all the edges of the jar, scooping, and handling wet dough. It's made of silicone, which is great because it doesn't carry bacteria, which metal can (so don't use regular spoons).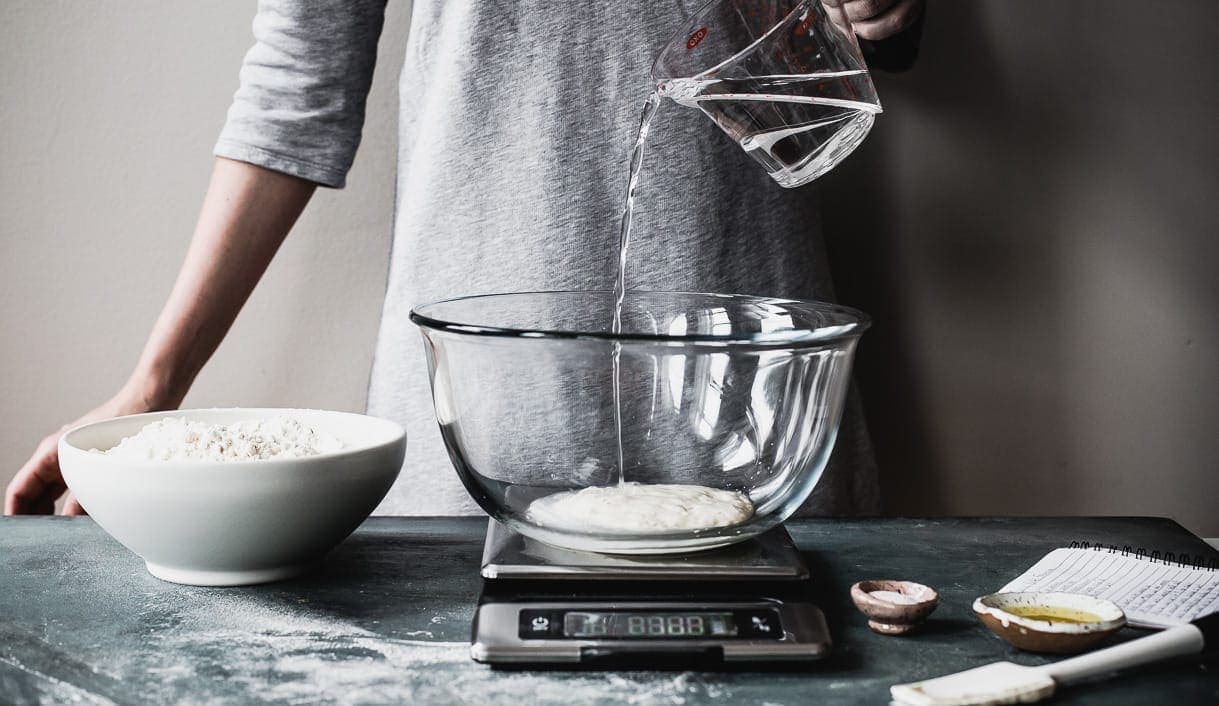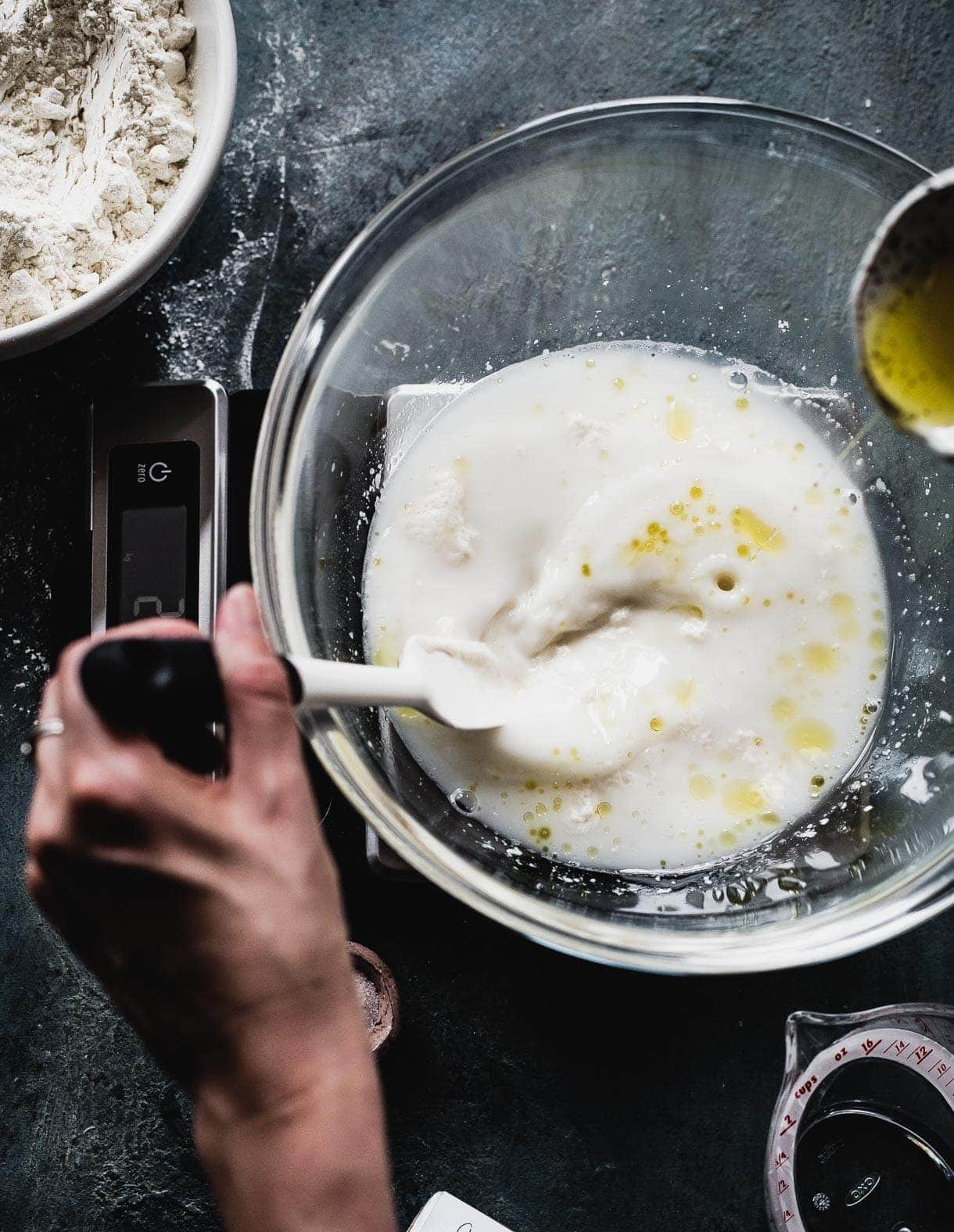 2. When your starter has risen on the day of baking and is ready to go (here are more tips on when to know it's ready), get out a large bowl. I like to use this OXO 4.5 quart glass bowl because it is large enough to avoid flour getting everywhere when mixing, high sides give the dough plenty of room to rise, and you can also see through it to track progress. Set bowl on digital scale, and zero out so that it equals 0 grams.
Mix the starter with the water, honey, salt, and 1/2 tablespoon olive oil (all measurements given below in recipe) in the bowl, pressing zero after each addition so that the measurement goes back to 0 and you can properly weigh/measure. This scale features a pull out display for easy reading so it won't get covered up by the bowl – so helpful!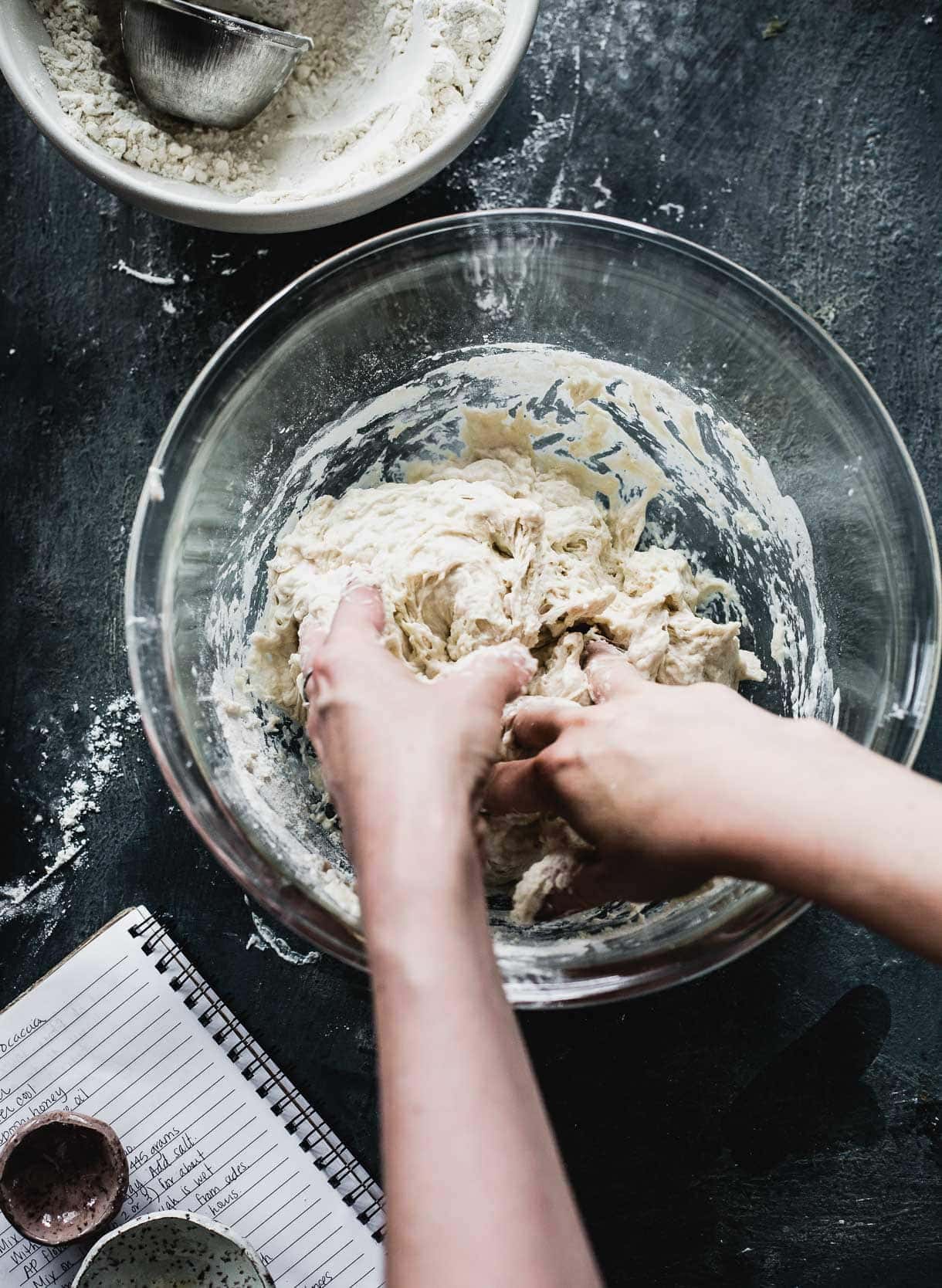 3. Add flour, and incorporate using hands and the OXO jar spatula, as it's sturdy yet flexible, and works great for this wet dough. Once you no longer see bits of dry flour, you can either add it to a stand mixer with the dough hook, and mix on low (speed 2) for 8-10 minutes, until the dough starts to pull away from the sides and hold itself. This is my preferred method.
Or you can knead by hand for 10 minutes, until you feel the dough tighten and acquire resistance, pulling away from the sides of the bowl as you work with it
4. Now it's time to rest! Known as bulk fermentation, cover the bowl with a very damp cloth and set in a place ideally around 75 degrees. Let rise for about 6 hours, until dough doubles in size and is puffy. You should see some small bubbles on the surface. Now stretch and fold four "corners" of the dough, basically on top of itself. Cover again and let rest for 2 1/2 hours at room temperature, or overnight in the refrigerator. You can keep it in the refrigerator for up to 12 hours if you'd like.
5. At this point, brush 13×8 inch OXO non-stick baking sheet with 1 tablespoon olive oil, distributing all the way to sides of pan. This baking sheet is great for sourdough baking because it holds high heat extremely well (no warping!), and the grooves help air circulate underneath the dough to achieve great oven spring. They're also very easy to clean.
6. Using lightly oiled hands, gently scrape dough out onto baking sheet. It will look like a big blob, and that's okay! Using your hands pull the edges out to gently stretch them, and work into any shape you'd like. Dough should be about 1 to 1 1/2 inches tall. Let rise in a warm spot, covered with another sheet pan that's upside down (so it has room to rise) for 1-2 hours until it is puffy and bubbly
7. Preheat oven to 400 degrees F. I can't stress how helpful it is to use an oven thermometer at this point instead of the built-in reading your oven gives you. Mine runs 40 degrees high! Having an accurate thermometer ensures the same results every time, and with something like baking where temperature is so crucial, you want to be able to trust it.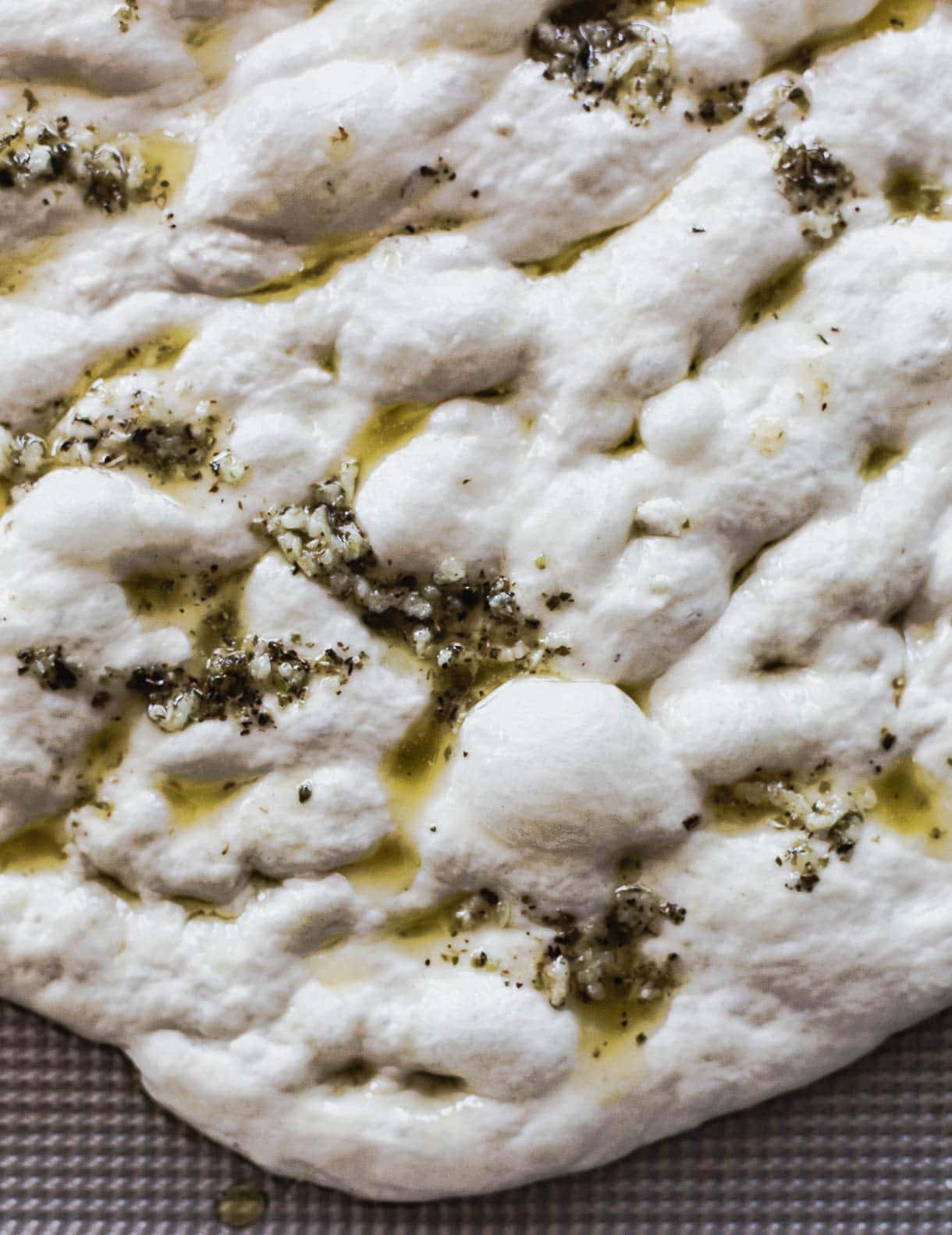 8. Press your fingertips using your whole hand into the risen dough. Your fingertips should go all the way down through the dough, hitting the pan
9. Drizzle melted butter mixture over the dough and lightly help distribute with a brush.
10. Put pan in oven on middle rack and bake for 20 minutes. Turn oven down to 350 degrees F and bake for another 15 minutes, until crust is golden brown and bounces back slightly when you press down on it. Let cool for 15 minutes and eat.
And there you have it! Garlic butter sourdough focaccia that will fill your house with the most tempting smells, and your mouth with bread heaven. Soft and chewy, the texture is undeniably a favorite, along with the sourdough flavor thanks to the lengthy bulk fermentation. And I just love the irregular holes throughout. I like to eat this focaccia as simple as it gets – dipped in olive oil, or spread with ricotta and sprinkled with salt and lemon zest. Hope you enjoy it too!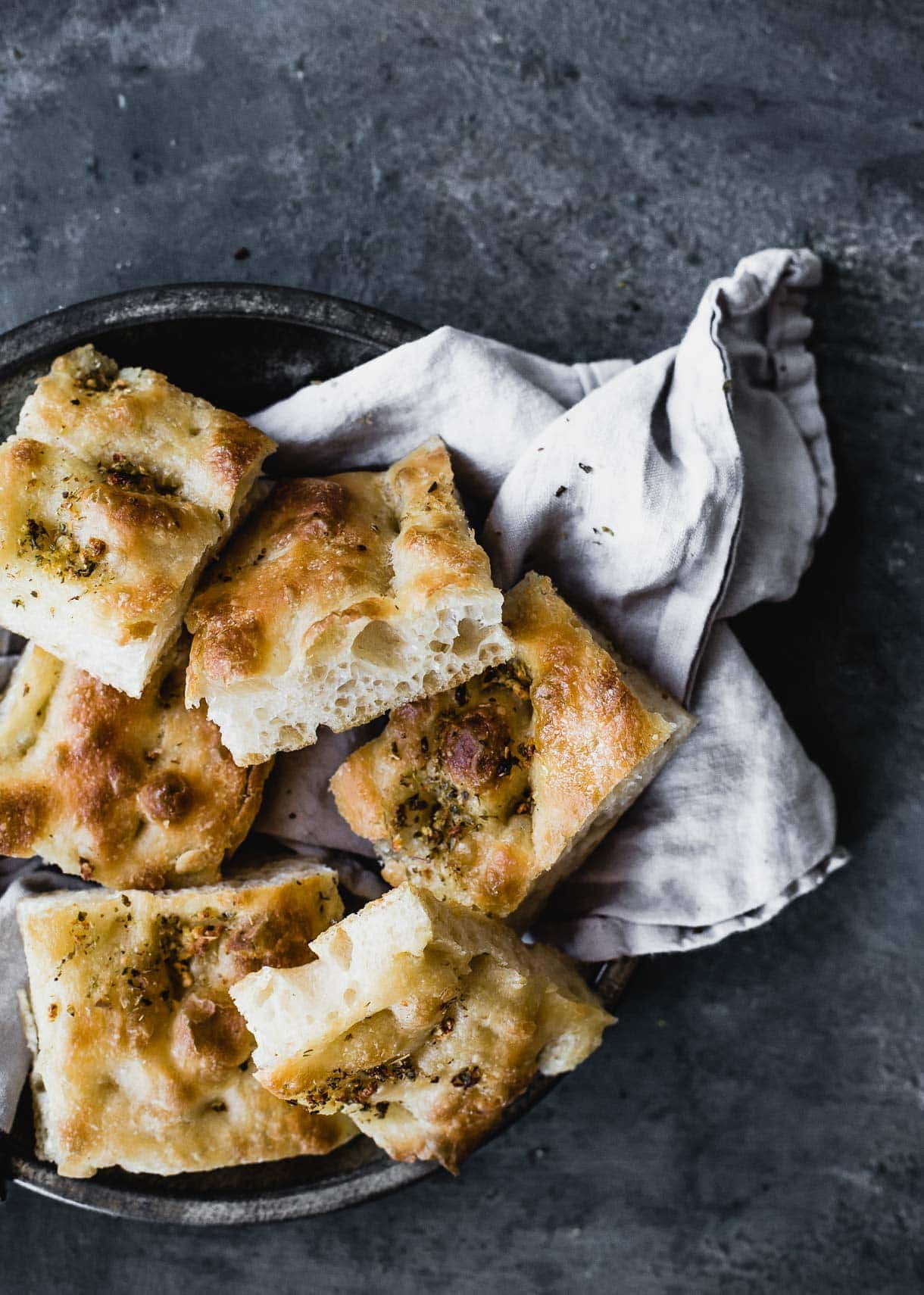 Xo,
Amanda

How to Make Sourdough Focaccia Bread
Yield: 1 large loaf

Prep Time: 2 hours

Cook Time: 35 minutes

Wait Time: 15 hours 25 minutes

Total Time: 18 hours

A delicious recipe for bubbly sourdough focaccia bread.
Ingredients
180 grams active starter
313 grams cool water
1/2 tablespoon honey
1 1/2 teaspoons fine sea salt
1 1/2 tablespoons olive oil, divided
445 grams all-purpose flour (preferably King Arthur brand)
Instructions
Follow instructions above for making sourdough focaccia.
The final step before baking is drizzling with this butter mixture: 2 tablespoons melted butter, 2 cloves minced garlic, and 1 teaspoon dried oregano.
Focaccia is best eaten the day it is made, but when stored in a plastic Ziploc bag, will last for two more days. Lightly warm in toaster when eating after first day.