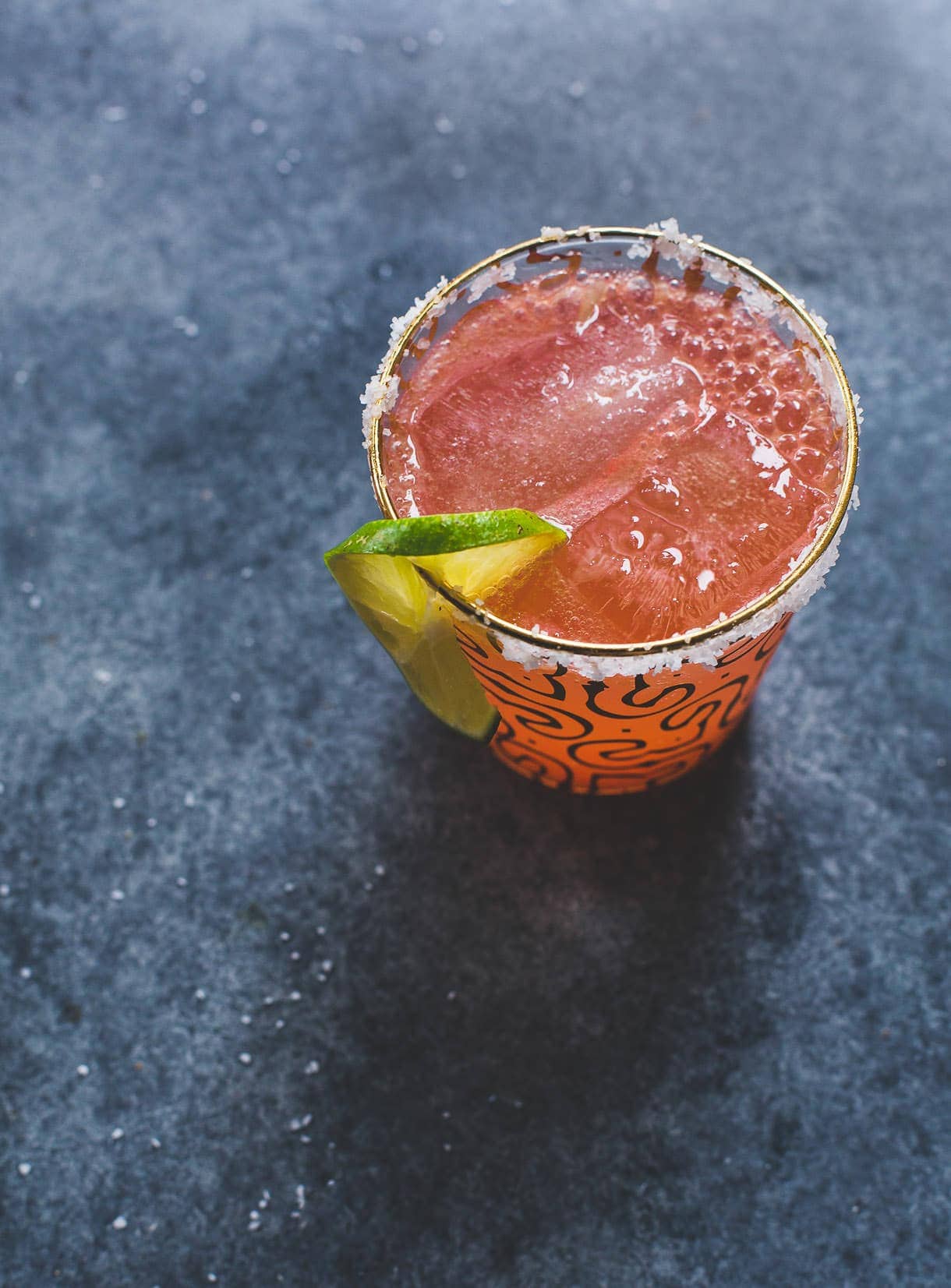 You know those sweltering, sun beating down, summer days……. where the wind just blows more hot air, and your clothes sticks to every inch that's covered? And you're so thirsty you just need something, anything to drink, stat. And what winds up in your hand is a glass of wine, cocktail, or beer, and it's gone in minutes. Like someone literally put a hole in the bottom of it because the icy, cold profile was just what your body was looking for.
Or so you thought. And you quickly realize you shouldn't have lifted your glass so fast.
I've been avoiding that situation this summer with my love for shrub elixir's, ignited by Sherrie's magic at the final dinner of our Boss Babe Fest. As the sun set, we stirred up a slew of fauxtail's together, using the shrubs & syrups she had made, plus literally every flavor of La Croix sparkling water (our sponsor for the night) as our mixers. As we taste tested each other's concoctions, there was one consensus: these fruity, refreshing, barely sweet, and tangy drinks were a remedy for the heat.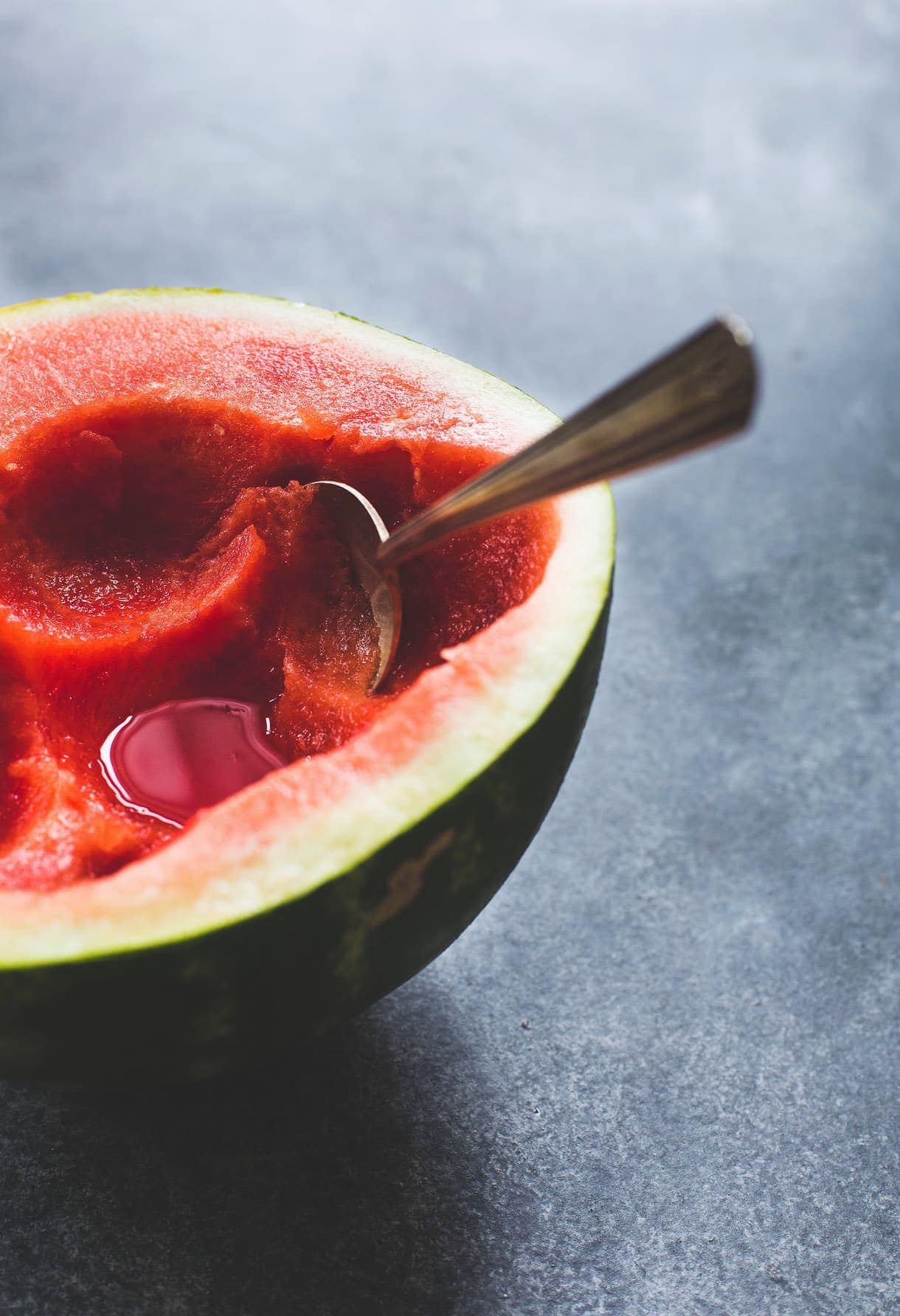 Maybe you've heard of shrubs or switchels: vinegar-based fruit drinks that were popular years ago, during the long days of harvesting, to refuel. Today they're gaining popularity as fermenting and preserving have gone through a rebirth. What makes them hydrating is the vinegar and sweetener, maple syrup in this case – sending electrolytes through the veins like real food "sports drinks". They aren't difficult to make, just letting the blended fruit soak with the vinegar and maple to coax out all the flavor. After at least four hours, up to a few days, you'll strain it, and the juice is your shrub.
With a half a watermelon sitting in my refrigerator taking up valuable real estate, I decided to go the shrub route, and create a play on a favorite cocktail of mine, The Greyhound. Typically made with grapefruit juice, I love it's tart tang, with a hint of sweet, and a salty rim that pairs so, so well. It's key to waking up flavors, creating balance, and giving it the edge that makes you take one more drink.
The apple cider tang of a shrub mimics the puckery grapefruit, along with fresh lime juice & lime La Croix for brightness. The watermelon brings the summer, like citrus brings the winter.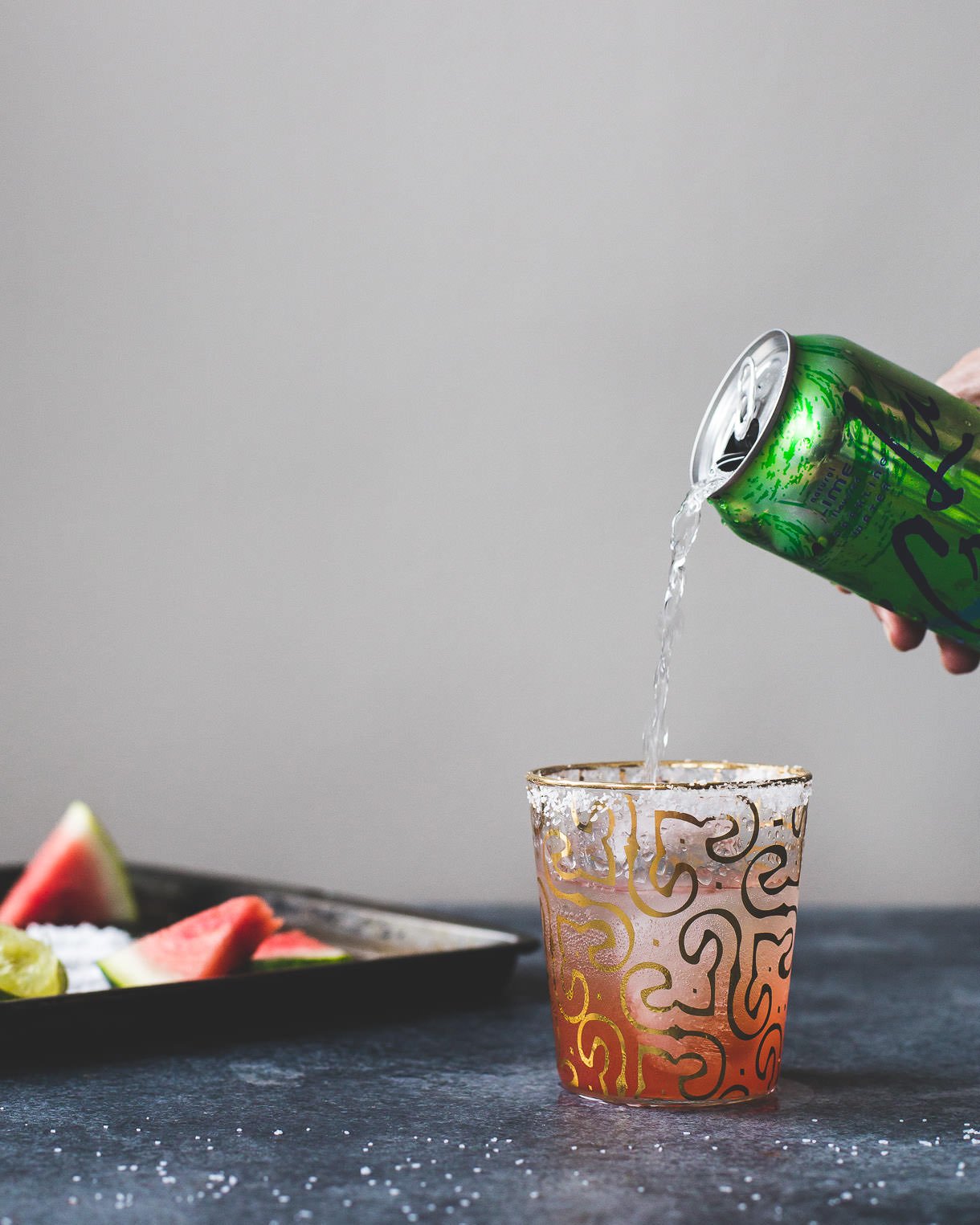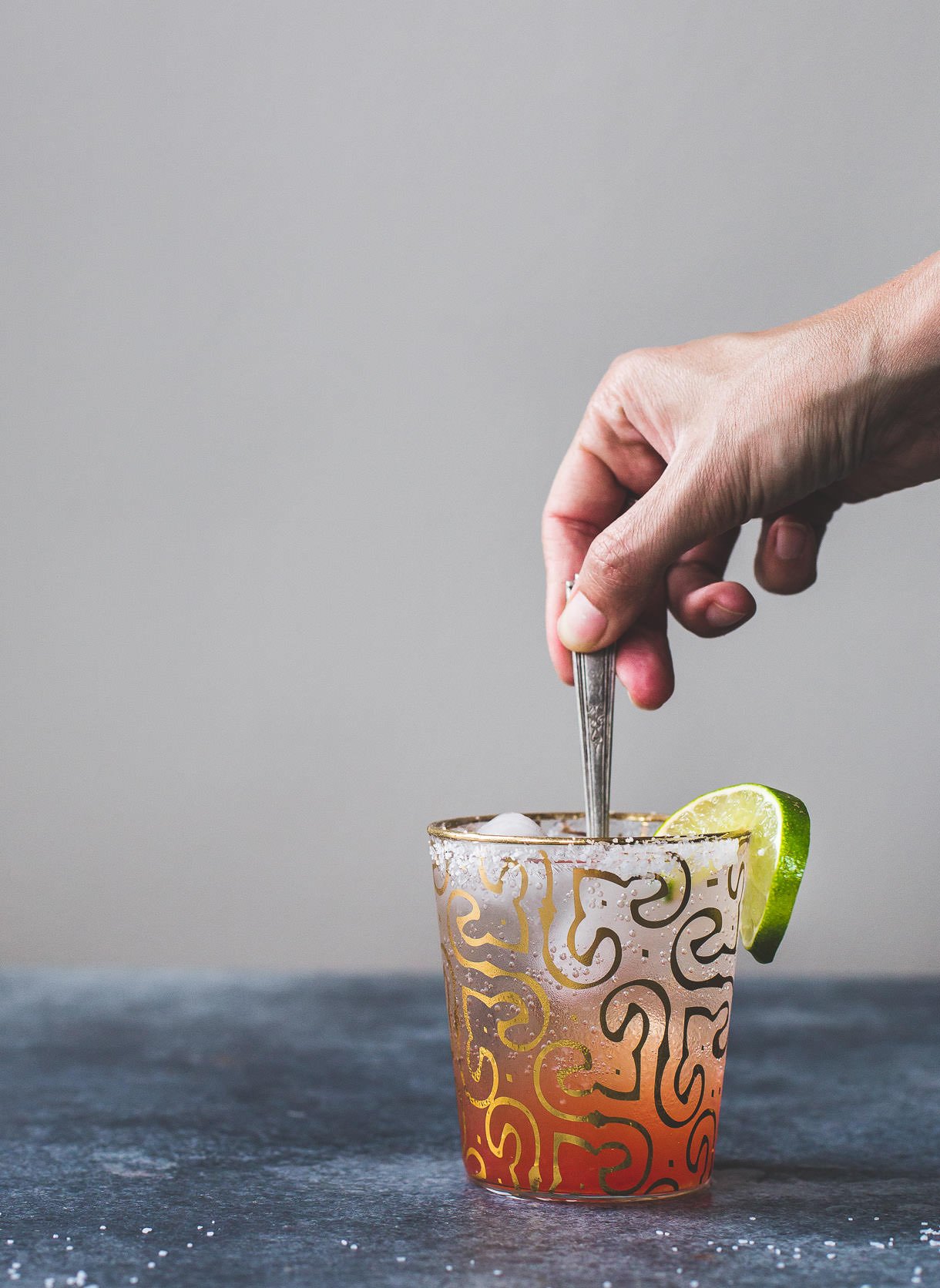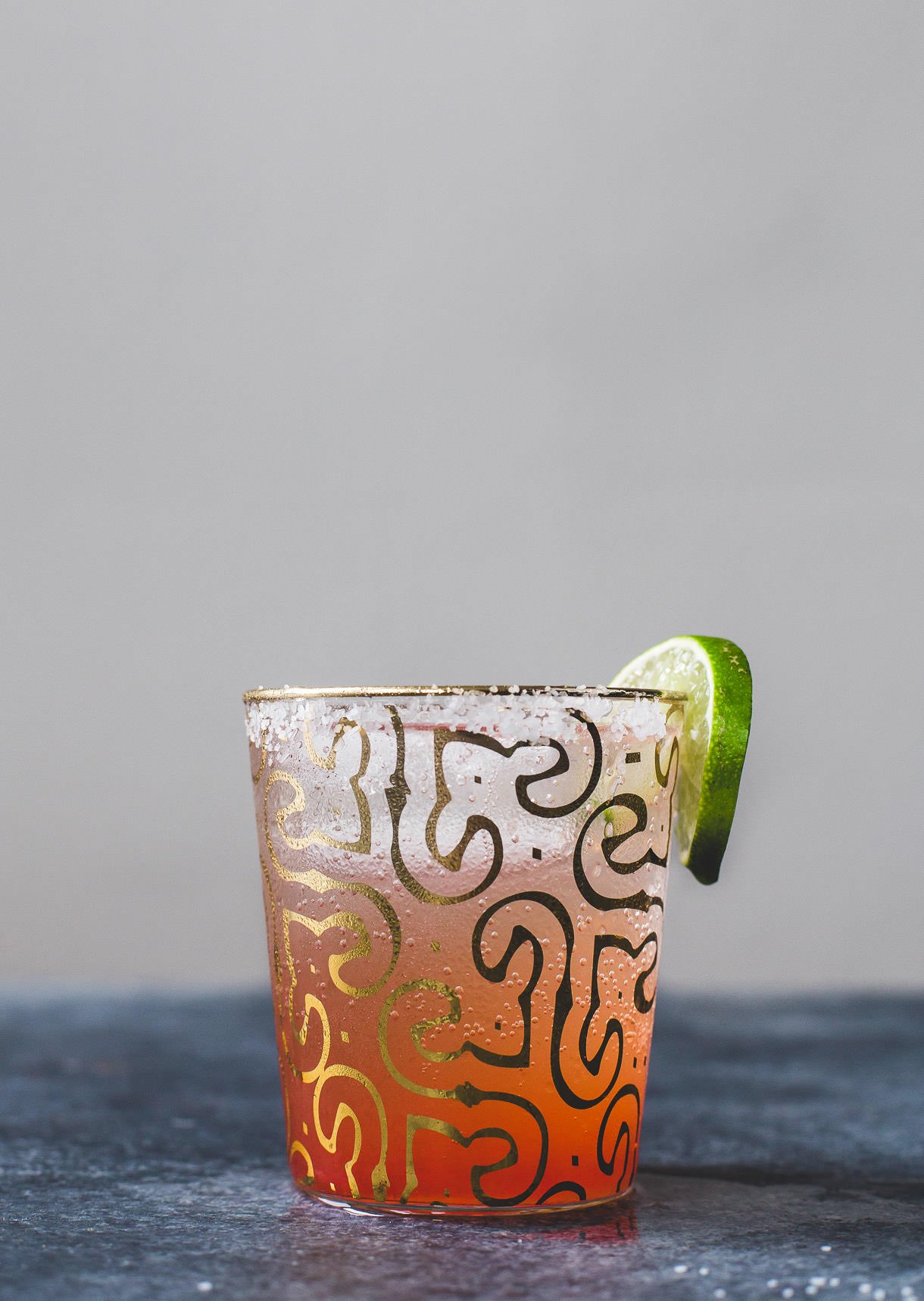 As the seasons change you can switch up the variety of shrub you make, according to the freshest fruit you can get your hands on. Last year I made this Apple Shrub, that is shoe-in for a spiced hot toddy. But right now….. #DRINKTHESUMMER! That's what's going on around the interwebs today, organized by With Food and Love, spreading the love for all the fresh and bright juiciness that is summer beverages. You can check out a full list of all the recipes and super cool gals creating them HERE. xo
Salty Watermelon Shrub Elixir
Recipe Type
:
paleo, vegan
Author:
Prep time:
Cook time:
Total time:
Shrub syrup recipe adapted from [url href="http://www.athoughtforfood.net/blog/watermelon-shrub-spritzer-cocktail" target="_blank"]this recipe[/url]. Will keep for one month in the refrigerator.
3 cups of fresh watermelon juice (simply puree watermelon in blender until you have 3 cups)
1/2 cup + 1 tablespoon apple cider vinegar
1/4 cup + 1 tablespoon maple syrup
For elixir:
coarse [url href="http://amzn.to/2bgNR3v" target="_blank" rel="nofollow"]Kosher Salt[/url]
2 parts shrub syrup
1 part lime juice
2 parts [url href="http://amzn.to/2bU8tTK" target="_blank" rel="nofollow"]La Croix Lime sparkling water[/url]
2 ice cubes
Blend watermelon until pureed. Then stir in apple cider vinegar and maple syrup, for about 30 seconds to fully combine. Let sit for at least 4 hours in the refrigerator, up to 2 days.
Then use a fine strainer to let the mixture separate, pushing down just a little on the fruit. Be gentle.
Keep the syrup, discard the pulp.
To make an elixir, put a circle of salt on a sheet pan or plate. Dip in water, or press with wet lime slices, and spin glass rim in salt. Gently put two ice cubes in a glass. Pour shrub and lime juice over the top. Then finish with the sparkling water. Stir with spoon. Add lime twist for garnish.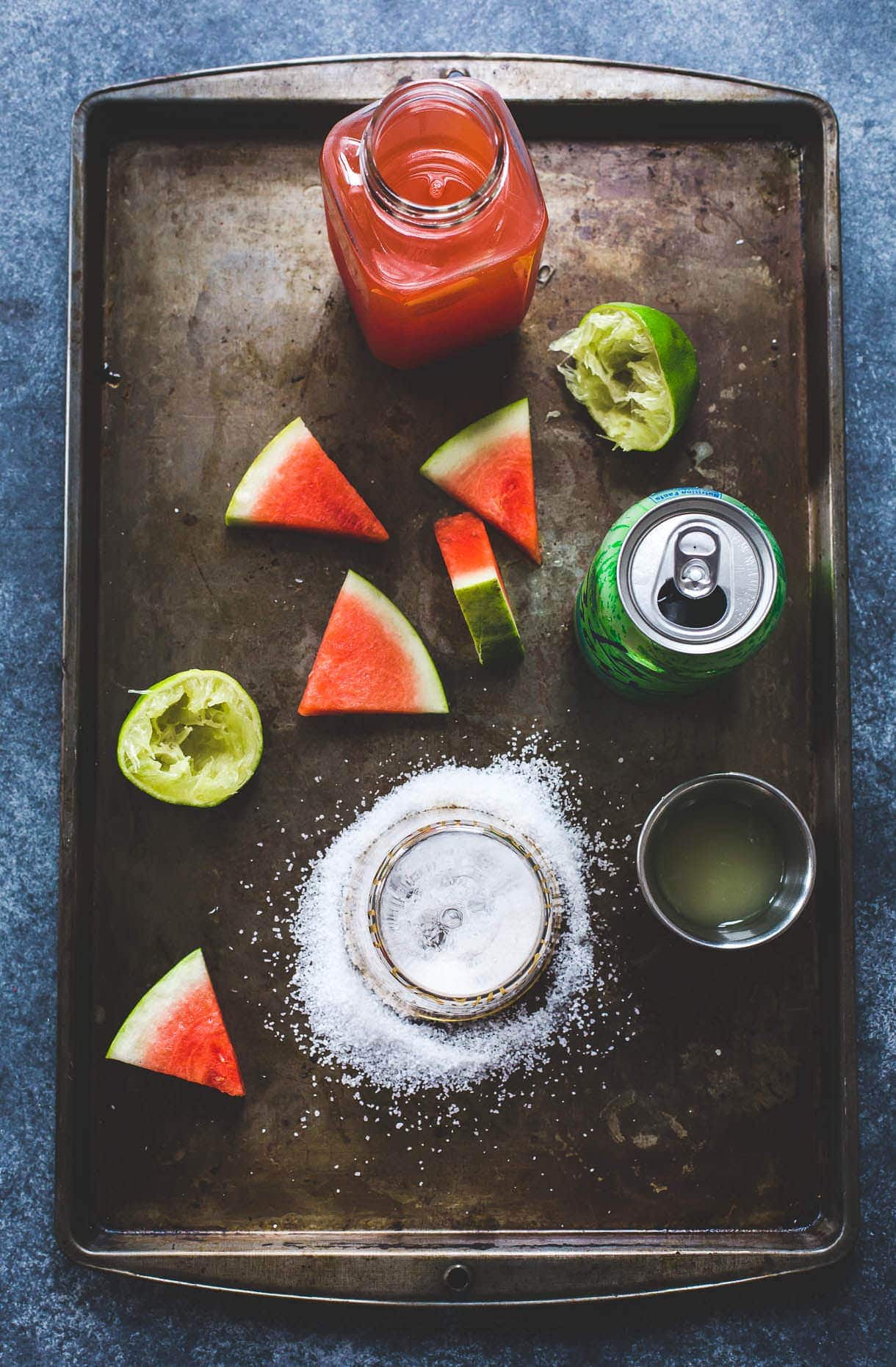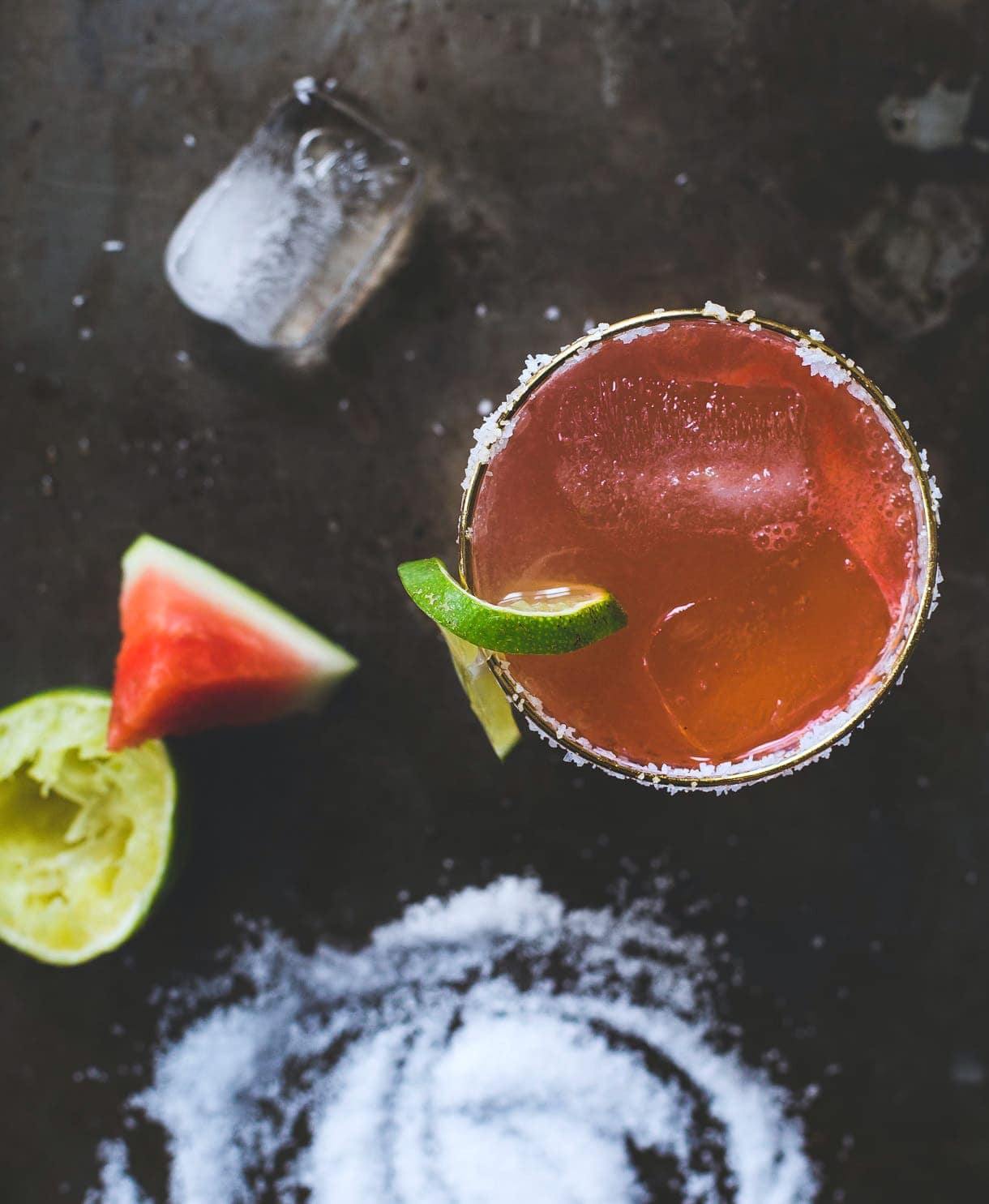 This post is in partnership with LaCroix Water, all opinions are my own. Amazon affiliates are included, which I may make a small commission from should you purchase.