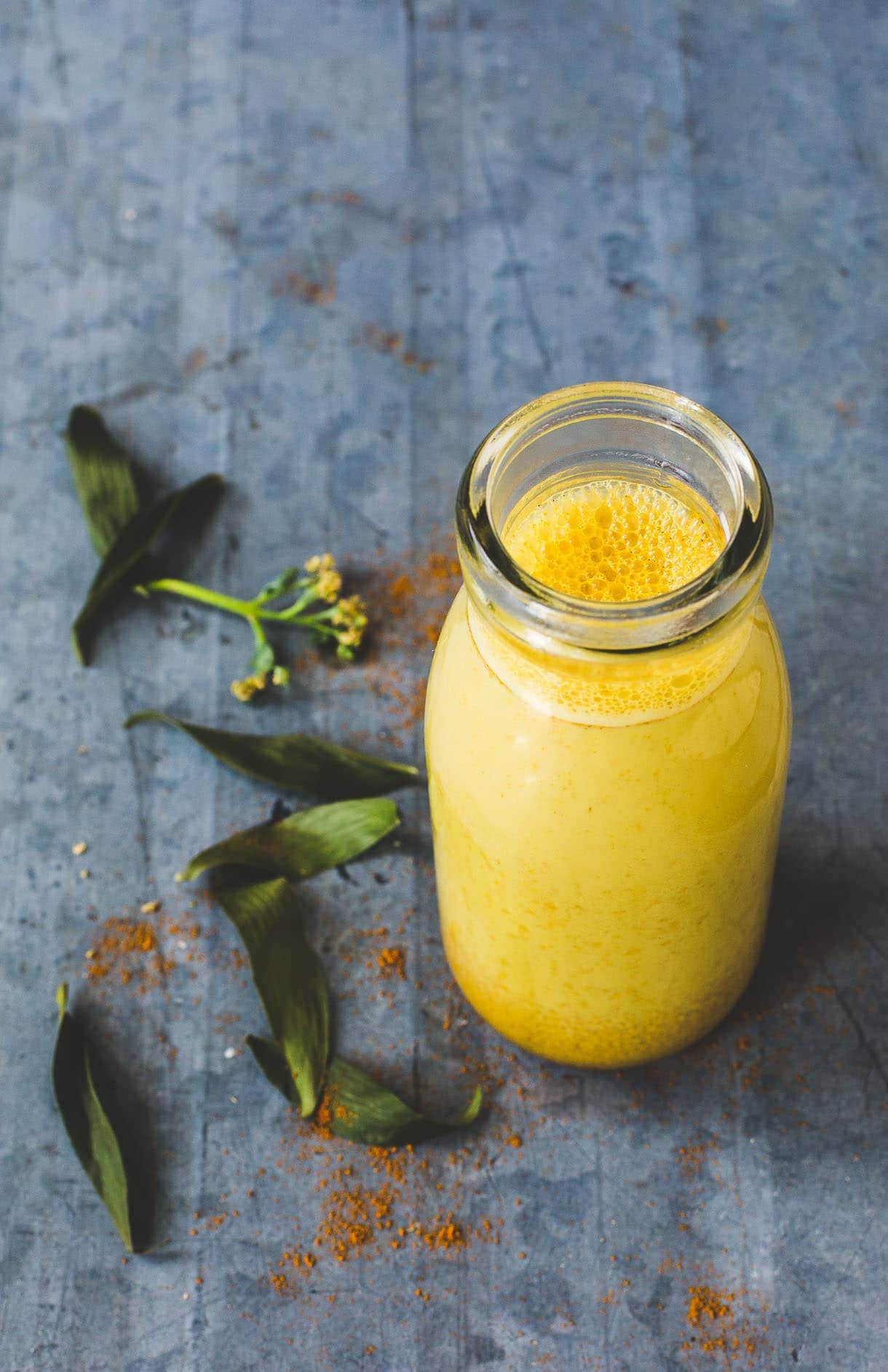 When media gets hooked on a food trend, they have a tendency to feature it day in and day out. Kind of like when a radio station plays that popular song every 3 hours…… Hence the reason you've probably heard you should be adding turmeric to your every day, or that acai berries should replace blueberries in your smoothies because of their high antioxidant properties.*
And although I sometimes get tired of hearing about these "new" foods, the buzz works to introduce us to things that can benefit our health we may never have tried otherwise. But I'm also a firm believer in understanding in order to embrace. Hearing about it is good for awareness, but for me to make it part of my life, I need to learn the how/what/why.
So today, let's talk details about turmeric, and end with a recipe for this cooling and restorative Chilled Golden Milk. If you've eaten at an Indian restaurant, it was probably in your curry dish, the spice that gave it that beautiful yellow hue and subtle earthy undertone. Not only a cooking ingredient, it has been used in other cultures as a healing remedy for years, and because of its rich golden color, used as a natural textile dye and food coloring.
What kind of plant is it? Turmeric is a small root that looks similar to ginger on the outside with it's thin, brown skin, that is traced back to Chinese and Indian medicine. Not only does turmeric get its fame from its health benefits, but also the rich-yellow orange pigment it bleeds, called curcumin.
Where is it grown? This auspicious plant thrives in tropical areas. A relative to ginger, it needs ample rainfall, and very warm temperatures. Since turmeric grows best in tropical areas, it is not easy to find US grown organic varieties. However, my partner MegaFood stumbled upon family owned Kauai Organic Farms, on the North Shore of the island of Kauai. Phil and Linda, the husband and wife who own and manage the farm, are lucky enough to farm in Hawaii and watch beautiful sunsets over their fields at the end of each day.
What does turmeric taste like?
The flavor profile of turmeric is earthy, warm, slightly peppery, and sometimes a bit bitter if too much is used. On the nose, it is very fragrant.
What are the health benefits of turmeric?
Turmeric use has skyrocketed in the last decade, primarily as a result of the current understanding of its key role in maintaining a healthy whole body inflammation response. This is from the primary compound in the turmeric plant, called curcumin. It also supports your body's ability to respond in a healthy manner to mental and physical stress. Think of it in terms of nourishing, protecting, and strengthening.*
How can we easily add turmeric it to our daily lives? The beauty of turmeric is that because it's so nutrient dense, a little goes a long way. But one very important note: you must take it in coordination with a healthy fat for it to be absorbed into your bloodstream.
And for maximum nutrient boost, you'll want to have black pepper in the mix too. Without getting too complicated, the piperine in black pepper highly increases the bioavailability of curcumin. So they're kind of like a team, running on all cylinders when used together.
Hence the reason curry powder always includes these two ingredients. And the reason this vegan Chilled Turmeric Golden Milk works so well. I absolutely love making it with homemade nut milks because of their natural sweetness, healthy fats, and real ingredients (compared to store-bought, which are full of preservatives and gums).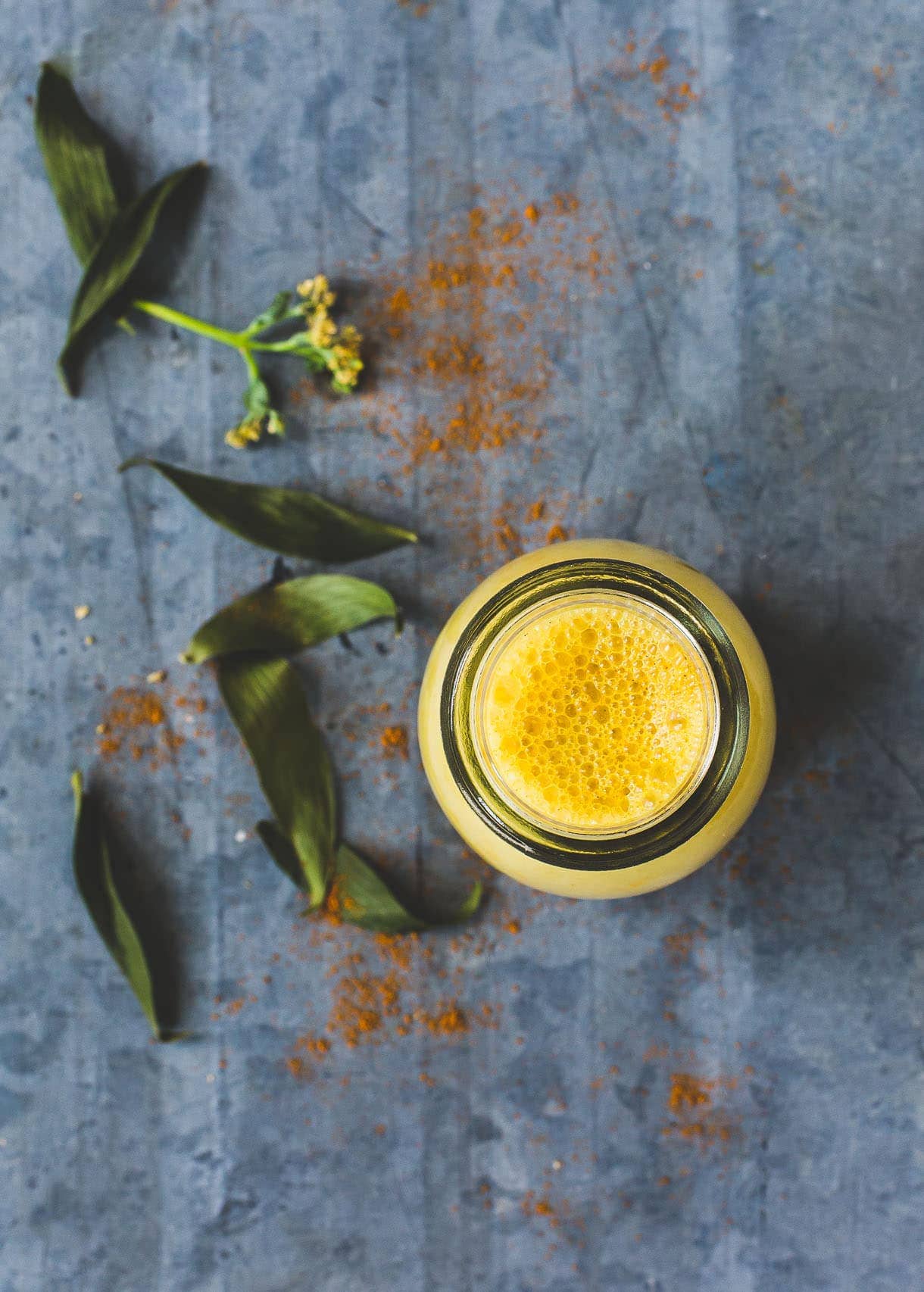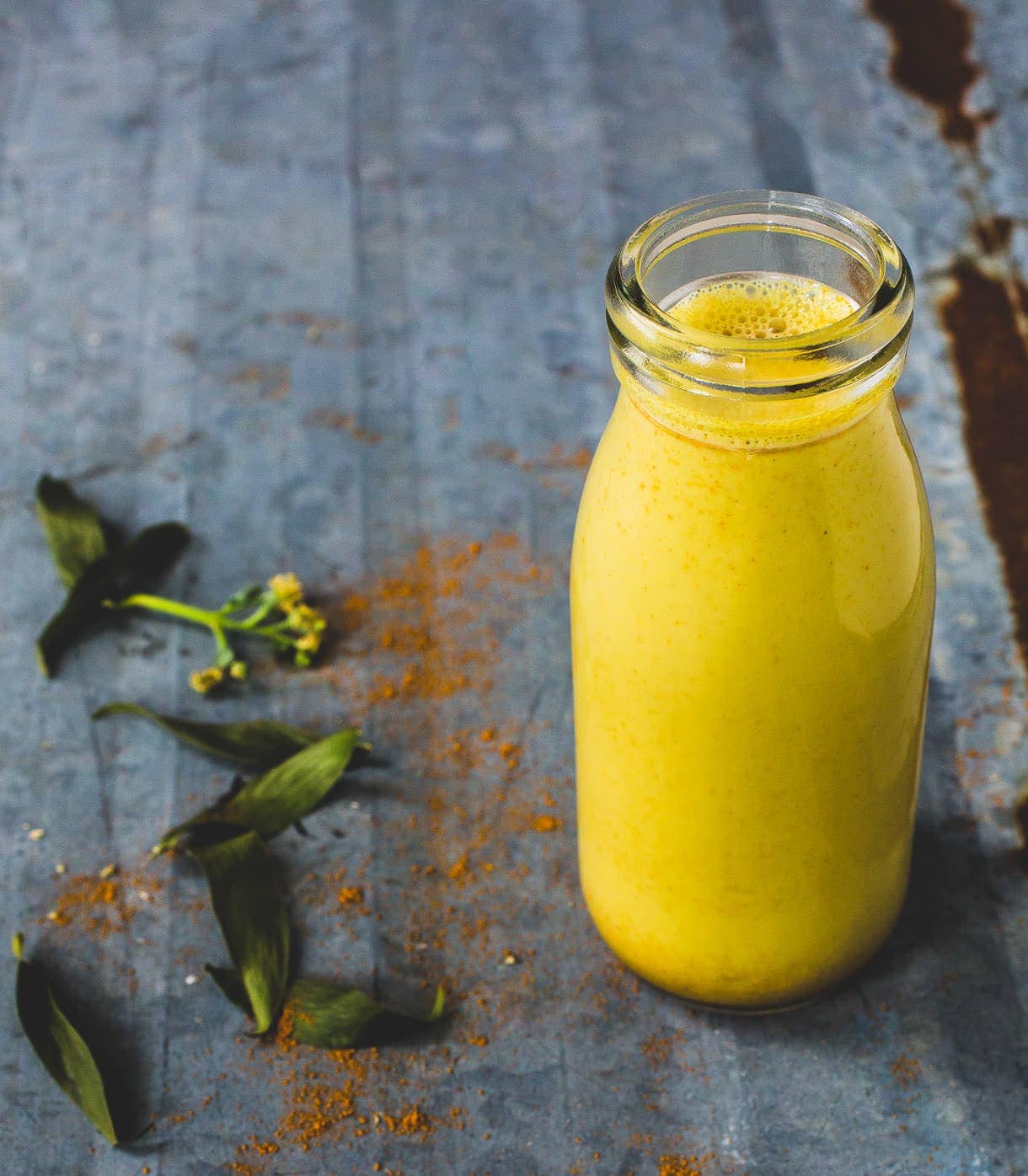 This week I had made almond-walnut milk, sweetened with a few dates. Each morning, I whisked it with MegaFood's Turmeric Booster (made with organic turmeric powder, holy basil leaf, and black pepper extract – that team thing going on!), extra turmeric powder for a blazing golden color, maple syrup, and cinnamon. It tastes incredibly luxurious, yet is full of health.
And that is not a combination you often see together. Rich, yet refreshing, warmly spiced, and a color that will make you fall in love with neutral yellow tones all over again.
A few more of my favorite ways to use turmeric in recipes include:
This crunchy, slightly sweet, umami packed salad
A golden milk hot toddy, for the colder months
A new way with sweet potatoes
Cauliflower rice with a twist
And my ice cream cone is ready for this golden scoop
8

ounces

1 cup cold, plant-based milk (nut or coconut)

1

scoop MegaFood Turmeric Nutrient Booster Powder

(optional)

3/4

teaspoon

turmeric powder

3/4

tablespoon

pure maple syrup

or a little more if you'd like it sweeter

1/8

teaspoon

cinnamon

pinch of black pepper