Fresh pears are roasted with red onion and herbs, caramelizing for even more flavor, then served with delicious halloumi cheese! This is a gluten-free and vegetarian side dish that's a true delight in Fall and Winter.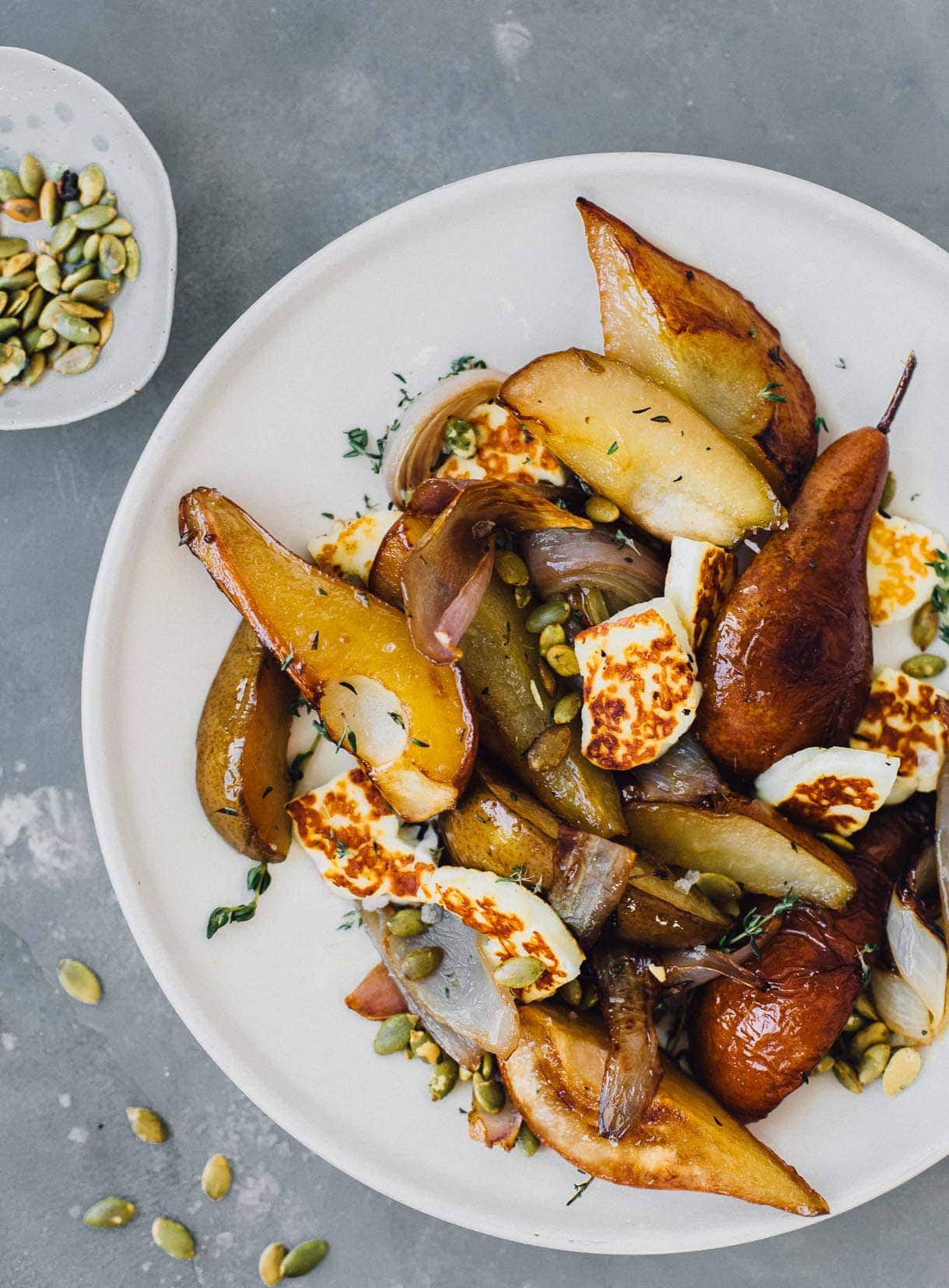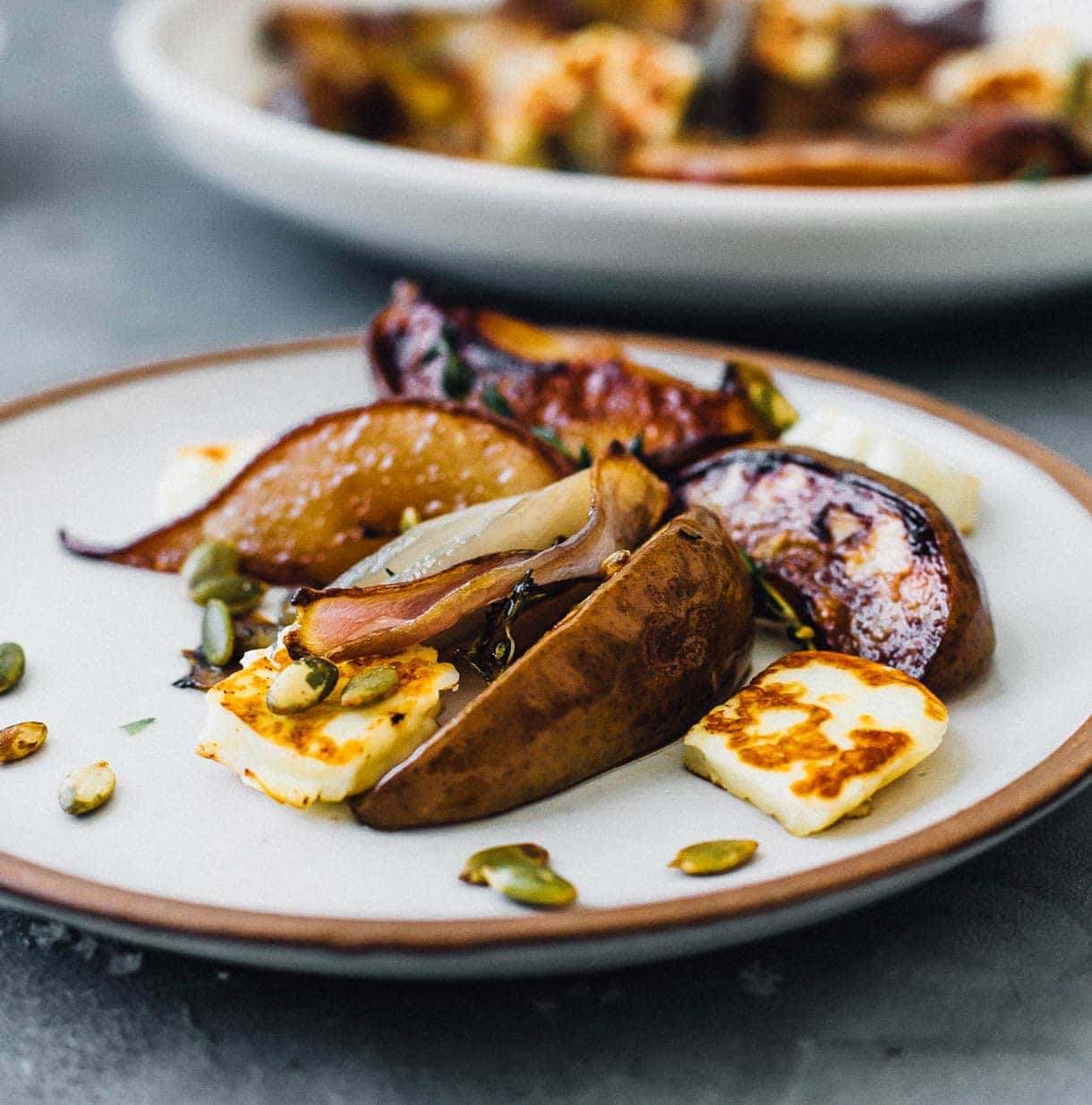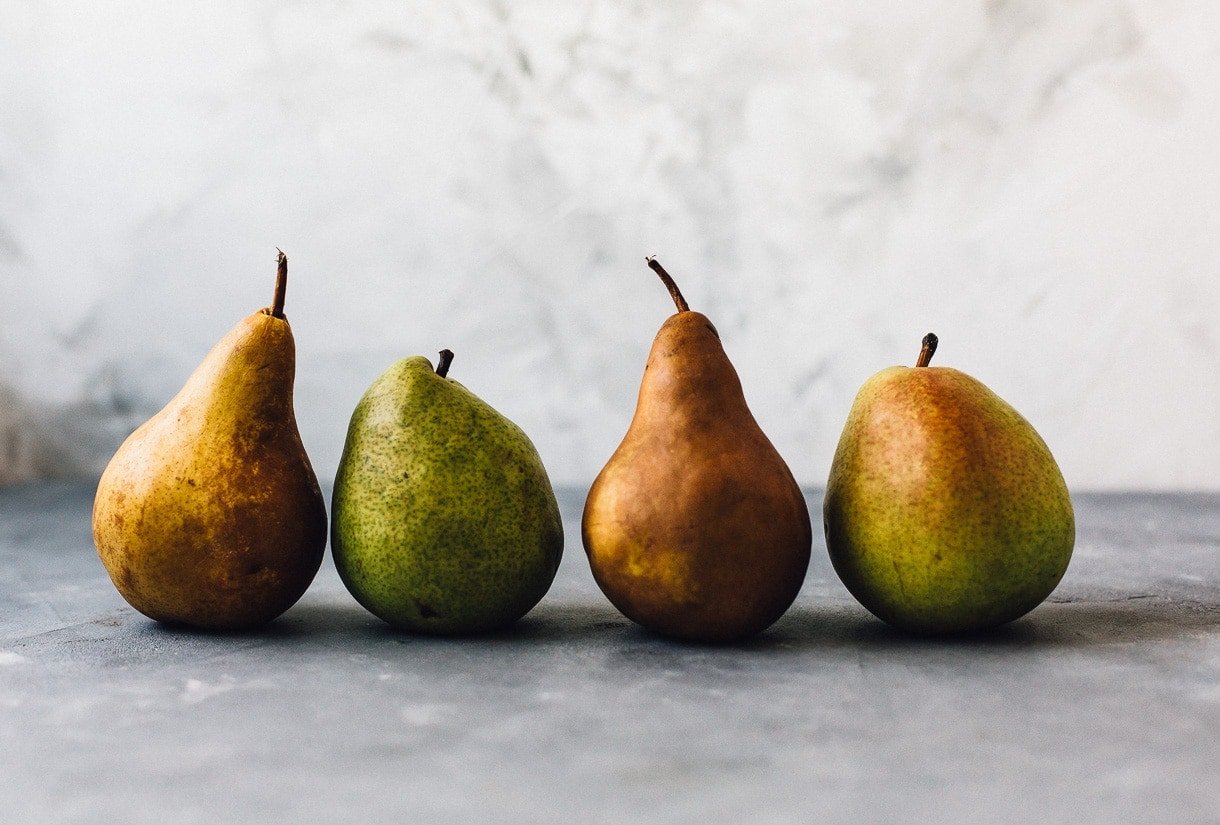 How to Make Pears Savory
I used two different varieties of pears in this caramelized dish, the green Anjou (in season from September to July) and Bosc variety (September to April). Reason being that the two are a little firmer in texture, which I knew would bode well for baking, and in the middle of the pear sweetness range – ideal for a savory dish while still getting some good caramelization.
You'll cut the pears into quarters, and then once more. Into a baking pan they go, with wedges of red onion, olive oil, and thyme sprigs. As they bake, the natural sugars from both the pears and onion are released, and leads to browning – the key to lots of deep flavor.
One other benefit of roasting is that if you didn't quite let your pears fully ripen, they'll still turn out beautifully in this recipe because the heat will soften them and bring out their gusto.
*note: I leave the skins on because they contain the majority of the fiber found in pears, a leading fruit source of this nutritional component. A medium-sized pear packs 6 grams of fiber, which equals about 24% of the recommended daily value!
What does halloumi cheese taste like?
I can't get enough of this salty, springy, firm, and versatile brined cheese. Its high melting point makes pan-frying or grilling, the preferred method of cooking. It also tastes best this way!
The saltiness fades into a strong, savory bite and the texture becomes soft. (You can find halloumi in most grocery stores, near the soft melting cheeses. Even Trader Joe's carries it.)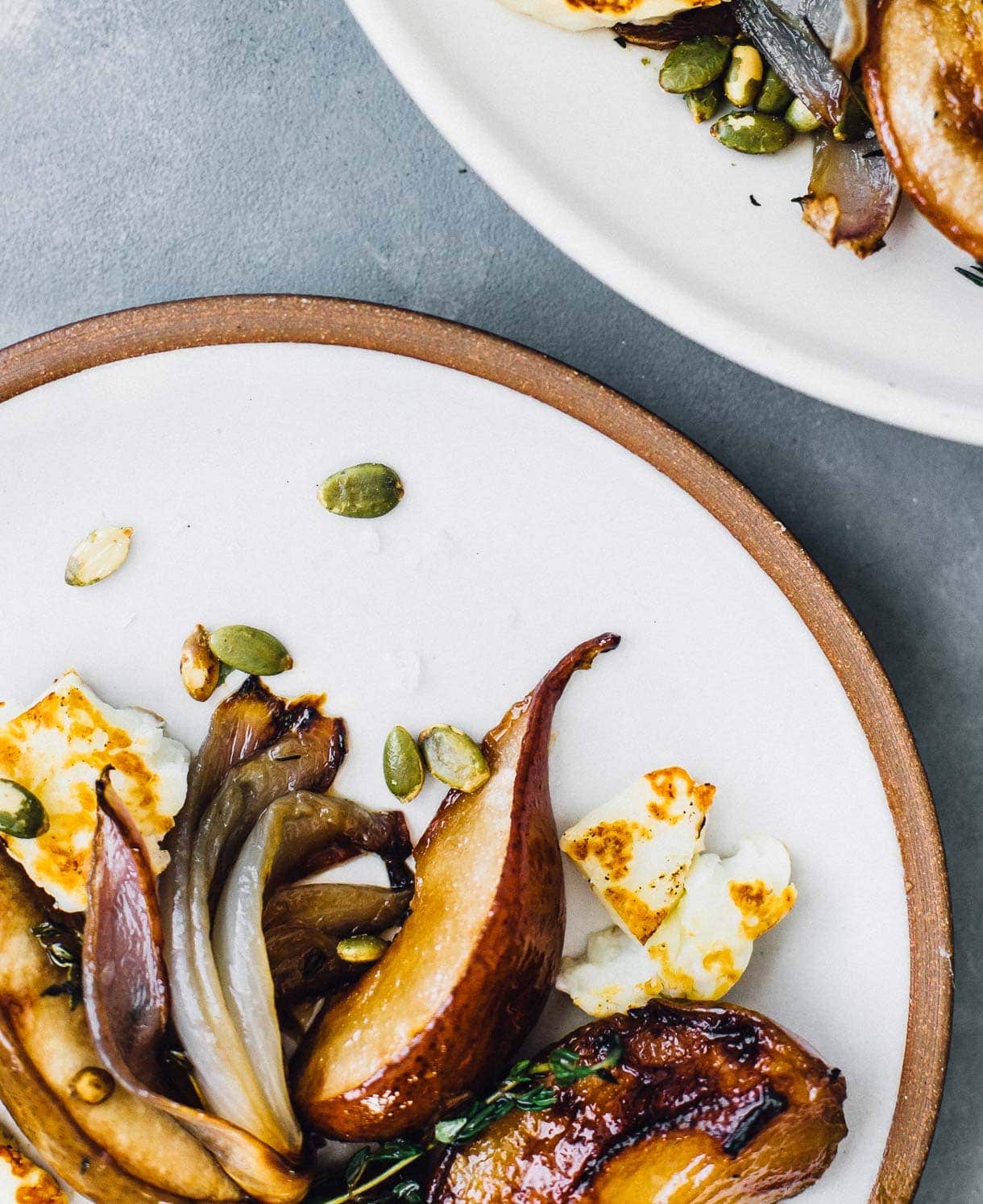 This side dish has it all.
Savory, salty, and sweet.
Creamy with a bit of crunch from toasted pepita seeds.
Minimal effort. Maximum goodness!
More Pear Recipes: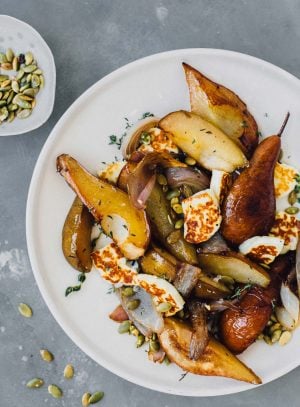 3

medium sized green Anjou or Bosc pears,

cut in half vertically, seeds removed

1

medium red onion,

cut in wedges

4

sprigs fresh thyme

1/4

teaspoon

fine sea salt

3

tablespoons

olive oil

1 1/2

tablespoons

maple syrup

6

ounces

halloumi cheese,

cut into 1/2 inch thick slices

1/4

cup

toasted pepita seeds
Preheat oven to 340 degrees F.

Take pear halves and cut vertically into quarters. If they are quite large, halve again vertically. Place in a 9×13 baking pan, along with the wedges of red onion. Add thyme, and sprinkle salt over everything. Pour olive oil and maple syrup over everything, and gently toss with hands to coat all.

Bake for 25 minutes, then turn ingredients over. Bake for another 20 minutes, until ingredients are browned and caramelized. Remove from oven, and discard thyme sprigs.

Heat a non-stick skillet to medium high. Add slices of halloumi and cook for 1-2 minutes on each side, until browned and soft.

Add halloumi to pan and toss with other ingredients. Empty onto a serving plate, and toss with toasted pepita seeds. Serve.

Leftovers will keep in the refrigerator for up to 3 days.