I feel most calm when things are simple and clutter-free, yet my bedroom never equated to those attributes. Mismatched furniture, kitschy bedding, terrible lighting, color issues, and zero organization. At 35 years old and after a move, I was ready to change that. ☺️
We're settling into our home, one room at a time. First we tackled the living room, and next were the bedrooms. We did not bring a single thing from our old bedrooms with us, so we literally started from a blank slate, which was welcomed.
Okay, so how does one exactly go about creating a minimalist bedroom? Today I'll walk you through how I designed a space that:
Feels very zen at night, but enlivens me during the day.
One that avoids clutter, but isn't stale and boring.
Open space: a bare wall is not okay! In fact, having plenty of open space helps keeps streamlined and unfussy.
Captures my personality.
Is cozy and inviting, yet very simple.
Let's get to it! Here's the before……
And the after…..
Wall Color
When we moved in, the wall color in this bedroom was a brownish yellow, depending on the light. I had my heart set on painting the walls white to set a clean, serene tone, and allow other elements of the room taking center stage with their color. For a white paint color that is truly white, I highly recommend "Pure White" from Sherwin Williams. It's what we used in our kitchen renovation too.
Bed
Humans spend more time in bed than anywhere else, which means loving everything about it is is SO important. The obvious place to start is with a supportive mattress, of which I went with the LuxeAdapt from Tempurpedic, in firm. I've never slept better. Truly. You can read more about my thoughts, here.
I loved the low profile, unique plank patterns, and natural knots in this Dondra Teak Bed Frame, from CB2. The sustainable planks are actually reclaimed from homes no longer in use in India, which are hand-planed. Very impressed with the quality of this frame!
It seems like appreciating bedding is another part of adulthood. Am I right? Bokser Home (a Minneapolis company!) makes luxury bedding at affordable prices, with responsible sourcing. Their French Linen Duvet Covers are so beautiful, and the blush pink color was a perfect fit for the room. I kept it simple with white percale sheets.
You'll love percale fabric if:
You like your bed linens to feel cool and crisp to the hand.
You like a light, matte finish for a relaxed look.
You get hot at night. Percale is light weight, breathable and cool.
And perhaps my favorite addition, the cotton sweater knit blanket that literally feels like a cozy sweatshirt. It's heavy, which feels super calming, but not too warm.
Lighting
As I've become an adult, I've also learned how important lighting is depending on the room and the mood you are trying to evoke. The white wall color and three large windows are the light throughout the day. And during the early morning hours and late evening, I use lamps as the sole light source, so the room feels zen and quiet, soft and calm. These include:
a. Gold Arched Floor Lamp from Wayfair, in the desk area
b. Matte Black Cylinder Sconce from West Elm, above the Modern White Nightstand from West Elm
c. Nymo Green & Brass Lamp Shade from Ikea, on the dresser
Other Accent Pieces
In a minimalist bedroom, it's all about making an impact with functional accent pieces. It's the little things that can really make a room shine!
Campo Rug, from West Elm: unique textiles in gradient shades of pink, blue, and taupe
Beau Floor Mirror, from Article: the height brings your up around the whole room, and I love the rich wood.
Mid-Century Modern Chest of Drawers, from Wayfair: the contrasting wood colors really make this dresser unique.
Assorted Throw Pillows from Target: brings in more color with golden yellow, pink, and white
Jungle Panther Framed Art Print, from Society 6: my cat loving heart couldn't resist making this the center of the room.
Modern side table, from Target: functional and beautiful, plus a steal of a deal at $50!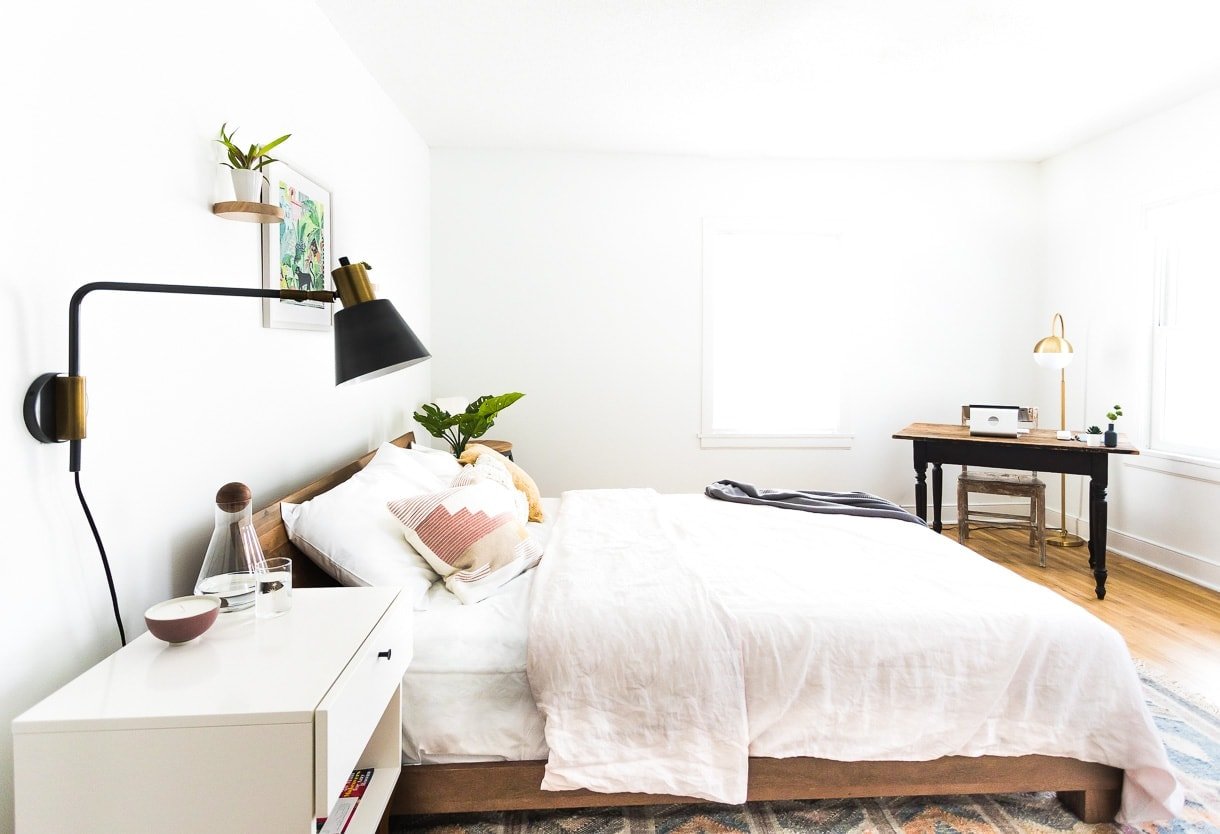 A minimalist bedroom doesn't mean boring, bleak, or lifeless. It can be simple and beautiful! It can be functional.
And it can mean a space you feel your best in. A space to restore, relax, and reflect.
xo,
Amanda