Chewy gluten-free peanut butter cookies with crackled edges and a dark chocolate center. A modern twist on classic peanut butter blossoms! These gluten-free Christmas cookies are easy to make and everyone loves them. No chilling of the dough!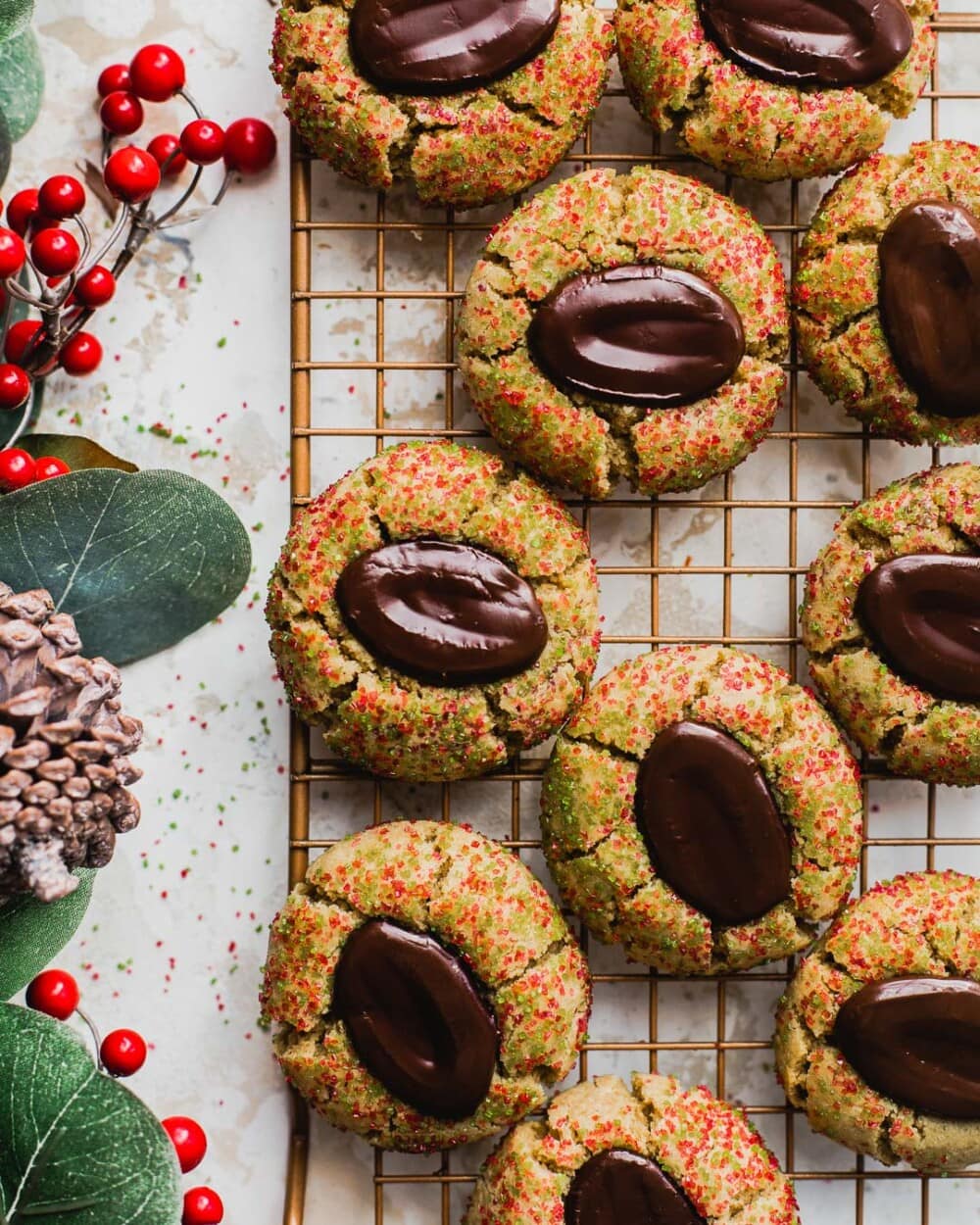 It isn't Christmas without peanut butter blossoms! They'll forever be my first pick from the cookie plate (followed by chocolate peppermint crinkles), enjoyed with a glass of cold milk.
They're the perfect combination of sweet and salty, with crunchy sugar crystals on the outside meeting an intensely peanut butter cookie and melted chocolate center.
I have fond memories of making peanut butter blossoms with my Mom each December, using the classic recipe found on the bag of the Hershey's Kisses bag.
I did a lot of testing to get this gluten-free version as close to the classic as possible. And I'm so happy with the recipe I landed on! Many of the gluten-free peanut butter blossoms floating around the internet are the ever popular flourless 3 ingredient peanut butter cookies with a Hershey's kiss in the middle. And they just aren't the same! They tend to be dry and crumbly, and you don't get the same rise as a traditional peanut butter cookie.
Why these are the best gluten-free peanut butter blossoms
These gluten-free peanut butter blossoms have a chewy, soft center and lovely crackles around the edges, and instead of a milk chocolate kiss I use dark chocolate feves; the perfect complement.
I worked the highest amount of peanut butter into the cookie without sacrificing integrity, so you'll find a whopping 2/3 cup peanut butter in them, which is creamed with butter and both granulated and brown sugar. With that amount of peanut butter (which can dry out a cookie), it was essential to use an egg and a tiny bit of milk to bring the dough together, with a base of Bob's Red Mill 1-1 Gluten-Free All Purpose Flour.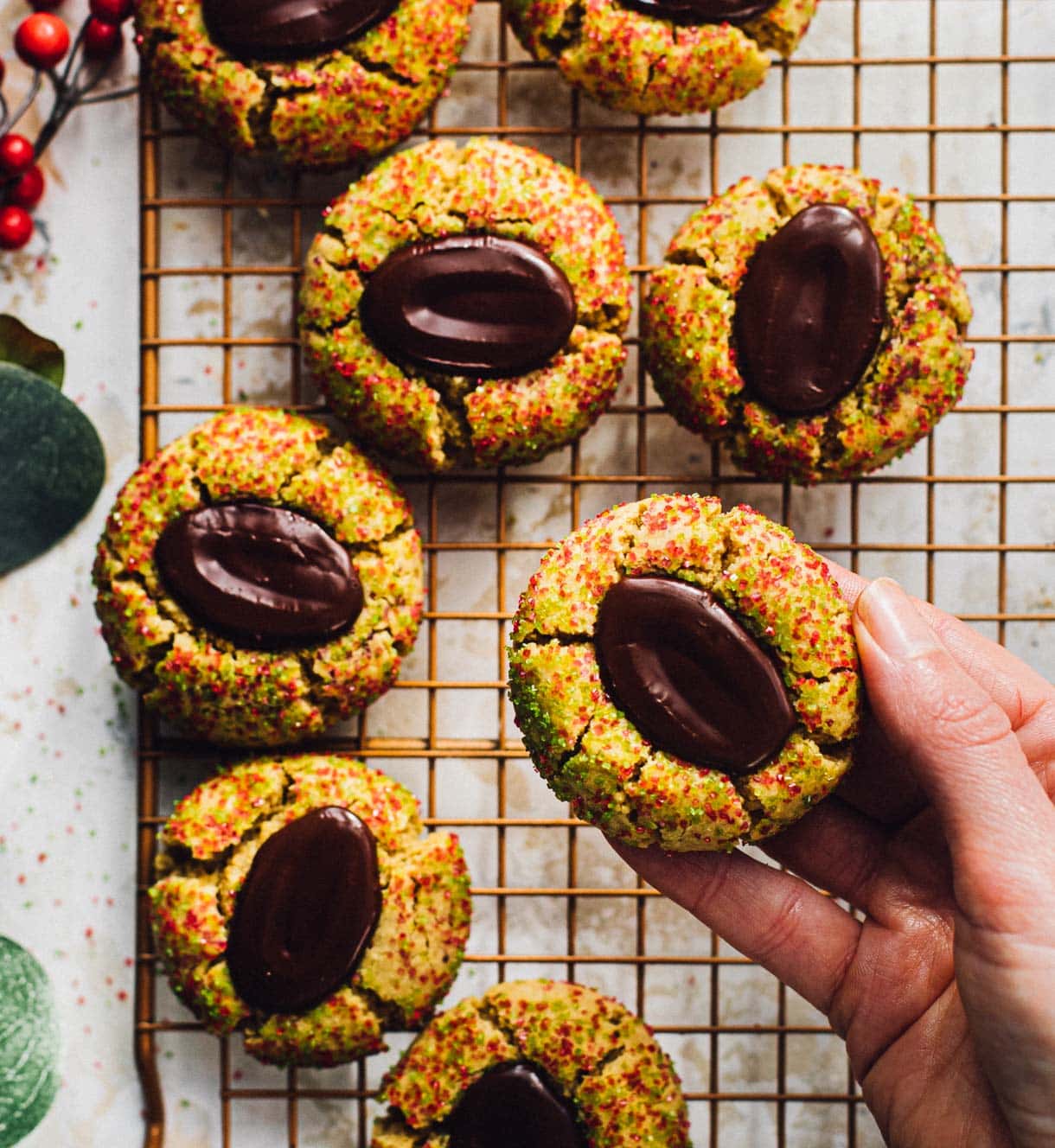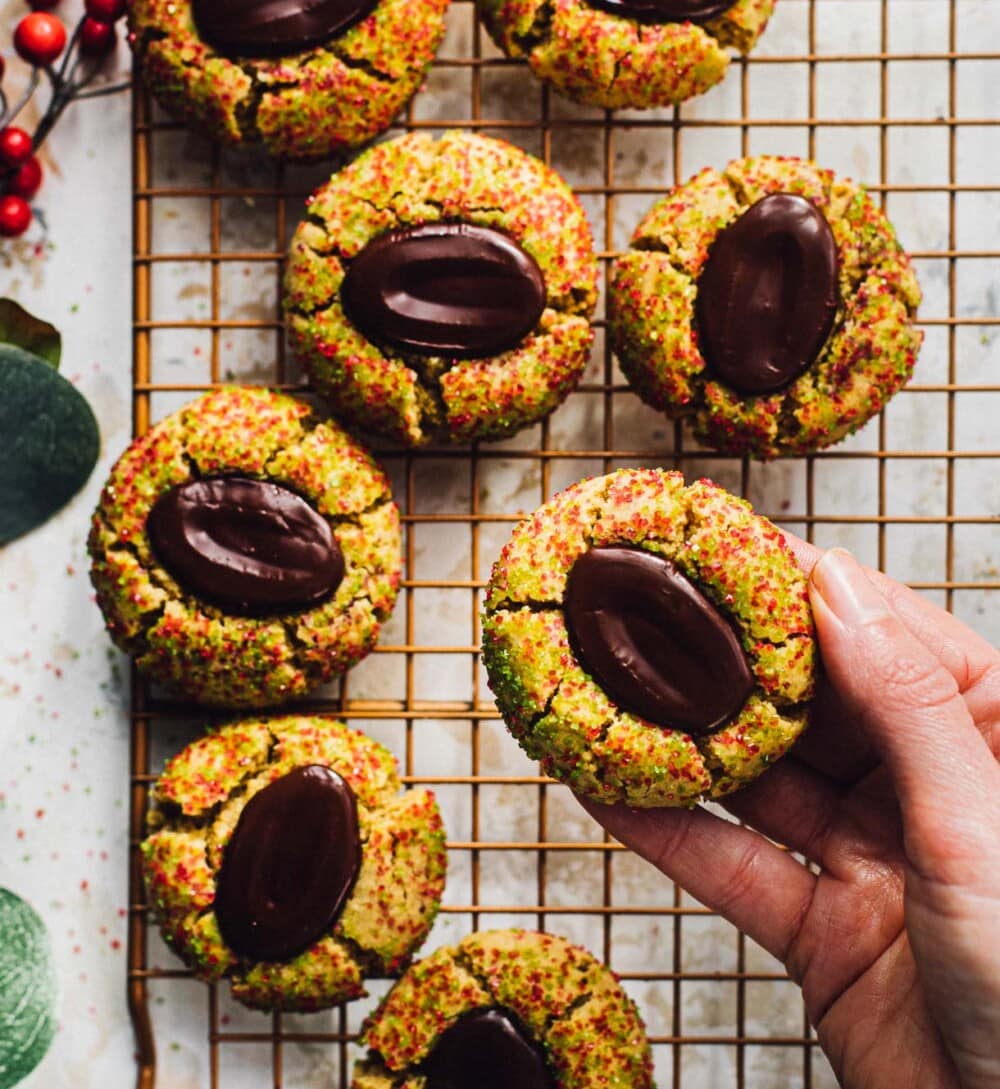 How to Make Gluten-Free Peanut Butter Blossoms
Cream together butter, peanut butter, and sugars for 2-3 minutes, until lighter in color and fluffier in texture.
Add egg, vanilla, and milk. Mix until just combined.
Gradually add dry flour mixture until no streaks remain. Pull together dough with your hands. Cover dough and let sit on counter for 20 minutes while oven preheats to 350 degrees F.
Make 1 inch dough balls with your hands or a cookie scoop, and roll in decorating sugar. Bake for 9-10 minutes.
Gently press chocolate into the middle of each cookie, and return to oven for 2 minutes.
Where did the peanut blossom cookie originate?
This traditional American cookies originates in Ohio. According to the Pittsburgh Gazette, "Mrs. Freda F. Smith of Gibsonburg, Ohio, developed Peanut Blossoms for the ninth Grand National Pillsbury Bake-Off competition, a contest founded by the Pillsbury Co. in 1949 as a marketing strategy for its flagship product, Pillsbury Best Family Flour. Mrs. Smith's recipe had been chosen as one of the 100 finalists to compete in the Bake-Off in 1957, but her Peanut Blossoms failed to clinch the grand prize. Peanut Blossoms have since appeared on nearly every kitchen table in America."
Later, Hershey company sensed a promotional opportunity and printed Mrs. Smith's recipe on bags of Hershey's Kisses, introducing Peanut Blossoms to millions.
Can you freeze the cookie dough?
Yes, you can freeze the peanut butter cookie dough once it is fully mixed. I pull the dough together in a tight slab and fully wrap in plastic wrap, then put in a freezer bag. The day I want to make the cookies, I take the slab out of the freezer and let the dough come to room temperature on the counter, then proceed with the recipe.
How to Store Peanut Butter Blossoms:
These cookies freeze well fully baked, or you can store them in an airtight container for 5 days.
More Gluten-Free Cookie Recipes:
Best Gluten-Free Peanut Butter Blossoms
These soft and chewy gluten-free peanut butter blossoms are filled with extra peanut butter flavor and have a piece of dark chocolate pressed into their centers! Roll them in colored decorating sugar for Christmas, or plain sugar anytime of year.
220

grams

Bob's Red Mill Gluten-Free All Purpose Flour

in the blue bag

1/2

teaspoon

fine salt if using unsalted peanut butter,

1/4 teaspoon fine salt if you're using salted peanut butter*

1

teaspoon

baking soda

6

tablespoons

softened

organic unsalted butter

2/3

cup

(160 grams) natural peanut butter*, stirred well

(the drippy kind of PB)

1/2

cup

(100 grams) organic cane sugar

1/2

cup

(90 grams) lightly packed organic brown sugar

1

large egg

1 1/4

teaspoons

vanilla extract

2

tablespoons

milk*

of any kind
Preheat oven to 375 degrees F.

Sift together flour, baking soda and salt; set aside.

Using an electric mixer (stand or hand mixer), cream together butter, peanut butter, cane sugar and brown sugar for 2 minutes, stirring side downs halfway through. Mixture should be lighter in color and fluffier.

Add egg, vanilla, and milk; beat until well blended. Gradually add flour mixture, mixing well for one minute. Squeeze the dough with your hands a bit and see how it feels. It should feel like playdoh (this is not a super wet dough like that of chocolate chip cookies). If you think it feels a little dry (differences in brands of peanut butter can affect the dough differently), add a tablespoon of milk and mix together again (and you can even add another tablespoon if needed). Squeeze dough into a ball. Let dough rest, covered, for 20 minutes on counter.

Roll dough into 1-inch balls and roll in sugar.

Place dough balls 2 inches apart on cookie sheet, pressing down with your thumb just a tiny bit. Bake until light brown and puffed, 8 minutes. Remove sheet from oven and lightly press a chocolate candy into center of each cookie, allowing cookie crack slightly. Return cookies to oven for another 2 minutes. Remove from oven, cool completely and store in an airtight container.