this post contains amazon affiliate links.
I discovered ramps, also known as wild leeks, shortly after I started writing this blog. Skipping down the aisles of the Minneapolis Farmers Market, there seemed to be a hoard of people around what I thought were just spring onions or young garlic. I found out that part of what makes them so special is that they are foraged, not grown by man, which makes their exclusivity a draw. I nudged my way to the front of the table, grabbed one of the last bunches, brought them home and discovered what all the fuss was about.
What do ramps look like?
Their leaves were shaped much like that of tulips, soft and delicate to the touch.
Their bulb (which grows from the root) was a gorgeous light pink, turning to white as they stretched to the leaves, a natural ombre effect.
And the aromatics…. like sweet, pungent garlic that you just began to sauté in a hot pan, tempting you to bite into one raw.
They have a fresh perfume that lingers when you cut into them, a gentle garlic/onion flavor when softly cooked. And they bring a grassy freshness to any dish, subtly sweeter than their spring onion and leek cousins.
What to look for when buying ramps, and how to keep fresh:
Bright green leaves and no wilting.
Lightly wash them with cold water and dry before wrapping them in a slightly moist paper towel and placing in a plastic bag.
Store them in the door of your refrigerator so they don't get too cold. They'll last about three days, so if you don't have to cook them in a meal, use of the condiments above to preserve them.
So without further ado, here are SEVEN DELICIOUS RECIPES FOR RAMPS, all begging to make their way onto your table this spring:
1. Simple Asparagus and Ramp Soup: The return of foods so brightly colored just lifts my spirit, a departure from all the things roasted that we embrace during winter. Laura combines two perennial favorites in this creamy soup, seemingly perfect for a rainy day and the smell of spring hitting the ground. (recipe & photo by A First Mess)
2. Pickled Ramps: I love pickles, and the quick type that require no canning are great for extending vegetables that have such a short season. These are my favorite weck jars for pickling.
This recipe doesn't use any sweetener, so it's paleo too. You can add them to salads, charcuterie plates or just snack and savor. (recipe & photo by Local Kitchen)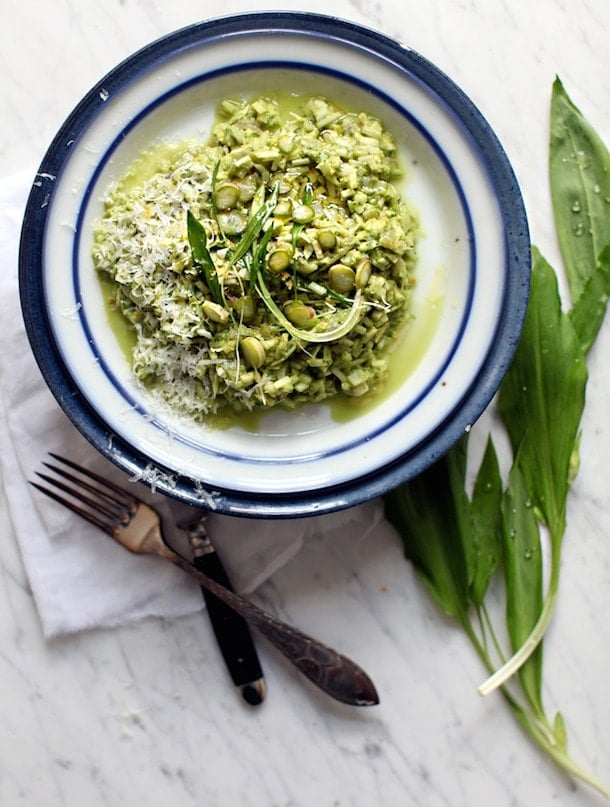 3. Riceless Risotto with Ramps (AIP/paleo if cheese is omitted): If there's anyone who can make magic out of plants, it's Sarah from My New Roots.
Her risotto uses white asparagus "rice" instead of grains, adorned with a smooth blend of ramps and green asparagus.
A true spring delight. If you can't find white asparagus, you can make cauliflower rice instead, and proceed with the recipe. (recipe & photo by My New Roots)
4. Ramp Butter: If this is your first time trying ramps and you're stumped on what to do with them, condiments are always a great option. Imagine the flavors of buttery, garlic chive biscuits and that's what one swipe of this green beauty will bring.
I have plans to try this with ghee, too! (recipe & photo from Bon Appetit)
5. Daikon and Zucchini Noodles with Ramp Tahini Sauce (paleo): Plain and simple, I'm obsessed with spiralized vegetable noodles these days. This is the spiralizer I've had for years.
Jodi's recipe combines daikon & zucchini strands, some mushrooms for umami kick, and completed with ramp infused tahini sauce. Need I say more? I can't wait to try this one. (recipe & photo by What's Cooking Good Looking)
6. Roast Chicken with Ramps, Lemon & Honey (AIP, paleo): There's nothing better than roasting a whole chicken on a Sunday afternoon, let alone one like this that's infused with spring.
The ramp leaves are mixed into the juices until tender, and as she describes, "ready to be devoured along with big bites of juicy chicken & occasional snap of salty, savory chicken skin." YES. (recipe & photo by Milk & Mode)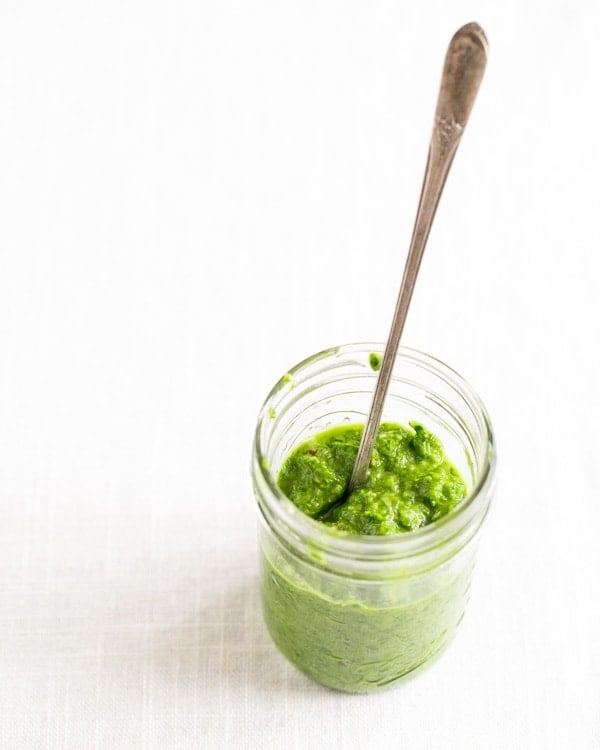 7. Ramp Chimichurri (paleo):Few sauces pack the punch of chimichurri, hence why it's in my fridge 5/7 days of the week. I made this ramp version last year and when the last of it was finished, I swore I'd make more next time and freeze it to use throughout the year.
Bracing and bright, a little bit spicy, I've deemed it liquid gold. (recipe & photo by A Couple Cooks)
If you're still looking for more ramps recipes, I like these ideas too!