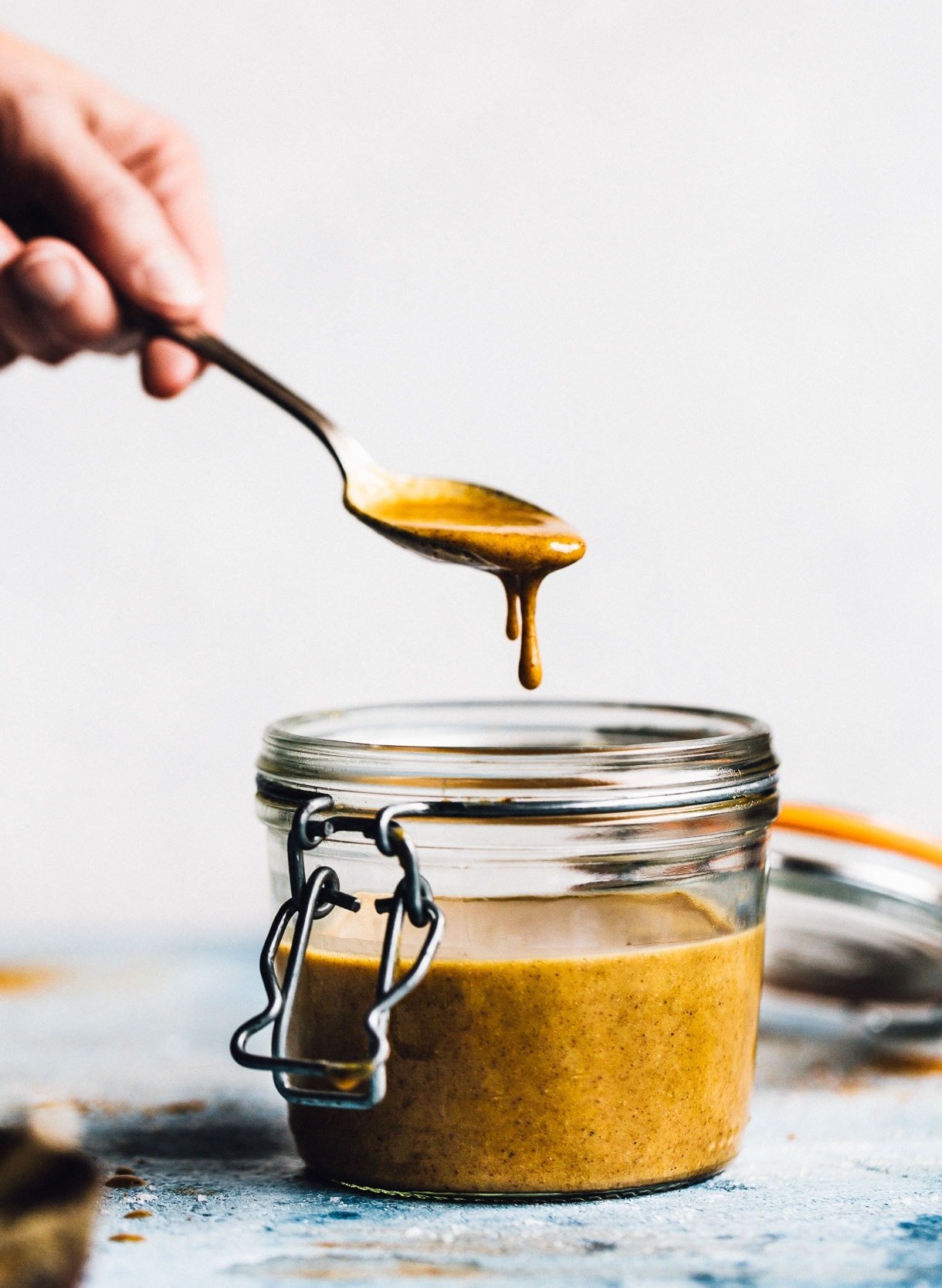 I literally can't go a day without a spoonful of nut butter.
I slather it on sourdough bread, gluten-free waffles, bake with it, swirl it into my morning oatmeal, yogurt, you get the idea.
A slight obsession. Then again, I'm not willing to spend a small fortune for a tiny jar of the stuff that claims to be life changing.
Homemade nut butter saves the day – and might be one of the easiest homemade pantry staples out there. Plus, you control the ingredients and fancy flavors, and save yourself a trip to the grocery store.
I've been hooked on this creamy Coconut Sugar Walnut Butter the past few weeks, making it for friends and replenishing the empty jars that accumulate faster than expected. (If you've never had coconut sugar, prepare for a naturally sweet, caramel like flavor to emerge from anything you add it to.) Because YUM! This walnut butter is also an excellent way to get in heart-healthy nutrients and good fats*.
Tips for making walnut butter at home:
The walnuts are roasted first to deepen their flavor and make them easier to blend because their natural oils start to release.
I add just 3/4 teaspoon of sunflower oil to help break the walnuts down even more. This guarantees the ultra creamy, spreadable texture, rather than thick and pasty.
Make this recipe in single batches, instead of trying to double or triple it. This prevents an overload of stress on your blender.
For best results, use a high speed blender. (I'm a Blendtec loyalist!) A food processor will work, it may just take longer and not get quite as smooth.
Can I use honey or maple syrup instead of coconut sugar?
No. Liquid sweeteners will cause the nut butter to seize up and become grainy. Granulated sugar will dissolve and blend seamlessly.
Can I use raw walnuts instead of roasted, to save time?
I don't recommend it. You will not achieve the same texture or flavor that I based the recipe on.
How should I store walnut butter?
In the refrigerator, so that the natural oils don't spoil. It can be stored for up to 6 weeks, if it lasts that long!
Toast is the logical first step for enjoying this creamy jar of yum. The options are endless, but my favorites include walnut butter swirled with melted chocolate, swirled with strawberry or rhubarb jam, and topped with cinnamon sugar.

More Sauces and Spreads:
Preheat oven to 350 degrees F.

Spread walnuts onto a baking sheet, and toast for 5-6 minutes, until walnuts are lightly browned and fragrant. Remove from oven and pour onto a plate to cool.

After 8 minutes of cooling, add walnuts to blender with sunflower oil. Pulse a few times to get things started, then start blending. Stop every 20 seconds and scrape down sides, until walnuts are mostly smooth. I leave the little circle stopper on the blender lid off so that heat has a chance to escape.

Then add salt, coconut sugar, and vanilla paste. Blend until completely smooth.

Pour into a glass jar and let sit, uncovered, until cool. Place cover on jar and refrigerate to store.