Being in Bali is seeing the world through the most colorful, beautiful lens. We recently traveled to this island, which is part of Indonesia, 25 hours on a plane, my longest journey yet. And so worth it, as it was so different than any other country I've visited.
The Balinese culture is an expression of many age-old traditions and religious beliefs, a mix of Hindu and Buddhist. Offerings are set out each morning by all, made from palm leaf baskets and small tokens of appreciation such as food or flowers. Ornate temples are everywhere, giving believers a chance to pray and practice when needed. The people of this island are extremely kind and welcoming, and have a sense of gratitude that I can only compare to that of the people in Africa.
Besides the lush, tropical views and being immersed in the culture, my favorite part was the food! From locally run eateries serving up traditional dishes, to Aussie modernists expanding their roots onto South East Asian shores, Bali is home to some of the freshest cuisine ever.… of which you'd spend tons of money on here in the states, but the cheap menu prices there resulted in multiple jaw drops from me.
The villas we stayed in with 11 of our friends were located just outside of a surfer populated beach town, Canguu, where people crave colorful, beautiful food. And that is exactly what the cafes have brought to them. The décor is what Instagram dreams are made of, with a focus on natural textures and hanging plants.
Here are my top 5 picks for healthy, vibrant places to eat in Canguu, Bali: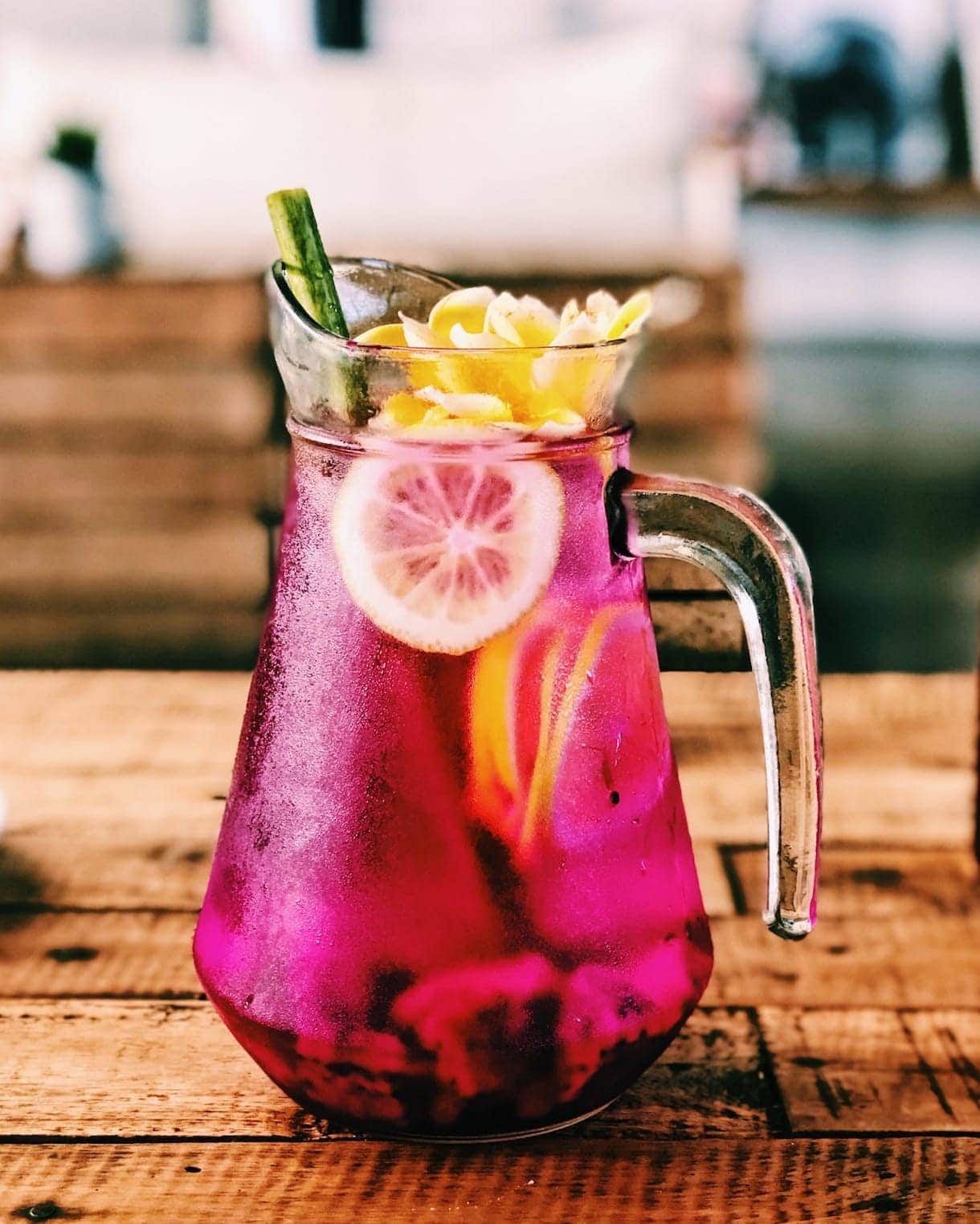 A feast equally fit for your eyes.
Imagine the most vibrant, thoughtful, healthful, hip breakfast/brunch spot you can think of, and Crate will beat that. For me, it was everything I hope and dream of when I think of eating: colorful food and drinks made with quality ingredient. Satisfying, yet healthy, without sacrificing anything whether that be flavor, portion size, or cost.
Their iced latte is beyond any iced latte you'll get in the states. Served in a frosty mug, blended until icy and tall. It's served on a plate so that when things start to melt, you can still sip the espresso spills with your bamboo straw.
We shared the avocado toast with bacon and marinated tomatoes, dragonfruit blueberry chia pudding, and infused water to stay hydrated. And get this – those three items together totaled $9.50US. 😱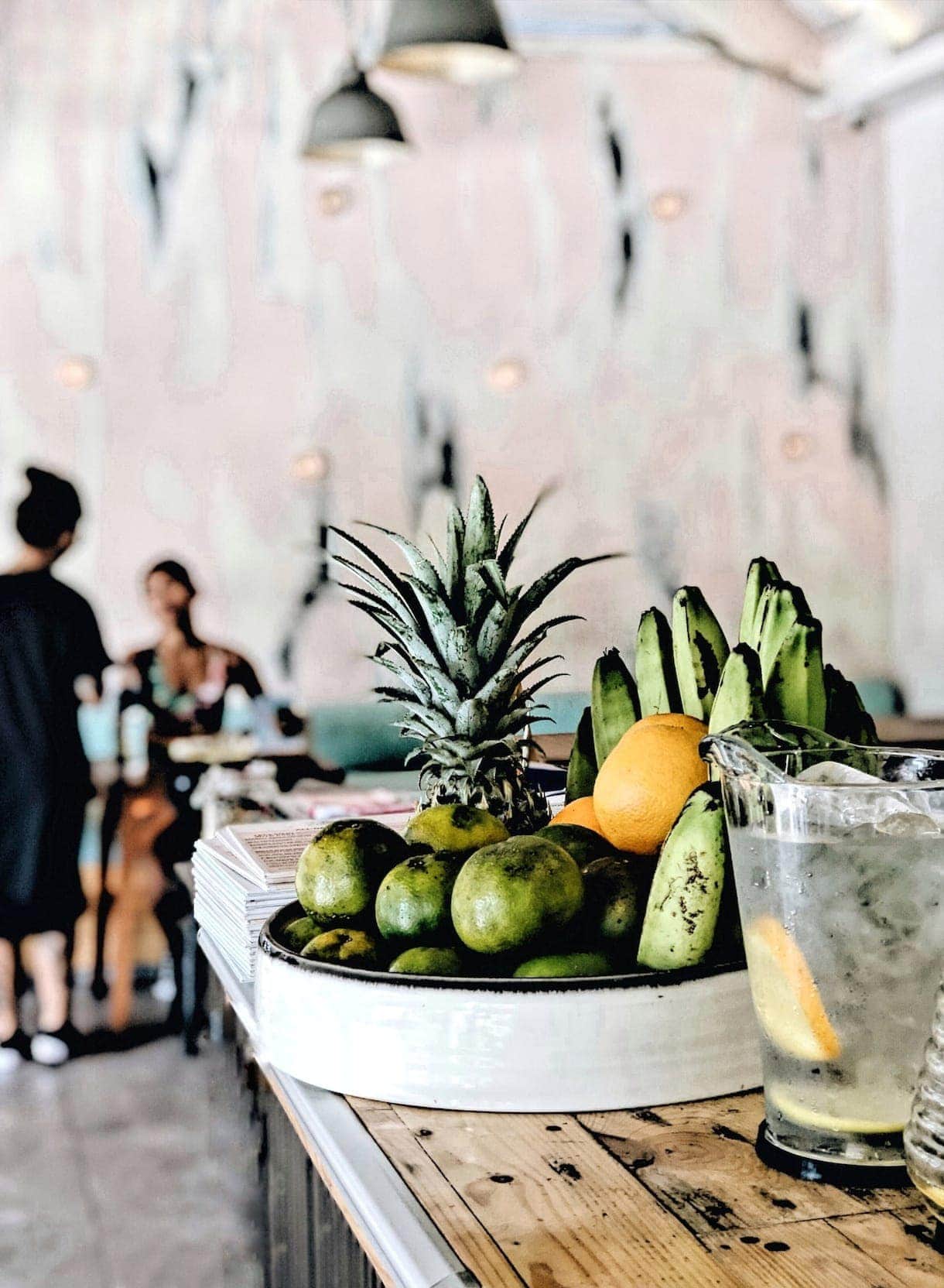 Go here for breakfast at least one day. We shared the bruleed banana tahini toast and super green breakfast bowl with dukkah crusted pumpkin, green vegetables, and poached eggs. Their fresh squeezed green juice is lovely, and the hot latte was smooth and rich. All of their food is sourced locally if possible, as well as their coffee beans.
The cafe design is distinguished by modern and minimalist architecture, with a focus on clean lines and natural light.
We went here for dinner as well, but it was quite noisy at night and music was too loud to hear conversation. Stick with this cafe for brunch!
Situated in the very tourist driven area of Canguu, this little gem of an open air restaurant sits above the street. Very unassuming, extremely delicious. Warung Ithaca is a mix of traditional Indonesian food and western food served in a fresh and modern way. We shared patatas bravas, pad thai (with fresh tofu and tempeh), and chicken curry.
The space is casual romantic, and inexpensive, with huge portions. I highly recommend ordering an appetizer and one entrée to split between two people. Side note, they only take cash so come prepared.
This locally owned restaurant was one of the first in Canguu and continues to serve beautifully crafted, healthy food. If you're vegan or gluten-free, there are so many options here! I went twice because I felt so energized after eating at Betelnut. The first time I had the falafel bowl with homemade sweet potato falafel, hummus, sun dried tomato tapenade, and tons of fresh vegetables.
Brian and I then came back and split their chicken tacos and Chunky Monkey smoothie made with banana, cashew butter, dates, flax seeds, muesli, ginseng, maca, cacao and coconut milk. YUM. And so perfect for beating the heat.
This restaurant sits above the street with a cool breeze flowing through and lots of people watching to do.
The Loft
A mix of Scandinavian interior design with Latin American passion, this cafe is a true gem! Their focus is an awesome breakfast culture, with so many healthy options. We split the breakfast bowl with sourdough, chorizo, mushrooms, spinach, and grilled tomatoes. YUM.
Their smoothie bowls are gorgeous too, as well as their raw desserts. Don't miss the poke bowl for lunch!
And here are more photos of our time in Bali, my favorite form of journaling.