I've never understood what differentiates a muffin from a cupcake. In my mind, a muffin is lightly denser, but other than you're holding something soft, sweet, and cake-like in your hands, regardless of name. Here's what technical definitions suggest:
Cupcake: a small cake baked in a cup-shaped container and typically iced.
Muffin: a small domed cake or quick bread made from batter or dough.
Apparently it all comes down to icing/frosting, and shape. To which I say some of my muffins have icing, and sometimes my cupcakes turn out domed. ☺️
Living as a house of two, it seems there are always one or two stragglers left behind from a batch of anything I make. And kind of like root to stem cooking, I like to find creative ways of repurposing baked goods (see: PB Compost Cookies) rather than tossing. Of course you could freeze, but admittedly, a lot of things I put in the icebox are forgotten.
So instead, we're tearing and layering…. making these Blueberry Muffin Mini Trifles with creamy greek yogurt and tart lemon curd. (Similar flavor profile to blueberry muffin overnight oats!) I'm a big fan of contrasting textures in the food I eat, and believe that either salt or tang is the perfect way to elevate something sweet.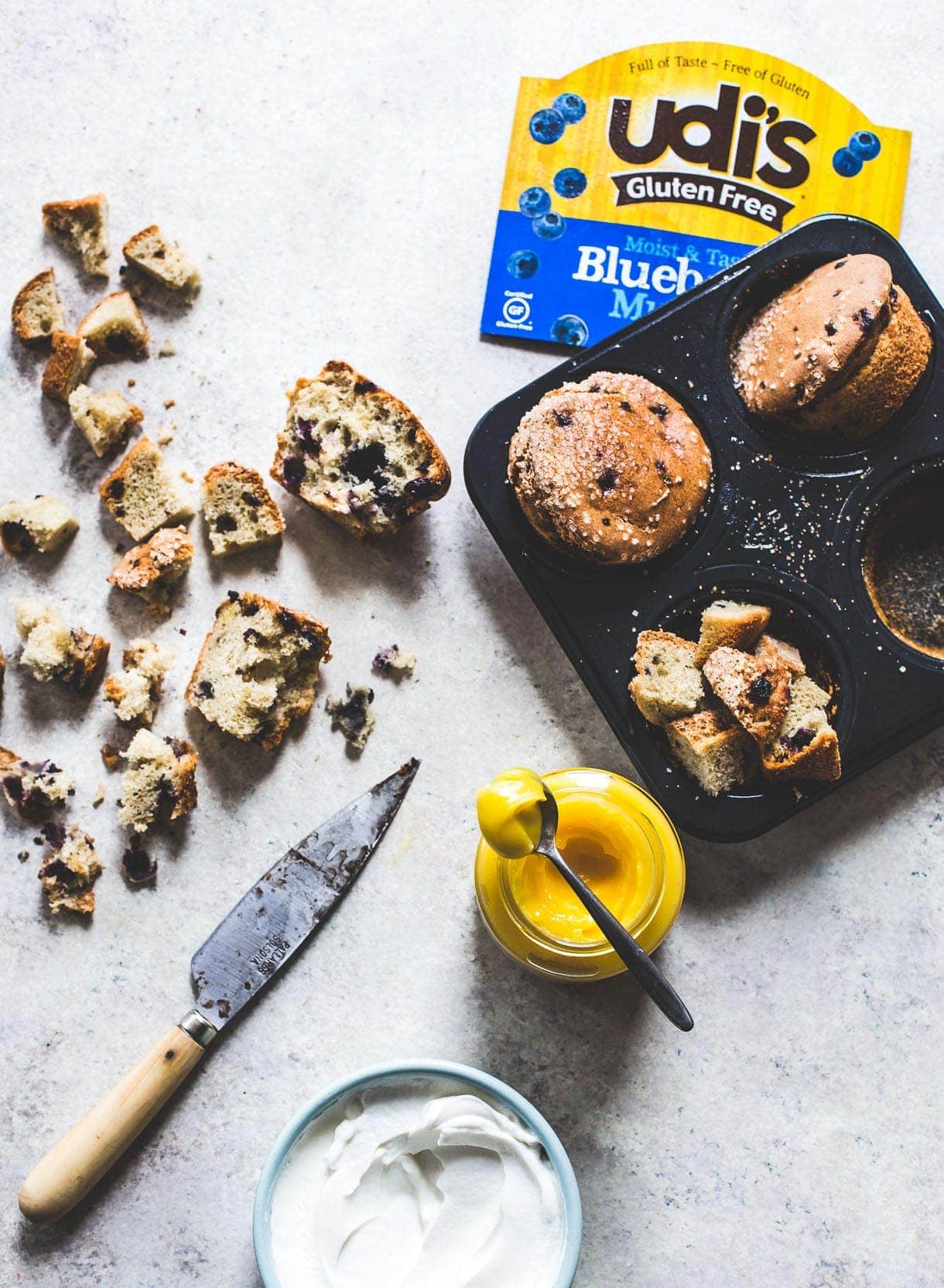 And secret's out. I'm not ashamed to say this recipe is comprised of 3 things you can buy in the store, then assemble on the fly. Udi's Gluten Free Blueberry Muffins, a jar of lemon curd, and greek yogurt.
Because I'm a real person too….
Who doesn't always make things from scratch.
Who sometimes thinks about how much it would cost her in groceries and time, to make something like lemon curd – and decides a $7 jar of it is money well spent.
Who sometimes just wants something quick, yet tastes like it came from a fancy bakery.
I see these minis gracing a spring or summer brunch, and have to believe that lemon poppyseed muffins + raspberry curd would also be a fantastic combination. Save one set of wine glasses for mimosas, and short ones for the trifles. (Ikea sells these for $1.50 each!) You can make them several hours in advance, as the shreds of muffin are actually softened by the yogurt, similar to what happens in tiramisu. Enjoy, friends. xo
3/4

cup

plain or vanilla greek yogurt

1/4

cup

lemon curd

Udi's Gluten Free Blueberry Muffins

torn into small pieces
For each trifle, place a 1/4 cup layer of greek yogurt on the bottom of the glass. Spoon a tablespoon of lemon curd atop that, then a few small pieces of muffin.

Repeat until glass is a little over half full.

Store in refrigerator if not eating immediately.
*This post contains amazon affiliate links that I may make a small commission from if you decide to purchase.