For the most part, I haven't missed many foods since I went gluten free three years ago. Usually I can adapt whatever I'm craving into a gluten free version without much difference, like pizza (using the crust recipe from Artisan Pizza in Five Minutes a Day), casseroles and even donuts. But there's one thing I've been longing for: the silky handmade tagliatelle from Cossettas, made by the hands of elderly Italian women, who roll out the dough each day the same as they've done for the past 70 years.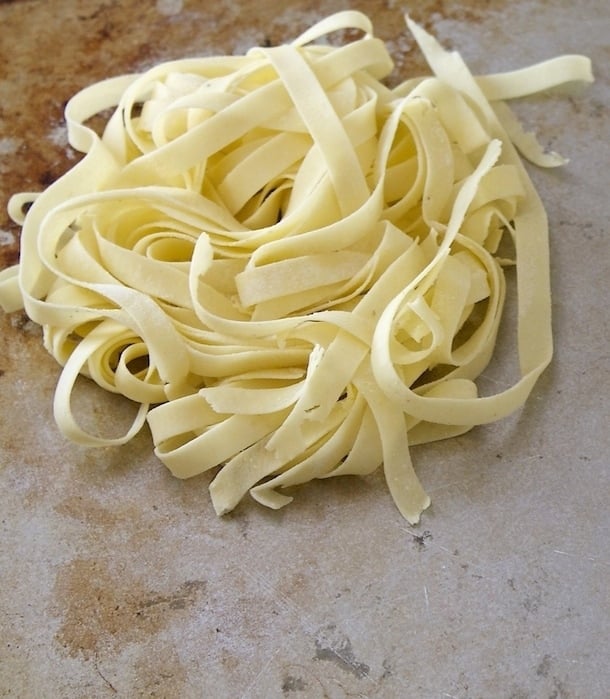 I'm longing no more, all thanks to my friend Robin Asbell and her new cookbook, Gluten-Free Pasta. Since last fall when her and I spoke about the hours upon hours she was perfecting the different dough recipes, I've been so excited to try her final version. After a few days "cooking the book", I can attest that the results of her work are simply brilliant.
When I began rolling out the dough into thin sheets of fresh pasta, I nearly wept with joy. As I put the sheets through the machine once again, perfect strands of tagliatelle fell into my flour dusted hands like magic.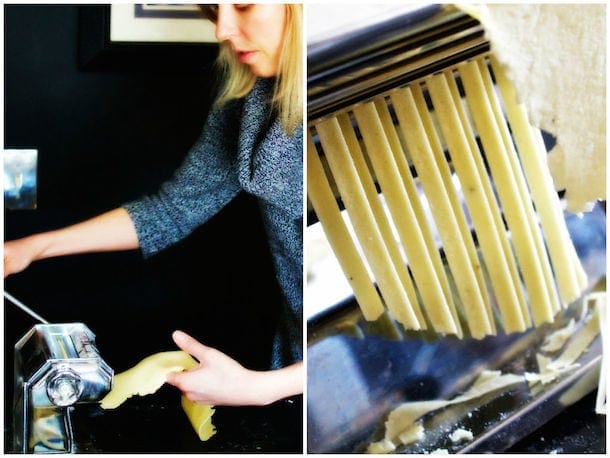 Robin's base recipe for fresh pasta calls for a combination of tapioca flour, millet flour, sweet rice flour, and arrowroot starch, each having their own purpose in creating a texture that mimics regular pasta in the closest way possible. The addition of finely powdered whey (which you can find at co-ops or health stores) or dried milk powder adds protein, which gives the dough strength in the absence of gluten. A combination of guar guam and xanthum gum give the pasta structure and firmness when boiled.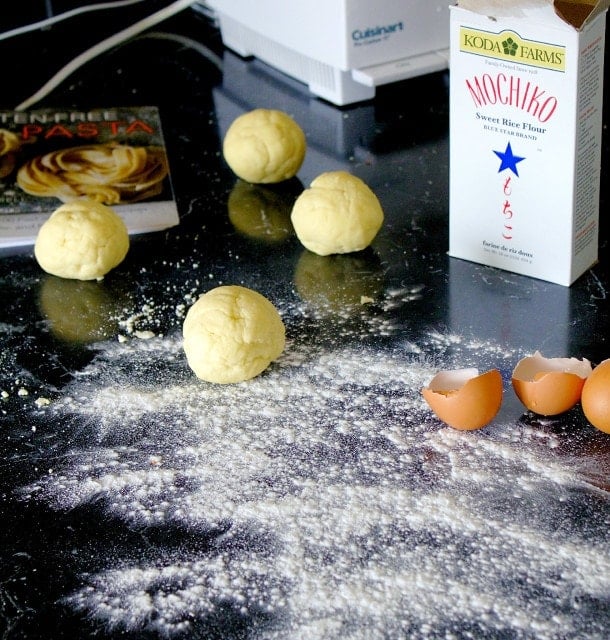 This may seem like quite a few ingredients to have on hand, but they're essential in stocking a gluten free pantry so its buying them. You'll definitely use them in other gluten free recipes if you don't already. Plus, once you try this glorious pasta you'll be headed back to the kitchen to make another batch.
Although making fresh pasta, gluten free or not, does take some time, tasting the finished product knowing that it was my hands that did the work provides for an amazingly satisfying experience. I know not everyone feels the same way though, and so did Robin, which is why any of the recipes (over 100!) can be made with store bought gluten free (or regular) pasta. My favorite is Tinkyada, which you can find pretty much everywhere, including Target. Additionally there's instruction and recipes for creating vegetable noodles with zucchini, squash, or even collard greens, as well as another creative pasta substitute – "egg crepes" that can be used as cannelloni or sliced into strands. There's so many recipes I can't wait to dive into. I'll be posting a gluten free ravioli next week and here are a few others on my "to make" list:
Gnocchi with Roasted Tomato-Olive Sauce (recipe for homemade gnocchi included)
Avocado, Fresh Mozzarella, and Peach Pasta Salad
Japanese Curry Soba with Cauliflower, Tofu, and Red Onion (recipe for homemade buckwheat soba included)
This book is absolute joy, one that I can tell is going to be stained with plenty of tomato sauce streaks and a fine dusting of flour with all the use it's going to get. I have several of Robin's other books including the New Vegetarian and the Whole Grains Cookbook, both which I cook from regularly and highly recommend. If you're as lucky as me and live in the Twin Cities you can find Robin teaching classes at Cooks of Crocus Hill, Kitchen in the Market, or co-ops. She also has an upcoming book tour so check here to see if she's coming to your state. In the meantime, check out the other talented bloggers who are participating in Robin's book launch potluck!
You can find Robin's book wherever books are sold and of course, on Amazon. OR you could be the lucky winner of this giveaway and have Gluten-Free Pasta shipped right to your door! Enter below using the Rafflecopter widget – winner to be announced on March 31st! a Rafflecopter giveaway


Gluten-Free Pasta Dough Recipe
from Gluten Free Pasta by Robin Asbell
Serves 4
Tips from my experience:
Don't be afraid to use a little more water as needed to bring the dough together and make it workable.
Roll the dough out into rectangles with a rolling pan first, on a floured surface, then begin to work it into the pasta maker.
I found that starting on the 5th setting of the pasta making, then once on each lower setting until I reach 2 made was perfect – thin and lanky yet held its structure when cooked.
Because gluten free flours are more absorbent than regular, it only needs about 1 1/2 minutes in boiling water to fully cook. Make sure to rinse with warm water, as this helps remove some of the starches ,which if left on do make the pasta gummy.
3/4 cup/90 g arrowroot starch (can substitute cornstarch, which is what I did because I had it on hand)
1/2 cup/60 g tapioca flour
1/2 cup/80 g sweet rice flour
1/4 cup/49 g millet flour
3 tablespoons whey protein, or 3/4 cup (53 g) non-fat dry milk powder (I used Organic Valley milk powder because whey protein is quite expensive)
1 tablespoon guar gum
1 teaspoon xanthan gum
1/2 teaspoon fine salt
3 large eggs
3-4 tablespoons (44-60 mL) water
Measure out the arrowroot starch, tapioca flour, sweet rice flour, millet flour, whey protein, guar gum, xanthan gum and salt and put in the bowl of a stand mixer or a food processor (which is what I used). In a large measuring cup, stir the eggs with the water and add to the dry ingredients. Mix on low until the dough starts to come together in chunks. Turn off the mixer and press the chunks together a couple of times to form a stiff dough. Turn up the mixer speed and beat for two minutes. In the processor, the machine will start to labor when the dough is getting stiff, so take the dough out and knead it manually.
Divide the dough in 4-ounce portions, wrap the portions you are not using with plastic wrap, and either roll out with a rolling pin on the counter or in the pasta rolling machine. Make lasagna sheets or cut into noodles.
Cook the noodles in salted boiling water for 1 1/2 to 2 minutes, then test. They should be tender but firm, just a little softer than al dente dried pasta. Drain and rinse well with warm water if using warm, or cold if using cold, and serve immediately.
Creamy Vodka Sauce
from Gluten Free Pasta by Robin Asbell
makes 3 1/2 cups (will make more than what is needed for this recipe – reserve leftovers for up to a week or cut recipe in half which is what I did)
2 tablespoons olive oil
1 medium onion, minced
3 garlic cloves, chopped
1 small carrot, chopped
1 cup of vodka
2 (28 ounce) cans of whole tomatoes, drained
1 teaspoon fine salt
1/2 cup creme fraiche (I used greek yogurt)
1/2 cup shredded Romano cheese
In medium stock pot, heat olive oil over medium high heat for a minute. Add onion, garlic, and carrot and saute until onion is soft and golden, about 10 minutes. Add whole tomatoes, crushing them roughly with your hans. Add the vodka and salt and bring to boil, then reduce to a low simmer. Cook uncovered until sauce is almost dry, about 30 minutes.
Puree the mixture in a blender or food processor until smooth.Then add in creme friache and blend again to combine. Toss with hot pasta and the the Romano cheese, plus a little basil for garnish.