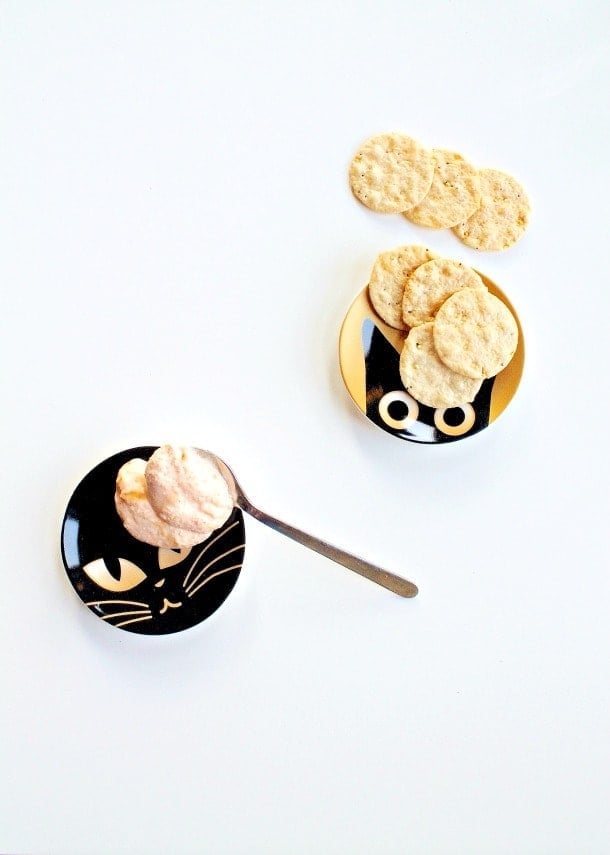 You know those things you grew up believing you didn't like because your mother and father didn't like them? That's really the only way I can make the connection here between black cats and this Whipped Ricotta with Smoked Paprika & Honey.

There was never an option to have a cat, as my dad had deemed them worthless. Not that I minded though, as I spent my childhood tagging along with our black hunting lab Sally, whom I proudly picked out of the litter myself at the age of 3.

Sally and I were the best of friends from day one. She even put up with me painting a white stripe down the middle of her back one summer as my dad worked in the garage. Always a curious child, I wanted to see what she'd look like as a skunk. That didn't keep her from snuggling next to me every night in my twin bed, all 80 pounds of her, protecting me from monsters under the bed.
Twenty odd years later, I fell in love with black cats instead of dogs after I was unhappily assigned the task of watching Brian's sister's cat while she was out of town. After just one evening with her curled up in my lap I began stalking the Human Society website for a black beauty I could call my own. A week later I came home with Grace. She's got more diva and pizzazz than I ever thought possible in an animal. Her presence and companionship have provided me with so much happiness. She's even won my dad over too.
Hence the reason I just had to buy these impractical tiny cat plates about a year ago — way too awesome to pass up. And now I find myself using them to serve this dreamy ricotta, that's whipped until fluffy with smoked paprika and a drizzle of amazing Bare Honey. Ironically I never thought I liked ricotta because as a child I thought "if mom doesn't like, I don't either" – wrong! This rich, fresh cheese is now one of my favorites.
I think you'll enjoy how the smoked paprika and honey compliment each other, a little warmth coming from each of them. The recipe comes together so quickly, perfect for when you're short on time. You can serve it with crackers or a nice, crusty french baguette. And if you want to add a little color and fanciness, spoon it into lettuce leaves with crunchy walnuts and eat it like the queen with one pinky raised.
Signing off for now as I'm off to Aruba for a week – Meow!
Whipped Ricotta with Smoked Paprika & Honey
adapted from this recipe by Joy the Baker
serves 4
8 oz fresh ricotta
2 tablespoons greek yogurt or my new my favorite that I used in this recipe, Smari Icelandic Yogurt – unbelievably thick and smooth)
3/4 teaspoon smoked paprika
1/2 teaspoon salt
zest of one lemon
local raw honey (my favorites are Ames Farm and Bare Honey, which is what I used this time)
Combine ricotta, yogurt, smoked paprika and salt in a medium bowl. Mix with a stand or hand mixer on medium speed for 3 to 4 minutes until light and fluffy. Empty into serving bowl and top with zest of one lemon and a good drizzle of honey. Will last in the refrigerator, covered for 4 days.