Watch video above to see how to make Skillet White Chicken Chili Dip!
It's the middle of December and my instagram feed is filled with people enjoying their holiday traditions – cookie baking, tree lighting, sledding and party filled evenings. I can't help but love this time of year, even if a little hustle and bustle comes with it. Between Brian and I, we have four families to celebrate with, meaning lots of good food, fun and love.
On Christmas Eve we head to Brian's mom's, all 25+ of us (and growing!) for a day filled with hot toddies served in her original set of Tom & Jerry mugs from the 1970's and the annual Shuv-unda game (more on that soon). We forgo a big meal with lots of prep and instead everyone brings their favorite appetizers, a tradition I'm totally a fan of.
I probably eat more cheese around the holidays than I should, but I'm quite alright with that. Last year I brought this (love how pretty it looks stuffed with pomegranates) but this time I'm bringing the heat – White Chicken Chili Dip served piping hot in a skillet.
I don't know about you, but I'll take white chili over red any day. The combination of soft white beans, lots of garlic and zesty salsa verde is just so perfect. Sometimes with chicken, sometimes without. Either way, it's just how I like to warm up on a winter day.
This cheesy dip version came about as I was looking to use up some leftover rotisserie chicken (side note: Whole Foods now roasts organic ones daily). And it was Sunday – chips and dip are kind of a required thing for watching football around here.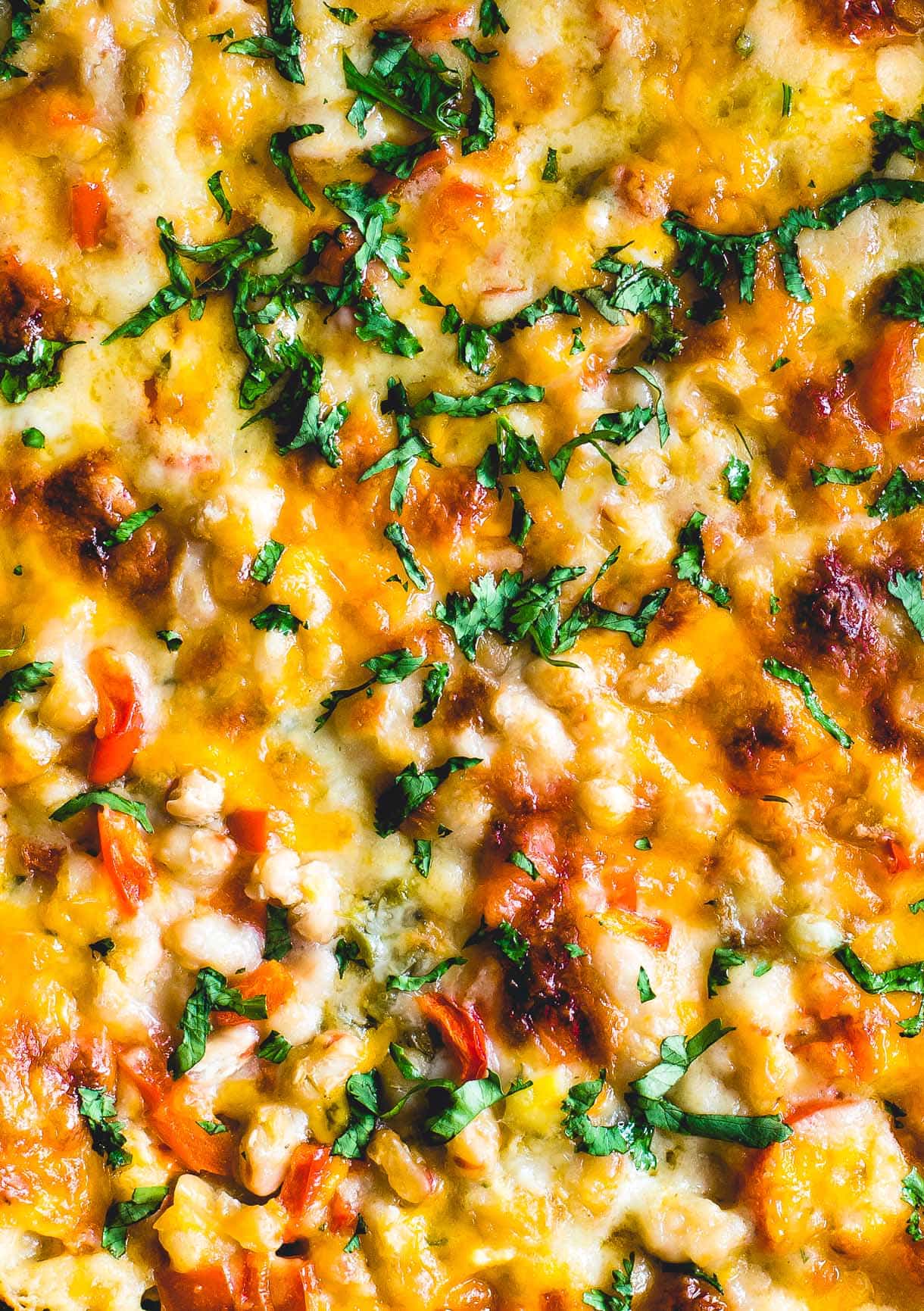 I ended up having a can of white beans and half a red pepper handy, along with a jar of my homemade salsa verde. There was only about a cup left of a mozzarella/cheddar cheese bag, so to give it a little more volume I pureed 3/4 of the white beans with a some sour cream and garlic. Let's just say that  might have been one of my better ideas.
I fell in love with its smooth base and surprise bites of chicken throughout. And coincidentally, the pops of color from the peppers and cilantro is quite holiday-esque. The salsa verde gives it some tang and the way the cheese bubbles and browns……. dang, so good. And nobody will even know it's a little lighter thanks to the bean puree.)
I'm not lying when I say we fought over who got the last scoop (these Food Should Taste Good chips are my go-to, sturdy and made from simple ingredients) and we had no intentions of eating all of it. That being said, if you bring it to a party, make sure you grab some right as you set it out. It won't last long.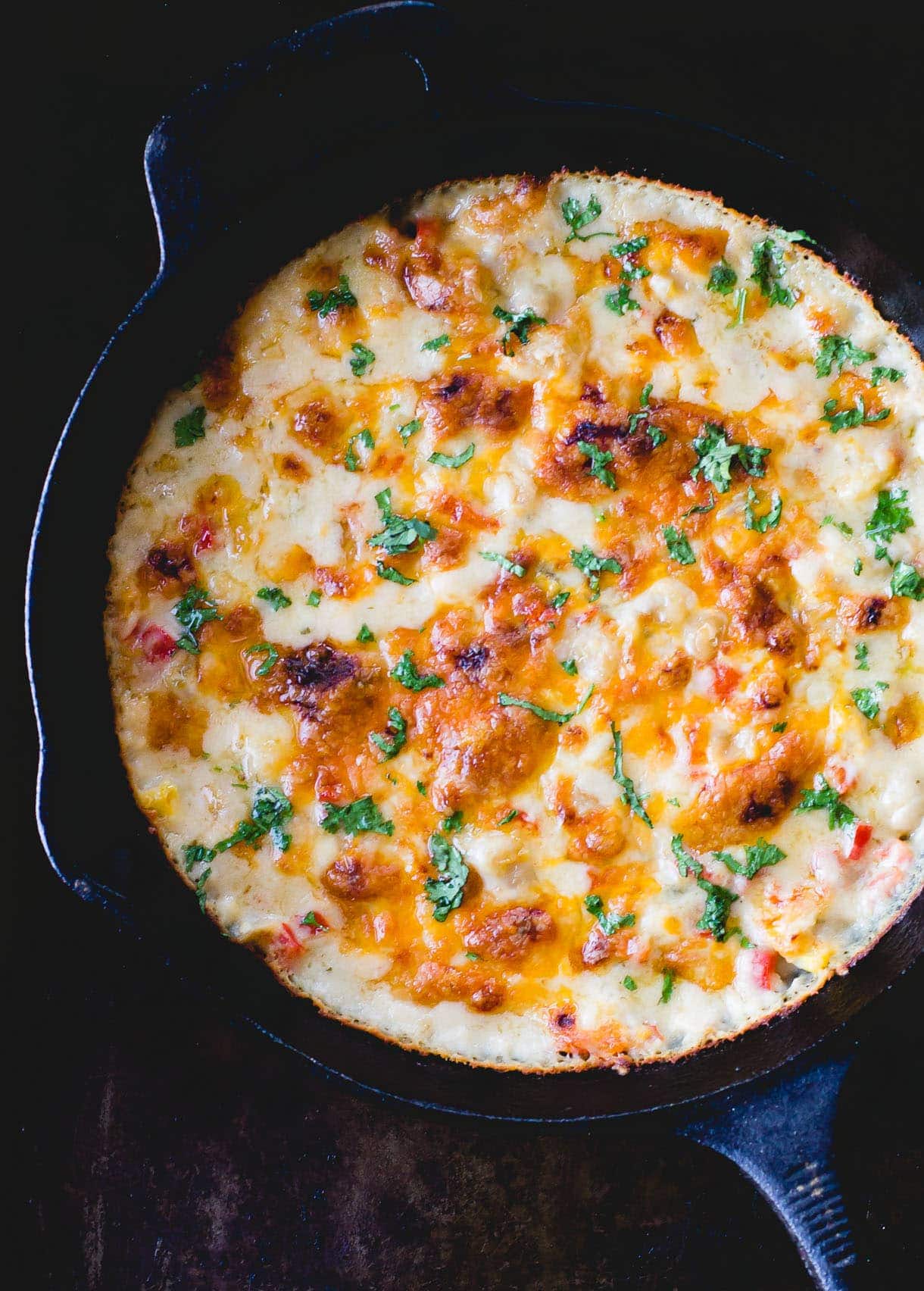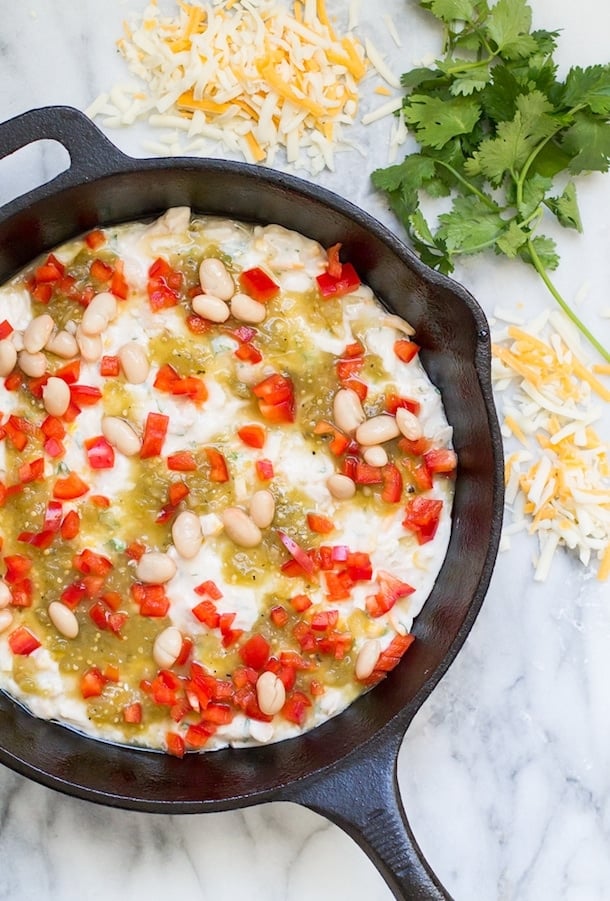 *updated with video (collaboration with Annie D. Souza) and photos 12/27/2016

Skillet White Chicken Chili Dip
A cheesy skillet dip that tastes like white chicken chili!
Ingredients
1/2 tablespoon olive oil
1 (14.5 ounce can) white beans, drained
1/3 cup sour cream
2 cloves of garlic, roughly chopped
juice of a half lime
1/2 teaspoon ground cumin
1/4 teaspoon salt
1 cup shredded, cooked chicken
1/2 cup sweet corn (fresh or frozen)
2 tablespoons minced cilantro
2 cups mozzarella/cheddar cheese combination, divided
1/3 cup diced red peppers
1/3 cup + 1 tablespoon salsa verde (I like the jar from Trader Joe's as it's just spicy enough. If you buy a different kind, taste and see if you'd like some spice. If so, add a bit of tabasco!)
Instructions
Preheat the oven to 375 degrees. Brush olive oil onto bottom and halfway up sides of a 10 inch cast iron skillet. (You could also bake in any vessel you normally use for baking dips, relatively the same size.)
Reserve 1/4 cup of the drained beans, set aside. Add the rest of the beans, sour cream, garlic, lime juice, cumin, and salt to a food processor. Puree until smooth. Taste and add a little salt if needed. Stir in chicken, corn, cilantro and 1 cup of cheese.
Spread onto bottom of skillet, then evenly sprinkle remaining 1/4 cup white beans, red peppers and salsa verde on top of the mixture. Cover with remaining cheese. Bake for 16-20 minutes, until dip is bubbling and browned on top. Serve immediately. Can be rewarmed as needed.
Recommended Products
As an Amazon Associate and member of other affiliate programs, I earn from qualifying purchases.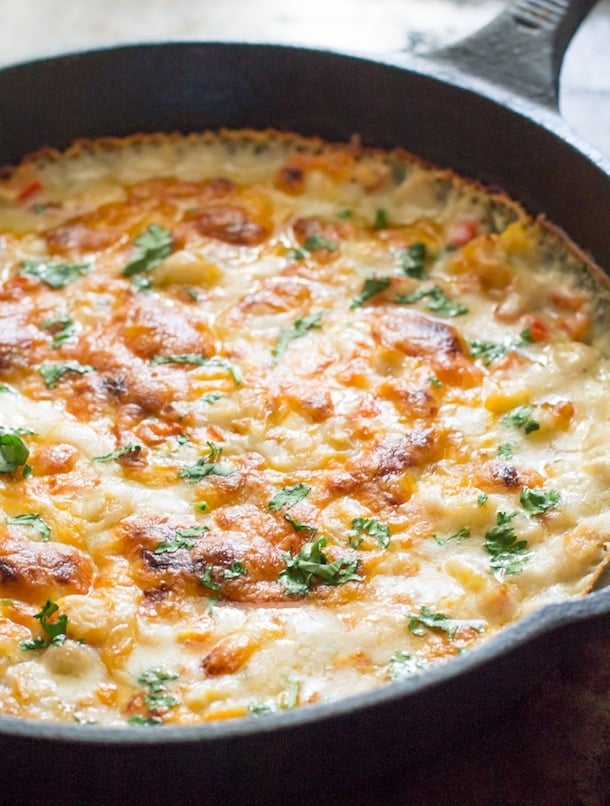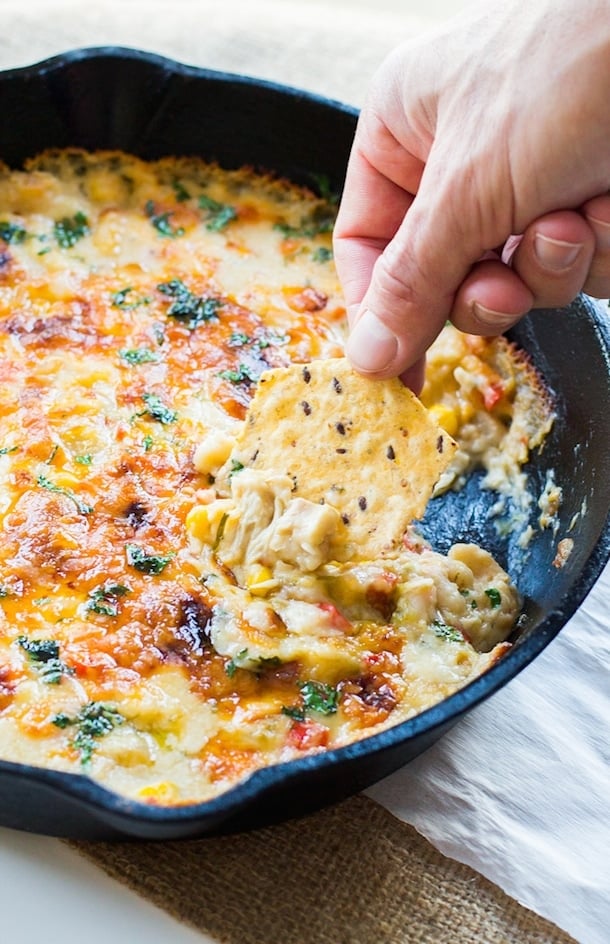 This blog is supported by the use of Amazon links, and shall earn a small commission should you purchase something through it.