Ahhhhh………vacation! Brian and I flew out to the Bay Area, California for 5 days of much needed R&R. It's one of our favorite places to spend time, full of so much energy and uniqueness.
For the first two nights we headed north to an off the grid house near Boonville, (which is literally in the boonies, about 2 hours north of San Francisco) to stay with 3 other couples. On our way up, we stopped for some grub and libations at the Russian River Brewing Company, one of Brian's favorites. It's a fun bar, with a local feel and according to Brian, some amazing beer. I have to say that one of the things I miss most due to my gluten intolerance is craft beer! What's nice when you're in wine country though is even at beer focused place they have good wine-by-the-glass choices!
We had a blast staying in the house, situated amongst 100 acres of untouched California land with fruit trees, a natural pond that we could swim in, beautiful views, and wildlife. It was powered completely by solar energy, which I found pretty fascinating. It was so nice to get away from it all – no service for cell phones, no noisy city life, just complete relaxation.
On Sunday we headed to Healdsburg for two days of wine tasting and great food. This little city is truly a hidden gem that you should check out now before everyone else discovers it. Here are some of the highlights:
Mateo's – located a few steps away from some of the more well known restaurants, this is a great Latin restaurant. I was head over heals in love with their braised lamb tacos! We also had a fun appetizer, tacones, which are little corn tortillas fried in the shape of an ice cream cone, then stuffed with different fillings (we had olive oil guacamole + chorizo & black bean + chicken).
The Shed – this place is doing some amazing stuff. Fermentation Bar, say what?! This Strawberry Rose' Shrub was so refreshing, and gorgeous. They even had kombucha on tap. I love their philosophy, which is built upon this foundation: "An agrarian mind begins with the love of the fields and ramifies in good farming, good cooking, and good eating."
Chalkboard – fantastic small plates, farm to table restaurant that just opened in May where the famous Cyrus restaurant used to be. Everything we shared from the dungess crab tater tots to the seared scallops with grapefruit coulis over risotto cakes was amazing. A cheese plate for dessert paired with Chappellet Petite Syrah was just the right finish to a great day.
Armstrong Redwoods State Reserve – seriously. stunning. It's truly a must. It was liking walking through a forest that led to the heavens. When the sun shone through the canopies above, I felt such peace. I never believed trees could grow this tall. One of the gigantic trees is 1,400 years old! And the hike was a nice little workout too. We ended up climbing 500 feet to the top!
J Winery and Vineyards – let's just say what I would deem some of the best sparkling wine you can find. We walked out new wine club members, as I fell in love with everything we tasted from their lovely pinot gris, to reserve pinot noirs, to my favorite — the bubbles.
Alexander Valley Vineyards – always known for their amazing zinfandel's and what I think is one of the best rose's (always made from sangiovese) every year. Our wine and cheese tasting was fit for a king. The grounds are beautiful and make you feel so welcome, like you are part of their family. If you get a chance, check out the free cave tours while you are there.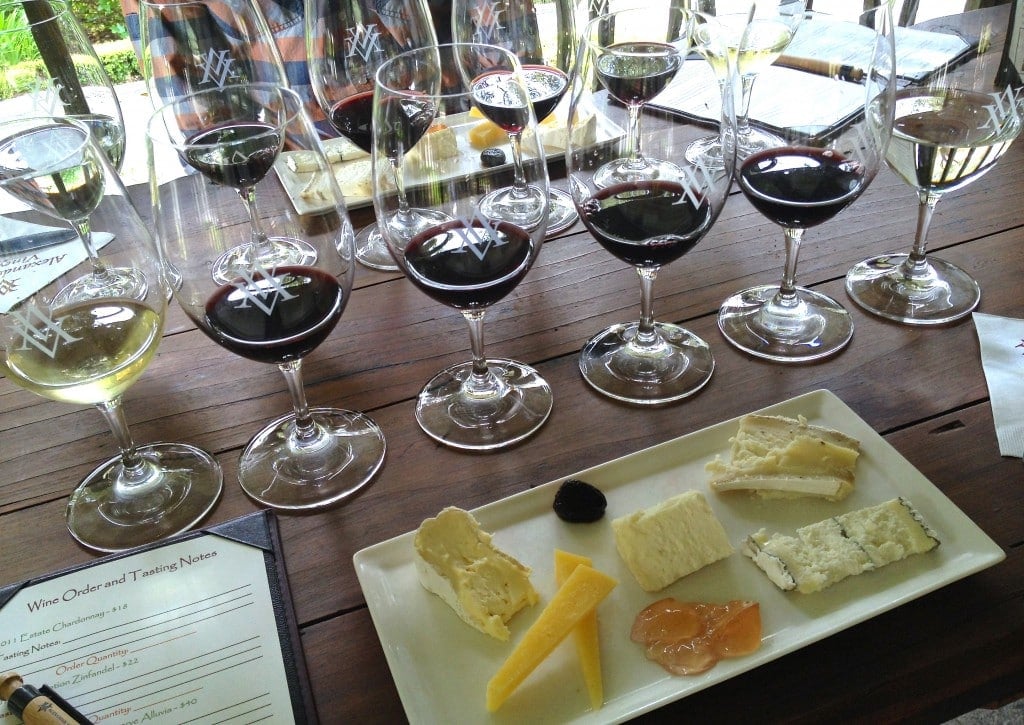 Other cool spots you might want to visit in downtown Healdsburg include: The Mercantile Shop, Oak Grove Grocery, and BarnDiva.
We spent a half day in San Fran before heading back home. It's probably my favorite city in the U.S. and if I could afford to live there, I'd have my bags packed today. We got in some great eats at Boogaloos, a cool little hippie spot in the Mission that serves a smashing breakfast. I ordered the Huevos Rancheros — fresh corn tortillas, housemade ranchero sauce, red cabbage slaw, and perfectly poached eggs. Bi-Rite Creamery was just a few blocks down and has been on my bucket list for years. Let me tell you, the salted caramel and brown sugar ginger swirl did not disappoint! Out.of.this.world. And they even had gluten free cones – major bonus.
Lots of fun, lots of sun, and lots of love. It was a great trip and honestly, our thoughts of moving out there get more and more realistic each time we visit.