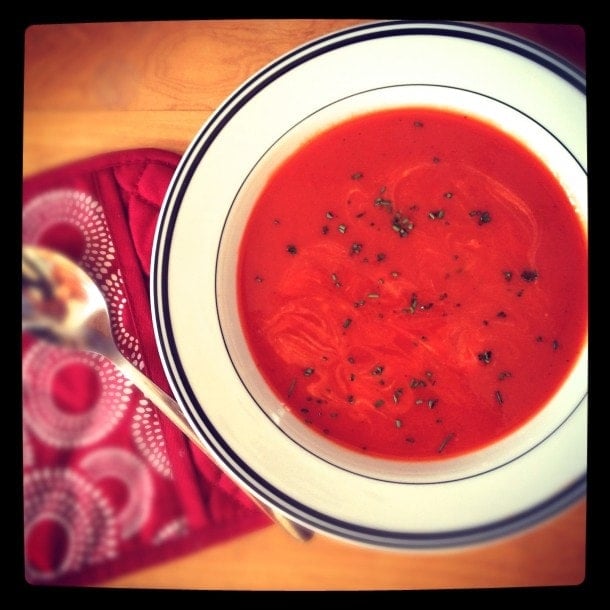 Simple recipes with just a few ingredients are often times the best. I find they grace my kitchen the most, using what I have available to create something delicious. They make an average cook feel like a mighty cook….
This soup is all about the flavor that emerges from the art of roasting. It may seem a little intimidating to roast peppers until their skin is black, but all of that skin comes off and you are left with smokey, sweetness. If you've never tried it before, this Serious Eats slideshow does a great job of showing you every step.
When garlic is roasted it becomes aromatic with a dreamworthy nutty flavor… Yes, I bought this cute little garlic roaster even though you can easily just wrap it foil in a thin coating of olive oil. Unnecessary purchase? Maybe. But it was on the clearance rack for $3!
As the seasons are a changing and the nights bring a slight chill, this soup will bring warmth to your hands that cup the bowl and your soul. Enjoy…..


Roasted Red Pepper and Garlic Soup
-4 Red Peppers, Roasted, blistered skins removed and cut into 10 chunks (or use 1 28 oz jar roasted red peppers)
-1 large tomato, deseeded and coarsely chopped
-1 small onion, coarsely chopped
-1 jalapeno, coarsely chopped
-3 1/2 c vegetable broth
-1 t salt
-1 t dried oregano
-1 t dried basil
-1/2 t black pepper
-cloves from 1 head of roasted garlic
-minced chives (garnish)
-sour cream (garnish, swirled through finished soup)
Preheat oven to 375 degrees. Roast the red peppers according to link above. To roast garlic, cut off just enough of the top to expose the cloves. Rub olive oil over the entire head of garlic to coat it. Place in a garlic roaster, or wrap in aluminum foil. Place in preheated oven and roast for 40 minutes.
While garlic is roasting, add all other ingredients (except garnishes) into a stock pot. Simmer over medium heat for 20 minutes. Remove from heat and carefully add 1/2 to blender. (I use my VitaMix which makes a very smooth and creamy soup.) Puree on high for about 1 minute. Then add remaining 1/2, repeat. Finally, squeeze roasted garlic out of its skin into blender (should be easy if roasted long enough) and puree one more time for about 30 seconds. Season with additional salt and pepper if needed. Garnish with minced chives or whatever fresh herbs you have on hand!