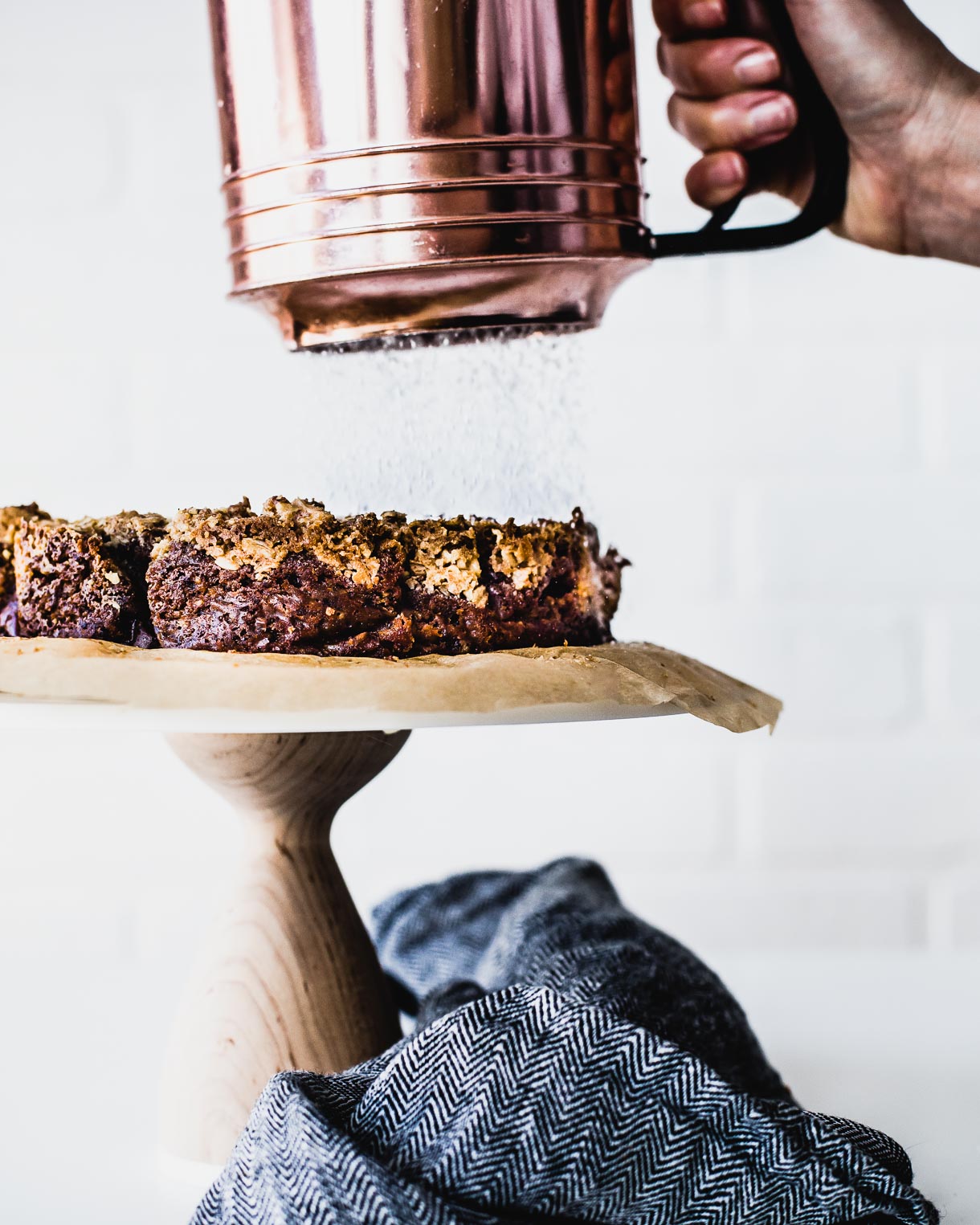 This gluten free coffee cake recipe is sponsored by California Walnuts, a year long partner of Heartbeet Kitchen.
Whoever it was that originally came up with term "coffee cake", thank you. I want to be your friend. Because you were not afraid to call it straight, as in –> cake, for breakfast, is a cup of coffee's best match.
I longed for a gluten free coffee cake that met bakery style standards. A thick, crackly, buttery top, and the softest crumb underneath. Showered with powdered sugar, sliced into squares, and eaten with a boatload of happiness.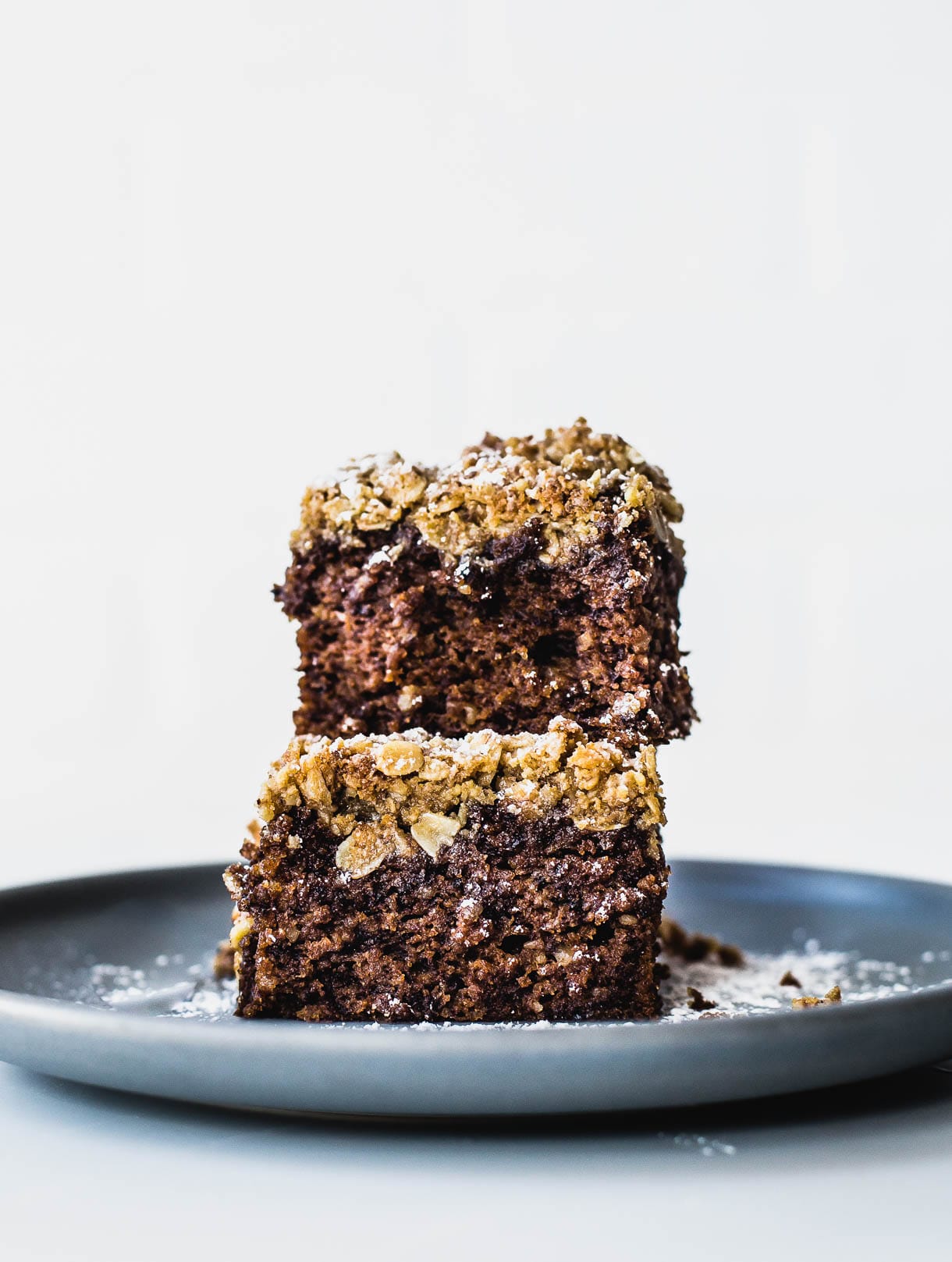 This is that cake. Impeccably moist, made with walnuts, warm spices, and a secret ingredient: sweet potato puree. You'll probably notice that the cake is a bit darker in color, and this is why! So don't let it fool you. The sweet potato also gives it just the texture I was looking for thanks to its moisture.
This winter is my first time baking with walnut meal/flour, and it's been a welcomed addition to my kitchen. Because walnuts have a good amount of fat (the good kind, heart healthy omega-3's!) it's also one of the very important players in creating the soft texture of this gluten-free coffee cake.
They carry a full, rich flavor, which matches nicely to the warmth of the pumpkin pie spice used (which I use all year round, not just in the fall).
A few notes:
Surprisingly, vanilla gave the cake an off-taste, and I'm not sure if that was because of the reaction with the walnut meal, or the sweet potato. So don't add it to the recipe thinking you'll give it a little something extra. 😉
The coffee cake lasts at least four days when covered and kept in the refrigerator. It only gets better with time!
You can freeze leftover slices in a layer of saran wrap followed by a layer of aluminum foil, then reheat in the microwave for snack time emergencies.
I made this coffee cake in a 6-inch springform pan, which I highly recommend, especially for the bakery style effect. It was too flat for my liking in an 8 inch cake pan.
Enjoy,
Amanda
If you make this gluten free coffee cake, be sure to tag me on Instagram with hashtag #heartbeetkitchen or @heartbeetkitchen!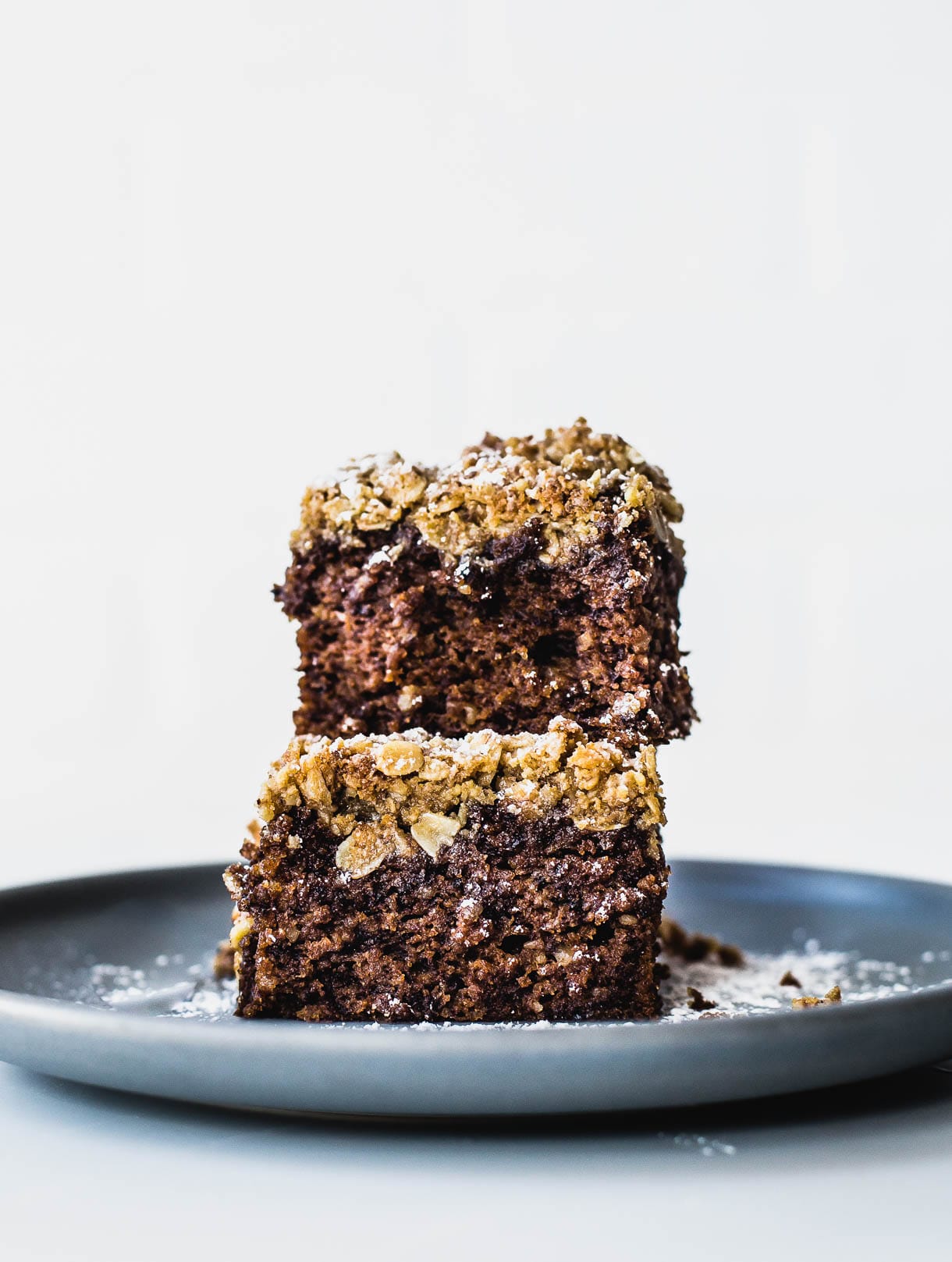 Cake
1/2

cup

73 grams teff flour

3/4

cup

85 grams walnut meal

1/4

cup

40 grams sweet rice flour

scant 1/2 teaspoon kosher salt

2

teaspoons

pumpkin pie spice

1/2

teaspoon

baking soda

1

teaspoon

baking powder

3

tablespoons

organic cane sugar

3/4

cup

sweet potato puree

1

large egg

room temperature

1/4

cup

olive oil

2 1/2

tablespoons

pure maple syrup
Crumb Topping
5

tablespoons

butter

1/2

cup

coarsely chopped walnuts

1/3

cup

old fashioned oats

1/4

cup

sweet rice flour

1/4

cup

packed brown sugar

1/2

teaspoon

cinnamon

1/4

teaspoon

salt
Preheat oven to 350 degrees F.

In a bowl, whisk together teff flour, walnut meal, sweet rice flour, salt, pumpkin pie spice, baking soda, baking powder, and sugar. Set aside. In another bowl, whisk together sweet potato puree, egg, olive oil, and maple syrup.

Make a small well in the middle of the dry mixture, and pour in wet ingredients. Gently stir together, until no streaks of flour remain.

Pour into a parchment lined

6-inch round springform pan

. Smooth out the top with back of a spoon.

In a small bowl, mix together all crumble ingredients, using your hands to disperse butter throughout the mixture, until you have a thick crumble. Sprinkle on top of cake evenly.

Bake for 40 minutes at 350 degrees F. Test with toothpick and if no wet batter sticks on toothpick, remove and let cool in pan for 10 minutes, then release the sides and let finish cooling. If you do get wet batter on the toothpick, bake in increments of 3 minutes, until just moist crumbs stick on the toothpick. Dust with powdered sugar when ready to serve.
This post contains Amazon affiliate links which I may make a small commission from should you decide to purchase.