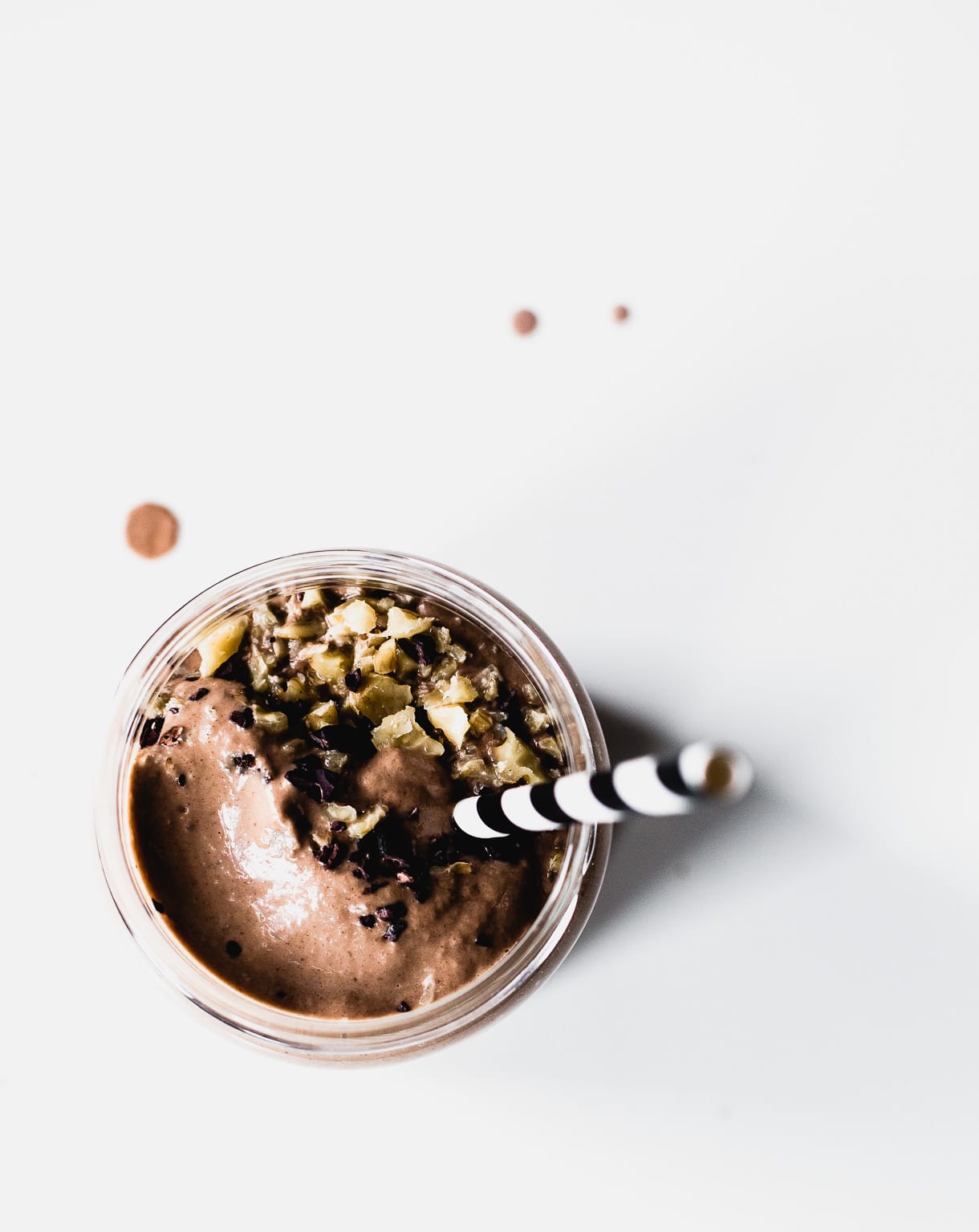 I first tried raw cacao (cacao powder is finely ground from cacao beans and left in its most natural state with no sweeteners) this winter when I was dabbling with different variations of my evening hot chocolate obsession. It quickly became my favorite "healthyish" way, with a more complex chocolate flavor and coffee notes that made for a delicious warm beverage, sweetened with maple syrup.
Now that the warmer months are here, I've been wanting to enjoy a similar beverage, but in milkshake form. Enter this frozen gem, made from a quick blender walnut milk, raw cacoa, and dates.
And yes, I'm going there….. using frozen riced cauliflower (I get mine from Trader Joe's) for that Wendy's frosty-like texture, without adding flavor. I swear you won' taste. Really. And it avoids using bananas for that texture, which I love, but it wouldn't meld well with the other ingredients here.
Essentially you're making a healthy chocolate date shake, or frozen hot chocolate, where rich, buttery walnuts compliment chocolatey cacoa. I threw in a pinch of espresso powder for extra depth, but that's totally optional, as I know it's an ingredient not everyone has on hand. And if you're out of dates, I tested it with maple syrup as the sweetener, which was lovely as well.
Better yet, there are so many nutritional benefits to this frozen treat!
Walnuts have protein, fiber, and omega-3 fats (actually the only nut that has a rich source of the plant-based omega-3 ALA with 2.5g/oz), #teamgoodfat FTW.
Dates are a good source of fiber and copper and are good for energy levels, containing natural sugars such as glucose and fructose, too.
Raw cacao, one of nature's superfoods, is a good source of fiber, magnesium, iron, and copper.
Cauliflower is an excellent source of vitamin C and a good source of vitamin K, folate, and vitamin B6. Sneaking it into a milkshake is a great way to get your veggies in!
Every sip of this creamy milkshake tastes rich and satisfying, and you can count on its wholesome and nourishing ingredients to fill you up. It's a great breakfast or dessert… you decide. 💛
*Note: If your dates are a little hard and dry, don't worry — they're still perfectly good and will work just fine. But they'll benefit from soaking in the water with the walnuts for about five minutes before blending. This quick step will rehydrate and soften their flesh.
Place dates and walnuts in a high speed blender. Pour water over them. Let sit for 5 minutes if your dates are a bit dry/hard.

Blend on high speed for 30-40 seconds, until smooth.

Add cacao powder, espresso powder, salt, cauliflower, ice cubes. Blend for 30-40 seconds until smooth. Pour into glasses and enjoy.