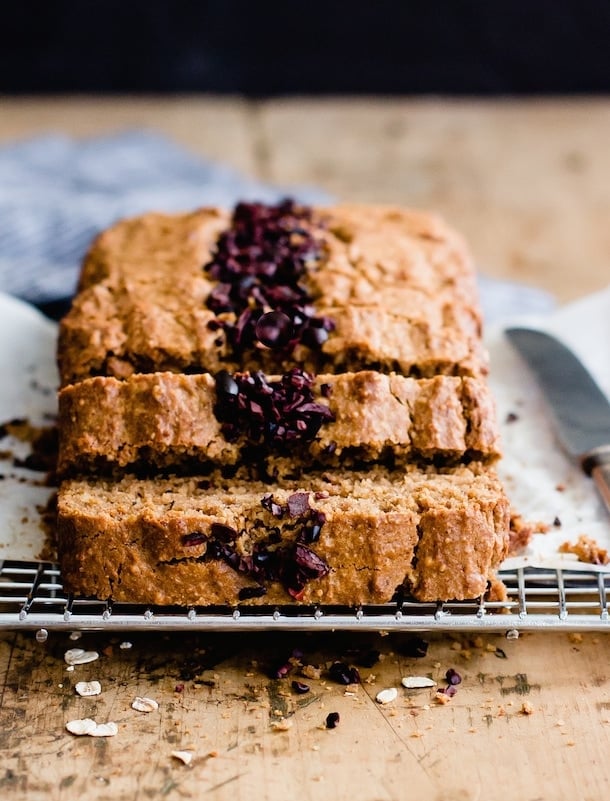 Fall always sneaks up on me quite quickly. With the flip of a switch, the days go from stifling hot to dry and cold, howling winds plucking the leaves from trees like thieves.
I've been thinking a lot about the change of seasons lately, how it impacts our daily activities, the food we put on our plates, our thought patterns, our mood. It's pretty amazing how our bodies respond, anticipating the differences, adjusting without hesitation. I even think the oven knows it's going to be used as a main heat source, all the while churning out a dose of comfort, like this Vanilla Almond Butter Bread with Cacao Nibs.
I used to get anxious when October rolled around, knowing that the days without hats, scarves, and mittens were numbered. But as I've gotten older, I see the beauty in this season of change more than I ever have before, and appreciate the calmness it brings to my life. The sunshine fading faster each day seems like the universe readying the world for rest.
I stumbled upon this poem that depicts my thoughts so well, and I wanted to share it with you.
Something Beautiful by H. Sokolova
Watching the last of these days disappear
feeling the air get colder
seeing the world get darker.
Memories of lying on the grass
of the sun warming my closed eyes.
Now, the warmth is gone
the sunshine is gone
the world has turned into something new
something colder, something darker
something different,
something Beautiful.
So lovely. And I think it's worth a read again after you make this gluten-free Vanilla Almond Butter bread, along with a cup of coffee and maybe a friend by your side.
It took several tries to get the recipe as I wanted — soft and moist, able to be sliced thick and subtly sweet. Using the correct ratio of oat flour + almond flour, fruity olive oil, and creamy almond butter, it finally met my expectations. And it's sweetened with coconut sugar, which I love for it's caramel flavor, a perfect match for the hefty dose of amazing vanilla extract.
Cacao nibs elevate the texture, giving each slice a little crunch and coffee flavor, but if you don't have them on hand, mini chocolate chips would work well too. And as you can see there's no shame in slathering it with more almond butter.
110

grams

oat flour

83

grams

almond flour

1 1/2

teaspoons

coconut flour

1

teaspoon

baking soda

1/4

teaspoon

baking powder

1/4

teaspoon

salt

1/4

teaspoon

cinnamon

1/3

cup

+ 1 tablespoon coconut sugar

1/2

cup

almond butter

1/4

cup

+ 1 tablespoon olive oil

1/2

cup

applesauce

2

large eggs

room temperature

3

teaspoons

Rodelle pure vanilla extract

1/4

cup

cacao nibs or mini chocolate chips
Preheat oven to 375 degrees F.

Line 9x5 inch loaf pan with parchment paper, or grease the pan liberally. In a large bowl, stir together oat flour, almond flour, coconut flour, baking soda, baking powder, salt and cinnamon.

Put coconut sugar, almond butter, olive oil, applesauce, eggs and vanilla in a second bowl. With hand mixer, combine these ingredients on medium speed for 20 seconds.

Add liquid ingredients to dry, then use hand mixer to combine for 20- 30 seconds on low speed until no flour steaks remain. You don't need to beat this mixture very hard.

Pour into pan and smooth top, then add cacao nibs to the center. Bake for 5 minutes at 375 degrees, then reduce heat to 350 degrees and bake for 26-29 minutes longer, until toothpick comes out clean. Do not overbake, as this will result in a dryer end result.

Let cool on wire rack completely, then slice. Will keep, loosely covered, for 3 days. You can also cut individual slices, wrap in saran wrap or foil and freeze.
This post is in collaboration with KitchenAid & Rodelle, however I was not compensated for my work. Also, this post contains affiliate links, which I make a small amount of money from should you purchase something.