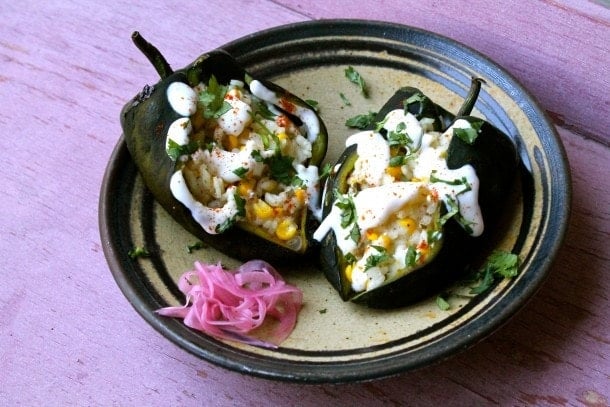 Whether it be a beautiful blog, the tip from the lady who only grows heirloom tomatoes at the farmer's market, the glossy Bon Appétit's strewn across the coffee table, or a tattered cookbook with lemon icing remnants — food inspiration comes from so many different and exciting sources. There just doesn't seem to be enough time or tummies to try everything. Usually this means I only end up making a recipe once because there are so many on my list to try but I can guarantee that this recipe will be made again very soon!
This delicious recipe for Roasted Poblanos with Sweet Corn Risotto comes from the Smitten Kitchen cookbook, written by Deb Perelman of the Smitten Kitchen blog (which I adore!). The thing I love about her is that she takes innovative and creative ideas to the home cook's level. There's nothing intimidating or pretentious about the way she turns food into something special. From the cookbook I've also made a pan of Brown Butter Rice Krispie treats (which didn't last a day in our house!) as well as an easy, but elegant Harvest Roast Chicken. And now this.

I only adapted a few things from the original recipe, first cutting the recipe in half because it's just the two of us. Instead of using a beer/stock combination for the risotto, I used Sauvignon Blanc, mainly because I haven't tried using gluten free beer in cooking so I wasn't sure how it would taste. (If anyone has, let me know the results!) To make the recipe a little lighter I used about a ½ cup of Manchego cheese. Since Manchego is a stronger cheese than the pepperjack that Deb suggests, I knew I could get away with using a smaller amount without losing flavor. A few weeks ago I made some quick pickled red onions for the carnitas I served at a Cinco de Mayo party and I was so glad I had some left because they were the perfect compliment to the peppers. I would highly recommend making up a batch, they're so worth it!
Sweet Corn Risotto Stuffed Poblanos

Serves 2-3 people
Adapted from the Smitten Kitchen Cookbook
*To save time you can roast the poblanos the day before, as well as make the risotto. Then on the day you want to serve, just stuff the poblanos with the finished risotto and continue recipe.
4 poblano peppers (about 1 ½ lbs)
1 clove garlic, minced
1 small onion, diced
2 T olive oil
1/3 c dry white wine
3 ½ c chicken or vegetable stock
1 c dry Arborio rice
1 c sweet corn, fresh or frozen (I used the last of the corn I had frozen last fall)
1/2 c grated Manchego cheese
½ t dried Mexican oregano
½ t salt
¼ t black pepper
Garnishes:
Cream Sauce = 3 T sour cream mixed w/ 1 T milk and juice of a small lime
Smoked Paprika
Cilantro
Preheat a grill or broiler. Lightly brush clean, dry chilies with oil. Place the chilies 3-4 inches under the broiler or over the hottest part of the fire. Allow the peppers to char to black in spots, turning as necessary to char all surfaces. Remove and place in a heatproof bowl. Cover with a plate or lid for 5 minutes. (Do not leave covered for longer, or the peppers will continue to cook in their own steam.)
Remove the bowl cover and allow the peppers to cool to room temperature. Slip off the skins. Using your finger or a knife, open one side and remove seeds and membranes. Keep the stems intact – they're cute!
In a 1 1/2 quart saucepan, heat the stock to a low simmer. On a separate burner, heat a larger saucepan over medium heat. When the pan is hot, add oil and heat through; add onion and saute until softened and translucent, about 8 minutes. Add garlic and cook for 1 minute. Add the rice and stir for a minute or two until it becomes lightly toasty. Pour in the beer, scraping up any stuck bits from the bottom of the pan. Let the beer simmer for roughly a minute; it will mostly disappear.
Ladle 1 cup of warm stock into rice, and simmer until the liquid is fully absorbed. Add remaining stock, 1/2 cup at a time, allowing stock to fully absorb before adding more and stirring often so that the rice does not stick to the bottom of the pan. With the final addition of stock, add the corn. The total cooking time is about 30 minutes. The risotto should be creamy and tender, and a little bit thicker than a standard risotto. Stir in the cheese, salt, and pepper. Adjust seasonings to taste. Remove risotto from heat.
Preheat oven to 400 degrees. Fill each pepper with risotto and arrange tightly in a baking dish. Bake for 10-15 minutes until bronzed on top. Remove from oven, garnish with sour cream sauce, cilantro, and smoked paprika.