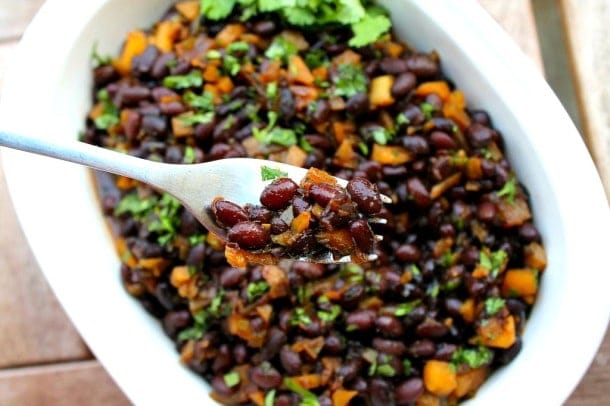 Beans are so versatile and a great way to eat healthy on a budget. I throw them into lots of salads for extra fiber and protein, use them as the base for veggie burgers, and even make healthy desserts with them. These Caribbean Barbecue Baked Black Beans are naturally gluten free and were the highlight of a recent picnic with friends.
I was paging through a magazine and saw a recipe for barbecue baked beans with rum and inspiration instantly came over me. I mean seriously, anything with booze is better right? :) I had just been at the coop earlier in the day and picked up some black turtle beans as well as another jicama because I couldn't get enough of this deliciousness.

The brain started wandering and the combination came to me – Jicama, black beans, cilantro, dark rum….ya mon' – that says Caribbean!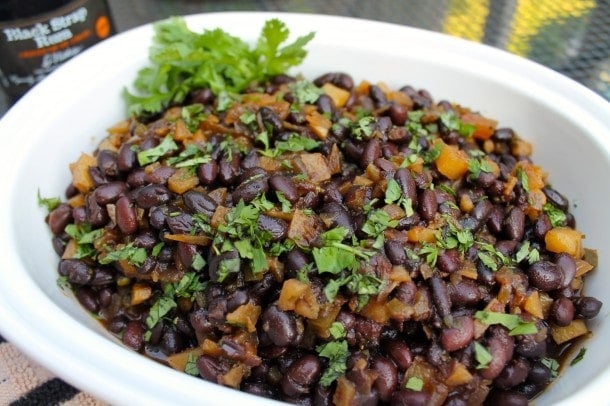 The dark rum in this recipe to give it a subtle caramel flavor, along with some molasses and a great smokey barbecue sauce made by Kowalski's. (Side note, the sauce is naturally gluten free which can sometimes be difficult to find.) A little heat from the jalapeno, fresh cilantro, and a subtle sweetness from the brown sugar makes this twist on baked beans a crowd pleaser!

Caribbean Barbecue Black Beans with Jicama
-10 oz dried black beans (makes about 4 cups cooked)
-1 t salt
-1 1/4 c chopped jicama
-1 c diced onion
-2 cloves garlic, minced
-1 jalapeno, minced
-1/2 c rum
-1/2 c bbq sauce
-2 packed T brown sugar
-1/4 c water
-2 T molasses
-1/3 c minced cilantro
-1 t salt, divided
-1 t ground black pepper
Soak beans overnight in water. Next day, drain, rinse and add to large pot with about 1 t salt and 6 inches water to cover. Bring to a simmer and cook for 1 to 1 1/2 hours, until tender. Preheat oven to 375 degrees. Meanwhile, in a saute pan bring, heat olive oil over medium-high heat. Add in garlic and onion, stirring frequently for a minute or two until fragrant. Add in jicama, rum, and jalapeno. Cook over medium heat for 8-10 minutes until rum is reduced. In large bowl, combine beans with the sauteed veggies. Add in remaining ingredients (bbq sauce to end of recipe) Bake, covered with aluminum foil for 45 minutes, then remove foil and bake for another 15 minutes. Garnish with cilantro. Serve immediately or at room temperature. Will keep in refrigerator for 4-5 days.