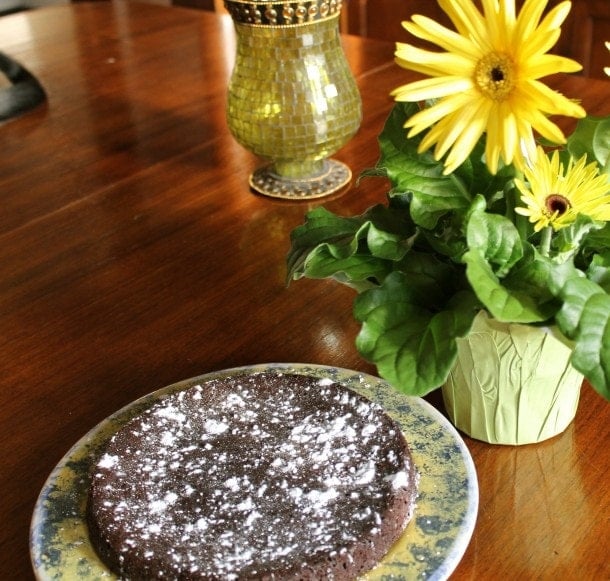 Any of you who know me understand that:
a. I love, love, love, my cat Grace. She's my little black beauty, my comfort, my friend.
b. The same can be said about my relationship with chocolate, and hers apparently :)
The above picture depicts exactly how the both of us felt when I got my "mystery gift" from Joy the Baker, part of her "Enjoy!" subscription gift program – licking our chops. Joy the Baker is a fun, quirky, and extremely talented food blogger that I really admire. Her recipes are divine and her commentary is not only hilarious, but it's real life. A few months ago I was reading her blog and she posted about her Enjoy program:
ENJOY! is a subscription gift program. It's a mystery gift delivered right to your door. Like a wine of the month club… only better!

Every three months I pair up with a different cool, quirky company and hand-select a unique little gift package for you. It could be a cool kitchen item. It could be something for you to carry in your purse. Whatever it is, it's a new and exciting thing that arrives in your mailbox every three months. We're not talking freebies or samples… we're talking full-on awesome gifts!
Hmmmmmm….."We all deserve a little "me" gift once in a while right?" I thought, glass of wine in hand. "And she say's its better than a wine of the month club – and I really like wine…. SOLD. Before I knew it the Submit button was hit and I was giddy just thinking about what I may receive.
My first gift arrived in March. I raced up the stairs to open it, reminiscent to how I felt when I was 8 years old sprinting into the house after Christmas Eve church to see what Santa had brought. As I opened the package, the box inside was outfitted in cool King Arthur Flour branding… inside – chocolate decadence in oh so many forms. Double dutch dark cocoa powder, espresso powder, REAL chocolate sprinkles, cutesy cupcake liners, and a SIGNED recipe card.
Only one problem people, and it was a big problem. Guess who gave up chocolate for Lent? Ya, this girl…..Not trusting myself, I knew I had to hide this away, hope to forget about it, and patiently wait for April 8th to arrive.
And then this little circle of rich, fudgey, luscious flourless cake was born. I had been planning on adapting the cupcake recipe that came in the box, but then I saw Angharad's post over at her beautiful blog, Eating for England and I was smitten. Like she said in this post, there are many similar flourless chocolate cakes floating around, but the difference comes in using quality ingredients.
I made just a few changes to incorporate the awesome King Arthur ingredients I received. If you use one thing the next time you bake anything chocolate, make it espresso powder. It truly is chocolate's best friend. It adds a depth of flavor that you won't believe. And don't worry those of you who think bleghhh when you hear espresso – (I may defriend you though :) – the coffee flavor will not carry through. And the Double Dutch Dark Cocoa is amazing…..
Flourless Chocolate Espresso Cake
3.5 oz. unsalted butter
3.5 oz excellent chocolate, chopped (I used half milk chocolate, half 75% Ghiradelli dark)
1 1/2 t. espresso powder
1/2 c. double dutch dark cocoa powder (unsweetened cocoa powder would be fine too)
3 eggs
1/2 c. sugar
1/4 t sea salt
Spray 8 inch round cake pan with non-stick spray, then cut parchment paper circle to fit and place inside pan. Preheat oven to 375 degrees. In bowl melt chocolate and butter in 30 second intervals, stirring to combine until all melted and glossy. Whisk sugar into mixture. Then add the eggs, whisking well. (mixture will seem quite thick) Next, stir in cocoa powder, sea salt, and espresso powder. Pour in pan and bake about 30 minutes. Remove from oven and Let cool for 5 minutes, then invert onto a serving plate. Dust with powdered sugar or you could even top with whipped cream and crushed peanut butter cups. Excellent served warm with a scoop of vanilla bean ice cream :)