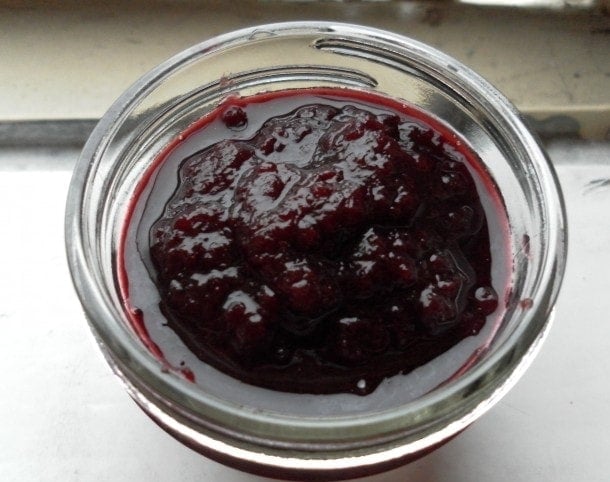 After making my Crazy Good Gluten Free Cherry Scones I still had some of those beautiful bing cherries leftover. I wanted to preserve them so during the cold winter I could still taste the brilliance of summer. I like jams a lot but I wanted to try a fruit butter because you taste the star of the show, the bold flavors of the fruit shining through on their own like in this Cherry Ginger version.
A fruit butter is made by cooking down the fruit and adding some type of sweetener and lemon juice, then simmering until it achieves a thickness on its own. The consistency should be that of a spread that goes lovely on freshly toasted bread, as an oatmeal topping, cheese and crackers, or maybe mixed with vinegar and oil to make a salad dressing. There is no added pectin and minimal added sugar.
I decided to add a bit of ginger because I love its soft, complimenting flavor with the cherries. My choice of sweetener was honey, which I am trying to use in the majority of my cooking instead of refined sugar for a few reasons. However, I am not saying I do not use sugar for some recipes, there surely is a time and place for it! I do try to stick raw sugar when using it though. So why use honey?
Honey is a vitamin/mineral powerhouse! It contains vitamin A, vitamin B2 or riboflavin B3 or nicotinic acid, B5, vitamin C, biotin (also known as vitamin H) and rutine. Minerals it provides include calcium, magnesium, potassium, iron, copper, iodine, and zinc.
Honey is a whole food that does not raise blood sugar like refined sugars.
During the refining and bleaching process, sugar is stripped of all its nutrients which makes it very difficult for our bodies to digest. Our stomach has to find nutrients from other organs in the body to break down the sugar, which in turn makes them work a lot harder than normal.
Honey is also an antibiotic, antifungal, and antiseptic.
You could surely double this recipe if need be, but it is kind of nice to make a small batch sometimes. Makes you savor every bite of it….. So go get your cherry pitter ready and create a fruit butter that sings summertime!
Honey Sweetened Cherry Ginger Fruit Butter
(makes 4 4 oz jars or 2 half pint jars)
-1 1/2 lbs. cherries (pitted and stems removed)
-1/4 c. raw honey (or more to taste depending on ripeness of cherries)
-1/4 c. lemon juice
-1 T. fresh ginger, minced
Add cherries, ginger, and lemon juice to pot over medium heat. Bring to boil (it will seem like there isn't enough liquid but once cherries start to get warm they will start releasing liquid) and stir a bit. Once the cherries are getting soft, crush them with a potato masher. Remove from heat and puree with an immersion blender. (Don't worry about seeing some of the skins left in the puree. As the mixture cooks these will break down.) Add honey, then return to heat and let simmer for about 30 minutes, stirring frequently until thick and reduced.
Once the mixture is thick, ladle into hot sterilized jars. Be sure to sweep inside of jars with plastic spatula to remove any air bubbles. Wipe rims clean, attach lids, and return to boiling waterbath for 10 minutes. Remove and let cool undisturbed, listen for the pings. Happy canning!