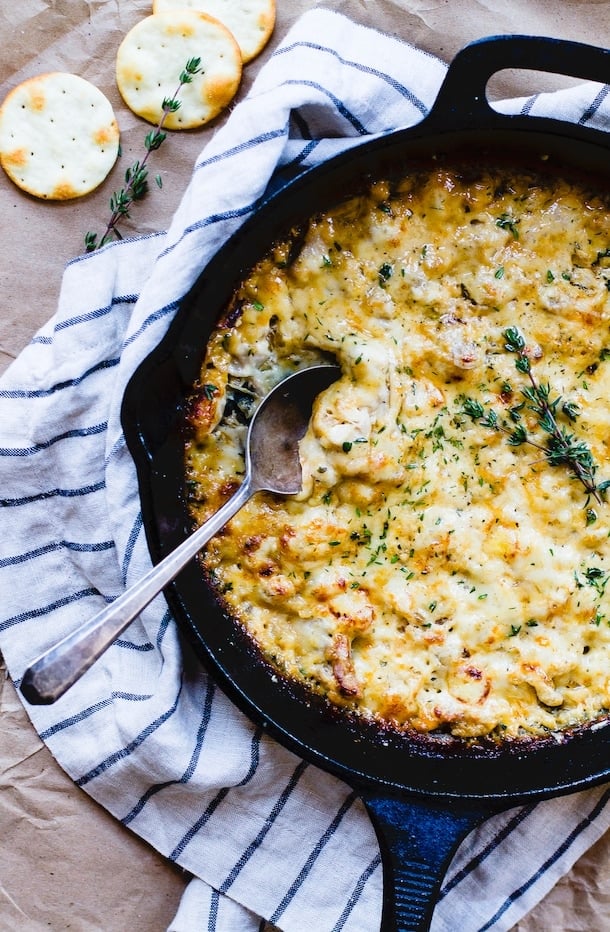 There's dip, and then there's hot, cheesy dip served in a cast iron skillet. Not light, nor healthy, and that's completely okay in my book because it's utterly delicious. After you guys loved this Skillet White Chicken Chili Dip, I've been working other combinations that are a cracker's best friend. This one sealed the deal, made from real ingredients like organic chicken thighs, sweet onions, white wine and nutty Gruyere cheese. A little indulgent, yes, but just the sum of tasty parts working together in bubbly harmony.
I set out to test this recipe one more time, and as I stood in line at the grocery store buying the fresh thyme and white wine I didn't have on hand, my eyes locked on a magazine cover that said, "17 Skinny Appetizers to Save Your Waistline This Holiday."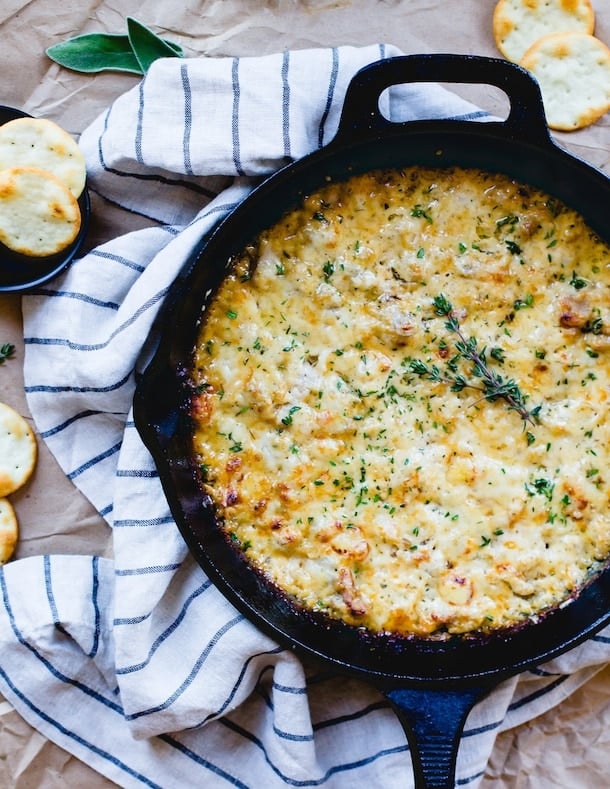 All I could think about was the onslaught of these messages we will be hearing from now until the end of January. Truth be told, I have a really hard time with all of the "clean eating/save on calories/better for your waistline" focus around the holidays.
When we limit ourselves with food, or anything for that matter, our body and mind senses it. I know for myself, this takes away from the joys of my experience, and disengages me from those I'm around. That's the last thing I want during this special time of year that should be focused on love and gratitude, surrounded by family and friends.
There should be no reason to feel ashamed to eat good food. Yet if you listen to the media, you'll quickly be led to believe that.
If magazine editors were to glance at this tempting skillet chicken dip, they'd probably attack it like this:
-Use mozzarella instead of Gruyere, which has much less fat
-Swap lean chicken breasts for the chicken thighs
-You'll never know the difference if you use Greek yogurt instead of sour cream, which is lower in calories and higher in protein
But guess what? There's more to food than just the nutritional measurements. They forget about the nuttiness and superb melting power of Gruyere. They dismiss the juiciness of chicken thighs, and heightened flavor. And yes, you will notice a difference between Greek yogurt and sour cream.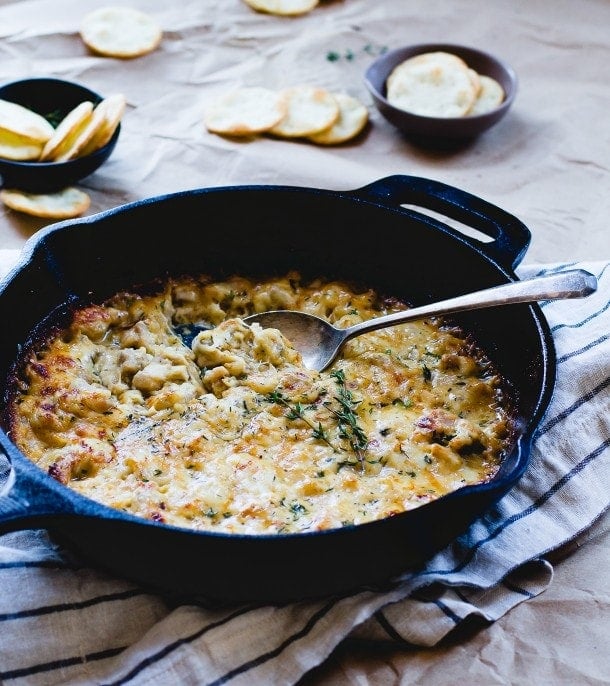 I know I'll be making this dip several times throughout the holidays, and I won't feel one bit bad taking it out of the oven, glass of Prosecco in hand, and Mariah Carey's "Santa Baby" blasting in the background. My friends will gather in the kitchen around the hot skillet, and we'll finish every gooey smidgen of it.
That scene is one made of real ingredients, real love, and real happiness. There's no reason to try and "trim" any of that away. Xo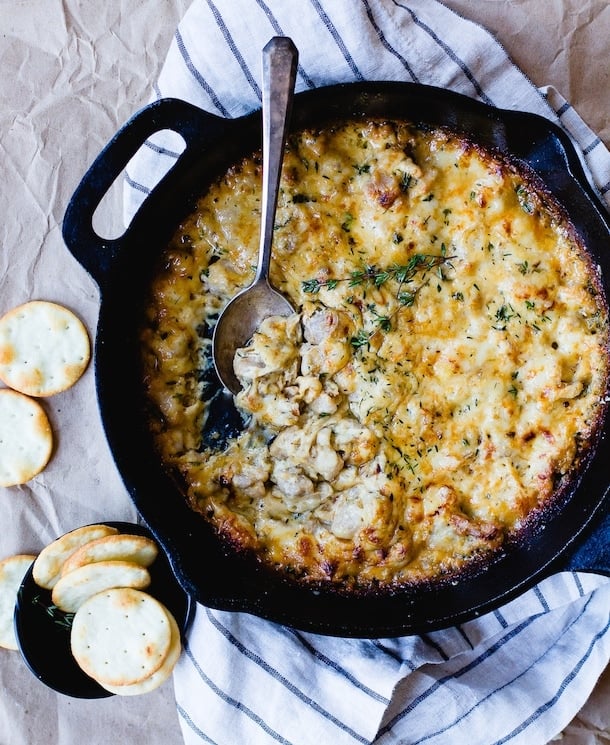 Hot Gruyere and White Wine Chicken Dip
Yield: 6

Prep Time: 15 minutes

Cook Time: 30 minutes

Total Time: 45 minutes

A cheesy chicken dip with white wine and sweet onion!
Ingredients
3/4 pound Just BARE Organic Boneless, Skinless Chicken Thighs, diced (equals 1 1/3 cups diced)
1 tablespoon olive oil
1/2 teaspoon salt + additional to taste
1/2 teaspoon pepper, divided
2 cloves garlic, minced
1 1/4 cups diced onion
3 sprigs fresh thyme, divided
4 tablespoons dry white wine, divided (sauvignon blanc or pinot grigio would be great choices)
2 tablespoons chicken stock
3/4 cup organic sour cream
2 cups shredded Gruyere cheese, divided
Instructions
Preheat oven to 375 degrees F. In a 10-inch cast iron skillet, add oil and sauté the diced chicken with salt and 1/4 teaspoon black pepper, and garlic until chicken is no longer pink, about 6-8 minutes. Remove from skillet and put in a bowl, then add diced onion to the skillet with a big pinch of salt.
Cook over medium heat, letting sit for 5 minutes without stirring so you get some browning.
Then add 2 tablespoons white wine, 2 sprigs of thyme and stir, deglazing the pan and continuing to cook for 8-10 minutes, until onions are very soft. Remove from heat, discard the thyme sprigs.
Add chicken back to skillet, then stir in remaining 2 tablespoons of white wine, chicken stock, sour cream, 1 cup cheese, black pepper and minced thyme from the remaining sprig. Spread to make smooth, then top evenly with remaining 1 cup of cheese.
Bake for 15-18 minutes, until cheese is browned and bubbly. Sprinkle with extra thyme and a few cracks of black pepper. Serve hot.
Notes
This is the cast iron skillet I have, such a workhorse for less than $20.


This post contains Amazon affiliate links, which I make a small commission on to pay for my giant grocery bill if you happen to purchase something.