Craving a noodle bowl? This sesame thai rice noodle dish features with lots of fresh vegetables to create a healthy, satisfying weeknight meal. Rice noodles are great for their quick cooking time, and are naturally gluten-free!
I've been on a mad noodle bowl kick. And I'm not talking about take-out.
Curry noodles, to a peanut soba version, and now these Thai Rice Noodles! Totally rainbow-licious with lots of veggies and flavorful additions. And it's a make once, eat three times kind of meal that works warm or cold.
Tips for Making Yummy Thai Rice Noodles:
For this recipe, you'll want to buy flat rice noodles, which you can find in the asian section of your grocery store. They're the kind you've probably eaten in pad thai. Rice noodles are naturally gluten-free, which makes them a great option for everyone!
And then you'll need two oils: Grapeseed and Toasted Sesame. Let's talk about the what and why of these stir-fry pals.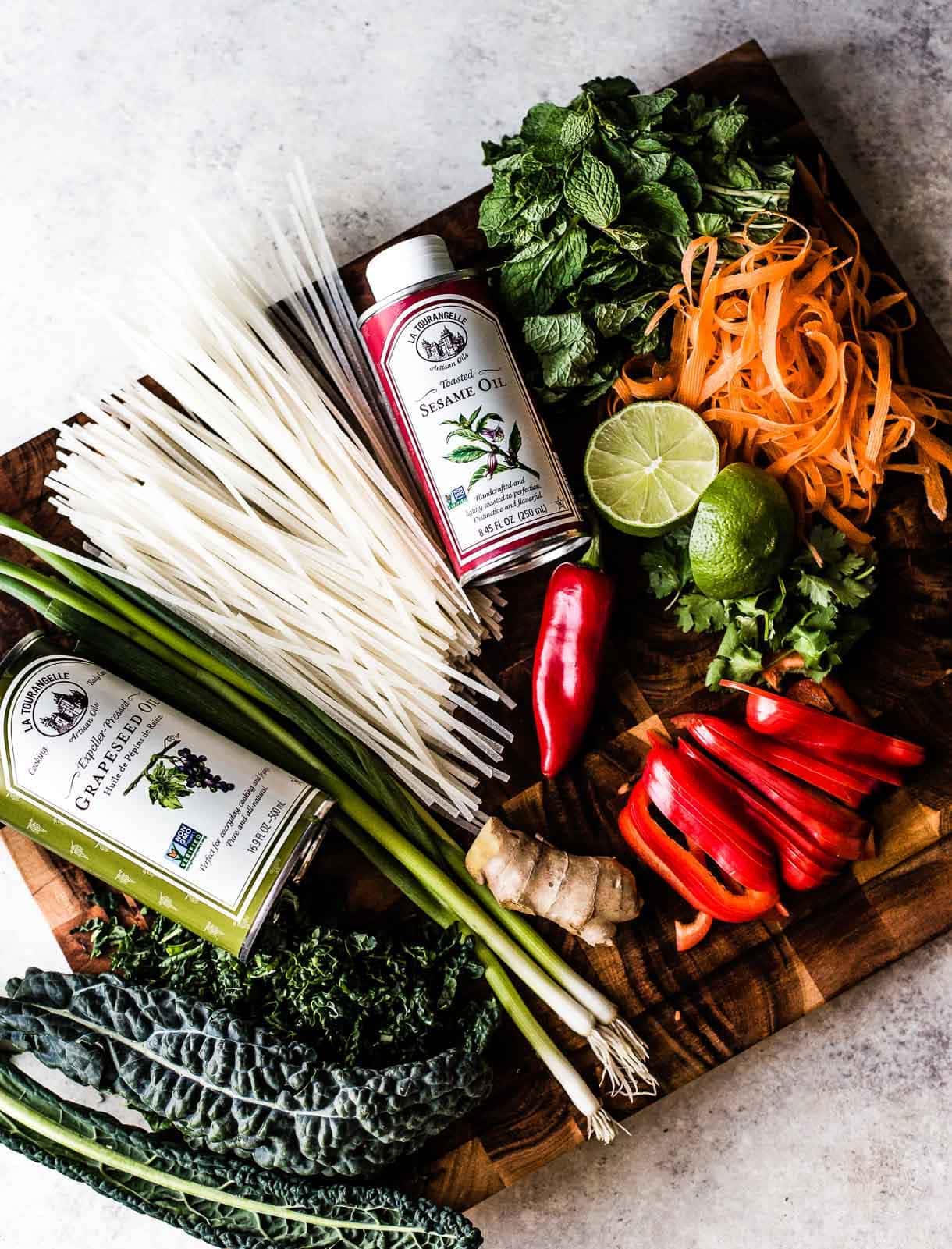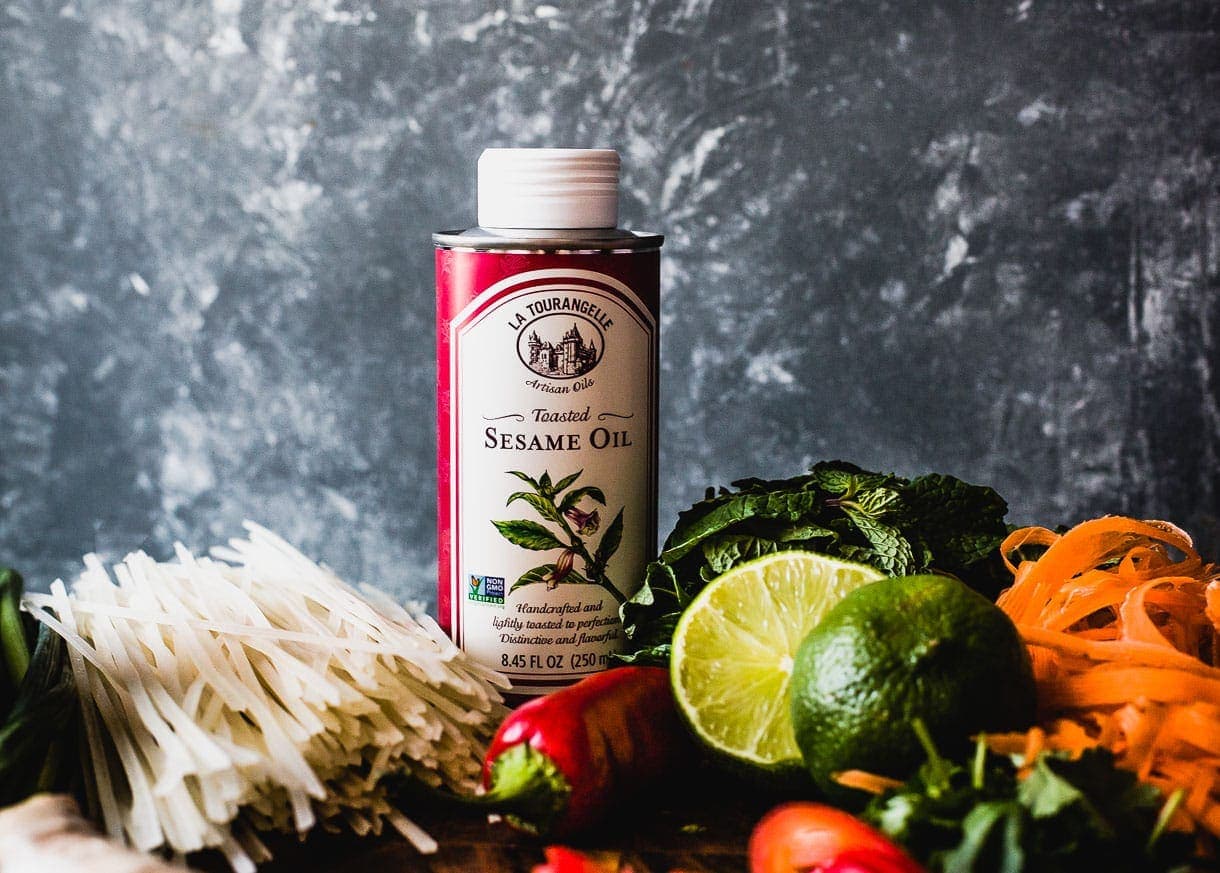 I'll be honest – all these years I've heard of grapeseed oil but never actually thought it came from grapes. But it truly does! When pressed, tiny grapeseeds yield green-colored oil with high levels of polyunsaturated fat. La Tourangelle Expeller-Pressed Grapeseed Oil has a light flavor, and can also be heated up to 450°F, making it an ideal healthy cooking partner.
What types of recipes is it best for?
Grapeseed oil is ideal for cooking at high heat, since it has a high smoke point. So that means stir-fry (how we use it in this recipe), broiling, deep-frying, and grilling. Since it's a neutral tasting flavor, it's also very versatile, and pairs with any flavor. Try it in dressings with balsamic vinegar, Dijon mustard, or a honey base.
Does grapeseed oil have health benefits?
Yes! Grapeseed oil has the highest levels of omega-6 fatty acids compared to other vegetable oils, along with high levels of vitamin E that enhances the immune system. It also contains linoleic acid, which is converted into gamma-linoleic acid in the body – and that has a protective role in the body.
What's the difference between toasted sesame oil and sesame oil?
Toasted sesame oil is a bold oil found in many Asian recipes, a cultural staple. La Tourangelle carefully selects the sesame seeds used for theirs, and lightly toasts them, then goes through expeller pressing, and gently filtered. The result is a golden-brown oil which adds rich, nutty flavor to your vinaigrette, stir-fry or BBQ marinade for authentic Asian cuisine. We use it here as a finishing oil, as it can be overpowering if used in excess.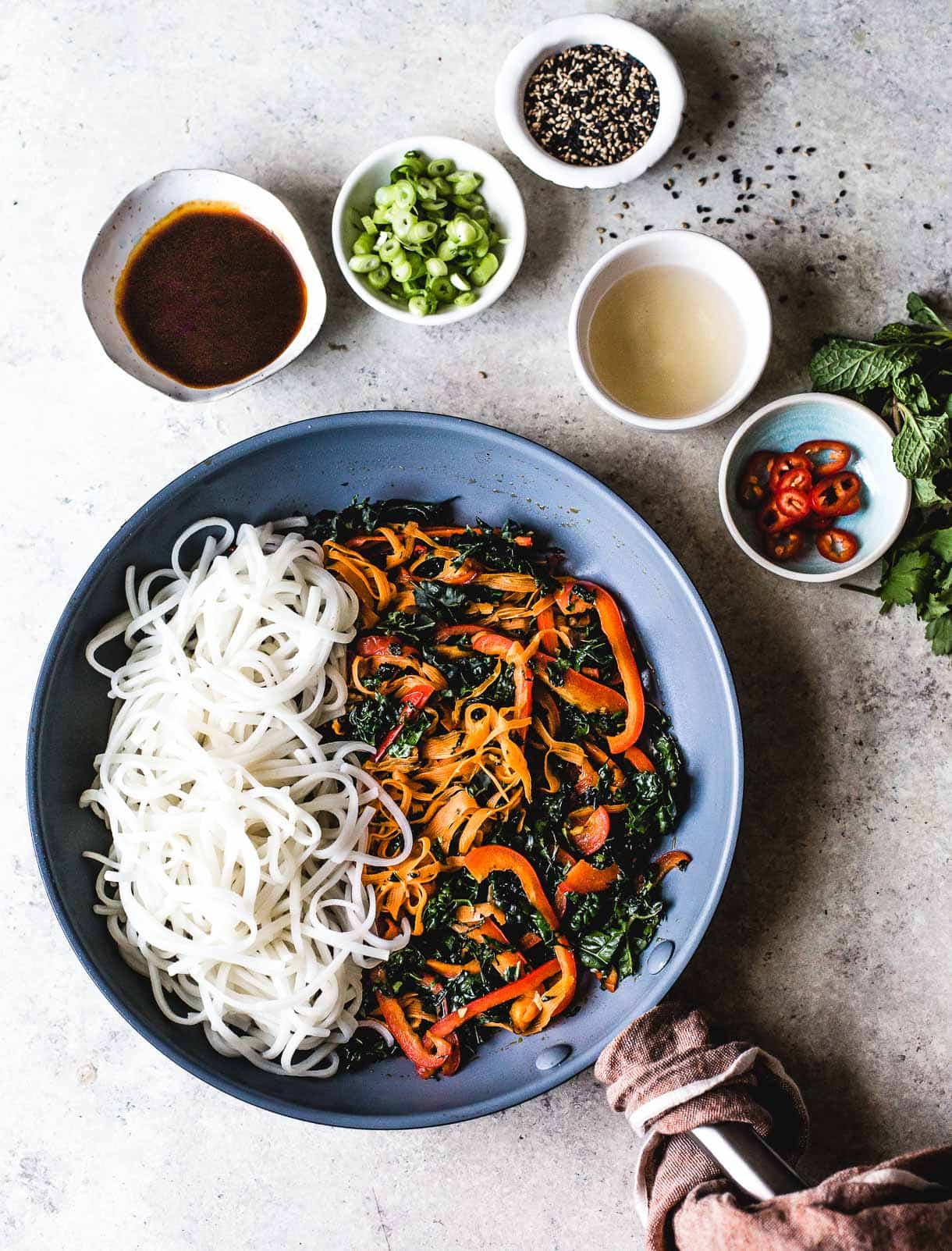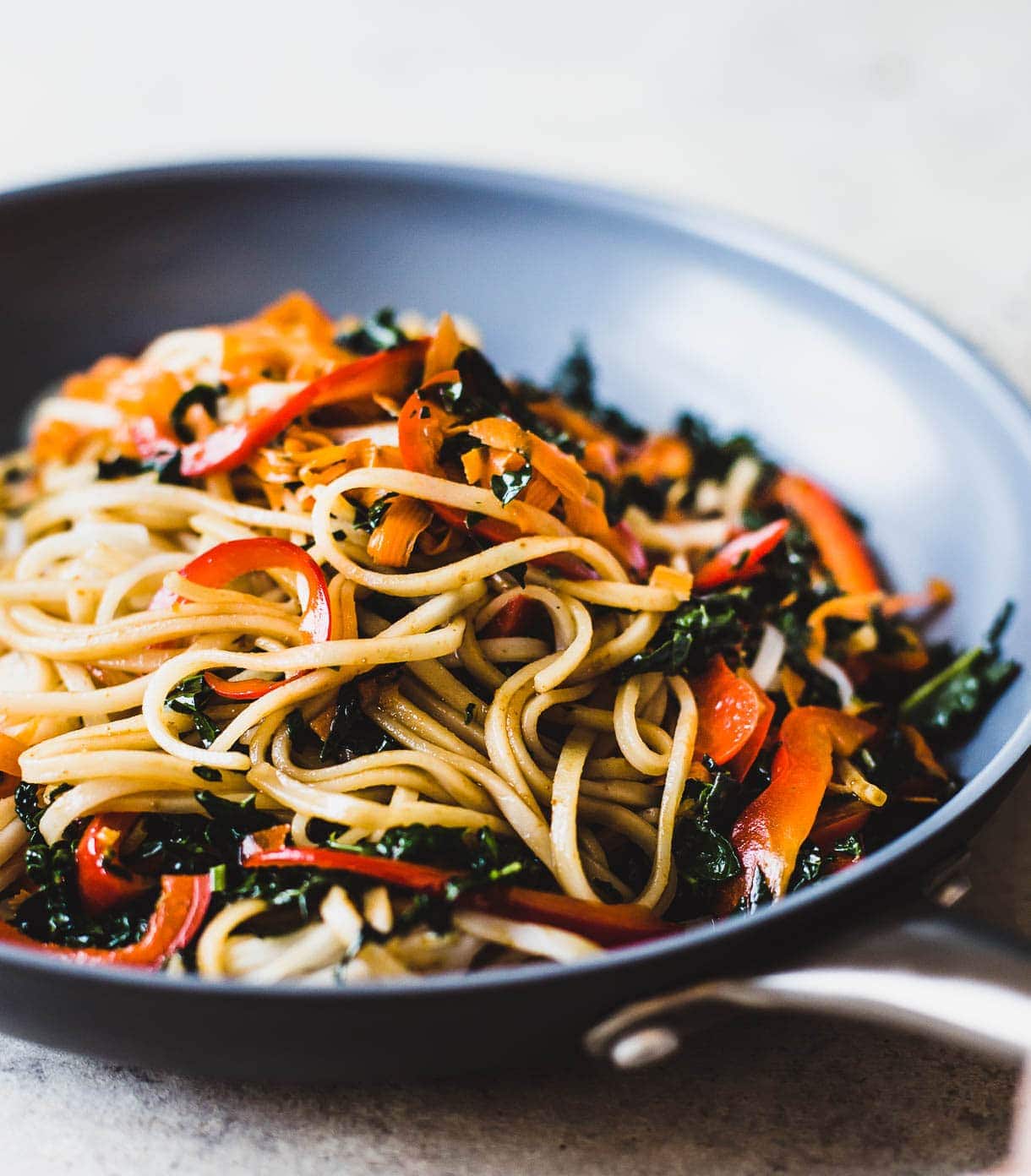 As with most of my meals, I like to make vegetables a pretty big star. That's why you see all the colors here!
From red peppers, dyno kale, shaved carrots, garlic, ginger, mint, and cilantro, and green onions. Most of those ingredients are stir-fried first in the grapeseed oil, then tossed with the hoisin sauce and sesame oil when finished cooking.
The acid in this dish comes rice wine vinegar and lime juice – which are essential for making the flavors pop, so don't leave them out. ;)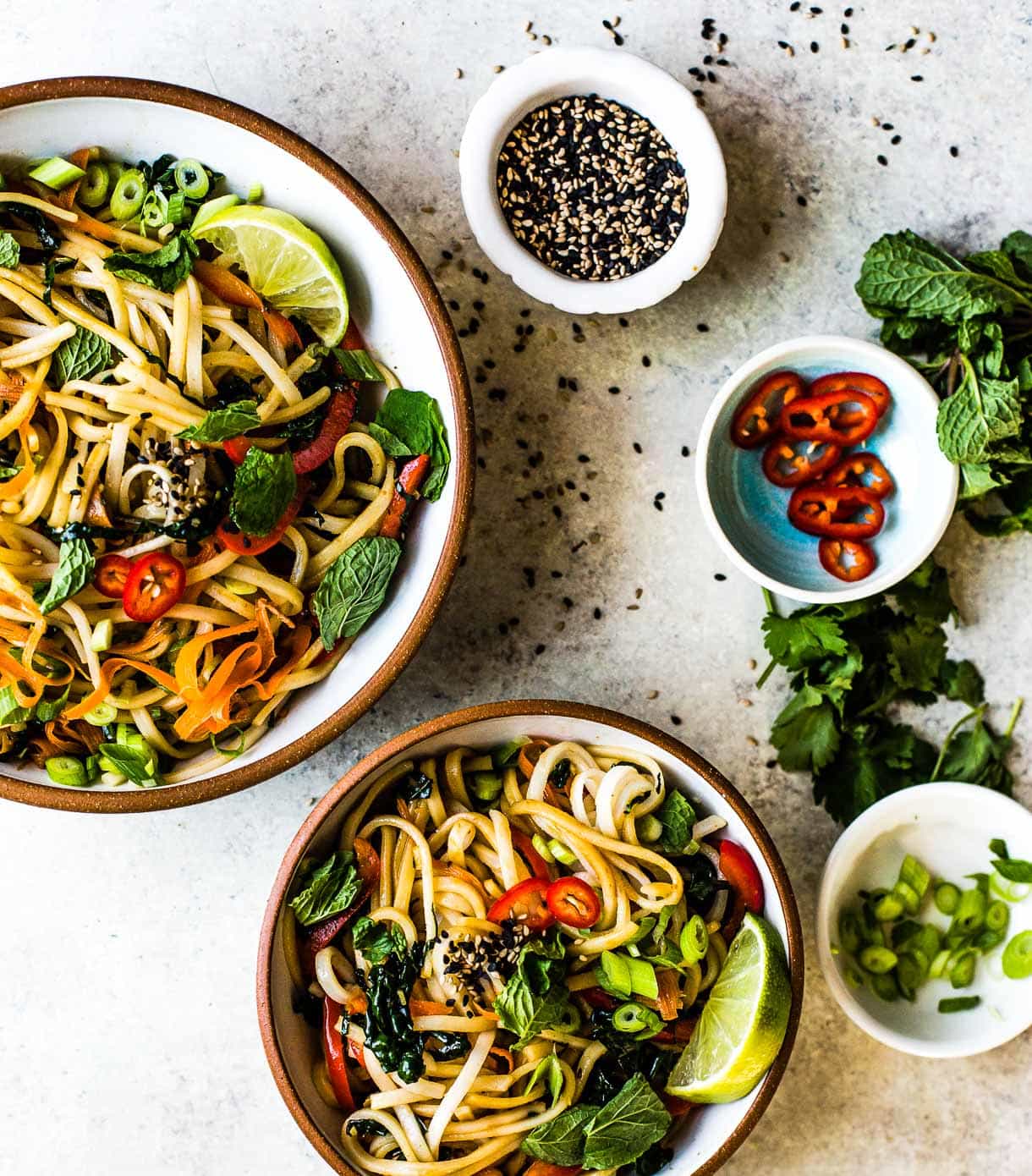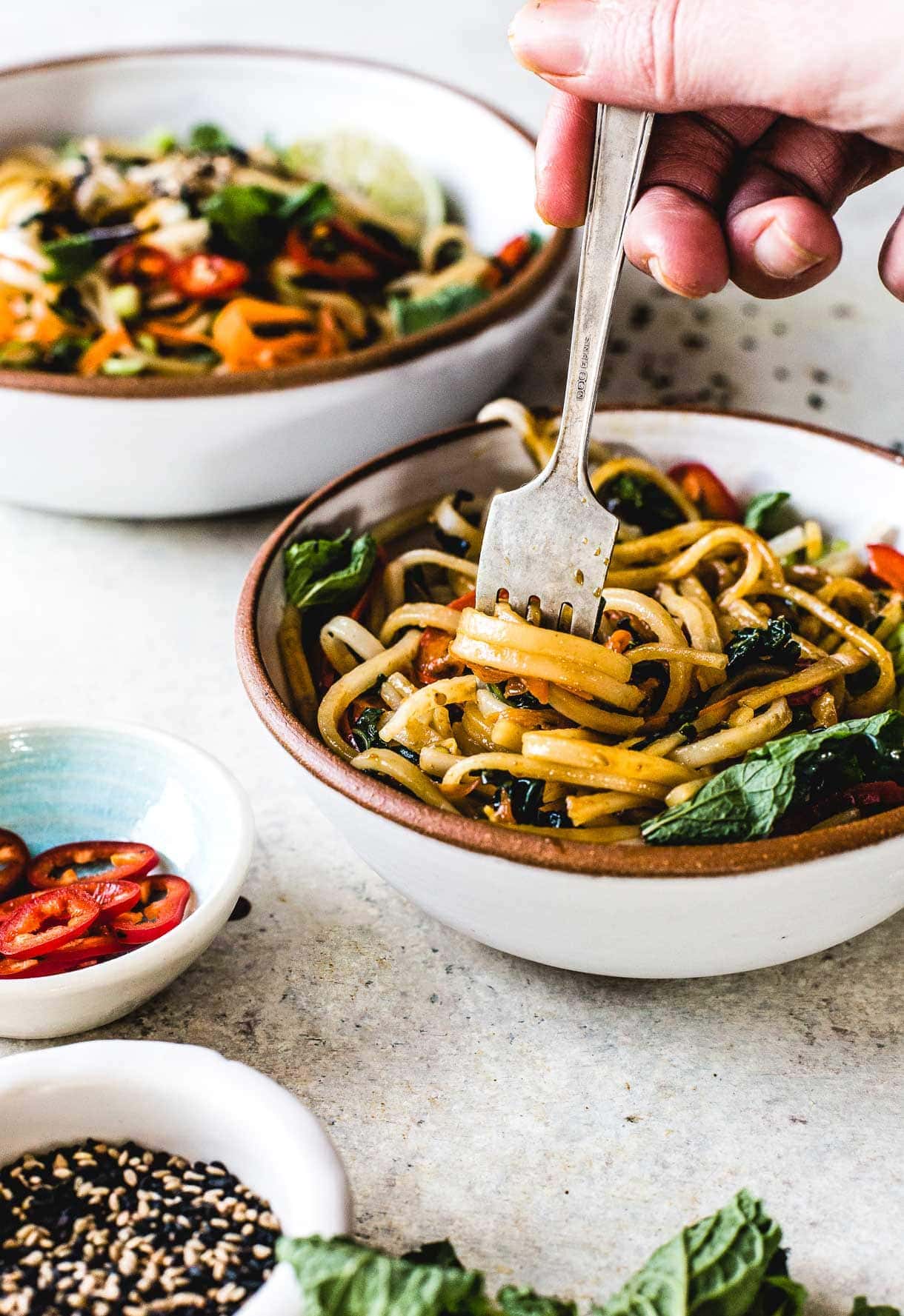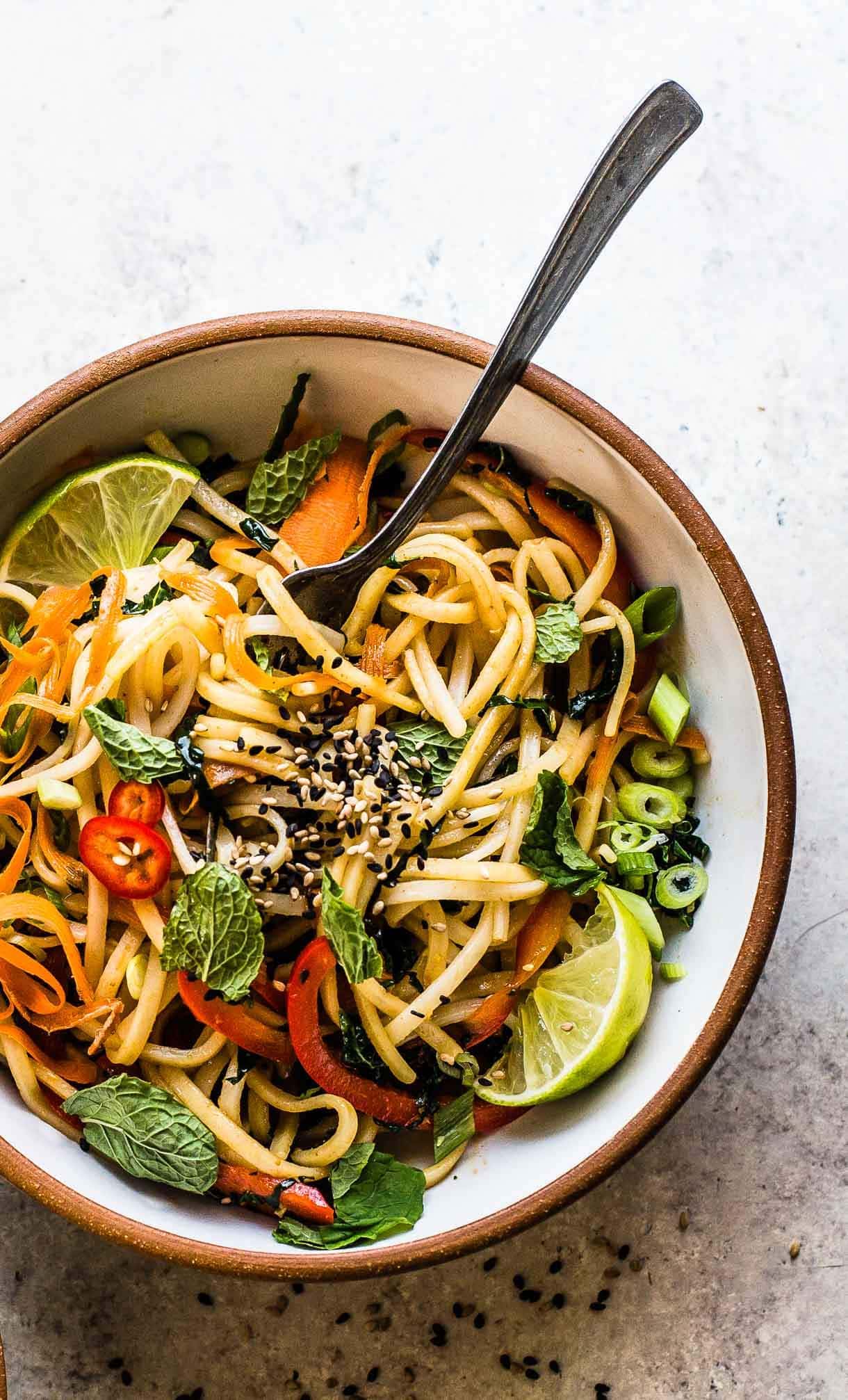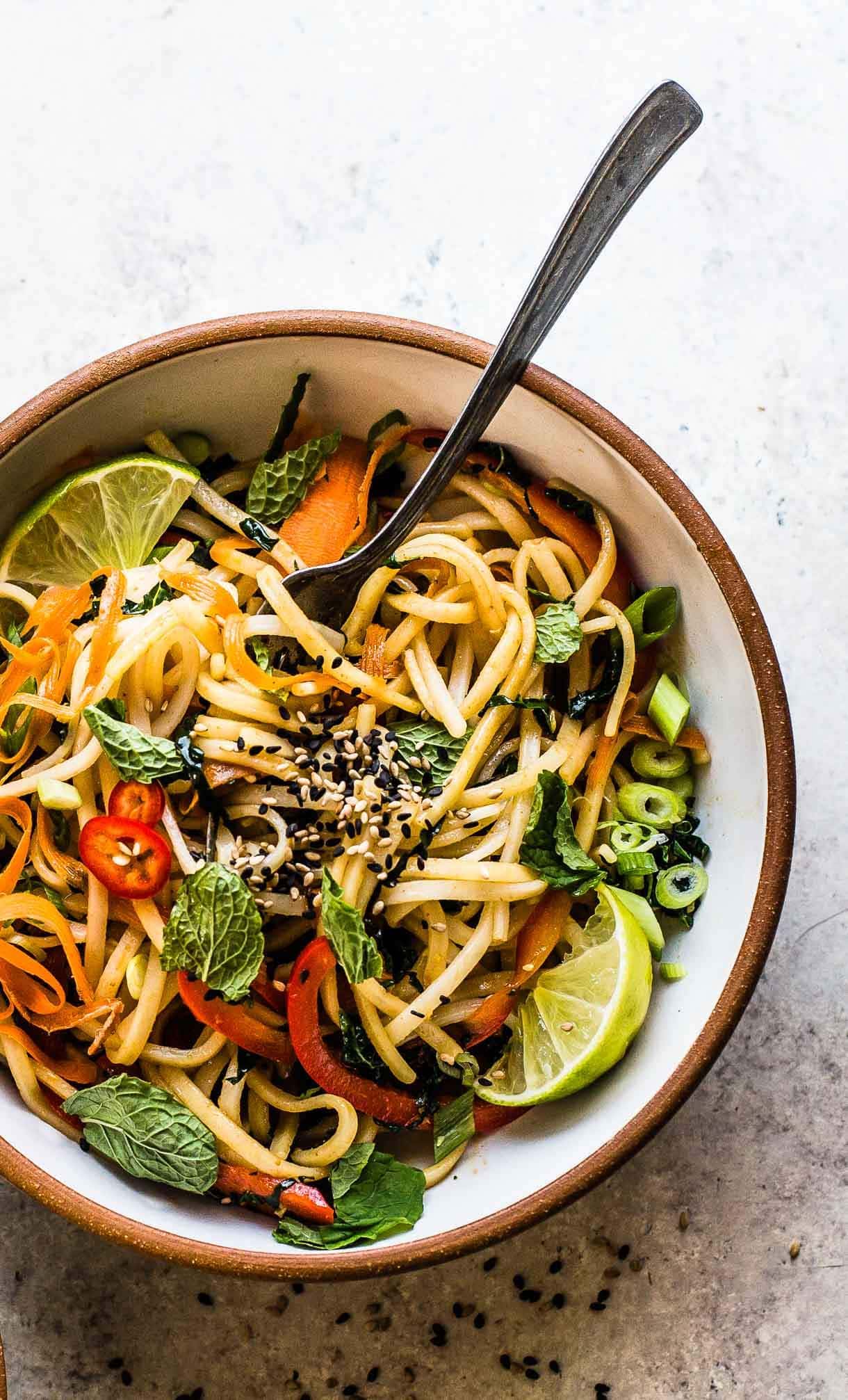 1/2

teaspoon

kosher salt

4

ounces

flat pad thai rice noodles

3

tablespoons

grapeseed oil

divided

1

medium red pepper

thinly sliced

5

dyno kale leaves

stems removed, thinly sliced

1

large carrot

peeled into ribbons with a vegetable peeler

3

cloves

garlic

minced

2

teaspoons

fresh ginger

minced

1/4

cup

gluten-free hoisin sauce

2

tablespoons

tamari

1

tablespoon

rice wine vinegar

2

teaspoons

toasted sesame oil

1

red serrano pepper

cut into rounds

2

tablespoons

minced cilantro

2

tablespoons

chopped fresh mint

2

tablespoons

sliced green onions

juice of a 1/2 lime

sesame seeds for garnish
Bring a large pot of water to a boil, and salt. When boiling, add noodles and cook according to package directions. When finished cooking, drain and rinse THOROUGHLY with cold water (otherwise the noodles will stick to each other).

Heat a large skillet to medium high. Add 2 tablespoons grapeseed oil, and when hot, add kale and red peppers. Cook for 4-5 minutes, until the vegetables are tender and have begun breaking down.

Then add carrot and cook for a minute. Move vegetables to the side of the pan and add the remaining 1 tablespoon of grapeseed oil. When hot, add garlic and ginger, cooking 30 seconds, until fragrant.

Turn heat down to medium low and add noodles. Use a tongs to combine with vegetables. Then add hoisin sauce, tamari, rice wine vinegar, and sesame oil. Toss and combine again, with tongs, to ensure everything is fully coated.

Divide into bowls and top each with serranos, cilantro, fresh mint, green onions, squeeze of lime, and sesame seeds.

Leftovers will keep in the refrigerator for 4 days. Best reheated on stovetop with a few tablespoons of water to rehydrate the noodles.