This roasted kabocha squash recipe is absolutely delicious, paired with a flavor packed, garlicky miso glaze that comes together quickly. Kabocha squash tastes sweet and rich once roasted, a true delight. And an extra bonus - the skin is edible, so you don't have to peel this squash!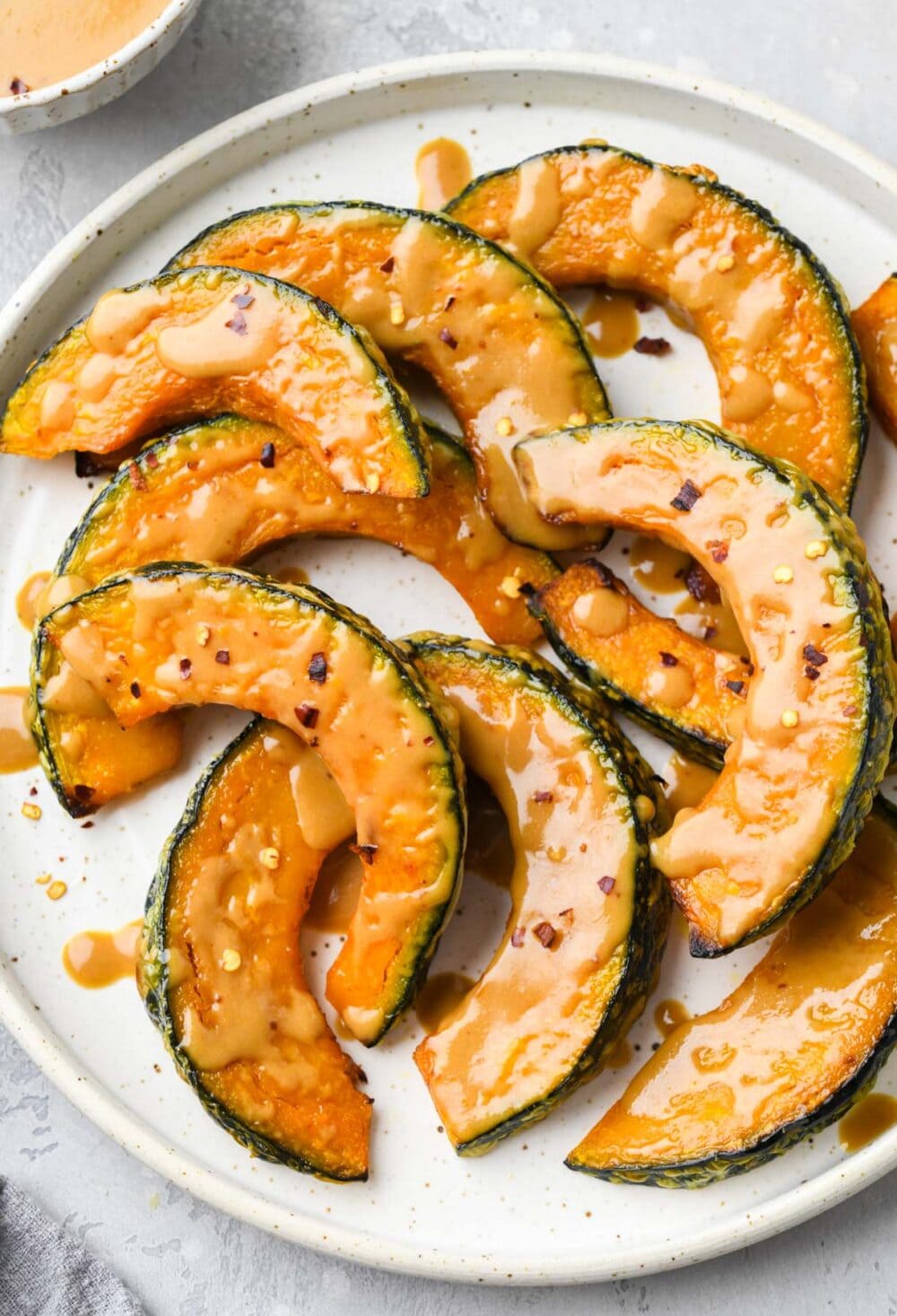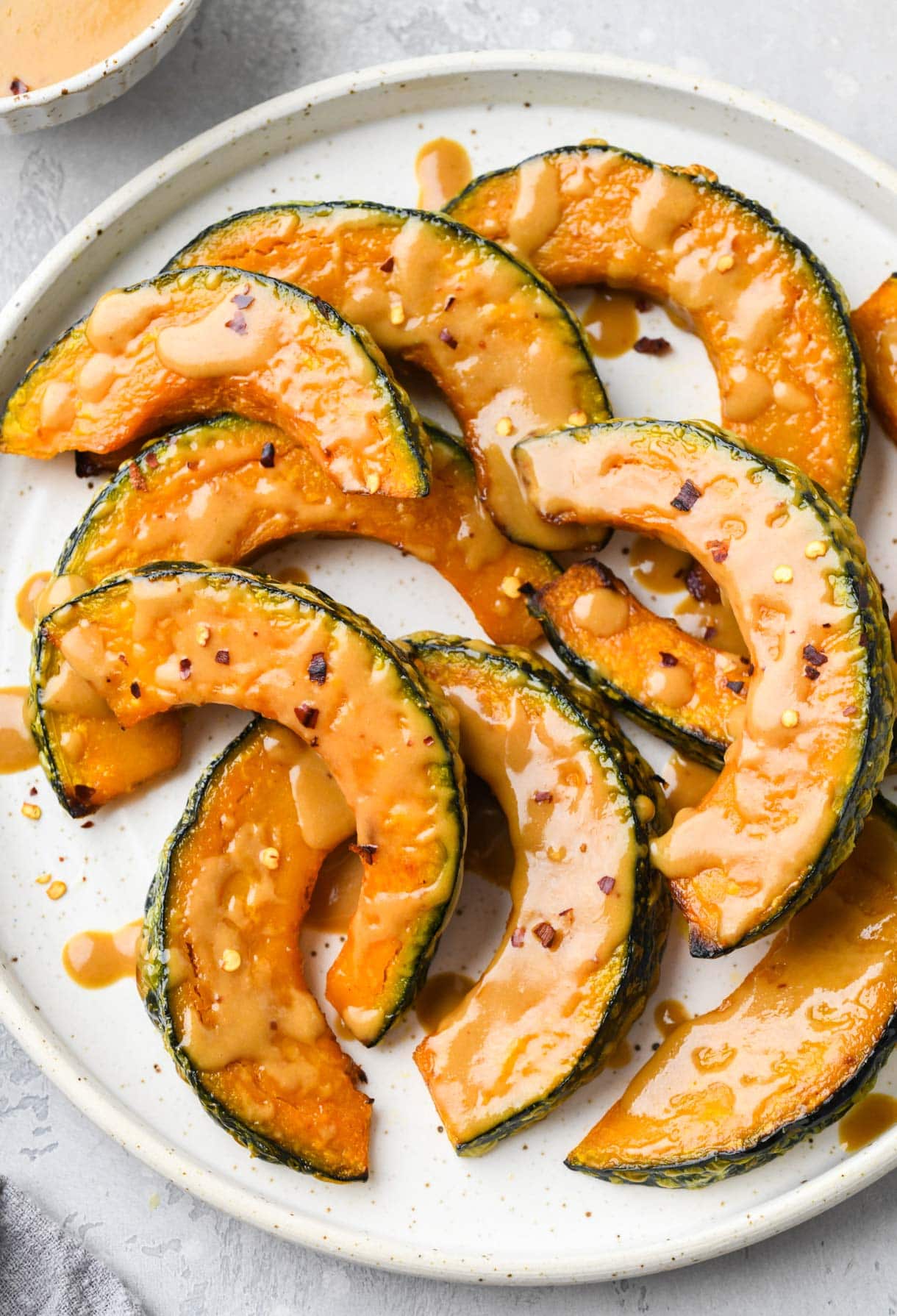 If you've been a reader of Heartbeet Kitchen since the beginning, you might remember that I published a cookbook on squash in 2014 – yes, the entire thing is squash recipes! Today, Smitten with Squash still exists on Amazon and is one of my greatest accomplishments, developing 80 different recipes on both winter and summer squash.
What does kabocha squash taste like?
Having always loved this expansive vegetable family, it has been a joy to introduce others to varieties they may have never tried, like kabocha squash. It's rich, sweet flavor and dense, flaky texture when roasted is a welcomed difference from earthy, more vegetal butternut. And it's a great source of beta carotene, iron, and Vitamin C.
This particular recipe is an absolutely delicious pairing of flavors, with sweet, caramelized squash meeting a creamy, garlicky, miso glaze that packs a punch of umami and freshness. (Miso is a fermented soy bean paste that I love using with vegetables for its salty, buttery funk.)
This recipe is a breeze to make as well, blending the glaze ingredients together in one quick blitz while the kabocha squash roasts. It's a great side dish for grilled bone-in pork chops or rotisserie chicken.
Bonus: you can eat the skin of kabocha squash!
It's true -the skin of kabocha squash is edible, so no peeling required. It makes cooking with this squash even easier. I love roasted red kuri squash for the same reason.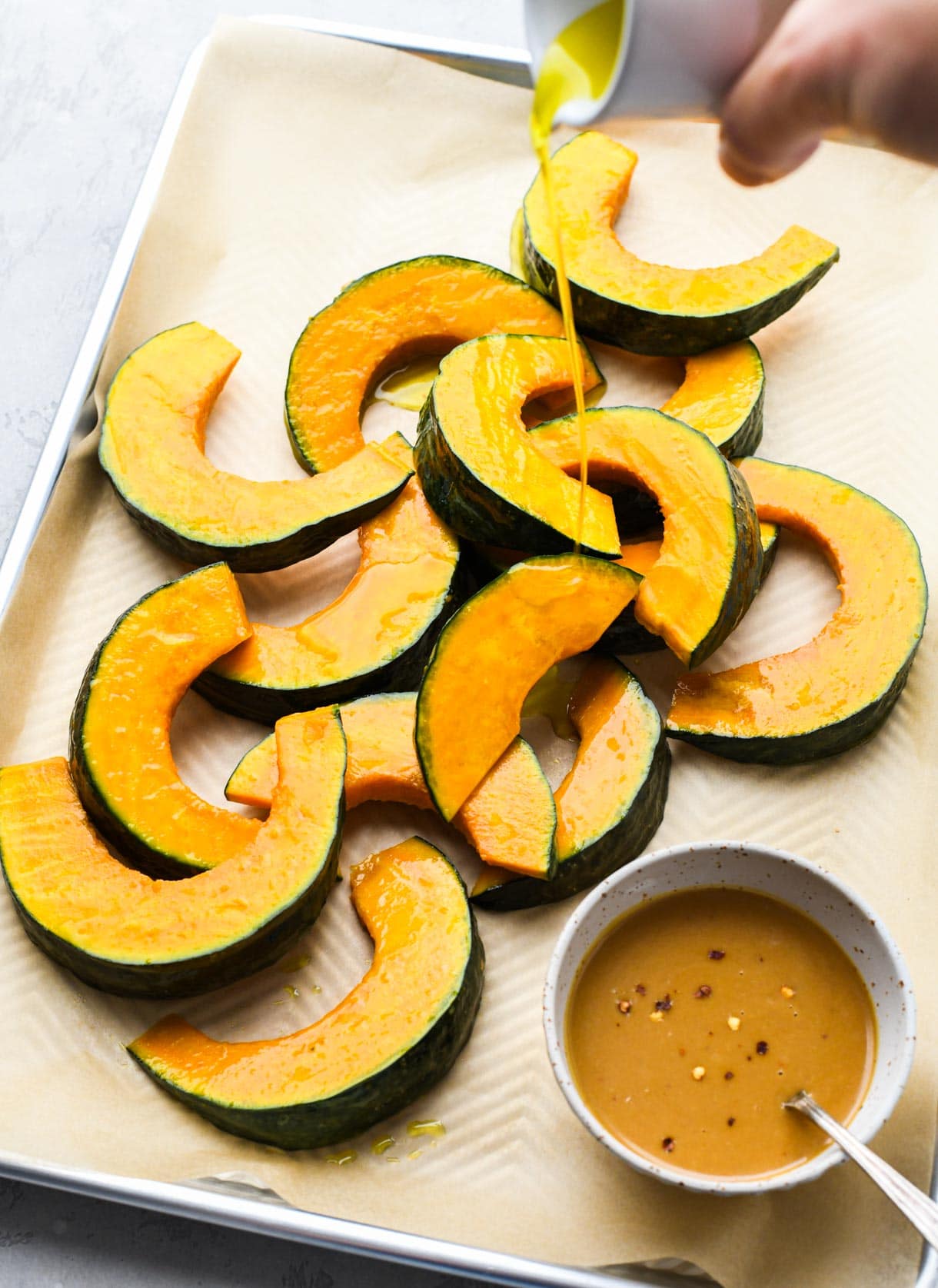 What does kabocha squash look like?
Kabocha, a native Japanese squash, is fairly easy to identify with its dark green skin and sometimes light green spots or vertical stripes. It is round with a flatter bottom, almost resembling a round sourdough boule in shape!
Fully ripened, a kabocha squash will have a dry, cork-like stem and when you cut it open, you'll find it's blazing orange flesh.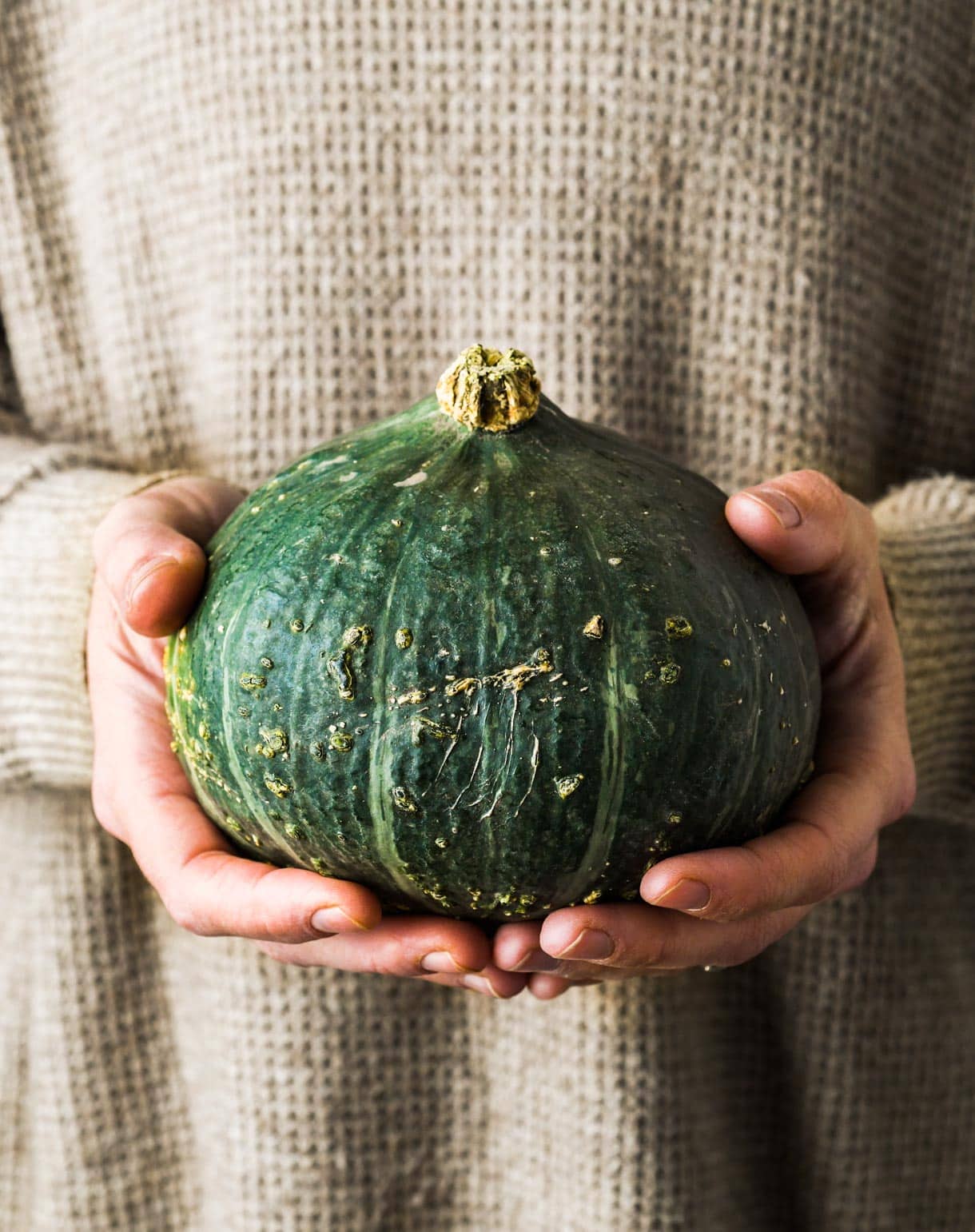 Differentiating between kabocha squash and buttercup squash
Buttercup squash is also dark green with some irregular stripes, but is usually squatter and chunkier.
But the easiest way to differentiate it from kabocha comes from its bottom – buttercup squash have a bubble-like knob (almost like a belly button) on the blossom end.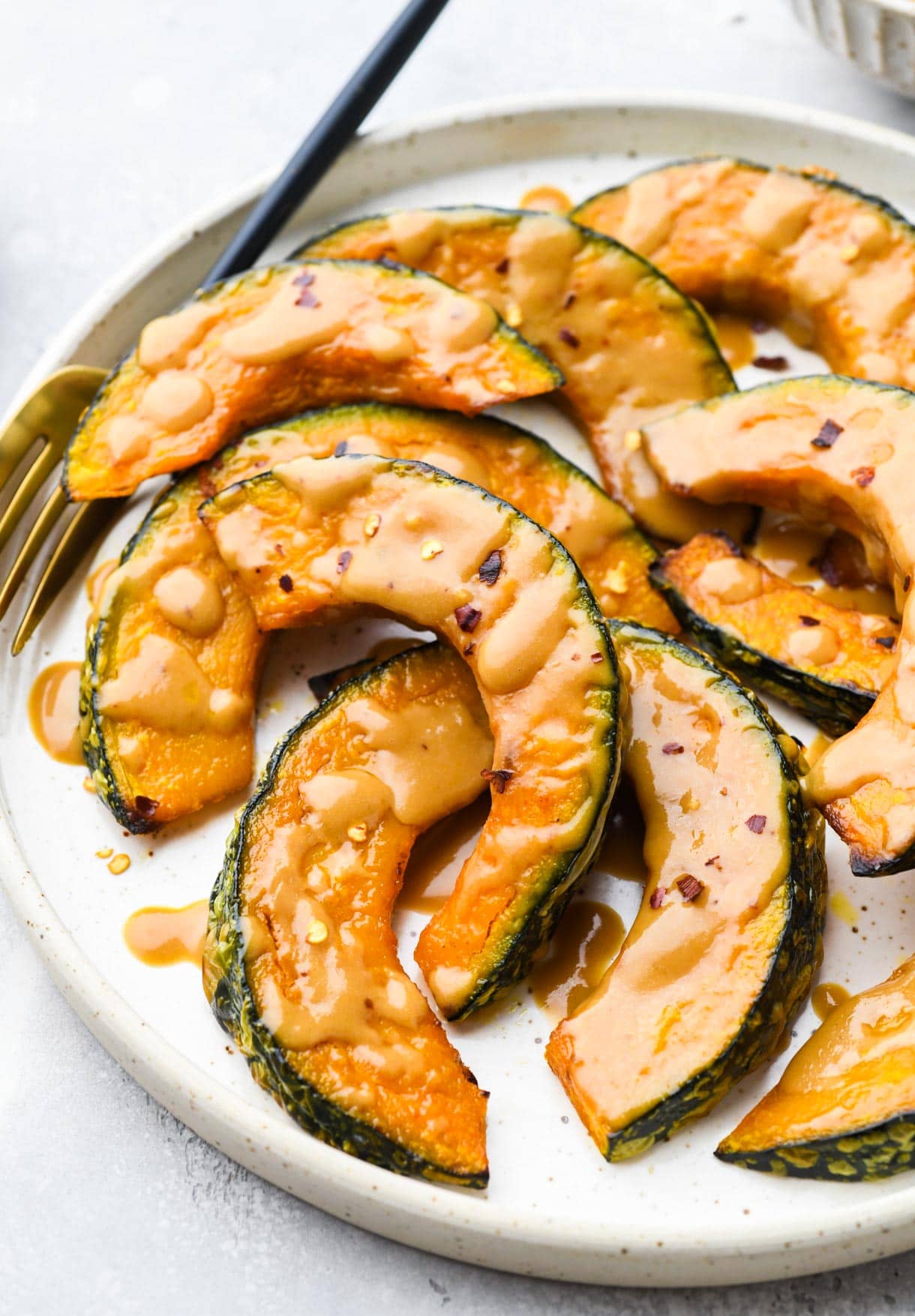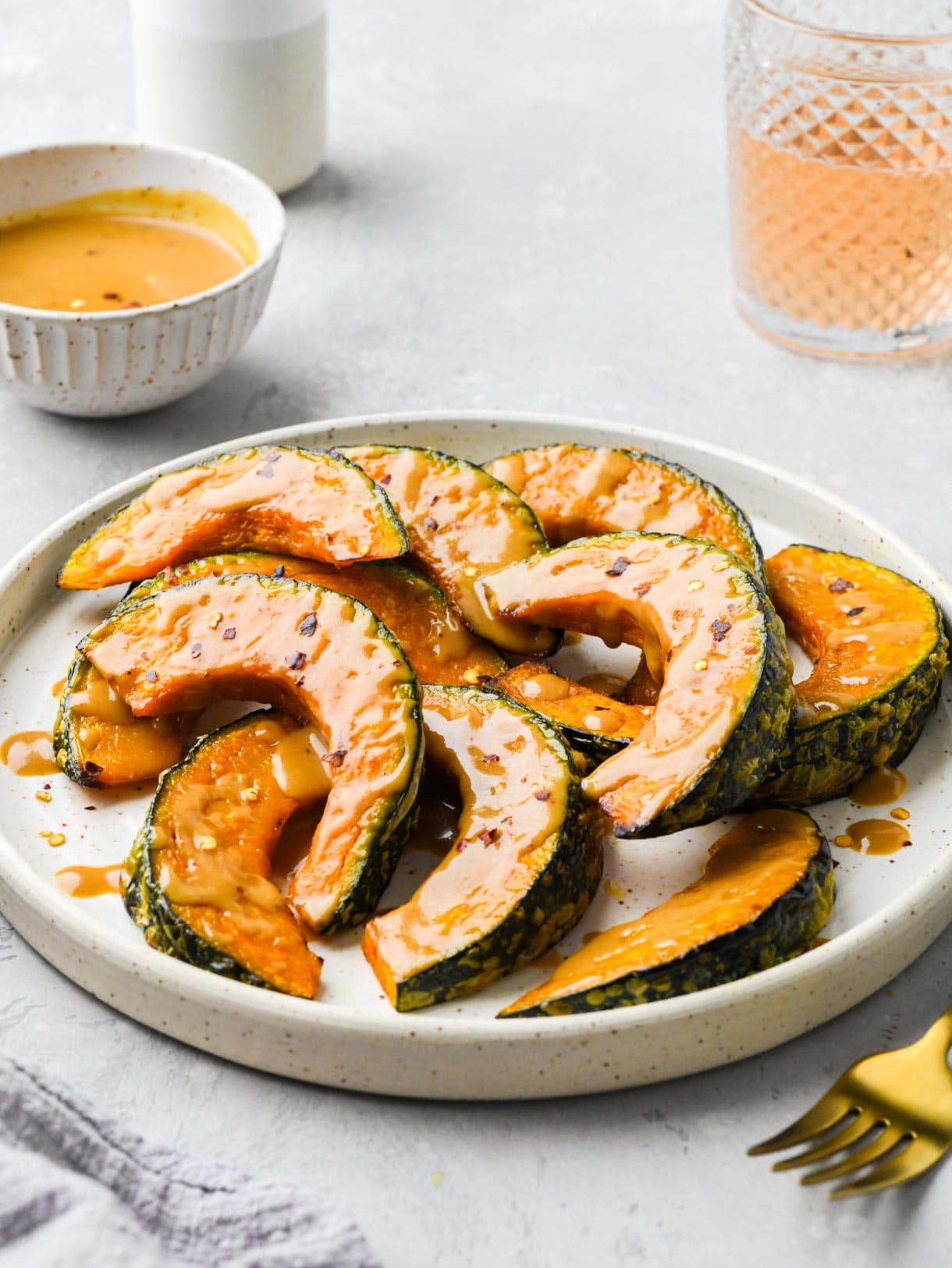 More Winter Squash Recipes: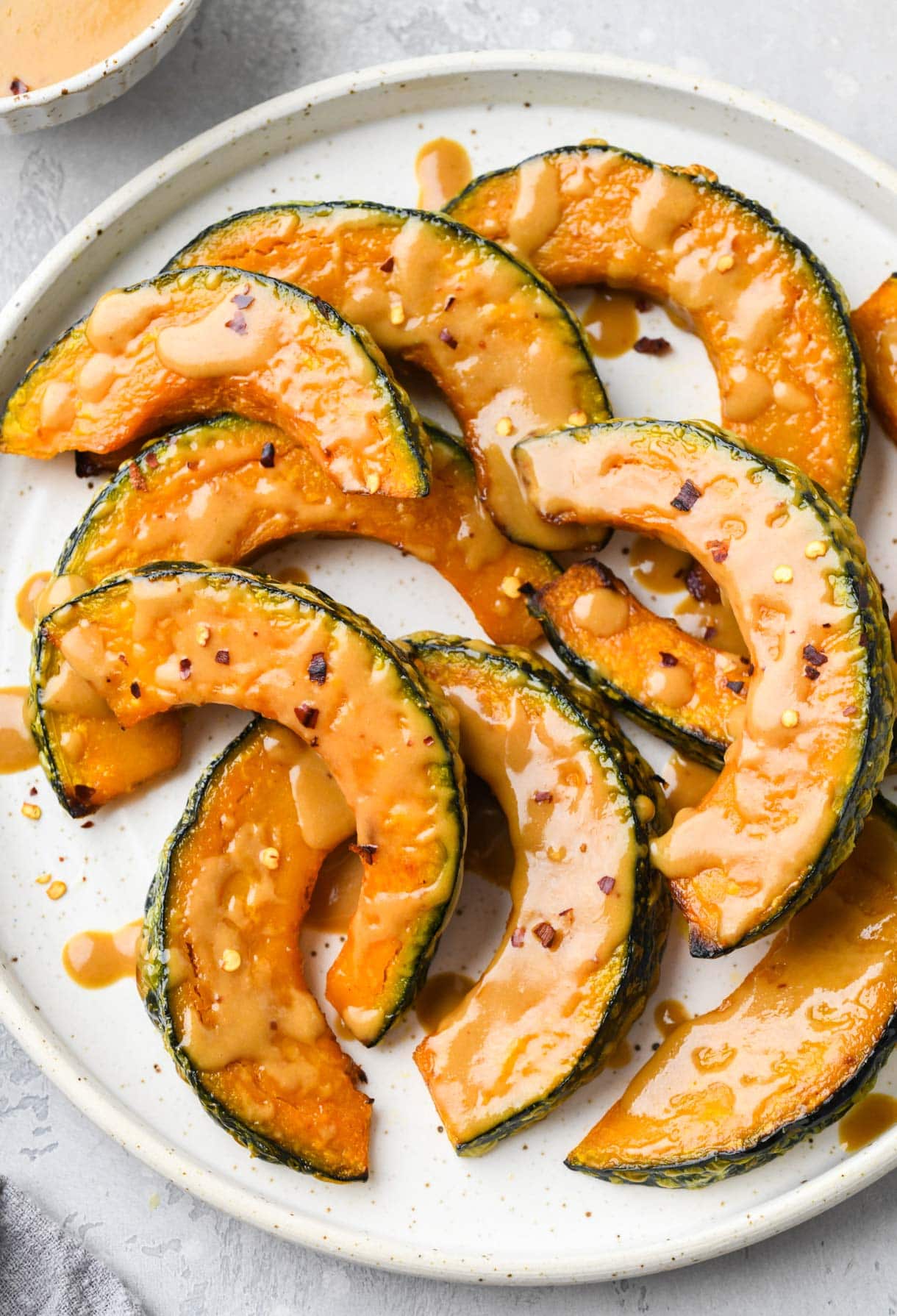 Miso Glaze
2

cloves

garlic,

minced

2

tablespoons

grapeseed or sunflower oil

2

tablespoons

low sodium tamari

2

teaspoons

sesame oil

2

tablespoons

white miso

1

tablespoon

maple syrup

1

tablespoon

rice wine vinegar

1/2

teaspoon

red pepper flakes

(1/4 teaspoon if you blend the glaze)
Preheat oven to 375 degrees F.

Cut your squash in half vertically, from stem to root. Scoop out seeds. Then cut each half into slices/wedges that are about 1/2 inch thick. Add to a large bowl and drizzle olive oil over the top. Toss squash with your hands and rub olive oil into the pieces.

Place on a parchment lined baking sheet so that they are not touching. Sprinkle with salt.

Roast for about 30 minutes, turning the squash onto the opposite side halfway through. Squash is done when it is fork tender, when fork easily pierces through the skin.

While squash is roasting, whisk all of the glaze ingredients together, or use a blender to puree. Either works! I prefer the blender just because it makes it nice and smooth.

When squash is done roasting, remove from oven and let cool for 5 minutes. Then, while squash is still warm, drizzle glaze over the squash slices liberally, brushing a bit to coat. This allows all of the flavor to work its way into the squash.