Fudgy red velvet cookies rolled in powdered sugar to create a snowy, crinkled look while they bake. These delicious chocolate cookies taste like a rich, chewy brownie with a hint of vanilla, keeping them classically red velvet with their burgundy color!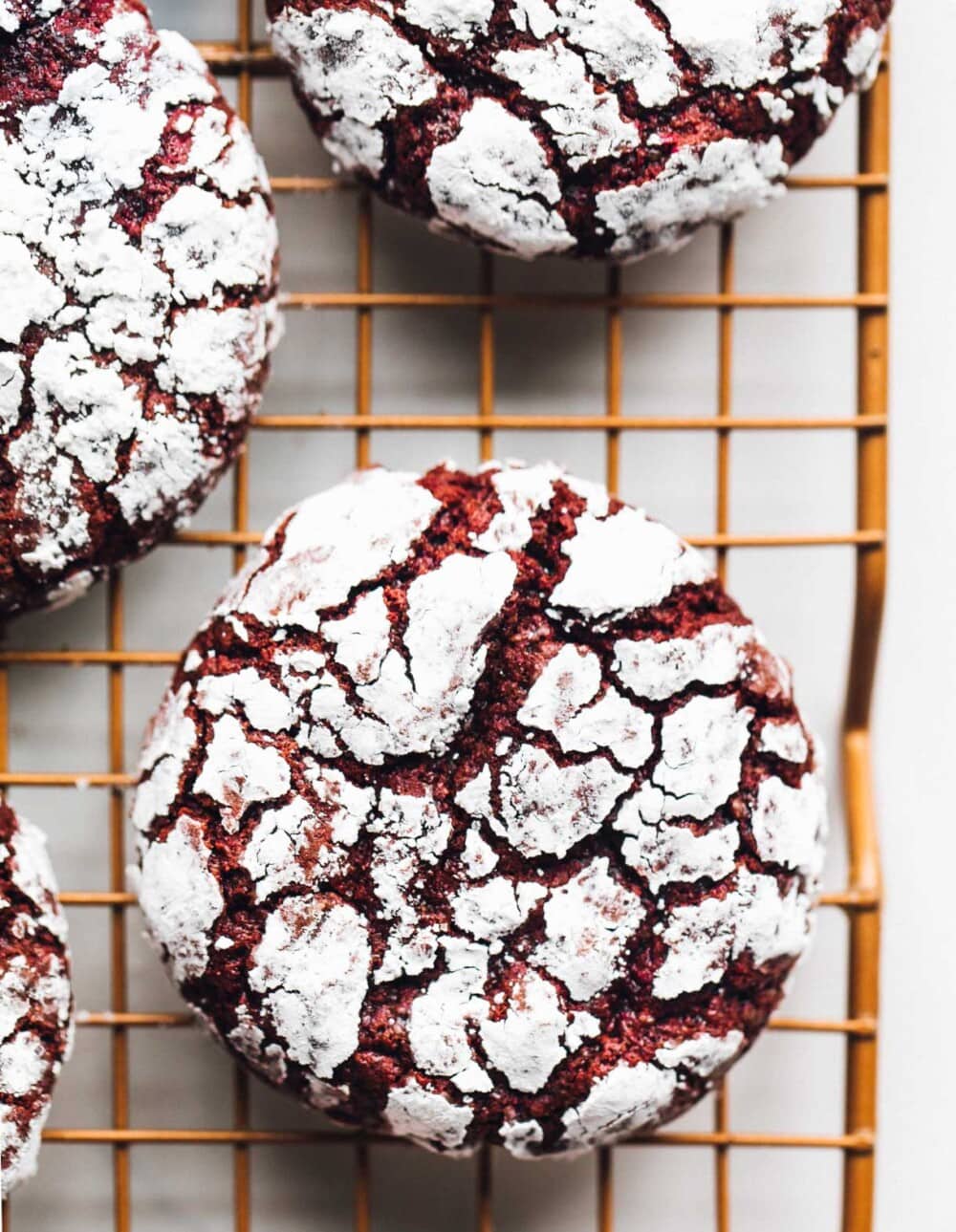 This delicious recipe for red velvet cookies come from Sarah Kieffer's new cookbook, Baking for the Holidays. They're everything you want in a holiday cookie, and I just added them to my list of favorite gluten-free Christmas cookie recipes!
With crackled edges and a gooey center, these chewy chocolate cookies are rolled in powdered sugar to give them a snowy appearance. Along with the burgundy coloring, these red velvet cookies are fittingly festive.
I also love this recipe because you don't need a mixer! They come together with a bowl and whisk, keeping things very simple.
How to Make Red Velvet Crinkle Cookies
Whisk flour, salt, baking soda, and baking powder together in a bowl. (Note, I made these gluten-free, using Bob's Red Mill 1-1 Gluten-Free All Purpose Flour in exact exchange for the all-purpose flour called for, and it worked perfectly!)
Whisk sugars with the eggs, vanilla, red food coloring (I used natural dyed food coloring), and oil.
Melt chocolate and butter together until smooth, then whisk in cocoa powder.
Chill dough.
Scoop, roll in powdered sugar, and bake!
What do red velvet cookies taste like?
Sarah's red velvet cookies are chocolate forward with both cocoa powder and bittersweet chocolate in the batter, deliciously brownie-like in taste and texture. With both kinds of chocolate being used, the color is muted, which gives the cookies a burgundy tint instead of blazing red. They're fudgy, chewy (thanks to both eggs and egg yolks), and have a hint of vanilla in the background to keep them classically red velvet.
Tips for Making the Best Crinkle Cookies:
The recipe instructs to chill the dough for at least 5 hours up to overnight, and this is crucial for getting the gorgeous crinkles in the cookies! So don't skimp on the fridge time.
Sarah mixes granulated sugar + powdered sugar for the mixture that you roll the dough balls in, which is important for getting the bright-white, snowy coating to stay put. Rather than using only powdered sugar, the granulated sugar creates barrier that keeps the fine-grained confectioners' sugar from dissolving and disappearing into the dough.
This dough is sticky right away, but don't worry, it firms up beautifully in the fridge. When you scoop it, it will have the consistency of play-doh.
These cookies are done when they are puffed up and set, at about 12-13 minutes. They will deflate as they cool, creating every more fissures.
Baking for the Holidays
I'm fortunate enough to know Sarah as a personal friend and peer, but just like you, I am constantly in awe of the amazing recipes that she develops, and her creative but approachable way of baking. I bake something from her 100 Cookies cookbook nearly every week, and Baking for the Holidays is my new go-to for holiday and celebratory treats.
The recipes, beautiful writing and photography, along with blissful wintery scenes embody modern day nostalgia. There is a glow to this time of year, best shared with friends and family around festive treats and delicious baked goods. Her turtle bars, crème brûlée pumpkin pie, and triple-chocolate peppermint bark all have my eye.
The book is divided into five chapters, including Morning Pastries & Bread, Holiday Desserts, Gift Giving, Beyond Christmas, and Extras (like homemade marshmallows, caramel, and candied nuts. It would absolutely make the perfect gift for any baker in your life. Grab a copy here!
More Christmas Cookie Recipes:
210

grams

all-purpose flour or Bob's Red Mill Gluten-Free 1-1 Flour, both worked perfectly!

1

teaspoon

baking powder

1/8

teaspoon

baking soda

135

grams

granulated sugar

100

grams

light brown sugar

2

large eggs plus 2 large egg yolks

at room temperature

1

tablespoon

canola or grapeseed oil

1 1/2

tablespoons

natural red food coloring (see note)

1 1/4

teaspoons

pure vanilla extract

½

teaspoon

fine sea salt

4

tablespoons

(57 g) unsalted butter

3

oz

(85 g) semisweet or bittersweet chocolate

25

grams

cocoa powder
In a small bowl, whisk together the flour, baking powder, and baking soda.

In a large bowl, whisk together granulated sugar, the brown sugar, eggs, egg yolks, canola oil, red food coloring, vanilla, and salt.

Place the butter and chocolate in a small, heavy-bottom saucepan over low heat and melt together, stirring frequently to prevent the chocolate from scorching, until smooth. Remove from heat and add the cocoa powder to the chocolate and whisk until completely combined, about 45 seconds (the mixture will be thick).

Add the warm chocolate-butter mixture to the egg mixture and whisk together until combined. Add the flour mixture and use a rubber spatula to mix until combined. Cover the dough and chill the mixture for at least 5 hours and up to overnight.

Adjust an oven rack to the middle position and preheat the oven to 350°F [180°C]. Line three sheet pans with parchment paper.

In a small bowl, combine the confectioners' sugar and 3 tablespoons of granulated sugar. Scoop the dough into 1 ½ tablespoon portions and liberally coat the dough in the sugar mixture. Don't skimp on this.

Place eight cookies on each sheet pan and bake one pan at a time, rotating halfway through baking. Bake until the edges are set and the cookies are puffed but still soft in the center, 12 to 14 minutes. They will deflate and set as they cool. Move the sheet pans to a wire rack and let the cookies cool to room temperature. Cookies can be stored in an airtight container at room temperature for up to 3 days.
If you want a more vibrant red color, Sarah's suggests using more coloring and/or traditional red food coloring. I ended up using 1 1/2 tablespoons of naturally dyed red food coloring.
Recipe comes from Sarah Kieffer's Baking for the Holidays cookbook, which I slightly adapted to use a tiny bit less sugar.