A few months ago, an email popped into my inbox from my lovely friend Sara. We've known each other via this digital space for about two years, after I stumbled upon one of her beautiful food illustrations. She is incredibly talented, and as humble and genuine as they come. Seeing her name, I opened the email with excitement, not even taking a moment to glance at the subject line.
And then I giggled out loud as I read the first sentence: "I know you're the squash girl, but would you like to join my Virtual Pumpkin Party? I've decided to spread the pumpkin love to my friends of the blogging world, so on October 21st, we'll each share a recipe to bombard the internet with all things pumpkin."
Well that was an invitation I couldn't say no to.
Although my love for squash runs deep, it was time to put away my snobbery and play around with the other orange hued character of autumn. Since I truly do prefer the likes of kabocha and delicata for baked goods like this Winter Squash pie recipe, I headed in the savory direction where I think pumpkin shines……
My vision was to put a vibrant spin on one of my favorite Thanksgiving side dishes, mashed potatoes. And serve it with this gluten free vegan green bean casserole.
The pumpkin roasts cut-side down as to encase the garlic and thyme, infusing the earthy flesh with deep flavor. Then it's pureed, and swirled throughout rustic, buttery mashed potatoes.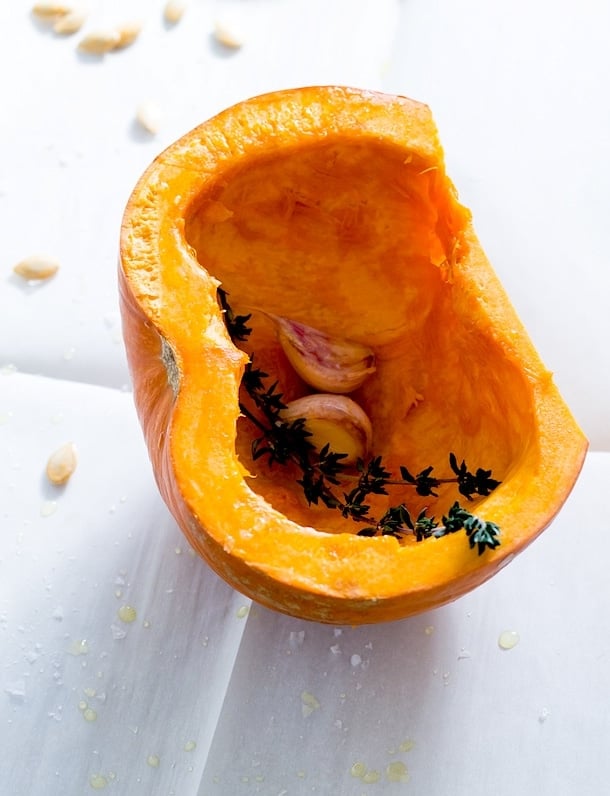 And can we take a few minutes to talk about what makes really good mashed potatoes?
My grandmother always used russets, but after a few rounds of testing, I am on team Yukon Gold. They're naturally a little sweet, and lend themselves to a rustic, creamy texture rather than fluffy.
Don't hesitate buying the best (grassfed) butter you can afford for this dish. And although you might second guess my choice of buttermilk over cream, trust me when I say it's the secret to the very best potatoes. Even Ina Garten thinks so. But if you need to go a different route, I do like these instant pot mashed potatoes.
More Potato Recipes:
For the pumpkin (can be made two days ahead of time):
Preheat oven to 375 degrees F.

Cut pumpkin in half and deseed, rubbing clean flesh with 1 tablespoon olive oil. Rub garlic and thyme with a 1/2 tablespoon oil, then place them on the baking sheet and cover them with one pumpkin halve. Place the other pumpkin halve cut side down next to it. (You probably won't need this half because you should get enough meat from the one with the garlic, etc.) Roast for 40 minutes, or until flesh of pumpkin is completely soft.

Let cool, so you can handle, then scrape flesh out of the halve that was covering the garlic & thyme. Measure out 1 1/4 cups flesh, then add to a food processor.

Remove papery skin from garlic and discard, and also take thyme leaves off the sprigs. Add garlic & thyme leaves, plus remaining 1/2 tablespoon oil to food processor and blend all until smooth (add a tablespoon of water if needed to become smooth).

While pumpkin is roasting, place potatoes and 1 teaspoon salt in large saucepan; cover with cold water. Bring to boil, reduce heat to medium, and simmer until tender, about 25 minutes. Drain well, reserving 1 cup of the cooking water.

Then return potatoes to to pot. Mash potatoes until somewhat smooth, then stir butter into them.

Add warm milk and continue lightly mashing until absorbed. Add 1/2 cup of cooking water, and incorporate. (You can add more if you like them smoother, and continue mashing. The texture part of this recipe is all up to you!) Season with remaining 1 teaspoon salt, garlic powder and black pepper.

Using a spoon, add pumpkin mixture at once to mashed potatoes and fold in, creating swirls throughout. Serve warm.