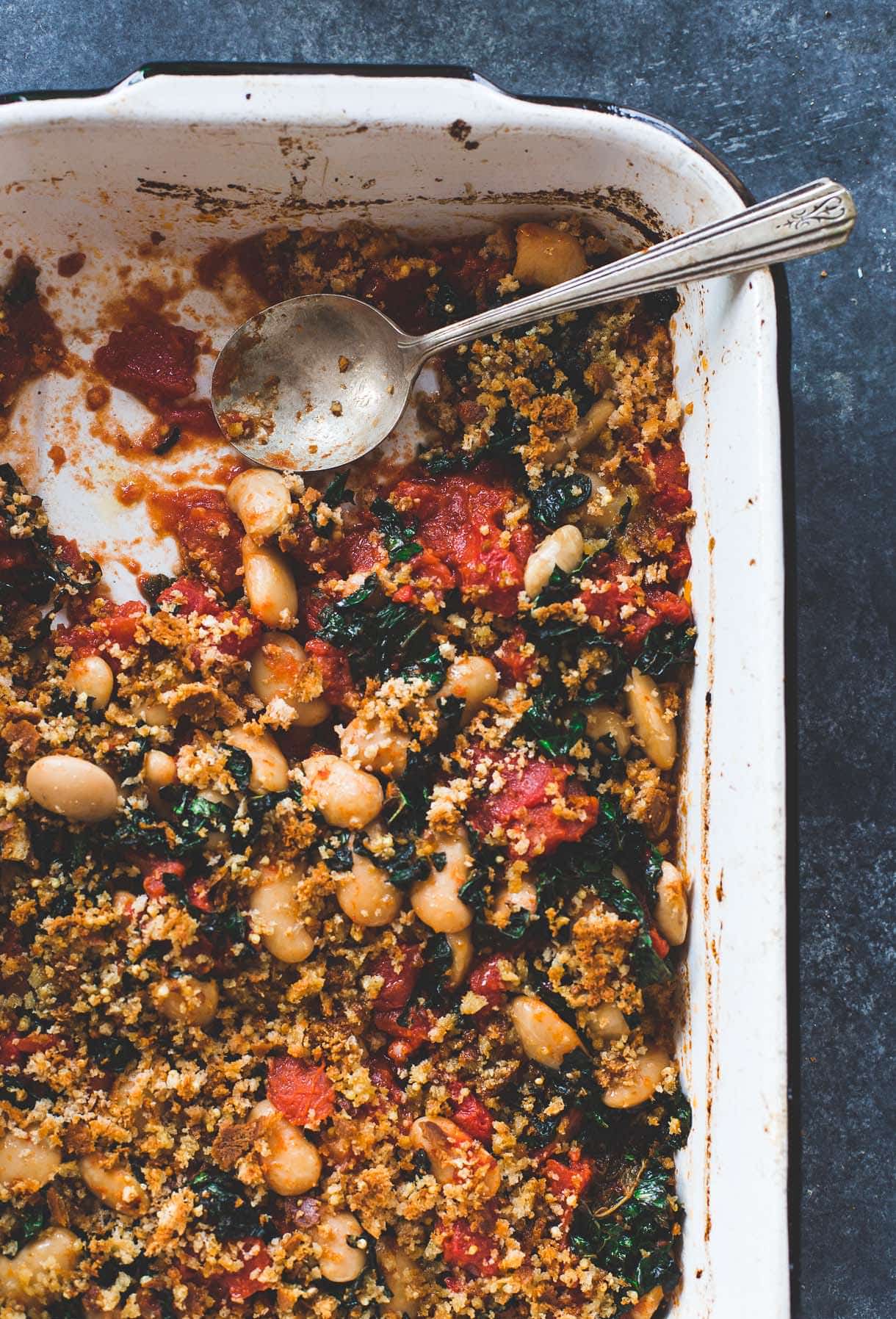 Up until a few years ago, I didn't have much confidence in canned food. Even plain vegetables were hard to see, or taste, the good in. From bland carrots, to mushy green beans, spongy sliced mushrooms, preservative-laden cream of chicken soup….. my nose was turned up in the air.
But as I began to learn more about food; specifically how it was being grown, the faces behind the farms, and the process to get it onto our plate, I realized that not all things in cans are alike. Canning, when done in a quality matter, enables farmers to preserve their food in pristine condition, very quickly, with little loss in nutrients. And in fact, home canning, which we've praised for years, is literally the same thing. We just think of it differently because it's not done by our grandmother's hands, or put up in Ball jars.
So now instead of my nose turned up, I say a silent "thank goodness" when I open the pantry and spot a few cans. Always Muir Glen organic tomatoes, and always beans (I can never cook them myself as perfectly….), wholesome, basically fresh, pantry staples. Yes, that I'm calling that a thing.
You see this past May, I worked with Muir Glen on a freelance project, cooking and photographing for their new website. 21 recipes, in 4 days. I ate a LOT of their tomatoes, in just about every form. My cupboards, floors, and towels were covered in tomatoes. But if there was any kind of test I could think of, to put a canned product through so many different applications, this was it. And although they'd been a brand I'd been buying for quite awhile, I quickly learned that these tomatoes were on a different scale of quality and taste. When one of the recipes was a "fresh" salsa, using their fire-roasted tomatoes, I thought to myself, okay, there is no way this can compare to regular tomatoes. Wrong. So wrong. Juicy, vibrant, not mushy, several layers of flavor…. so good. In fact I brought the salsa to a neighborhood block party and fooled everyone there too.
I learned so much about their process during that project as well. And I have no doubt the reason they're so damn delicious is because they go from ripened on the vine, to can in 8 hours. Grown in the long, hot California summer days, the family farms dedicating every ounce of love and care to those red gems growing out in their fields. This is their livelihood, and their passion. And I am grateful to be their partner.
Cans of tomatoes, beans, coconut milk, and a few others… these are the friends that help me build a nourishing weeknight meal with other seasonal ingredients I have on hand. Even if that's just a lonely bunch of kale, such as in this cozy gluten-free gratin.
Because let's be honest. Anything with a crunchy, buttery topping that's snug in a pan is the definition of comforting. This wholesome, vegetarian gratin (or casserole?) is a little different because the diced tomatoes roast in a bit of butter, garlic, and thyme for about 25 minutes, really infusing them with flavor and depth. Meanwhile kale is sautéed on the stove top until silky, then mixed in with the butter beans to the now "fancy" tomatoes. And finally sprinkled with gluten-free breadcrumbs (I take the end pieces of gluten-free bread that are sitting in the freezer, and blitz them in a food processor.) tossed in olive oil, and popped back in the oven until crispy, crunchy, golden brown.
I love all the different textures: plump, juicy tomatoes, soft and mild beans, and silky, sturdy kale…. I love all the different colors. I love the ease.
A weeknight champion because of two cans, and a few other staple ingredients. I'm not leaving this bandwagon anytime soon.
Inspiration came from two places.
The marinated Italian butter beans (large and white) sitting in the olive bar at Whole Foods, that I have to buy a little tub of, every single time. They're so tender and buttery, literally, with the olive oil and oregano…. flavor bombs.
And then the kale and tomato combination was sparked by a dish I was served this summer, that had me put my fork down after one bite and say, "Whoa, why is this kale so much better than any other cooked kale I've ever had?"
It was incredibly soft and tender, but still held its bold green color. The chef's secret was sautéing the kale with olive oil & very finely chopped tomatoes (that basically disintegrated) so their acid worked its way into the kale making it incredibly silky. And also brightened it's flavor. Genius.
Gluten-Free Gratin with Roasted Tomatoes, White Beans, and Kale
This gluten-free and vegetarian casserole features white beans as the star, paired with tomatoes roasted in a bit of butter, garlic, and thyme for about 25 minutes, really infusing them with flavor and depth. Topped with buttery gluten-free breadcrumbs for extra goodness.
4

tablespoons

grassfed butter

3/4

teaspoon

salt

divided

1/4

teaspoon

black pepper

2

springs of fresh thyme

3

cloves

garlic,

minced

8

small to medium leaves of dyno kale,

very thinly sliced, weighing 85 grams – the weight here is important, as kale leaves can vary is size so much

2

tablespoons

olive oil

divided

3/4

cup

gluten-free breadcrumbs
Preheat oven to 375 degrees F.

In a 9×13 baking pan (will look too big, but this lets some of the juice from tomatoes evaporate), add tomatoes, butter, 1/4 teaspoon salt, black pepper, thyme, garlic. Stir to submerge the thyme. Place in oven and bake for 10 minutes, then pull out and stir to disperse melted butter. Place aluminum foil over the top and bake for another 20 minutes.

Meanwhile, heat large pan on stovetop to medium heat, and add 1 1/2 tablespoons olive oil. Add kale and 1/4 teaspoon salt, and cook for 8 minutes on medium heat, until very soft and tender, adding a tablespoon or two of water if needed.

When tomatoes are done, remove thyme and discard.

Stir in remaining 1/4 teaspoon salt, kale, and beans so everything is coated.

In a small bowl, stir remaining 1 1/2 tablespoons olive oil into breadcrumbs, and top gratin with this. Bake at 350 degrees for another 8 minutes, uncovered, then broil for 2 minutes until topping is golden brown. Serve warm, and drizzle a little olive oil over each serving (the fat is important to pull it all together).
*Save the end pieces of gluten-free bread in your freezer! Then when you need breadcrumbs, just blitz in a food processor until fine and crumbly.
This post contains Amazon affiliate links, which I may make a small commission from should you purchase.