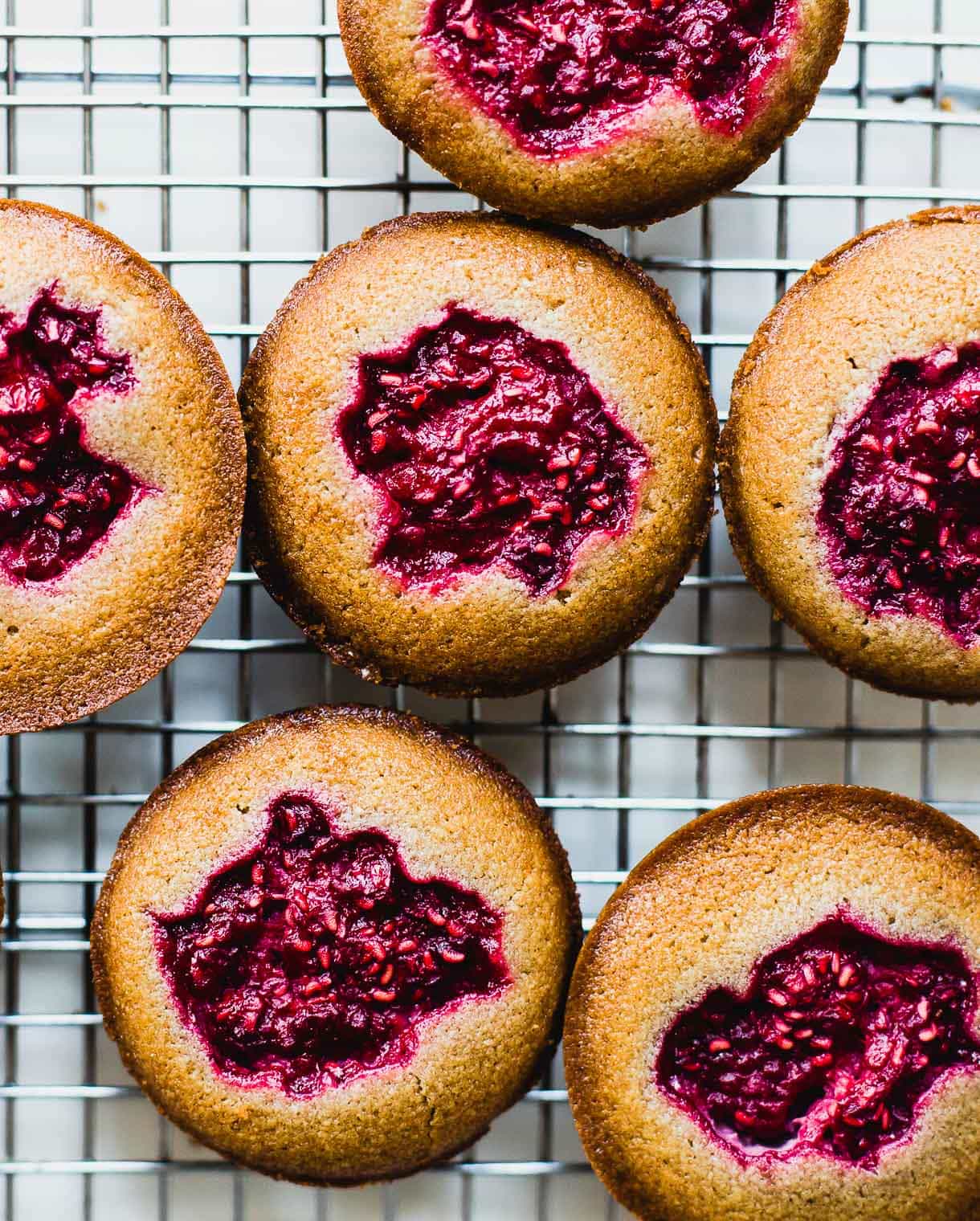 This raspberry financier recipe is sponsored by Driscoll's.
Life lately has looked like making the most of summer with days by the river, golfing, seeing friends, these raspberry financiers, and kittens. Yes, kittens! I've toyed with the idea of being a foster kitten mom for quite awhile, and decided to go for it. We took in two kittens a few weeks weeks ago after someone abandoned them at the local shelter, and they were in a need of a home. I've been preoccupied ever since – with no complaints. ☺️
We named them Barley and Hops, and will have them until they are 3 pounds/3 months old, at which point we'll put them up for adoption. I'm already preparing to cry my eyes out, but I'm so glad we get to be part of giving them a life they'd have never had.
That being said, I haven't been in the kitchen much besides testing these soft and springy raspberry financiers – a fancy name for little almond cakes. They taste of vanilla and caramelized butter, and their golden edges make room for a pocket of fresh Driscoll's raspberries.
I love the ease of being able to make them in a muffin tin! And their small size makes them just right for an afternoon sweet tooth.
Financiers have been a staple of fine European pastry shops for more than 100 years. In fact, we saw them in almost every bakery while visiting Paris. The process of making them is simple, and shouldn't be intimidating even though you'll see egg whites in the ingredient list.
You don't have to beat to any type of "peak", they're just simply whisked into the batter. Easy street. ☺️
The dry ingredients are a blend of almond flour, teff flour, and just a touch of cornstarch (for tenderness in the final product).
And at the peak of summer, there is no berry I crave more than raspberries. Sweet and a little tart, I crushed them with a fork (no sugar needed) and dollop them in the middle of each cake before baking. The pure raspberry essence compliments the buttery, nutty cake just right. And the deep pink color! It draws me in every time.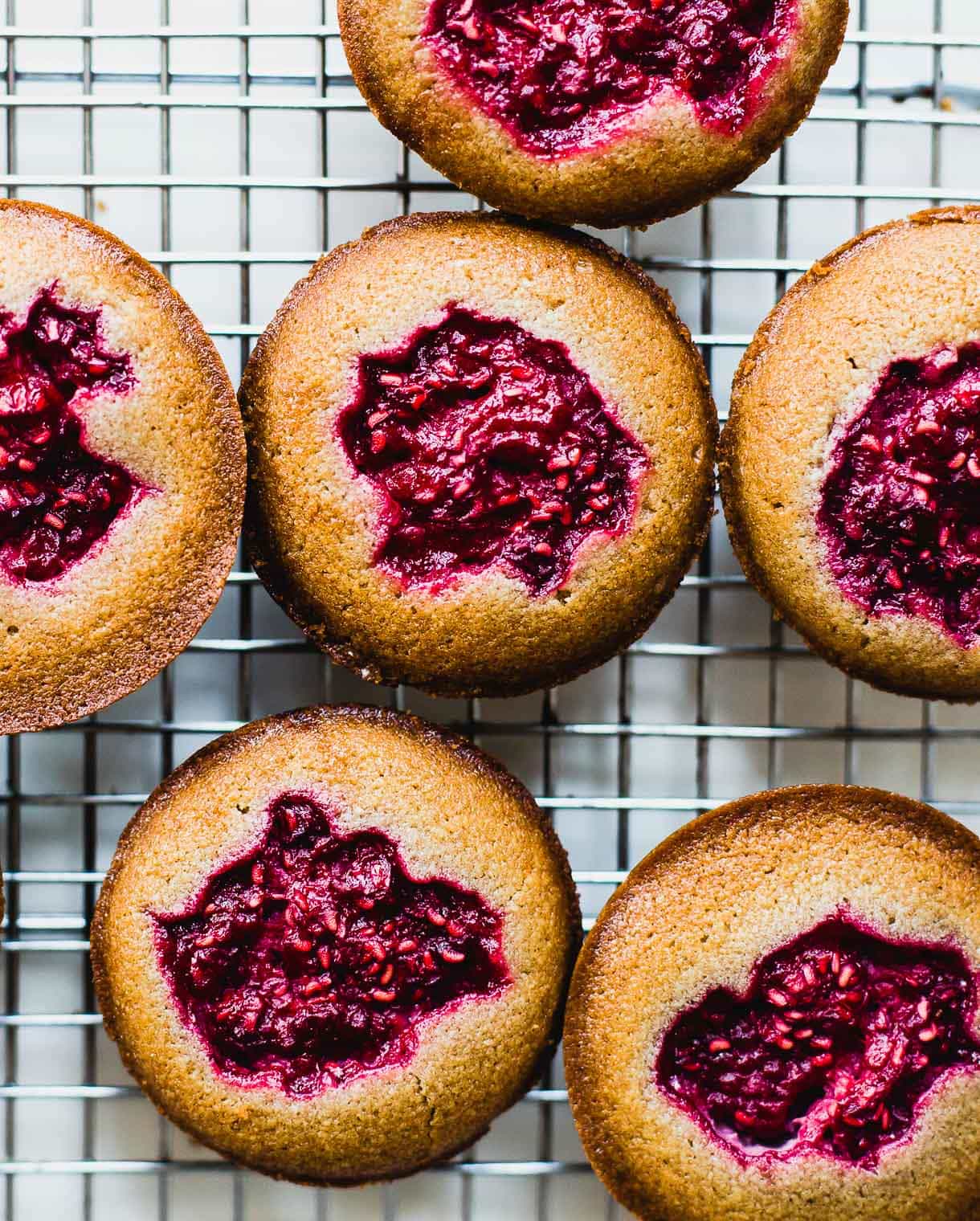 Preheat oven to 350 degrees F.

Rub butter inside all of the holes of 12 inch muffin pan. (Or line with paper liners, but I like mine without this. It gives them a very clean look.)

Whisk together the almond flour, teff flour, cornstarch, sugar, and salt. Whisk in the egg whites vigorously until the batter is smooth, then whisk in the melted, cooled butter in 3 additions. Whisk in vanilla. Fill each muffin cup a little more than 1/2 full with batter.

With a fork, coarsely mash the raspberries so that are like a rough jam. Strain to get rid of some of the excess liquid, then put 1 tablespoon crushed raspberries into the middle of each cake.

Bake for 25 minutes, until edges are golden brown. Remove from oven and let cool, then use a thin knife to run around the edges and gently pull up on each cake to remove. Store in airtight container.
This recipe is inspired and adapted from The Alternative Baker Cookbook, written by Alanna Taylor-Tobin.